Last week it was revealed that Fiji Airways would be getting two A350s later this year.
The airline is leasing these planes, and the reason they're able to get them on such short notice is because the planes were supposed to go to Hong Kong Airlines, but that airline is struggling financially, so they decided against taking delivery of them.
Why you should care about Fiji Airways' A350s
Fiji is a gorgeous country with some of the friendliest people in the world. Their national airline even flies to Los Angeles, Honolulu, and San Francisco, so you can visit nonstop from the US. The catch is that the airline currently uses A330s for their long haul flights, which feature rather uncomfortable angled seats in business class.
Fiji Airways' A350s will feature reverse herringbone seats in business class, which are fully flat and feature direct aisle access. So this represents a huge improvement for the airline.
Fiji Airways' A350 routes
The airline is expected to take delivery of their A350s in November and December 2019, and the airline has now revealed the routes that will get these planes. It's roughly what I expected.
As noted by @airlineroute, Fiji Airways intends to operate their A350s to Los Angeles and Sydney as of January 1, 2020.
Specifically, the A350 will operate the following flight between Nadi and Los Angeles 6x weekly as of January 1, 2020:
FJ810 Nadi to Los Angeles departing 9:40PM arriving 11:25AM
FJ811 Los Angeles to Nadi departing 9:30PM arriving 6:00AM (+2 days)
Meanwhile the A350 will operate the following flight daily between Nadi and Sydney as of January 1, 2020:
FJ911 Nadi to Sydney departing 9:30AM arriving 12:10PM
FJ910 Sydney to Nadi departing 1:25PM arriving 7:20PM
That rotation will require two aircraft, so it seems that these will be the two routes to get the new planes — don't expect any more routes to get the A350.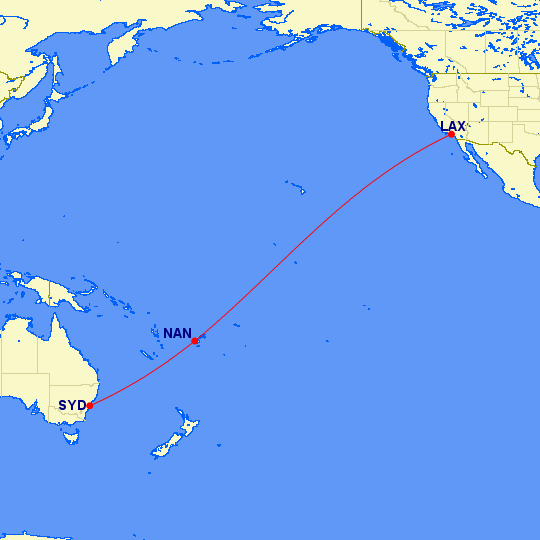 Booking Fiji Airways' business class
Alaska Mileage Plan is a Fiji Airways partner, and you can redeem just 55,000 Alaska miles for a one-way business class ticket from the US to Australia/New Zealand, with a free stopover in Fiji.
The catch is that award availability isn't very good on Fiji Airways' flight between Los Angeles and Nadi. Looking at travel early next year, I see at most one business class seat on some flights, though many flights have no seats at all.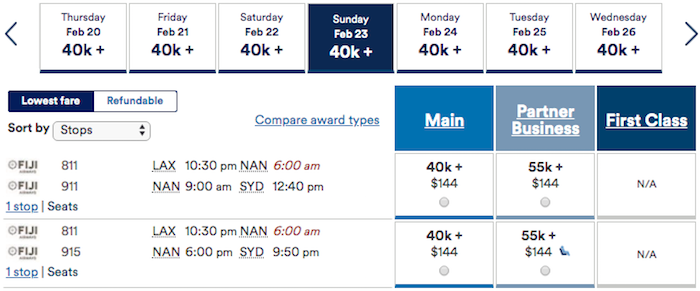 Still, there are some dates where you could book one person from Los Angeles to Sydney on the A350 the entire way with a stopover in Nadi. That's a spectacular deal.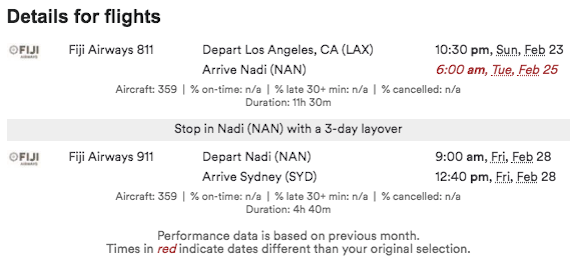 If you're looking to book a paid business class ticket on Fiji Airways, the airline sometimes has attractive fares. Generally the fares aren't as good out of the US, but rather there are great fares if you book as a codeshare originating in Fiji.
For example, you can book a one-way flight on Fiji Airways from Nadi to Los Angeles for ~1,130USD, which is excellent (the plane type still shows as an A330 because it often takes longer for codeshare flights to show updated aircraft types).

Alternatively, Fiji Airways often has somewhat reasonable business class fares from Australia and New Zealand to the US, and they allow a stopover in Fiji.

So while I wouldn't call these fares "cheap," they're certainly much more attractively priced than anything you'll find nonstop between the US and Australia.
Bottom line
Fiji is gorgeous, and I'm thrilled to see Fiji Airways get two A350s. You can expect to see these flying to the US from early next year, and possibly even earlier. If you're looking to fly business class, there is some award availability on the A350 to & from LAX, though seats are tough to come by.
Fiji Airways does have some reasonable business class fares, particularly if you're flying to the US, rather than from the US. A good strategy could be to redeem miles to fly from the US to Australia/New Zealand, and then fly Fiji Airways on the return with a good fare and a stopover.