This post isn't about the airlines with the best food in first class (there's no way a British airline would be mentioned if it were!), but rather about some of the food I most look forward to when flying certain airlines. It might not even be the best food offered by that airline, but for whatever reason it's what I look forward to.
With that in mind, in no particular order, here are 10 of my favorite things to eat in first class:
British Airways first class afternoon tea
British Airways' first class food is bloody mediocre on the whole, in my opinion. As far as I'm concerned they could just serve afternoon tea for breakfast, lunch, and dinner on all their flights and I would be a happy camper.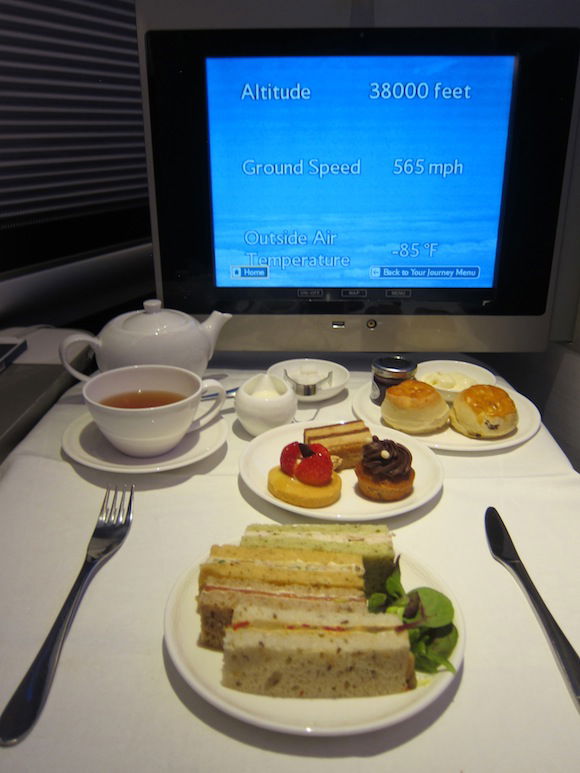 British Airways afternoon tea
Emirates first class arabic mezze
Emirates has a massive first class menu, to the point that it's problematic. Like, it's the size of a Cheesecake Factory menu. So it's always nice to have something to "rely on" that you know will be great, which is the arabic mezze.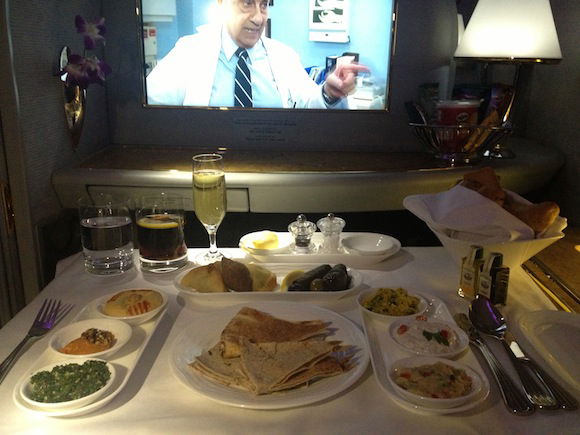 Emirates arabic mezze
Cathay Pacific first class egg tarts and Hong Kong milk tea
Egg tarts are one of my favorite sweet treats, and can be found on Cathay Pacific's first class snack menu exclusively on flights departing Hong Kong. Eat (or at least "reserve") them early in the flight, as they don't cater many. And wash it down with a pot of Hong Kong milk tea… just be prepared to spend an hour on the treadmill upon landing.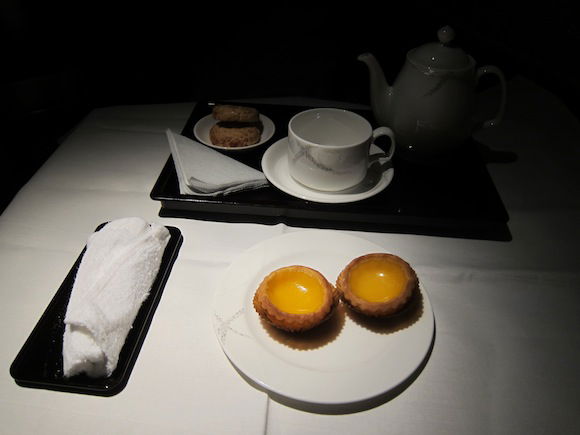 Cathay Pacific egg tarts and Hong Kong milk tea

Singapore Airlines first class satay
Secretly half of the reason I hope for an empty cabin when flying Singapore is so I can have all the satay. Note that Singapore doesn't serve satay on "supper" flights, but instead just on some flights serving lunch and dinner.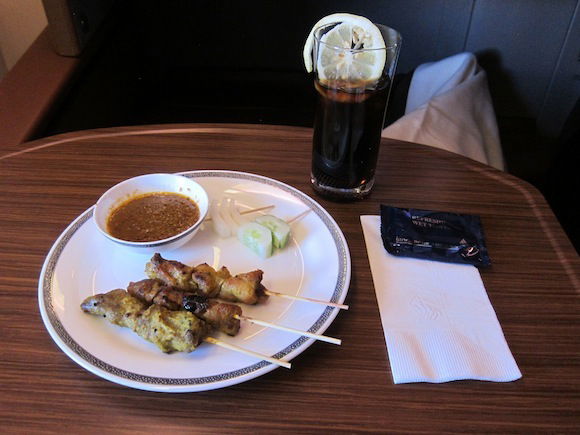 Singapore Airlines satay
ANA first class caviar service
Lots of airlines serve caviar, though few do it with as much class as ANA. An entire tin? Check! A caviar spoon? Check! Blinis? Check!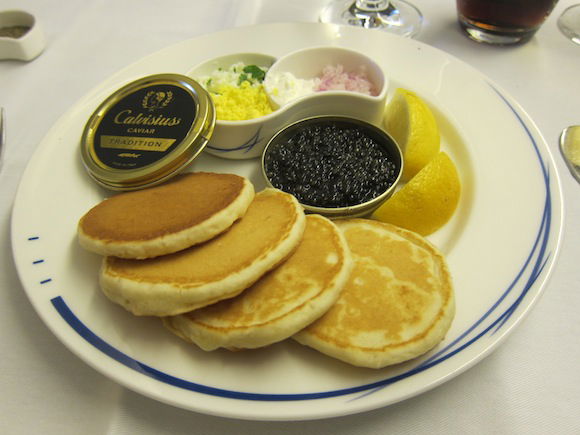 ANA caviar

Korean Air first class bibimbap
Nom nom nom nom! Just be careful with the hot sauce – it's hot!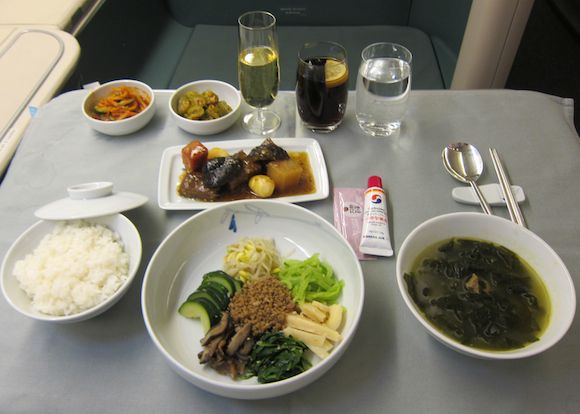 Korean Air bibimbap
Lufthansa first class scrambled eggs
I realize I'm in the minority here and am probably going to get death threats for this, but I hate bacon. Hate bacon. Yes, I'm talking about you, British Airways, with your pesky bacon rolls!
As a matter of fact, I hate any sort of meat in the AM hours. Get sausage near me before noon and I'll cut a b#tch!
So naturally I love Lufthansa for their freshly prepared eggs. You can have them with chives and bacon, though I only take the former.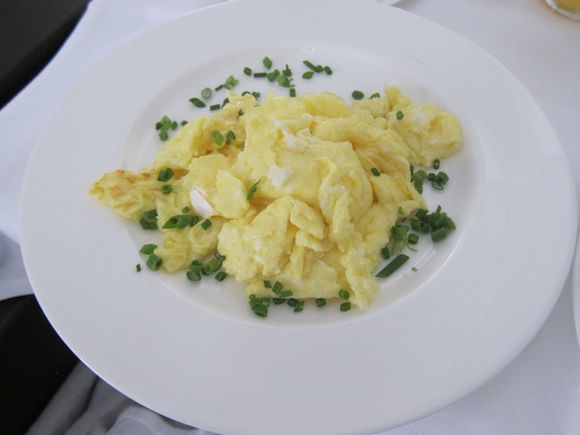 Lufthansa scrambled eggs
Etihad Airways first class custom prepared steak
Eithad Airways offers an onboard chef in first class, which years ago I thought was all for show. But on my most recent flight with them I was actually impressed.
I could choose the type of meat I wanted, how I wanted it cooked, what sides I wanted, and what sauce I wanted. And it was executed exactly to my specifications.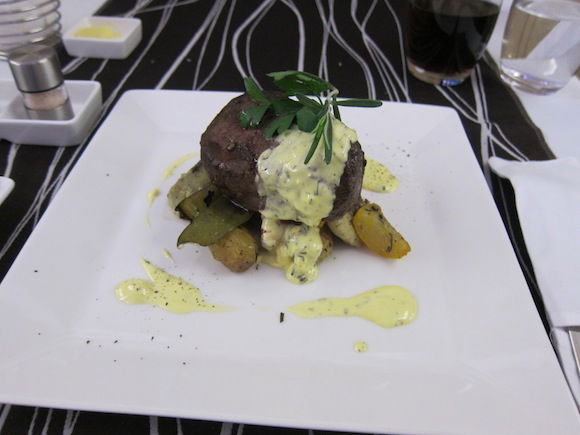 Etihad Airways steak prepared to my liking
Qantas first class steak sandwich
Qantas has phenomenal catering in first class, including a tasting menu on their daytime flights out of Australia. However, quite possibly my favorite onboard meal is their steak sandwich, which is found on their snack menu.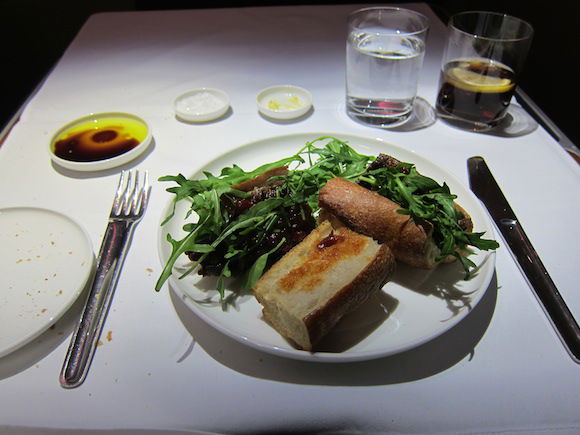 Qantas steak sandwich
China Southern first class Duc de Paris
After a stressful transit at Guangzhou Airport you board your A380 flight back to Los Angeles and are probably parched. Nothing quenches thirst quite like a bottle of Duc de Paris! There are lots of airlines that are just followers, serving the predictable stuff like Krewg, Dong Peryon, Moey and Chandon, etc. China Southern is a trendsetter, and really sets the tone for how they feel about first class with their alcohol budget.
A bottle of this delicious sparkling wine will cost you ~51,000… Indonesian Rupiah. Rumor has it to offer a better variety in first class they'll seasonally be switching to Welch's White Grape Sparkling Cocktail.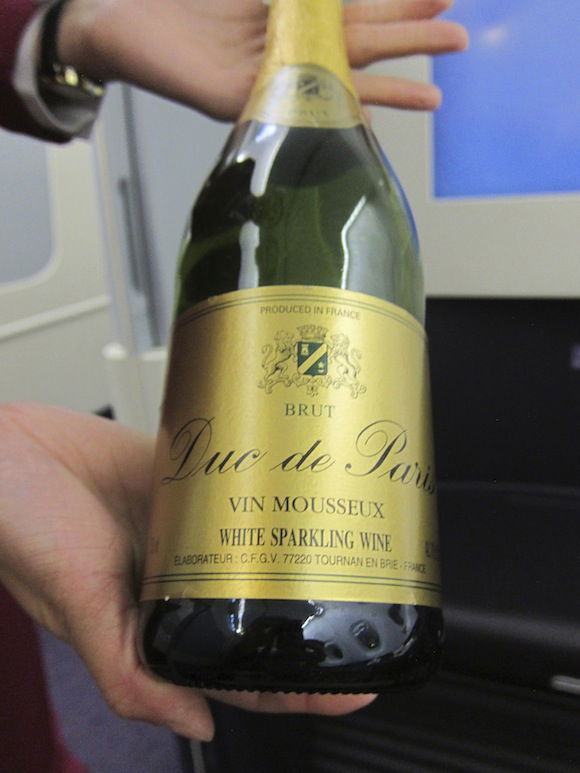 China Southern Duc de Paris sparkling wine
What are some of your favorite first class food/snacks?