"Hi, this is your captain speaking. I'm a supporter of Vladimir Putin, future citizen of Russia, and I hate all Democrats and most Republicans." Does that sound like a flight you'd want to be on? Well, it would appear that this could be a reality on Allegiant Air.
An Allegiant Air pilot's bizarre online presence
Twitter user @Claudio_Reports notes that Ron Gaudier is an Allegiant Air pilot who has been harassing her. Ron's Twitter profile describes him as follows:
"Supporter of MAGA
Supporter of DPR LNR
Supporter of Vladimir Putin
Future citizen of Russia
Enemy of BLM Antifa, and ALL Democrats plus most Republicans."
Ron was actually in the news back in November, because he had his Airbnb canceled on him when he was going to the "Million MAGA March." This came after he posted online asking if anyone else wanted to share the accommodation. At the time he wrote the following in a Proud Boys conversation group:
"So how many of you big talkers are going? I'm so sick of this crap. 99 percent of you f*ckers just sit and yell at the TV while the f*cking pinkos are taking down the country. I'm gonna be there 100 percent. And the rest of you f*cks deserve the country you will get."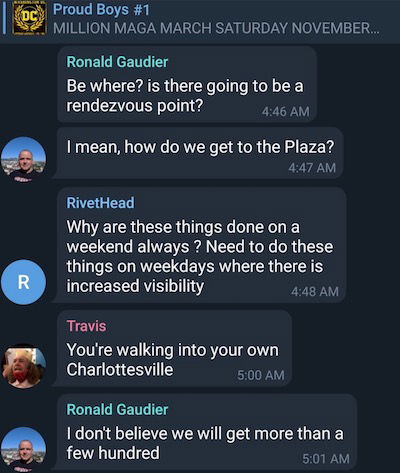 It's worth noting that he doesn't identify as a Proud Boy. Per a separate Tweet:
"I considered joining proudboys, but when I figured out they help you Brown Shirts more than hurt you I decided against it."
Or there's this Tweet about Globalists (and we're not talking about World of Hyatt here):
"Maybe someday you Antifa morons will figure out that you were being used by the same corporate elites and globalists that Trump was fighting."
To be clear, there are two separate issues here:
There's the issue of how someone is behaving online, and whether or not it violates a company's social media policy; he does use his full name online, but he doesn't directly identify as an Allegiant pilot in his social media postings, so does a company tolerate this kind of speech? I think reasonable people can disagree on that…
My bigger concern is that airline pilots have a lot of peoples' lives in their hands, and pilot mental health is an important topic that can't be underestimated (look at Germanwings, Malaysia Airlines, etc.); at what point does a pilot's beliefs system and online presence raise concerns?
How do we know this guy is an Allegiant Air pilot?
How do we know this Twitter account is actually tied to Ron Gaudier, and how do we know that Ron Gaudier is actually an Allegiant Air pilot?
First of all, you can see online that an Allegiant Air pilot named Ron Gaudier contributed to the Trump campaign
Ron's name is even listed on an Allegiant Air pilot union letter
Ron's Twitter account links to his YouTube account, called "Russia With Ronald," in which he travels to the "Donetsk People's Republic"
https://www.youtube.com/watch?v=cEJMXxCugGo
In the comments section it's even made clear that he's an airline employee, because he is asked about the airline he flew, and he says he "can't do ID90 with Turkish" (this is a type of discounted travel for airline employees).
He was asked what his primary motivation was for his trip, and he said he was inspired by Russell Bentley, a man from Texas, who only plans to return to the US in a tank to free the Americans. This is also a guy who believes that Ukrainian fighter jets shot down MH17:
"For instance, he once created a ten-minute video 'investigation' about Malaysia Airlines flight MH17, which was shot down in July 2014 near the town of Hrabove, in separatist-controlled eastern Ukraine, killing all 298 people on board. Bentley claimed that the plane was downed by Ukrainian fighter jets 'in an act of premeditated mass murder.' However, a Dutch-led joint investigation team concluded that it was shot down from a territory controlled by pro-Russian fighters by a missile launcher trucked in from Russia. Bentley's theory is among at least eight conspiracies disseminated by pro-Russian outlets in an attempt to distract from the untidy truth."
Allegiant Air's statement on this pilot
I reached out to Allegiant Air to get the company's side of the story. Here's what a spokesperson had to say:
"This matter has recently come to our attention. While I cannot comment on specific personnel matters, I can tell you that Allegiant does not tolerate harassment, discrimination, bullying, or any such speech or conduct in the workplace. All reports of such conduct are taken very seriously and investigated and addressed as appropriate."
Bottom line
It's one thing to have a reasonable difference in opinions. It's another to… well, whatever you call the above, which I'm still trying to process. Personally I'd rather have a pilot on a flight I'm on not publicly claim to be an enemy of a vast majority of people, and idolize someone who only wants to return to the US with Vladimir Putin to free the American people with tanks.
I'm just speechless… wow.