I'm not ordinarily a huge fan of Allegiant Air (to put it mildly), but I feel like the story of an Allegiant Air "flight from hell" is dramatized a bit.
A complicated Allegiant Air flight from Las Vegas to Stockton
This incident involves Allegiant Air flight 161, which was scheduled to operate the 359-mile flight from Las Vegas, Nevada (LAS), to Stockton, California (SCK), on Monday, July 12, 2021. Passengers were supposed to get in at 9:30PM on Monday, but ended up arriving at around 2PM on Tuesday.
CBS Sacramento did quite a story on this incident, referring to this as a "flight from hell," and talking about how passengers are "still reeling from this nightmare trip." In general I find local news segments on these kinds of incidents to be rather amusing, especially the way they interview people involved in the incident, who clearly have no clue what happened.
So, what happened that made this Allegiant Air flight such a mess?
The plane took off from Las Vegas and approached Stockton at a time that the air traffic control tower was closed; in and of itself this is normal, since the control tower was scheduled to be closed at night, and Allegiant operates to all kinds of airports with very limited commercial air service that also have closed towers
This wouldn't have been an issue, except the Automated Surface Observing System (ASOS) at Stockton Airport was down; this is intended to provide a weather report at the airport, and without this, Allegiant Air couldn't land at the airport
The plane was then supposed to return to Las Vegas, but the weather deteriorated there, with thunderstorms and low visibility, so the plane needed to divert elsewhere
After spending nearly three hours in the air, the flight diverted to Los Angeles (LAX), where customers were each proactively given a $250 Allegiant Air voucher, though had to book their own accommodation
The next day passengers were finally flown to Stockton, and that flight took less than an hour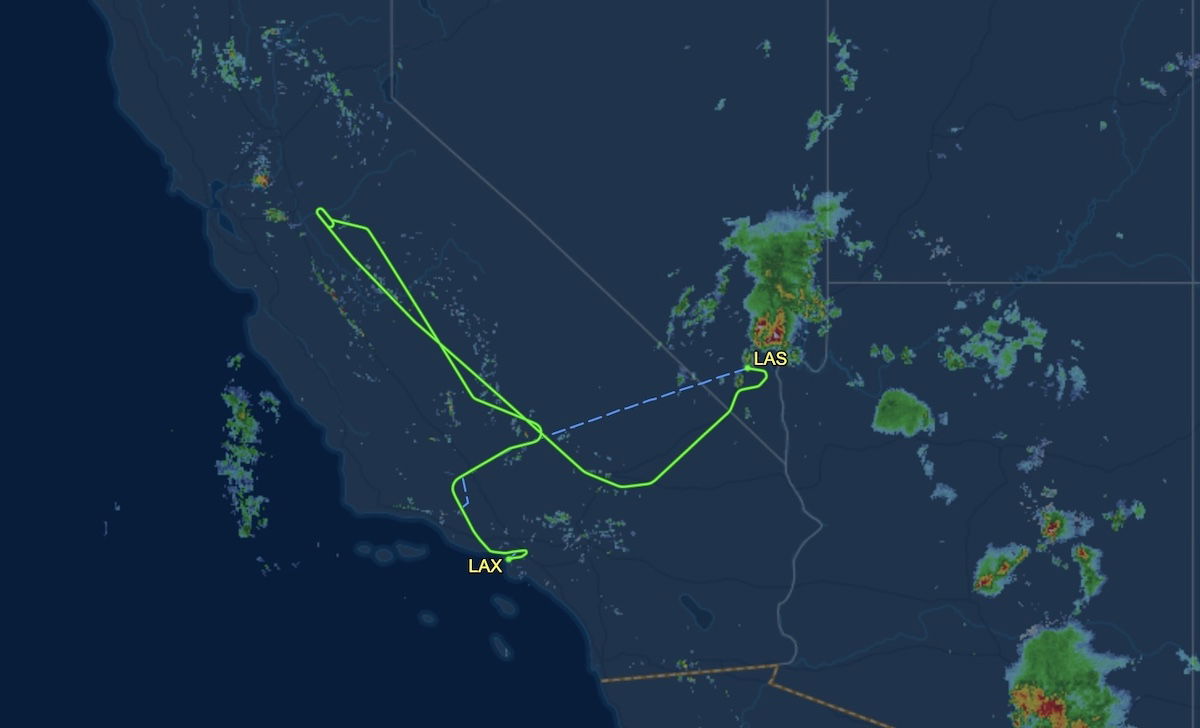 You can watch the CBS Sacramento news clip here:
My take on this Allegiant Air flight
I actually think Allegiant Air deserves credit for how it handled this situation? Don't get me wrong, this was obviously an extremely frustrating situation for passengers, because they could have driven between Las Vegas and Stockton faster than Allegiant Air transported them.
That being said, I think Allegiant Air actually this professionally and as well as it could have, all things considered. This was definitely a case where several things had to go wrong for this result to happen, starting with the issue with the ASOS, followed by the bad weather in Las Vegas. I'm not sure what the airline should have done differently?
The local news station poses the following questions, which seem easy enough to answer:
Why is the control tower closed at night? Because there are barely any aircraft movements, so there's not a need for one
Why does the airport rely on an automated system for planes to land? See above…
Is it safe? Yes…
Ultimately it's not surprising that an incident like this would happen with Allegiant over another airline, when you consider that:
Allegiant often serves smaller city pairs that don't otherwise have commercial service, and even serves many airports that don't otherwise have commercial service
Flying to these kinds of airports also keeps costs down, and allows Allegiant to offer extremely low fares
Bottom line
Allegiant Air passengers traveling from Las Vegas to Stockton this past Monday had quite an eventful flight. While the flight usually takes about an hour, passengers only arrived at their destination around 17 hours after departing Las Vegas.
While no doubt extremely frustrating, I don't think Allegiant Air has any responsibility here. Rather the airport's ASOS being down was what caused the diversion, and then bad weather in Las Vegas caused a diversion to a third airport. I'd consider this to truly be outside of Allegiant Air's control, and arguably the airline even handled the situation well by offering each passenger a $250 voucher.
What do you make of this "Allegiant Air flight from hell" story?