It's amazing how relative airline quality is. If I'm flying a US airline, I consider the service to be phenomenal if I'm addressed by name once or twice and/or the flight attendant is smiling and mutters the occasional "you're welcome" in response to my "thank you."
Meanwhile I flew Singapore Airlines today from Singapore to Seoul Incheon in first class, and I had what I consider to be one of the worst Singapore Airlines first class flights of my life (which, to be clear, is the same as whining over the worst blow… ice cream sundae one has had in their life – it's still great, it's just relative). The funny/sad part is that it's still probably leaps and bounds better than what you'd get on other airlines. But I think the more you fly certain airlines, the more you get used to small touches that blow you away.
I find on Singapore that the service is exceptional roughly every other flight, while it's acceptable on the other half of flights. And like I said above, "acceptable" is an extremely relative term here, because we're talking acceptable by Singapore standards and not by American/European/South American standards.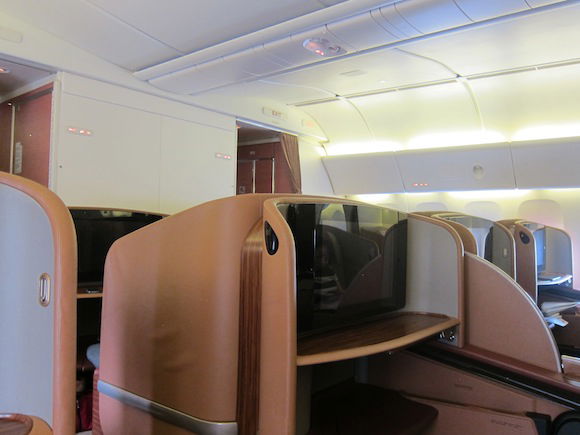 So what are all the things I'm noticing that make this the least special Singapore flight I've ever had?
Introductions:
How an exceptional crew does it: The inflight supervisor, leading stewardess, and leading steward all personally introduce themselves, wish you a pleasant journey, tell you the flight time and weather conditions enroute, and tell you to let them know if you want anything.
How this crew did it: No introductions.
Pre-departure beverages:
How an exceptional crew does it: "Mr. Lucky, it will be my pleasure to ensure you have an exceptional flight today. How about we start that off with something to drink before we depart, perhaps a glass of Krug or Dom?"
How this crew did it: "Do you want something to drink, maybe some water or orange juice?"
My thoughts: I guess popping open bottles of champagne is a lot of work…
After takeoff sitting:
How an exceptional crew does it: I see you're reading, would you maybe care for a blanket? Please let me know at any point in the flight if you'd like your bed made.
How this crew did it (mind you, before any of the service started): Do you want me to make your bed now?
My thoughts: The faster they send us to sleep, the less they have to do.
Lunch orders:
How an exceptional crew does it: "Mr. Lucky, our meal service is completely on demand, so please peruse the menu and let us know what you'd like to eat and when you'd like to eat it."
How this crew did it: "Are you ready to order, and may I suggest you eat at around 11:30AM local time in Singapore, in about an hour?"
My thoughts: It says a lot when the crew tells you when to eat with an on demand meal flight.
Small talk:
How an exceptional crew does it: "Mr. Lucky, did you enjoy your time in Singapore? Were you there for business or holiday?"
How this crew did it (the inflight supervisor, to be exact): "Did you stay at the casino hotel in Singapore? You people always seem to stay there."
My thoughts: Seriously?!
Attentiveness:
How an exceptional crew does it: They walk through the cabin every 10-15 minutes during the non-service parts of the flight. They use their x-ray vision to determine whether you might need anything.
How this crew did it: They sat in the galley. For the whole flight. And didn't emerge for the four hours between the meal and the time the cabin had to be prepared for landing.
My thoughts: They must have been there primarily for our safety.
Anyway, fortunately my connecting flight to San Francisco was spectacular, though I'll cover that later. Interestingly there was an inflight auditor on that flight, and I couldn't help but wish she were on the previous flight instead.