EVA Air offers one of the world's best business class experiences. They have reverse herringbone seats, Wi-Fi, excellent food and drinks, and top notch amenities. Here's a review I wrote about my experience flying with them last year from Los Angeles to Taipei.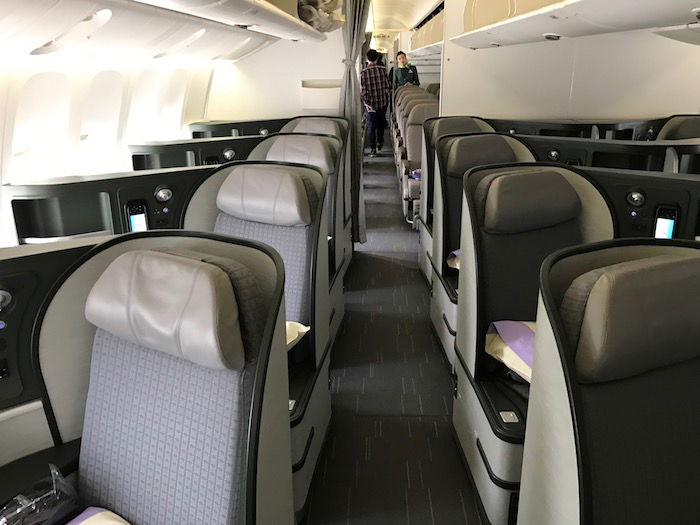 While the EVA Air business class experience is ordinarily great, there's one thing you can do to really elevate it. Specifically, you can book yourself on one of their Hello Kitty flights. EVA Air's Hello Kitty flights are the greatest thing ever. I don't think it really matters whether you like Hello Kitty or not, but you can't help but appreciate their commitment to a theme. Everything about the experience is Hello Kitty themed.
There are special Hello Kitty check-in counters.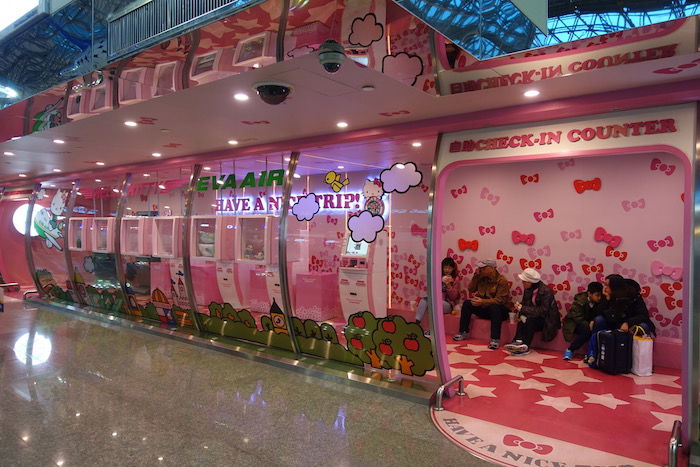 The plane is in a Hello Kitty livery.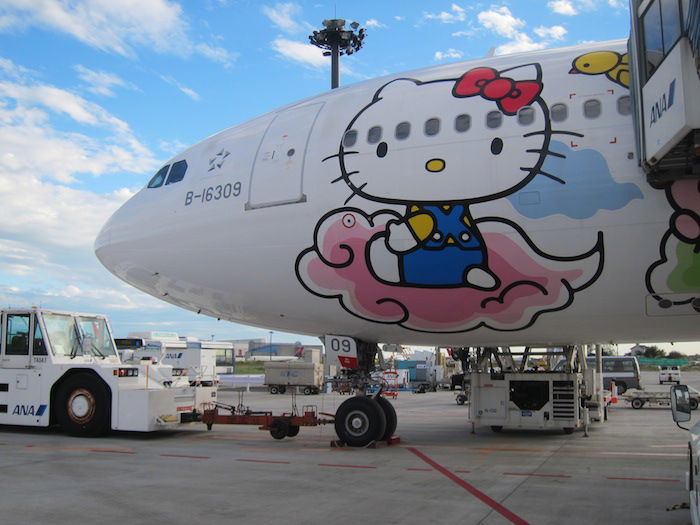 The barf bags, snack mix, coasters, and (rose) champagne are Hello Kitty themed.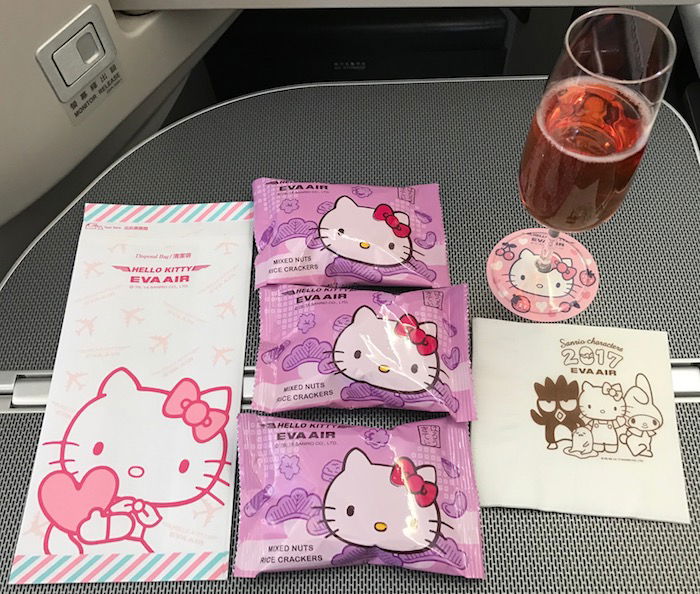 The menus, slippers, napkins, and pillows, are all Hello Kitty themed.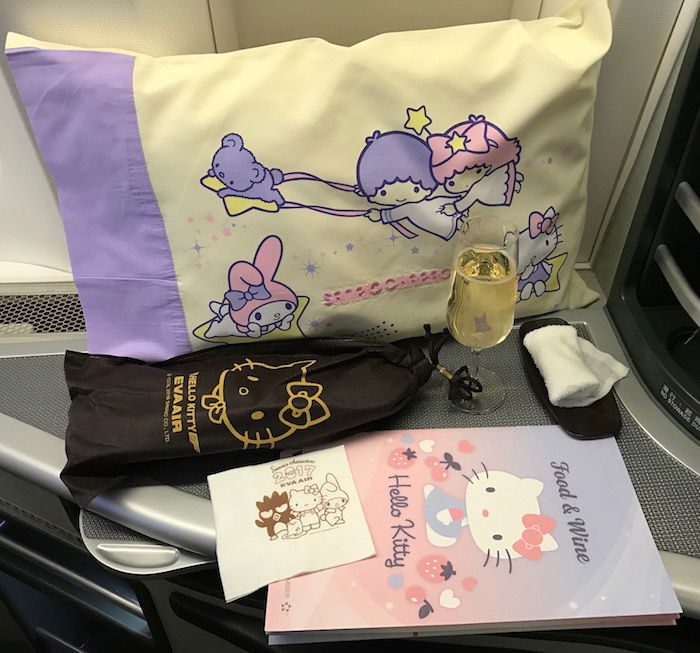 The food even has Hello Kitty elements.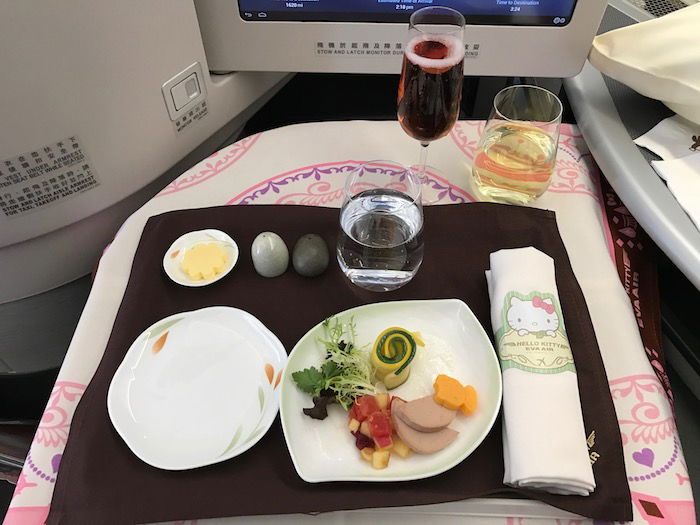 There's a big selection of Hello Kitty duty free items (and you can even buy the same apron that the flight attendants wear).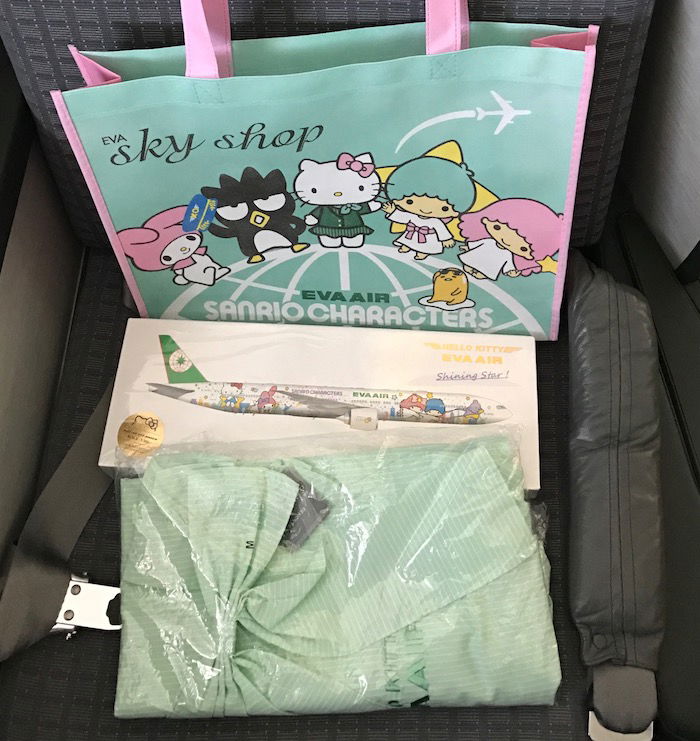 Even the toilet paper and the air freshener in the lavatory is Hello Kitty themed.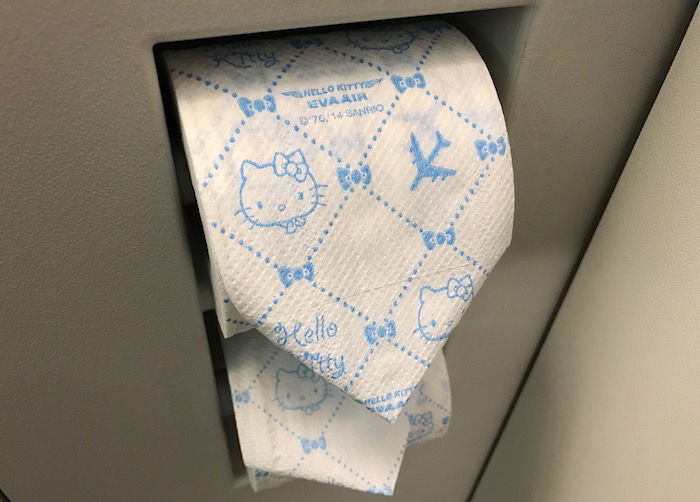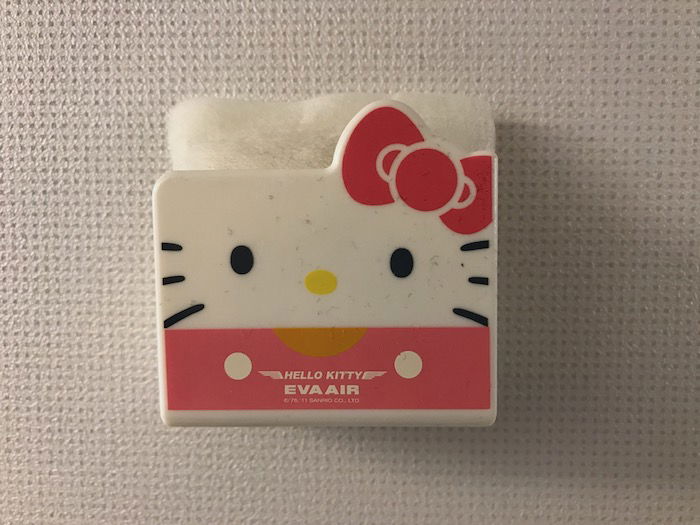 It's basically the greatest thing ever, and if you haven't taken a Hello Kitty flight, I can't stress enough what a ridiculous(ly awesome) experience it is.
For those in the US, there's some great news. EVA Air has just expanded their Hello Kitty service to the US.
Three of EVA Air's weekly flights between Taipei and Los Angeles are now operating with Hello Kitty service. Specifically, BR6 from Taipei to Los Angeles on Tuesdays, Thursdays, and Saturdays, and BR5 from Los Angeles to Taipei on Tuesdays, Thursdays, and Saturdays, now feature Hello Kitty service. In order to make this possible, EVA Air has taken the Hello Kitty jet off the Paris route. Au revoir, Hello Kitty!


This represents a Hello Kitty service resumption for LAX, as everyone's favorite feline friend also flew to LAX in 2013-2014. I guess her dreams of becoming an actress/model/singer didn't work out, but now she's back for her second shot.
Los Angeles isn't the only US destination to feature the Hello Kitty jet, as Chicago also gets some Hello Kitty service. BR56 from Taipei to Chicago on Sundays, Wednesdays, and Fridays, and BR55 from Chicago to Taipei on Mondays, Thursdays, and Saturdays, have featured the Hello Kitty service for a while.


You can find out all the information about EVA Air's Hello Kitty jet on this dedicated webpage. I've flown EVA Air's Hello Kitty jet three times before, from Taipei to Singapore, Tokyo to Taipei, and Taipei to Los Angeles, so check out those trip reports for a sense of what to expect.
EVA Air isn't great about making business class award seats available nowadays, though there is still some space. Redeeming just 75,000 LifeMiles for a Hello Kitty business class ticket between Los Angeles and Taipei is pretty tough to beat.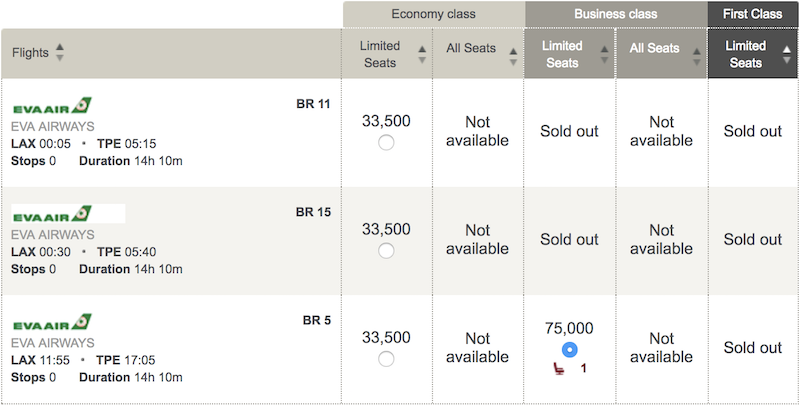 Who is rushing to book their Hello Kitty adventure to/from LAX?
(Tip of the hat to View from the Wing)