We've seen several airlines offer flights to nowhere before, but not like this. I have a lot of questions…
EVA Air's flights for speed daters
EVA Air was among the first airlines to offer a flight to nowhere during the pandemic, as a way of letting people experience the joy of flying without actually going anywhere. EVA Air's first flight to nowhere was for Father's Day, and I can appreciate the concept behind it.
As reported by CNN Travel, in the coming weeks EVA Air will operate three flights to nowhere… but for speed daters (this is possibly an even stranger concept to me than Thai Airways' flight to nowhere for chanting Buddhist mantras over 99 holy sites). The airline is working with travel experience company Mobius on a campaign that's being called "Fly! Love is in the Air."
As a representative from Mobius explains the concept:
"Because of Covid-19, EVA Air has been organizing 'faux travel' experiences to fulfill people's desire for travel. When single men and women travel, apart from enjoying the fun in travel, they may wish to meet someone — like a scene in a romantic movie.

The biggest advantage of speed dating on a flight comes from the serious nature from our participants. In addition to gathering participants with enough spending power, it also attracts a group of single people who love traveling. With the same values, it boosts participants' motivation to meet and helps smoothen their conversation from the start."
There will be three different experiences, on Christmas Day, New Year's Eve, and New Year's Day:
The Christmas Day experience will be followed by an afternoon tea on the ground
The New Year's Eve experience will kick off with a candlelit dinner, and then participants will kick off the new year onboard a plane
The New Year's Day experience will kick off with breakfast and then the flight
How does this work?
There will be 40 singles on each flight, with 20 men and 20 women
Participants need to be university graduates and citizens of Taiwan; men need to be ages 28-38, while women need to be ages 24-35
Each experience will include a three hour flight from Taipei Taoyuan International Airport, plus a further two hour date on the ground
Participants will be randomly seated on the plane based on a drawing, but are encouraged to move around and talk to more people
Participants will be able to have conversations while enjoying inflight meals, and will be asked to keep on masks when not eating or drinking
Tickets for each experience cost ~$295
I'm sorry, but this just seems unpleasant
I hate to be a grouch (not really), but I have some thoughts and questions:
There's obviously controversy around this concept, given the environmental impact of flights to nowhere, as well as the age discrimination here
What these people have in common is that they can afford to spend $295 and like taking speed dating flights to nowhere to travel — that's how we're defining "having the same values?"
I couldn't think of a worse place to speed date than a plane — if it doesn't go well there's no escaping, not to mention you're potentially "blocked" into a window seat with someone you don't want to be next to in the aisle
Unrelated, but how is EVA Air making any money on this? Maximum revenue is under $12,000, which doesn't seem like much for three hours of flying and everything else that's included
Lastly, going to the Mobius website for this promotion, why is Google Translate failing me so miserably?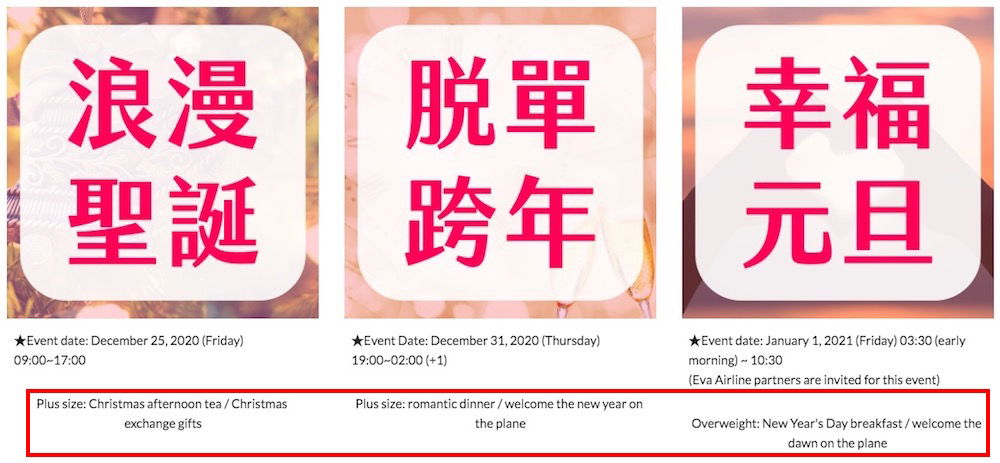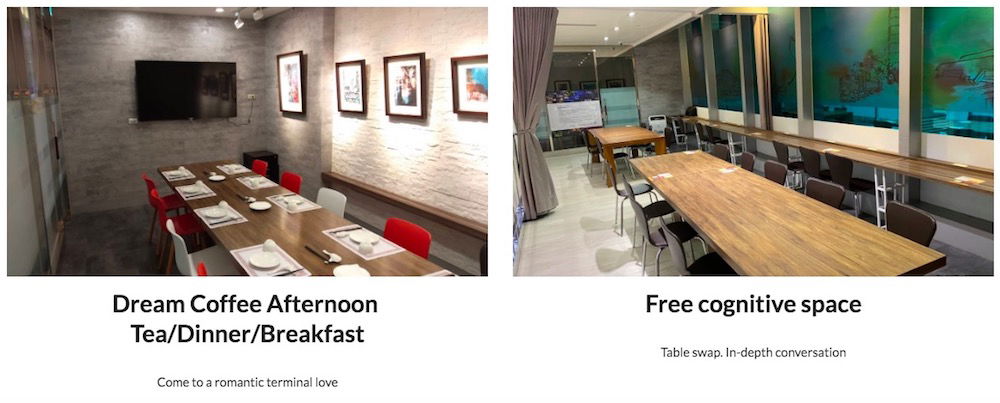 Bottom line
As an introvert, the concept of being trapped on a plane with strangers for three hours with the expectation of speed dating sounds… not fun. That being said, (also as an introvert) I'd love to be a fly on the wall fuselage, because I feel like this could make some good entertainment. Though I'm not sure I could handle the secondhand embarrassment and awkwardness I might feel.
What do you make of this EVA Air speed dating flight concept?