Hello from somewhere over the Pacific! I'm writing this post live from my EVA Air flight, enroute from Los Angeles to Taipei. I flew EVA Air a few years back when they first joined the Star Alliance (including on one of their Hello Kitty flights), though this is my first flight on them since then. They've improved significantly over the past few years, and this is easily one of the top five business class products I've ever flown.
While I'll have another post sharing my initial thoughts on the overall experience, in this post I wanted to focus specifically on EVA Air's business class drink selection. More specifically, I want to focus primarily on their non-alcoholic drink selection.
First I should mention their champagne selection. EVA Air is known for serving the best champagne in business class of any airline. In the past they served Dom Perignon, Krug, and recently they even served Krug Rose, which retails for almost $300 per bottle.
On my flight they served Veuve Clicquot La Grande Dame 2006, which is phenomenal. I think I might even like it more than Krug. So while it's not the Krug Rose I was hoping for (which I've never tried before), I was very impressed.
But the real reason for this post is because of how impressed I am by EVA's non-alcoholic drink selection. I've been flying a lot of dry airlines lately, which has made me realize just how little effort many airlines put into their non-alcoholic drink selection. I respect certain airlines' decisions to be dry, but it comes across as cost cutting when they also put zero effort into their non-alcoholic drink selection.
Well, EVA Air business class features my favorite non-alcoholic drink selection of any airline in any cabin. Why?
They have legitimate iced coffee, which I've only otherwise ever seen on Royal Brunei.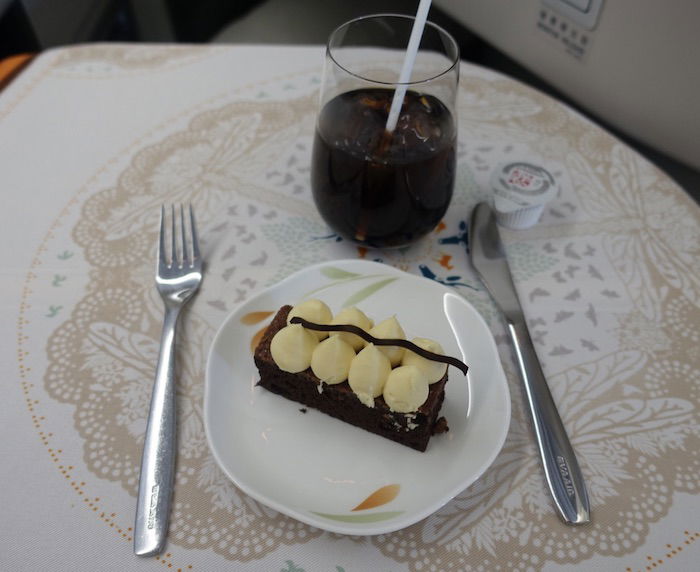 They also have fantastic cappuccinos.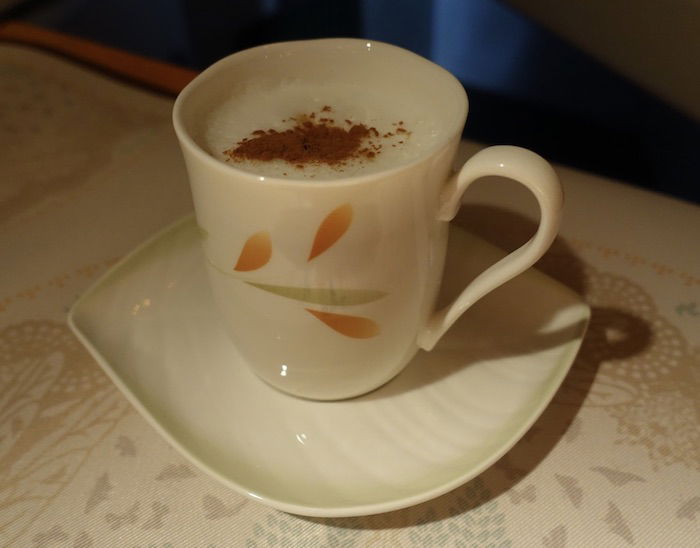 They have the choice of Fiji and Evian still water. While some airlines will load only one bottle of water per person, EVA had seemingly endless personal bottles of Fiji water. In the first half of the flight alone I had five of them.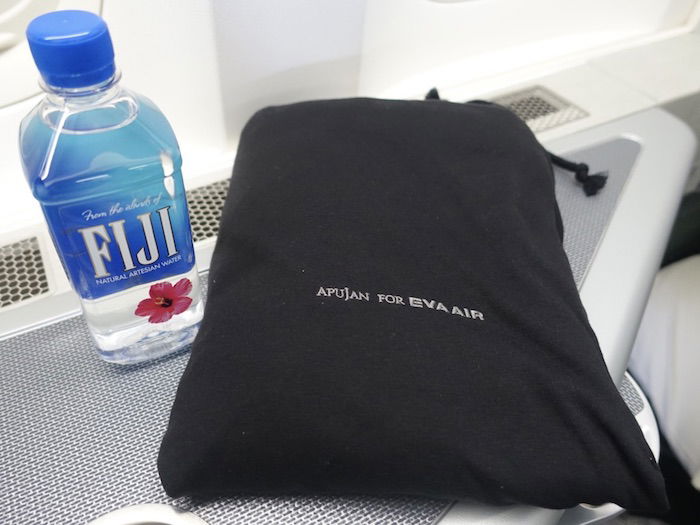 They also have San Pellegrino sparkling water, which I strongly prefer to Perrier (the sparkling water of choice in international first class on most airlines).
I'm making an effort to make smarter choices on planes, and it's more fun to avoid alcohol and soda when they serve your favorite still and sparkling water, as well as fantastic iced coffee and cappuccinos.
Well done, EVA Air!