EVA Air offers one of my favorite business class products. While Qatar Airways Qsuites is my favorite business class product in the world, I'd say EVA's business class is in the top five, and maybe even in the top three.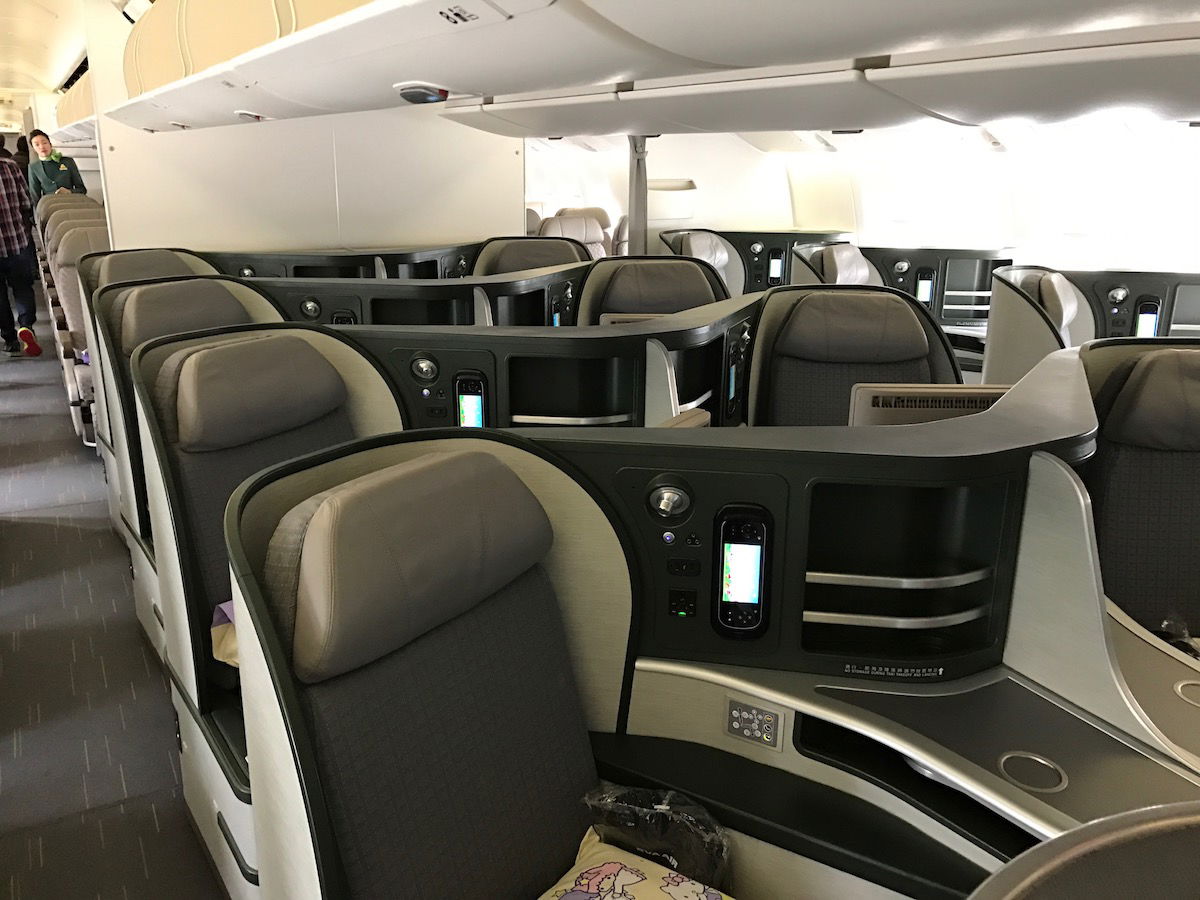 EVA Air's 777 business class
EVA Air has reverse herringbone seats on their 777-300ERs, though what really sets them apart is their soft product, especially all the little touches they offer:
EVA Air offers Rimowa amenity kits on longhaul flights departing Taipei
EVA Air offers pajamas on all longhaul flights
The airline serves Krug and Veuve Clicquot La Grande Dame champagne, depending on the route
The airline has solid catering, and you can pre-order your meal
EVA Air has Wi-Fi, which is generally fast and reasonably priced
They have so many nice little touches to their service, like excellent cappuccinos, actual iced coffee, Fiji water, etc.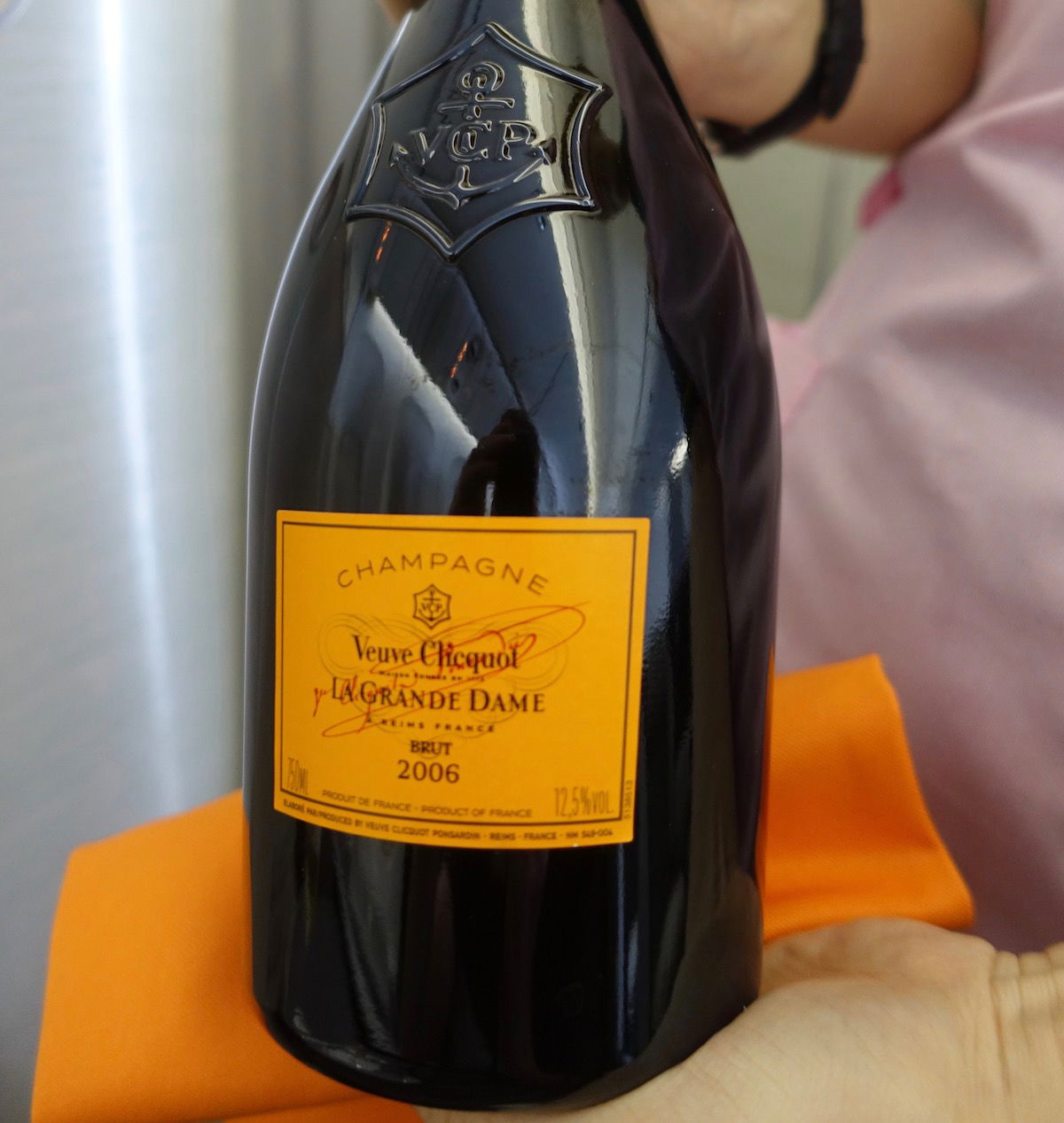 EVA Air's Veuve Clicquot La Grande Dame champagne
Well, EVA Air has just announced some further updates to their business class amenities for 2019. Frankly I think these are quite minor, so this is intended more to highlight how great of a product they (largely) already have, rather than me thinking that these changes are material.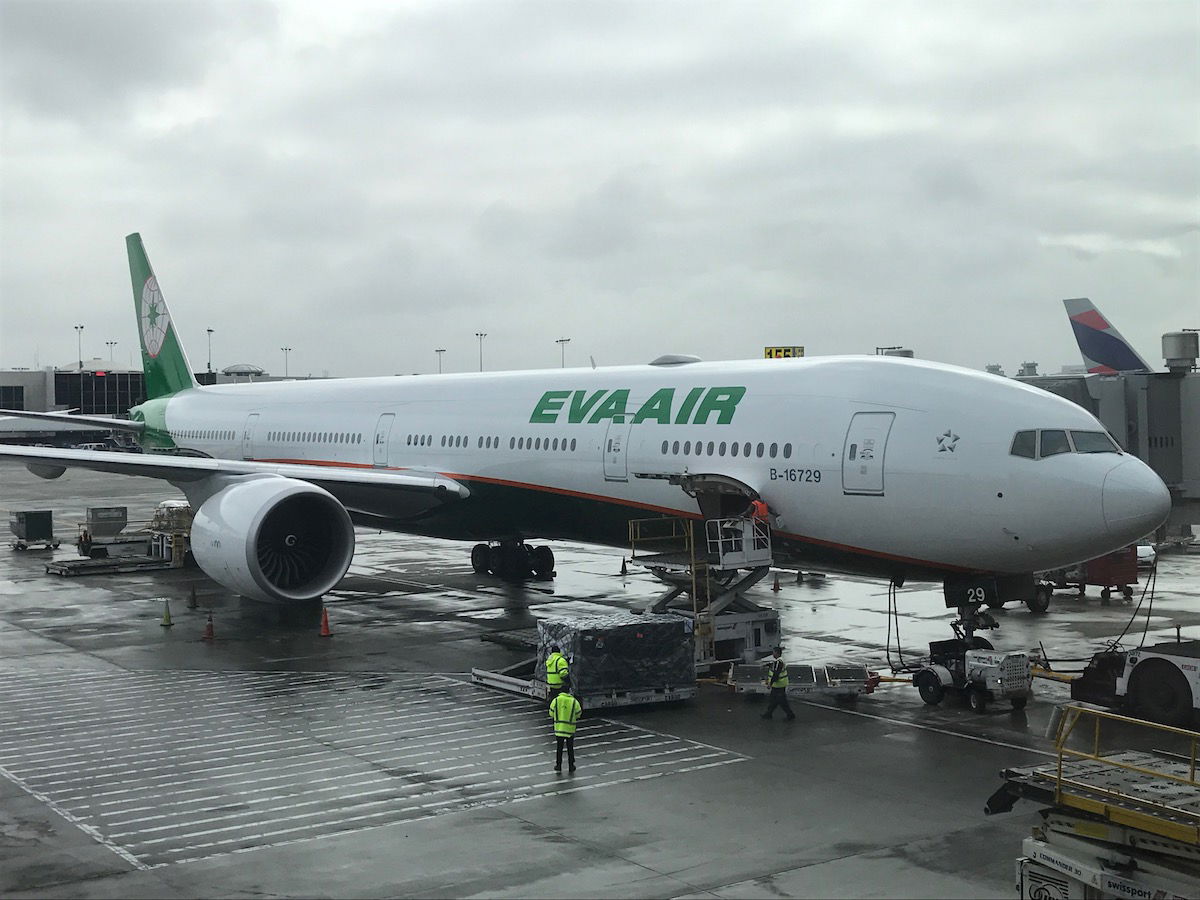 EVA Air 777-300ER
EVA Air amenity kits
On flights departing Asia, EVA Air continues to offer Rimowa amenity kits, which are very well stocked, and are popular among collectors.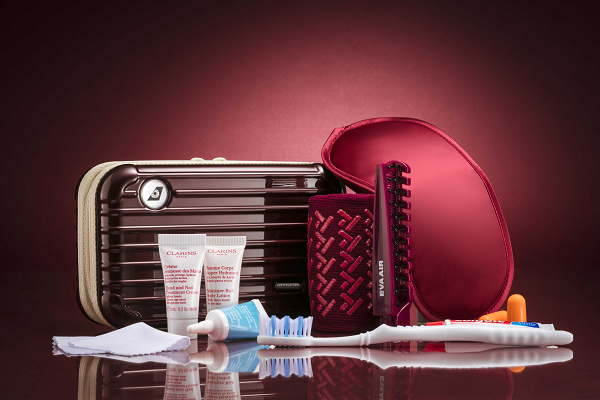 EVA Air's Rimowa amenity kit
For flights to Asia, the airline is offering Salvatore Ferragamo amenity kits, which also look really nice.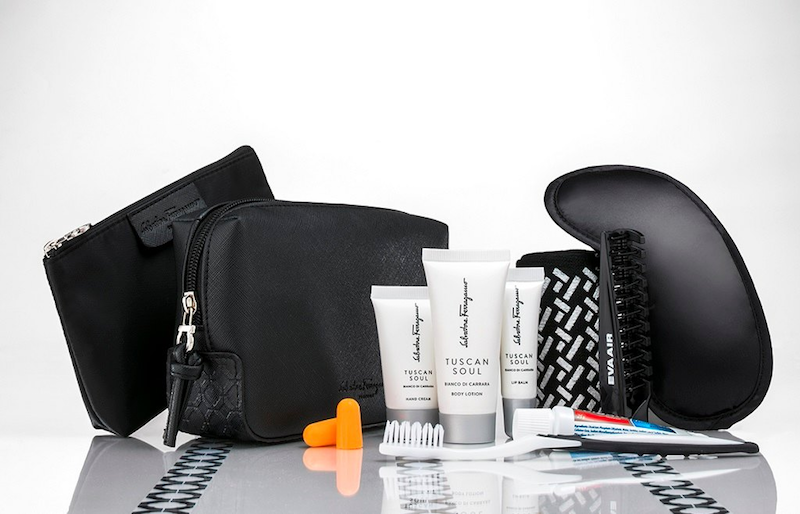 EVA Air's Salvatore Ferragamo amenity kit
Even though they mention this as part of the 2019 offerings, in reality I don't think this represents a change. Here's how they describe these kits:
Those departing from Taiwan receive overnight kits in RIMOWA's popular new "Carmona Red." Contents include a color-coordinated eye mask, cozy socks, a hairbrush, a microfiber cloth for cleaning glasses and screens on personal devices, earplugs, a toothbrush and toothpaste and skincare essentials from CLARINS.

Returning to Taipei on these flights, EVA is giving Royal Laurel and Premium Laurel passengers exclusive overnight kits by fashion house Salvatore Ferragamo. Inspired by ancient Taiwanese majolica tiles, the case is a harmonious blend of contemporary fashion and Taiwanese culture stocked with Salvatore Ferragamo lotion, hand cream and lip balm elegantly scented with the brand's new Bianco di Carrara fragrance.
EVA Air pajamas
EVA Air has new pajamas for 2019, designed by Jason Wu. They highlight that he designed Michelle Obama's dresses for both of her husband's inaugurations, and that this is the first time he's working with an airline.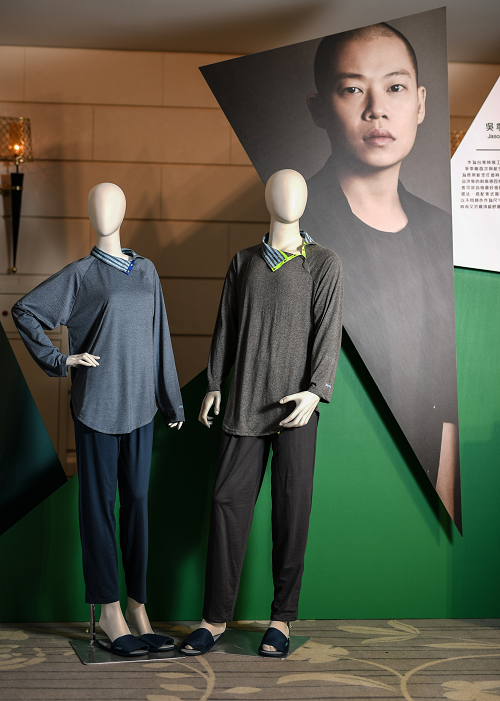 EVA Air's new pajamas
Funny enough, and completely coincidentally, I'm writing this post while wearing an old pair of EVA Air pajamas, so that must mean I quite liked the old ones.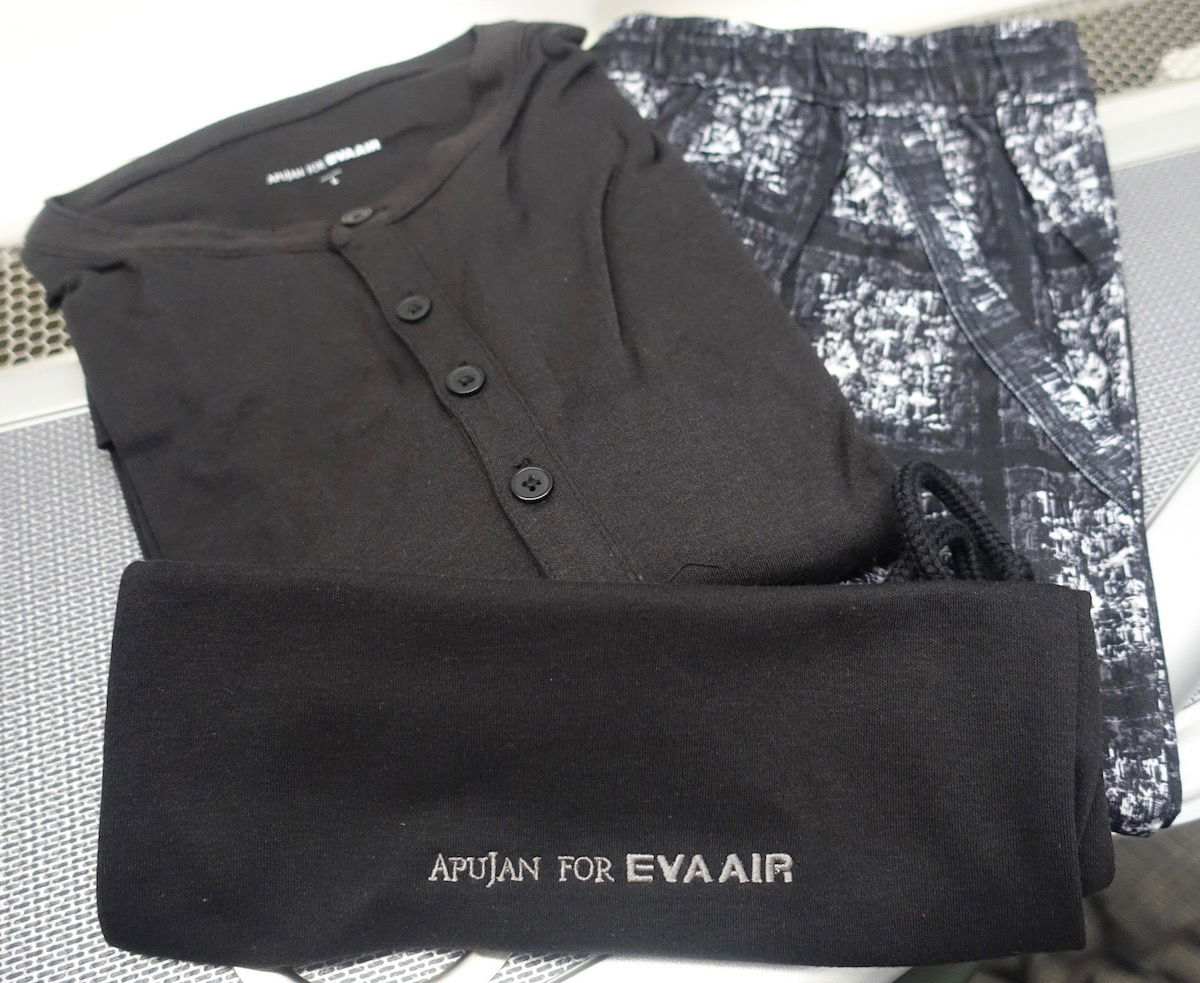 EVA Air's old business class pajamas
EVA Air updated catering
Exclusively on flights from Taipei to Los Angeles, New York, and San Francisco, EVA Air is serving food from tan-style cuisine Master Chef Huang Ching-biao. Here's how it's described:
Prepared with slow, painstaking, traditional cooking techniques and nothing but the best ingredients, the inflight dining experience begins with a pork shoulder slice wrapped with cucumber and Thai-style shrimp followed by golden chicken soup with seafood in a rich, golden broth. The main course is braised abalone in oyster sauce served with stir-fried rice with caramel olive while dessert is an elegant concoction of Tan's mashed taro and sweet potato in water chestnut sauce.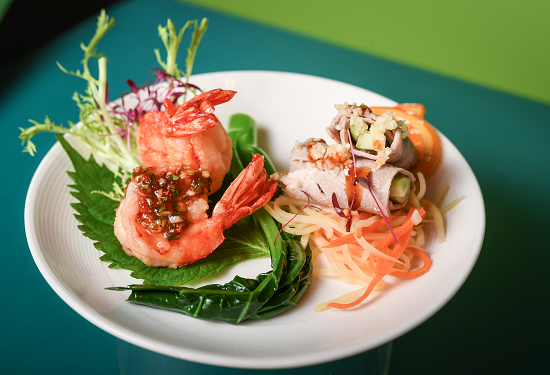 EVA Air's new catering
On top of that, pastry chef Andrea Bonaffini of the popular Taipei patisserie Yellow Lemon has created four seasonal desserts, available exclusively on flights from Taipei to Brisbane, Paris, and Vienna:
Starting this month, passengers can enjoy "Sexy Lady," an irresistibly delicious pastry with rose petals, slightly tart and refreshing raspberries, lychee and chocolate. On the spring menu, EVA is offering an inventive delight named "Bianca," followed in summer by "Cocco Mango" and in autumn, by "Nocciola."
EVA Air cold-presses juices & tea
As a further offering for pre-departure beverages, EVA Air will offer a cold-pressed mango and mixed fruit juice.
On top of that, on longhaul flights EVA is offering chocolates from Eclat de Valrhona with their coffee and tea service.
Furthermore, EVA is now offering creme caramel tea from Singapore's TWG.
Bottom line
EVA Air continues to have a phenomenal business class product, and it seems like it keeps getting better. It's amazing the disparity in business class hard products around the world.
This reminds me that I'd really like to fly EVA Air longhaul again. I guess I should do that once they start flying their new 787-9s to Europe this spring.
If you've flown EVA Air business class lately, what was your experience like?
(Tip of the hat to View from the Wing)