Given the competition from the likes of Norwegian and WOW Air, many major European airlines have new ultra low cost carriers, which are expanding rapidly:
IAG, the parent company of British Airways, has LEVEL, which operates a fleet of A330s from Barcelona and soon also from Paris
Lufthansa has Eurowings, which has been expanding most quickly, and operates both short-haul and longhaul flights; Eurowings has grown even more than initially expected lately, due to airberlin going out of business
Air France's latest venture is JOON, which isn't really a traditional low cost carrier, but rather is marketed at millennials, and seems to be a way for them to keep their staffing costs down, as cabin crew are on lower pay scales
Eurowings has grown significantly lately, and now has a fleet of almost 90 planes, consisting of Bombardier Q400s, A319s/A320s, and A330s, which they use for longhaul flights.
Eurowings' A330s feature a total of 310 seats, including 21 premium economy seats and 289 economy seats. It looks like Eurowings will soon be changing their business model a bit, per a hint they dropped on Twitter this morning:
Something new is coming up! Can you guess? Stay tuned for more!
Something new is coming up! Can you guess? Stay tuned for more! pic.twitter.com/rSphRa5fjT

— Eurowings (@eurowings) December 11, 2017
Okay, this doesn't exactly leave much to the imagination. It would appear that Eurowings is installing a proper business class cabin on their A330s, as the seats pictured are identical to Lufthansa's current business class seats.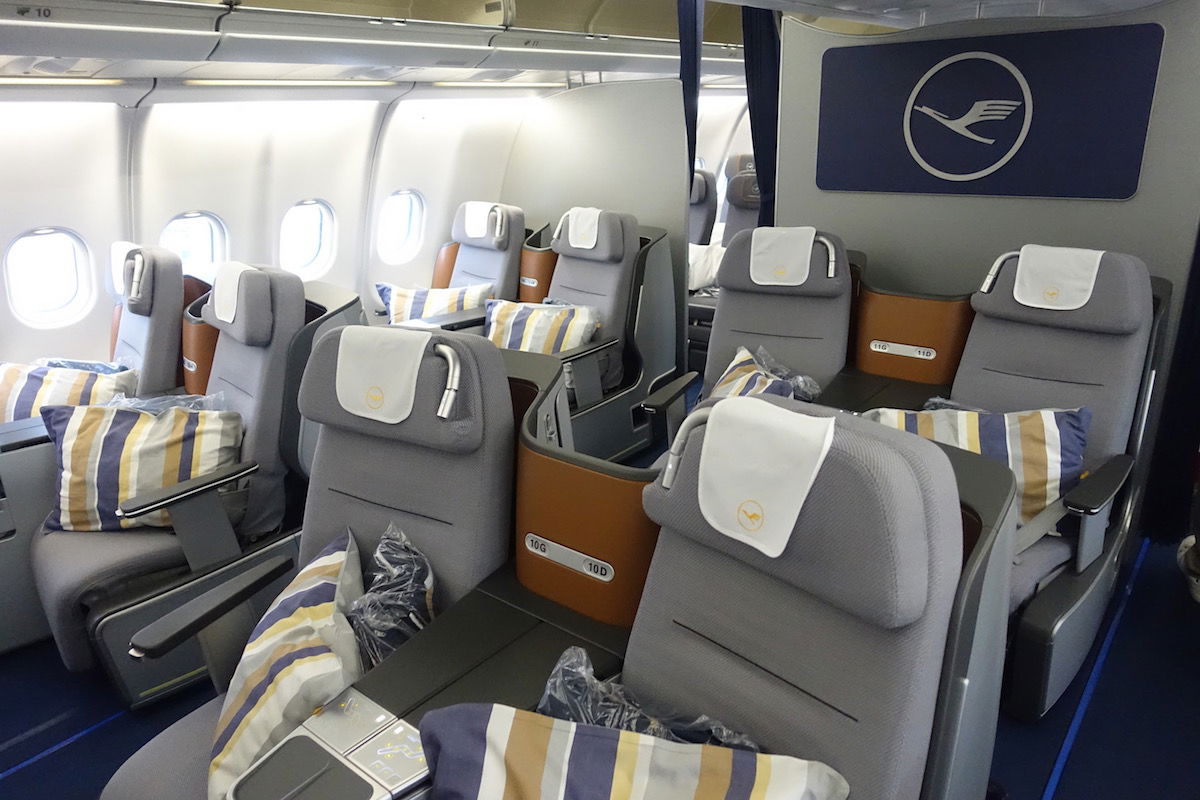 While Eurowings initially only flew leisure routes, the airline is now taking over some airberlin routes, including Dusseldorf to New York and Dusseldorf to Miami, and clearly there's some demand there for a business class cabin.
At the same time, I can't help but feel like at some point all these airlines blend together. If you're going to go out of your way to create an ultra low cost carrier, you'd think you'd stick to that, rather than adding the same business class you have in the rest of your fleet. But if nothing else it seems that ultra low cost carriers are worthwhile in terms of lower labor costs.
We'll have to wait to learn the full details of Eurowings' new business class, as they haven't revealed all the details yet. I'm curious what we can expect in terms of onboard service, what the timeline is for these planes being reconfigured, and whether all A330s are getting business class, or just some.
What do you make of Eurowings installing business class on their longhaul aircraft?
(Tip of the hat to YHBU)