A couple of weeks ago Etihad Airways announced that they'd be introducing new amenity kits in longhaul first and business class as of August 23, 2018. These new kits are made in conjunction with Acqua Di Parma.
While they made a nice-looking promotional video about the kits at the time, it didn't actually contain much information regarding the contents.
Yesterday I received a package from Etihad containing their new amenity kit. The package actually caught me off guard, because they didn't even tell me they were going to send it.
Let me once again emphasize that I don't take comps from airlines (I pay for all my own travel), and don't have financial relationships with any airlines, so I'll gladly share my unbiased thoughts on the new kit, especially given that it isn't even publicly available yet.
What's in Etihad's new amenity kits?
Before I share my thoughts on the kit I was sent, I wanted to first link to this page, which shares the detailed contents of the amenity kits in each cabin:
The new business class amenity kit includes:
Colonia 1.5ml.
The signature fragrance of the Acqua di Parma universe radiates bright, citrus notes of golden, Italian fruit.

Colonia Hand Cream 10ml.
A brand new Acqua di Parma creation, this light, rapidly absorbed emulsion combines apricot kernel oil, panthenol and shea butter to provide a protective and soothing action, enhanced by the fresh, crystal clear notes of Colonia.

Comfort Items
Our Business Class amenity kit will have a variety of comfort items, including Eye shade, Socks, Toothbrush and Toothpaste. On request, guests can also ask our crew for a Shaving kit, Comb & Ear plugs.
The new first class kit includes:
Colonia 5ml.
A miniature version of the classic Acqua di Parma Colonia fragrance in the iconic Art Deco bottle. With its subtle citrus notes, the fragrance is a timeless classic: the symbol of casual and genuine Italian elegance.

Colonia Lip Balm 3ml.
A light and precious formula with shea butter and vitamin C, to make the lips feel beautifully soft.

Colonia Body Lotion 40ml.
A light, velvety emulsion, fragranced with the subtle notes of Colonia. This rapidly absorbed Body Lotion is enriched with jojoba oil, to leave skin deeply moisturised, and pleasantly soft and smooth.

Comfort Items
Our First Class amenity kit will have a variety of comfort items, including Eye shade, Socks, Toothbrush and Toothpaste. On request, guests can also ask our crew for a Shaving kit, Comb & Ear
Historically the Residence doesn't have amenity kits. That's because the experience is meant to replicate what you'd experience in a hotel, where products are just available on demand, rather than a traditional flight experience. Going forward, the following amenities will be available in the Residence:
Colonia Pura 20ml.
A modern and light fragrance, embodying pure Italian joie-de-vivre and breathing new light into the citrus structure of Colonia, presented in the iconic Art Deco bottle.

Magnolia Nobile 20ml.
A charismatic, refined and feminine eau de parfum with the crystalline tones of bergamot, lemon and citron, blending with the intensity of a rich bouquet of flowers, the absolute protagonist of which is the vibrant magnolia.

Colonia Lip Balm 3ml.
A light and precious formula with shea butter and vitamin C, to make the lips feel beautifully soft.

Colonia Glycerin Soap 50gr.
A delicate, elegant and gently-rounded soap made using ancient handcrafting techniques, embossed with the royal coat of arms of the Duchy of Parma. The formula is enriched with the soothing properties of glycerine, whilst the silky texture of the soap creates a soft foam that releases the crystalline citrus notes of Colonia.

Colonia Amenity Kit 40ml.
A selection of products that recreate the dazzling ambience of Colonia. The Shower Gel is formulated with wheat protein, aloe vera and coconut oil to gently cleanse the skin, leaving it delightfully fresh and perfumed. The Shampoo is rich in active ingredients for a restructuring effect for all hair types, leaving hair looking shiny, and feeling soft and easy to comb. The Conditioner restores tone and vitality to hair, thanks to a high concentration of deeply penetrating nutrients. The body lotion completes the Acqua di Parma ritual with a sensation of freshness and relaxation.
My experience with Etihad's new amenity kit
While it wasn't explicitly stated, based on the contents I believe that what Etihad sent me was the first class amenity kit, so I didn't get the business class kit.
Generally I'm a fan of the new kit, and think it represents an upgrade — I like the color and material, as it feels high quality.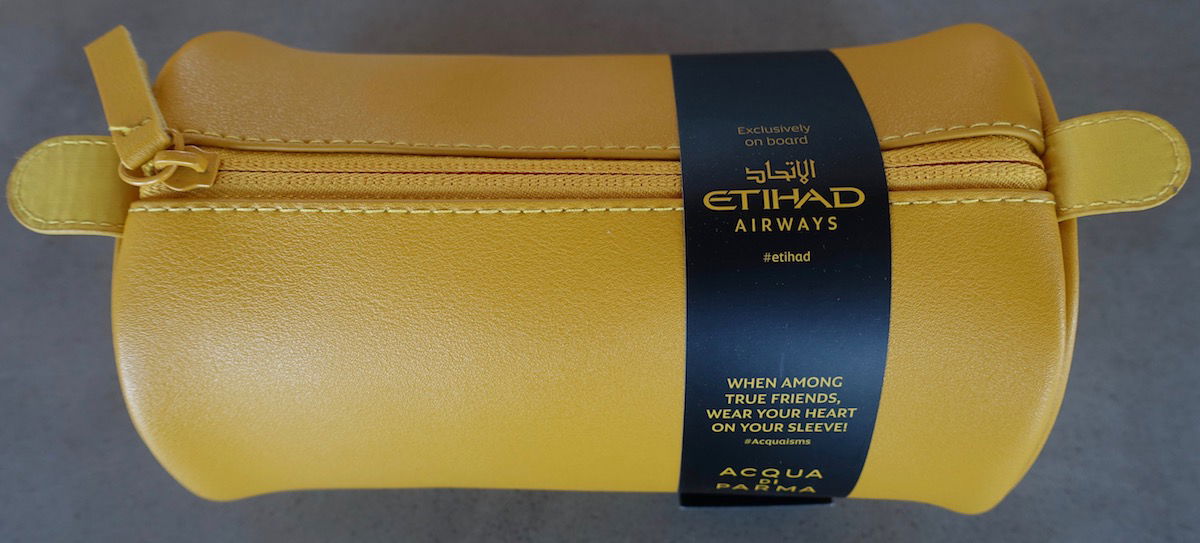 The kit has a toothbrush and toothpaste, earplugs, eyeshades, socks, a shaving kit, a comb, lip balm, body lotion, and some cologne.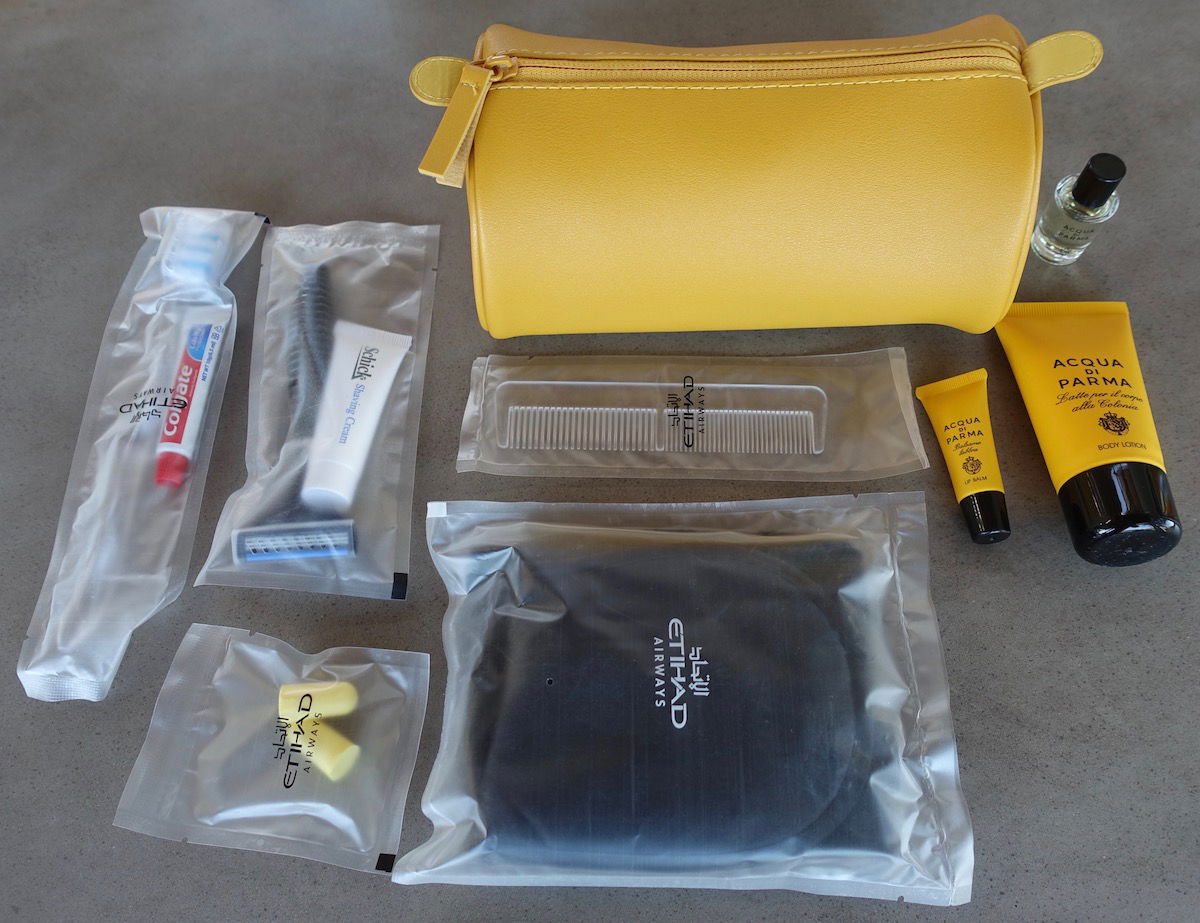 The cologne is in a tiny 5ml bottle, and it's one of those bottles where you "dab" rather than spray. I'm not sure how I feel about all first and business class passengers getting cologne. The scent is really, really strong, and having dabbed a bit several hours ago, I still smell it. Multiply that by dozens of people (since I imagine many people will be curious to try the scent), and that could be a very strong smell in the cabin.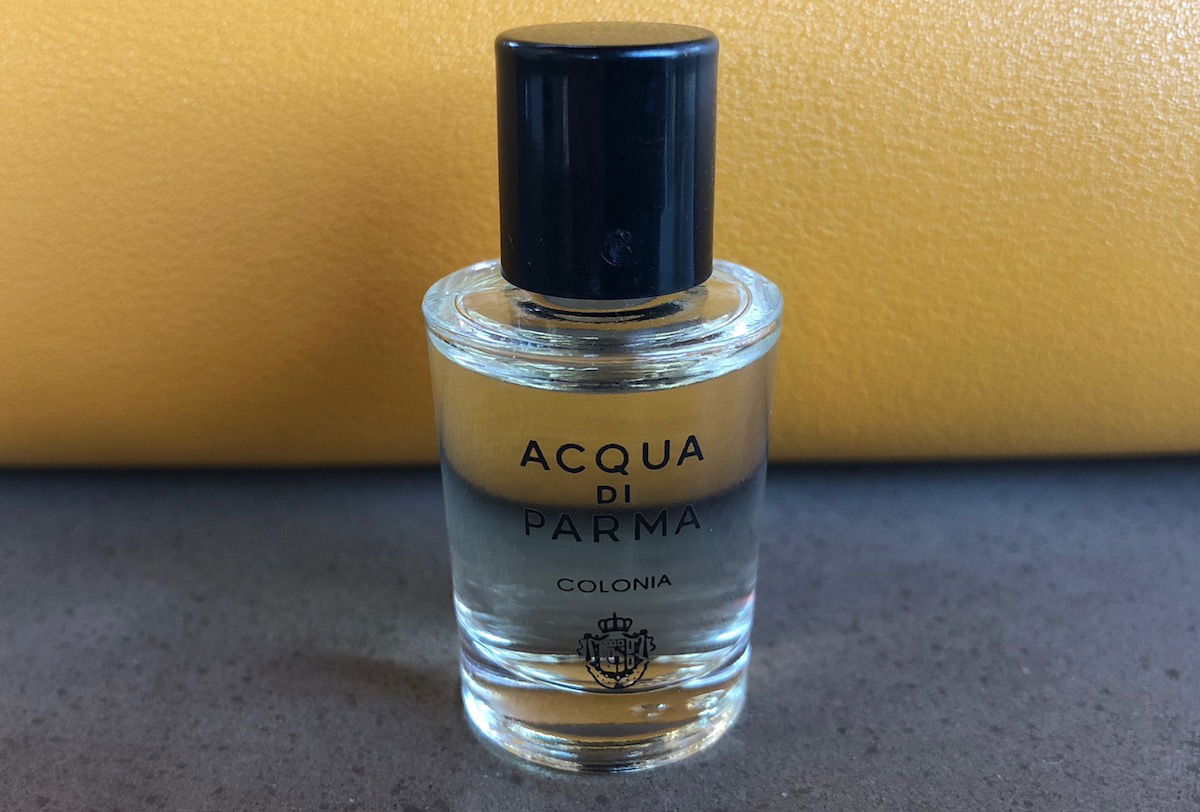 Etihad also sent me the cologne that I assume will be available in the Residence, which is in a larger 20ml bottle. There's a fragrance for both men and women. Again, the scents are super strong, though at least getting a bottle like this that you can take home is a nice touch.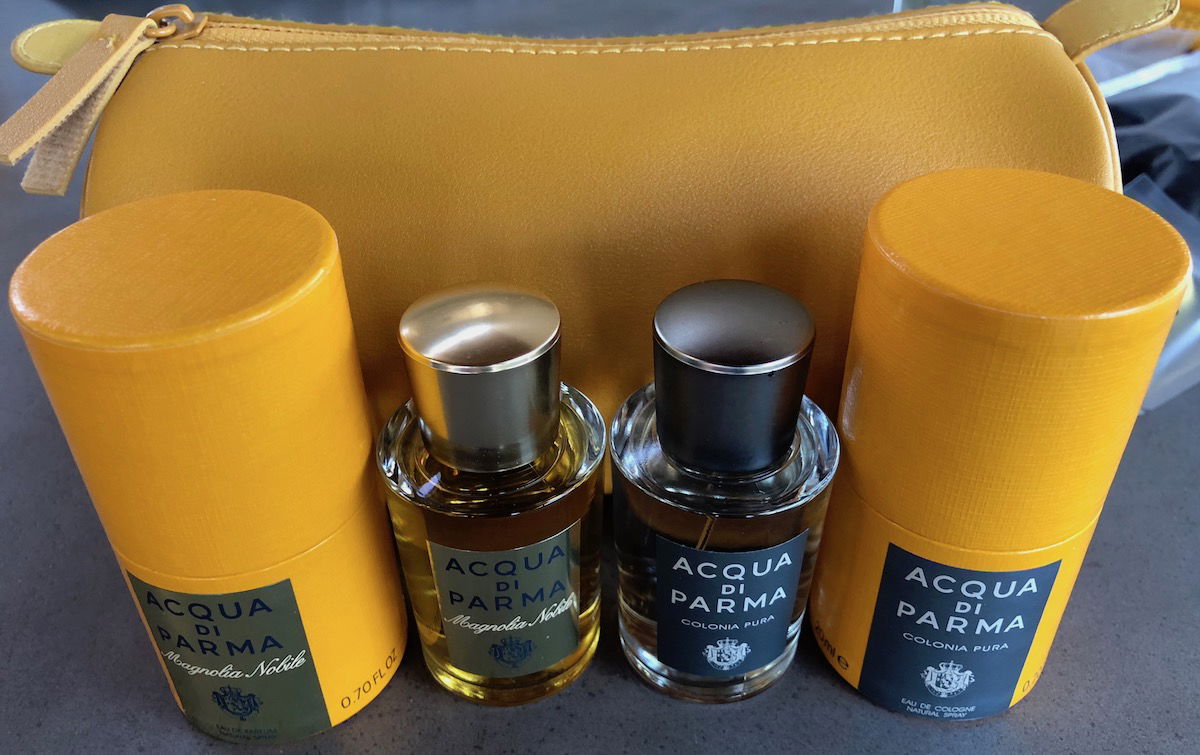 Bottom line
I've always thought Etihad's amenity kits were sub-par, so these new Acqua Di Parma kits are a nice improvement. At least the first class kit is stylish and feels high quality, and I quite like the contents. I'm still a bit skeptical about giving every premium passenger cologne, especially since the Acqua Di Parma scents aren't exactly subtle.
But overall I have to give Etihad a thumbs up on this. Even though they're generally cost cutting, they've made some nice first class improvements lately, including introducing caviar in A380 first class, and also rolling out new pajamas.
What do you make of Etihad's new first class amenity kit, and of them offering all premium passengers cologne?