The Etihad Guest program is becoming increasingly interesting to me. The program is transfer partners with Amex Membership Rewards, Citi ThankYou, and Starwood Preferred Guest, and we've even seen several transfer bonuses.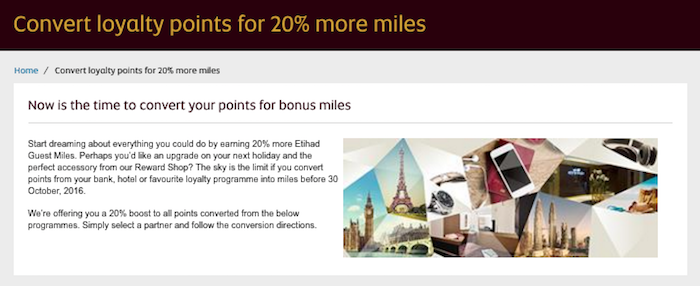 Not only can Etihad Guest miles be valuable for travel on Etihad (especially now that American AAdvantage has devalued those awards), but they can also be extremely valuable for travel on partner airlines, with some very lucrative redemption rates (unfortunately the process of booking can be a bit of a pain, as you have to call to book). Their best partners include Air Serbia, American, and Brussels.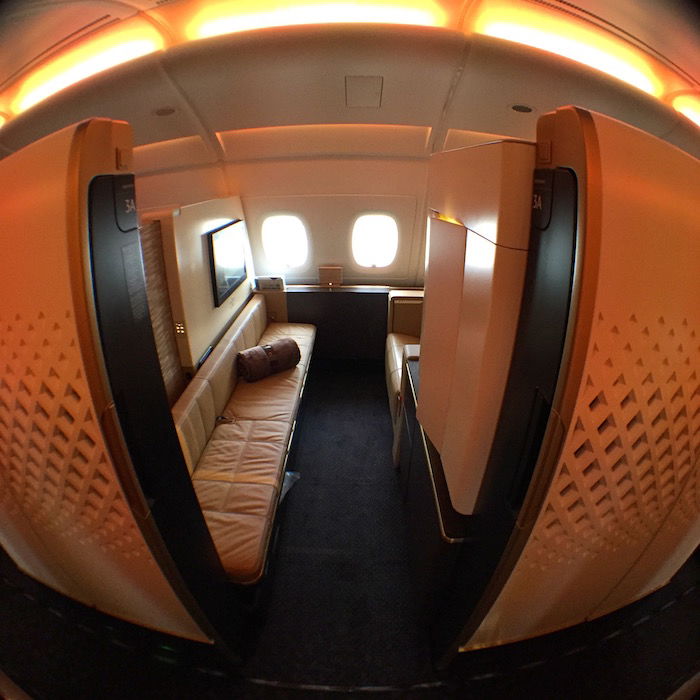 Etihad A380 First Class Apartment
Anyway, one of the lesser known aspects of the Etihad Guest program is that you can buy miles at the time you ticket your award, and it represents an exceptional value.
Some of you may be familiar with this concept from Avianca's LifeMiles program, as they let you buy up to 60% of the miles needed at the time of ticketing for as little as 1.5 cents each.
Well, in the case of Etihad Guest the good news is that they let you buy miles at a significantly better rate, while the bad news is that they cap you at purchasing miles for 25% of your ticket's mileage cost.
Let's use a flight between New York and Abu Dhabi in first class as an example, which costs 117,556 Etihad Guest Miles, plus $179.30 in carrier imposed surcharges and taxes.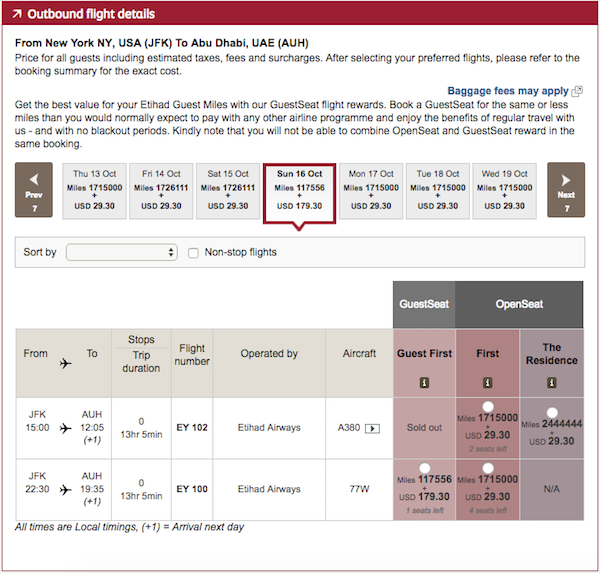 When you get to the booking page you'll see the "Miles Plus Cash Option" section, which has a sliding scale. At one end of the scale you'll see the mileage needed for an outright award ticket, as well as the minimum number of miles you have to redeem.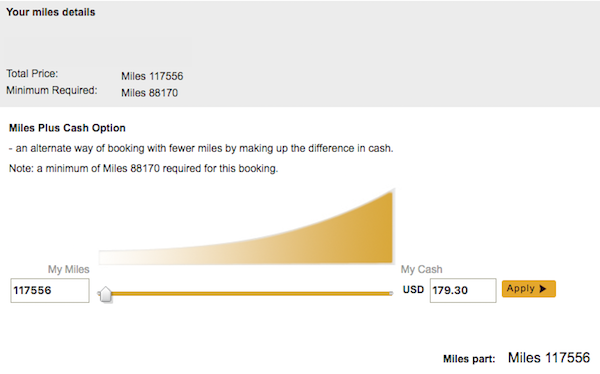 When you move the slider to the other end of the scale, you'll see the price if you purchase the maximum number of miles at the time of booking.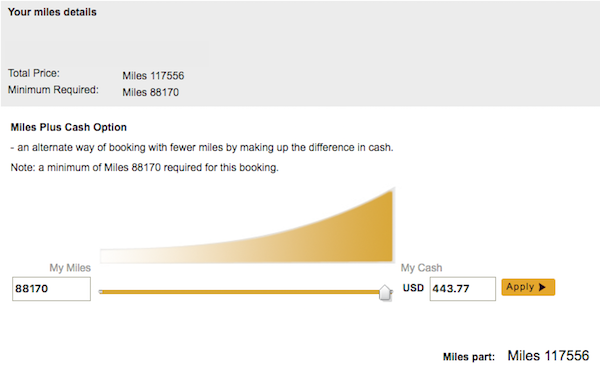 In this case, you could redeem 88,170 plus $443.77, rather than 117,556 plus $179.30. That means you're paying $264.47 in order to save 29386, which is essentially an opportunity to "purchase" miles for ~0.9 cents each. That's incredible.
You'll find a similar rate for most other awards. Let's use a business class award between Muscat and Abu Dhabi as an example.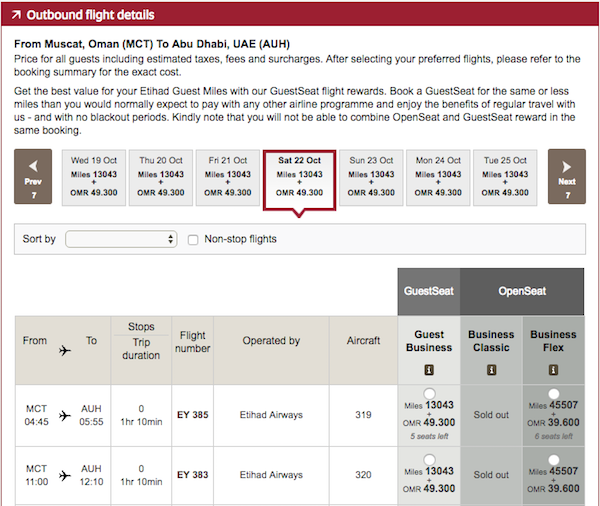 You can pay 13,043 miles plus 49.30OMR…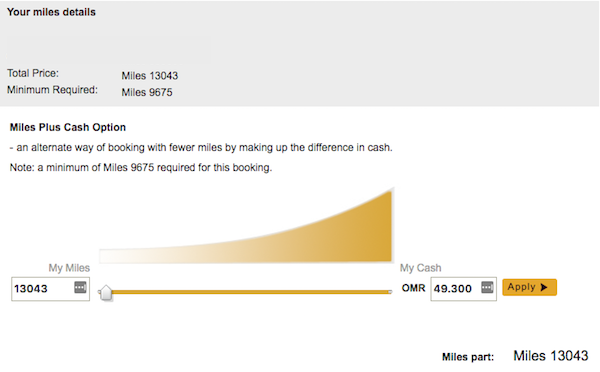 …or you can pay 9,675 miles plus 60.92OMR.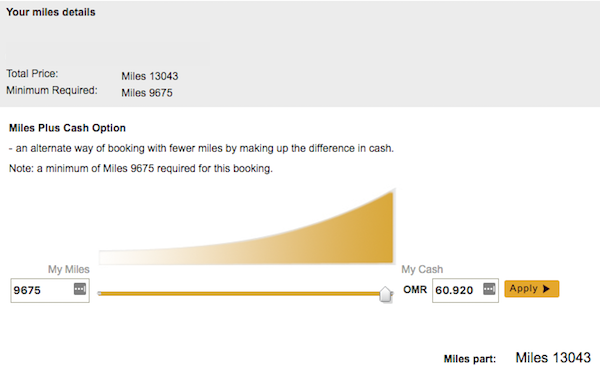 That means you're saving 3,368 miles for 11.62OMR, or ~$30. Again, that's like buying Etihad miles at ~0.9 cents each.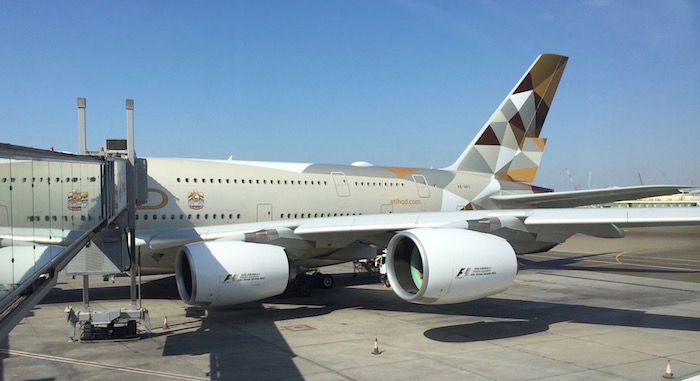 Etihad Airways A380
Bottom line
If you are redeeming Etihad Guest miles through Etihad's website, it's a no brainer to pay for 25% of your ticket at the time of booking in cash, given that it's an opportunity to pick up miles for ~0.9 cents each. That's an amazing deal, and significantly less than what I value virtually any currency at that you'd otherwise be transferring points for.
The catch is that I believe this is only possible online, so you can't use this when redeeming for partner airlines by phone.
This is definitely something to be aware of the next time you're transferring points to Etihad Guest for the purpose of a redemption.
(Tip of the hat to LoyaltyLobby)