After flying airberlin business class from Miami to Dusseldorf, I connected to an Etihad Airways flight from Dusseldorf to Abu Dhabi. My layover in Dusseldorf was about four hours, and I spent it at the airberlin lounge, which is quite possibly the worst hub lounge I've ever been to. Ever.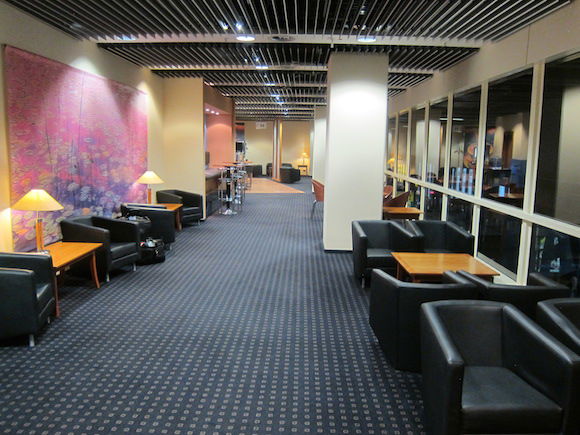 Airberlin lounge Dusseldorf
But I'll cover that in much more detail in the trip report.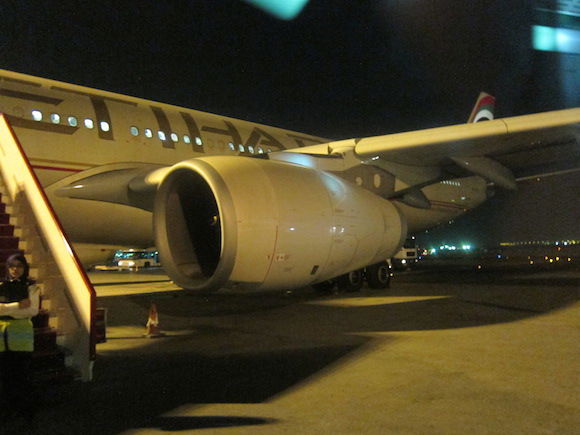 Etihad Airways A330
Etihad Airways business class seat
This flight was operated by one of Etihad Airways' A330s, which was in a three cabin configuration. There's a first class cabin with the standard Diamond First Class fully enclosed suites, though on this particular flight it was empty.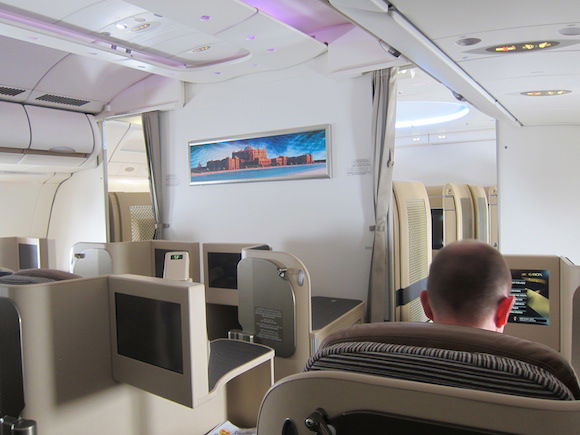 Etihad Airways business class A330
You have no clue how much restraint it took not to book a first class award in a completely empty cabin, though I've reviewed Etihad Airways first class before, so took one for the team and booked business class instead. You're welcome. 😉
Instead I selected seat 6K, which is in the mini-cabin right behind first class. There are two rows of business class there, with a total of eight seats (four seats per row).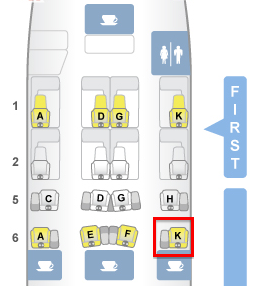 Seatmap (per SeatGuru)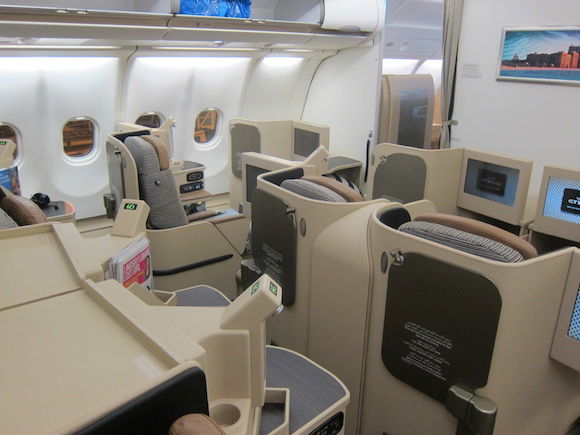 Etihad Airways business class A330
Etihad Airways also has a staggered business class product on their A330s, very similar to airberlin and Alitalia. The finishes in their cabins are just so much nicer, though.
I was also able to snag a "true" window seat. On the airberlin flight I had one of the "aisle" window seats, which feels quite exposed.
The true window seats are just so private, and after a reverse herringbone configuration, one of my favorite business class hard products.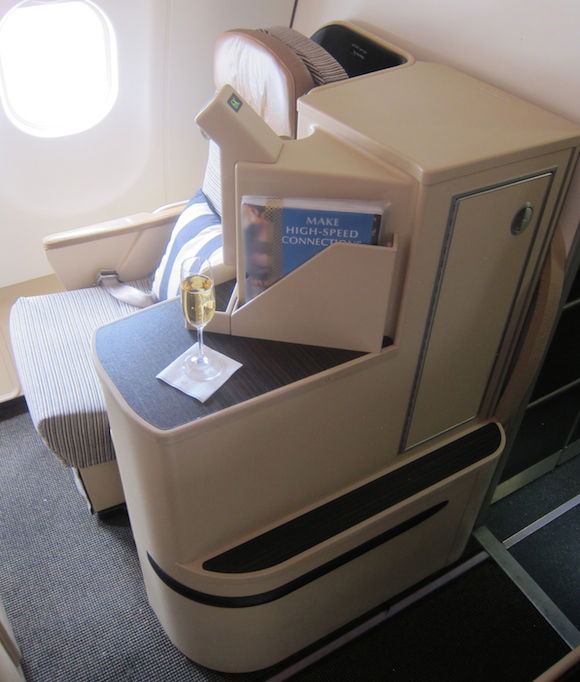 Etihad Airways business class seat A330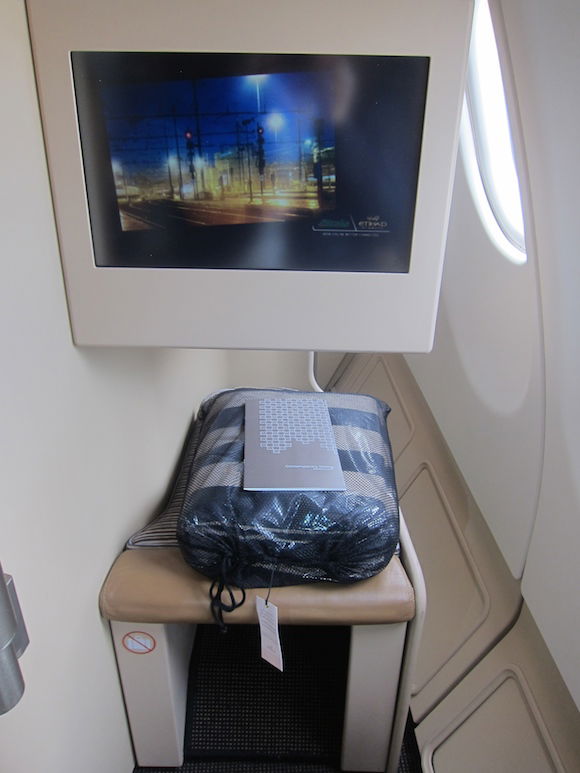 Etihad Airways business class seat A330
So I give Etihad's business class seats high marks, especially if you can snag a "true" window seat. It really makes a huge difference.
Etihad Airways business class food
Etihad's business class meal service was simultaneously brilliant and disappointing. The three big Gulf carriers have "anytime" dining concepts, whereby you can eat what you want when you want. They have a fairly extensive menu with all kinds of options, so you can have a meal at the beginning of the flight, end of the flight, or anywhere inbetween (or even multiple meals).
It amazes me that other airlines can't do this, and still use carts in business class. It really does feel like first class when you're not restricted to eating when it's convenient for the crew.
So they did have a wide variety of options on the menu, and I ordered before takeoff. But what really disappointed me is that they were out of both my starter option (arabic mezze) and main course (sea bass). I get that occasionally the first choice isn't available, but this is the first time I've ever had my first choice on two courses not available. And business class was only half full, on top of that.
It's just very odd to fly Etihad Airways and not be able to have the arabic mezze.
But my second choices — and the food as a whole — were still phenomenal.
To start there were nuts and champagne (Lanson Black Label Brut, which is a fairly good champagne for business class)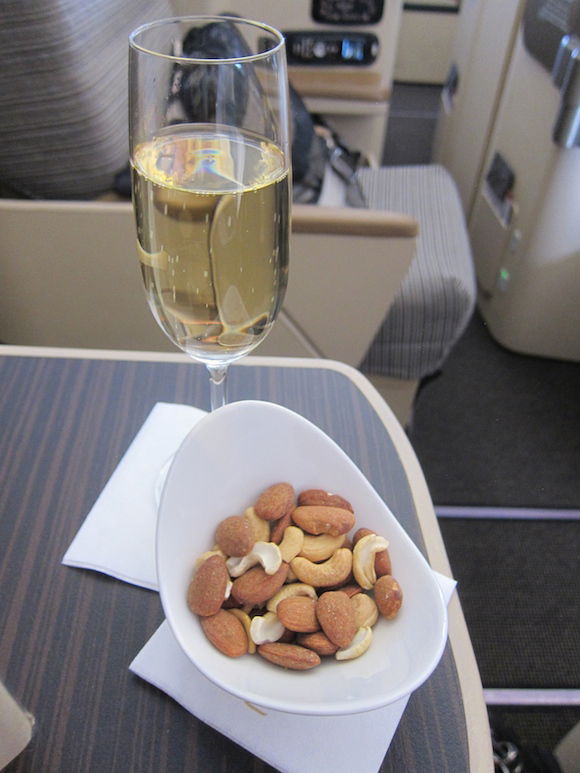 Etihad Airways business class champagne and nuts

The starter was a salmon terrine with avocado and cream, which was just fabulous.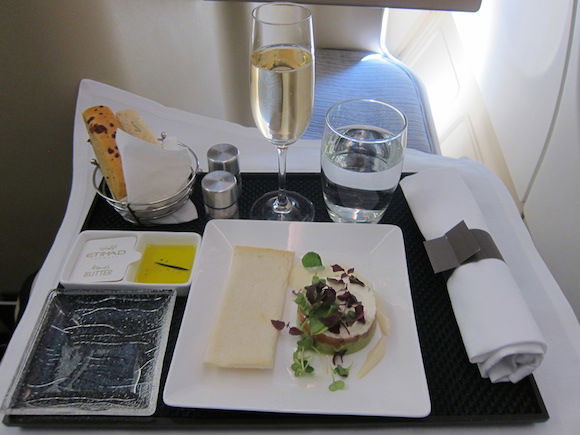 Etihad Airways business class appetizer
And then for the main course I had the baked chicken breast with sumac. I'm not usually much of an airplane chicken guy, but it was really good.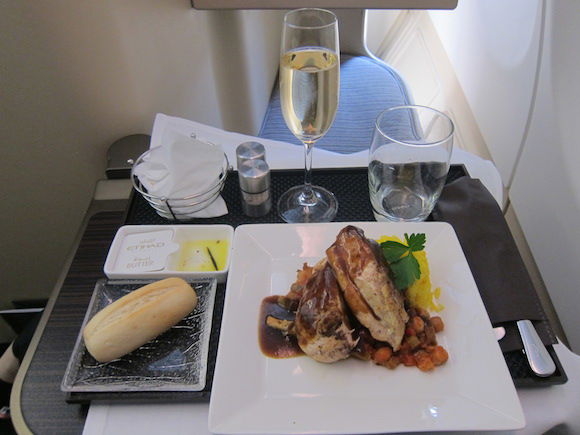 Etihad Airways business class main course

The dessert was probably the highlight, though — banana and toffee gateau. I had a cappuccino to accompany it, which was one of the better coffee drinks I've had on a plane.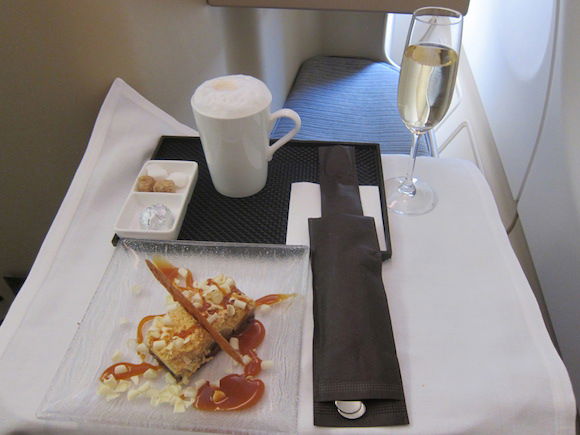 Etihad Airways business class dessert

The presentation and plating was on par with the best I've seen in first class.
After a nap I later had another cappuccino and some of Etihad's always delicious baklava. Mainly because we were over Baghdad, and with a slight champagne buzz "Baklava over Baghdad" just sounded kinda cool.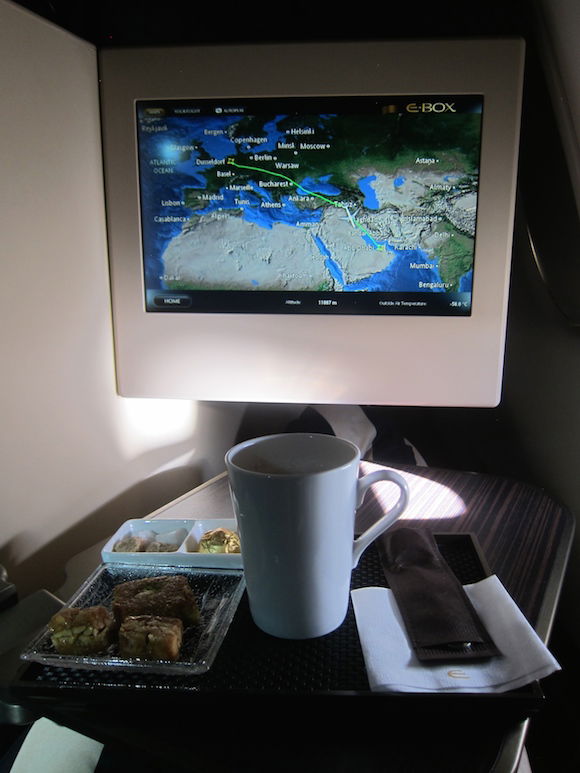 Etihad Airways business class baklava and cappuccino
Etihad Airways business class service
The service on this sector was very good, keeping in mind that this is a Gulf carrier. I think a lot of people that haven't flown any of the big three Gulf carriers get the wrong impression of their service. It's generally not as polished or sincere as you'd get on an airline like Cathay Pacific, Singapore Airlines, etc.
I find at Gulf carriers the crew often lacks an identity/rhythm, given how diverse they are. Furthermore, the Gulf carriers are so strict with their rules that the crews are always on their "toes," to the point that I sometimes kind of feel like they're just nervously going through the motions. Usually.
On this particular sector the service was very good, though. I had a fairly young Czech flight attendant taking care of me, and he was friendly, attentive, and had a good sense of humor. The rest of the crew struck me as a bit scattered, but on the whole I thought the service was very good.
The captain was also hilarious. I couldn't tell for sure what nationality he was (maybe French?) but he cracked me up. He started his welcome aboard announcement in German, then stopped mid-sentence and said "and that's all the German I know." He would start all of his announcements with "ladies and gentlemen, meine Damen und Herren," which I thought was a nice touch.
Etihad Airways business class amenities
Etihad has a nice amenity kit in business class, though now that I live in hotels full time I'm not much of an amenity kit guy anymore, since I have nowhere to store them.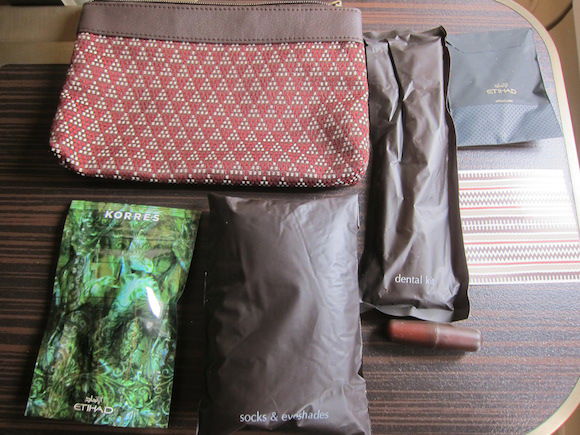 Etihad Airways business class amenity kit
The blanket and pillow were also quite nice.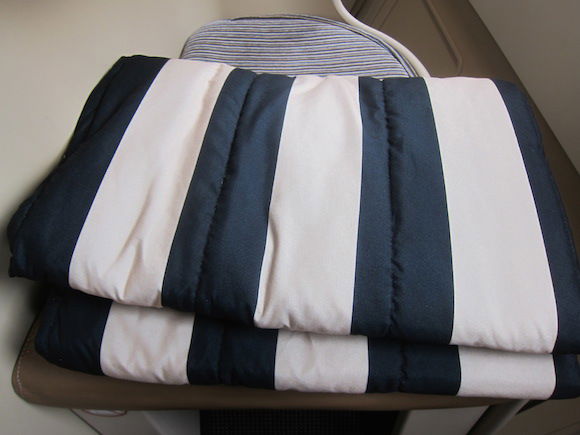 Etihad Airways business class blanket

But really the highlight in terms of the amenities was the Wi-Fi. A 24 hour pass was priced at $21.95, which seemed reasonable to me. Wifi speed was good, and there were no service interruptions.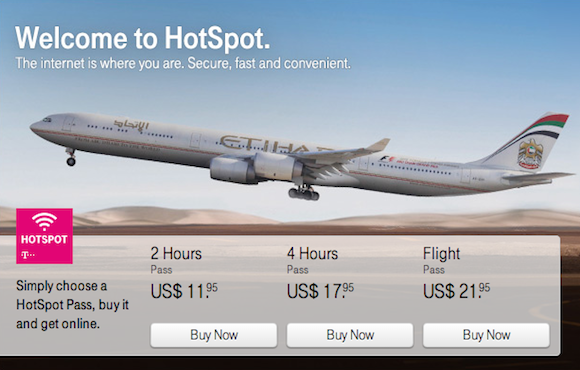 Etihad Airways Wi-Fi
Going back several years I was more opposed to Wi-Fi on planes than anyone else, since planes were my "sanctuary." But nowadays I have a hard time taking airlines that don't have Wi-Fi, since I love always being connected.
Etihad Airways business class bottom line
Aside from the disappointment of not getting my first choice for two courses, the flight was fantastic. Etihad really has a top notch business class product, with excellent food (both in terms of the concept and execution), good service, Wi-Fi, and a solid hard product.
Ultimately it's worth the mileage premium to book first class, in my opinion, but that doesn't make this any less solid of a business class product.
If you've flown Etihad Airways business class, what did you think?