Last Saturday I night I flew the Etihad Residence from Abu Dhabi to Sydney, and boy, have I had a hard time "recovering" from this high. So far I've shared a "10 pictures" post about the Residence Lounge at Abu Dhabi, which exceeded my expectations by a long shot. I've also shared how Etihad did with some of the special requests I made for my flight.
This post is about my initial thoughts on the flight itself, which departed Abu Dhabi at around 10PM on Saturday. At the gate I was introduced to Johan, the fantastic South African butler who would be taking care of me. He greeted me at the gate, and then walked me onto the plane, so I was the first to board.
The Etihad A380 First Class Apartment cabin is familiar to me — I've flown it many times before. However, today I would be in the Residence, which is the private three room suite at the very front left of the cabin. As you can see below, there's a higher wall around the Residence compared to the rest of the seats.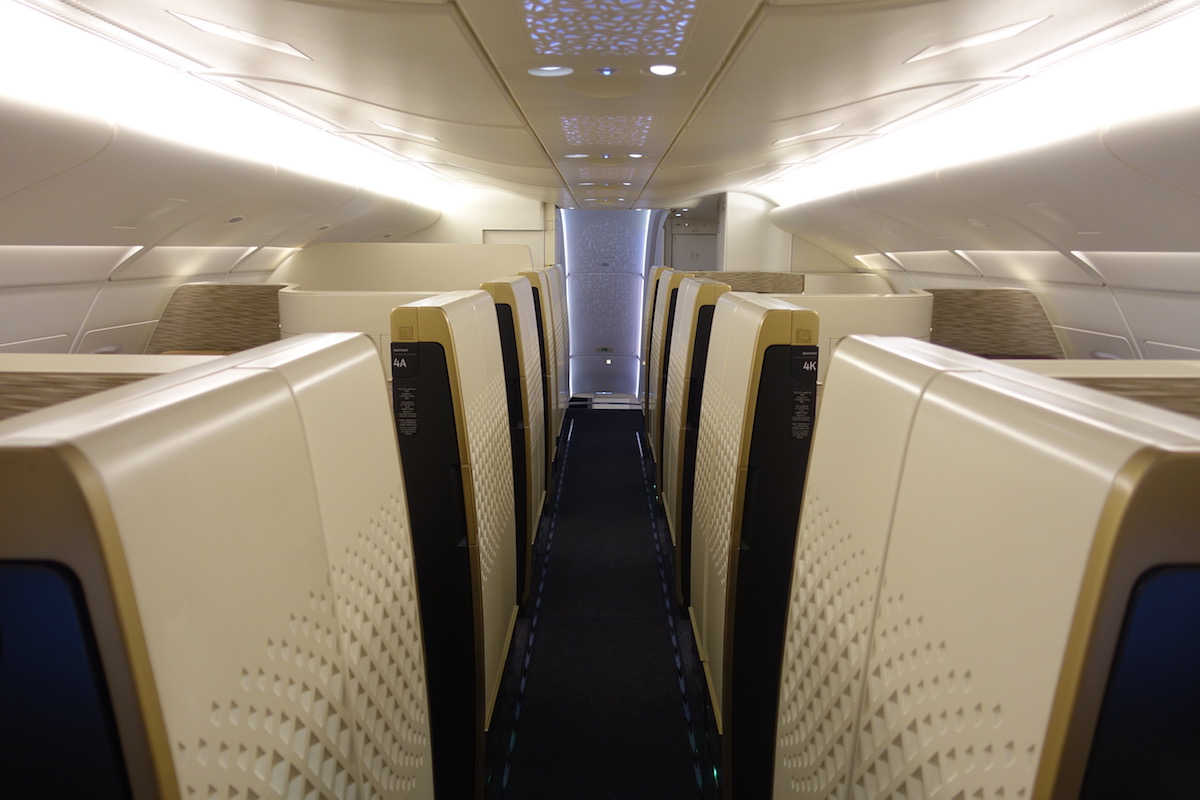 Here's the thing — I've been in the Residence a couple of times before to see it, and I've always thought "meh, well my First Apartment is really nice too." But when you actually experience a flight in the Residence it feels very different.
First is the living room, which has seating for two. The Residence can accommodate up to two passengers, so the seat has two tray tables, two sets of headphone jacks, etc. Across from the seat is a huge ottoman with plenty of storage, and also a massive personal television.
Waiting on boarding was a fresh fruit basket, as well as a bunch of other goodies.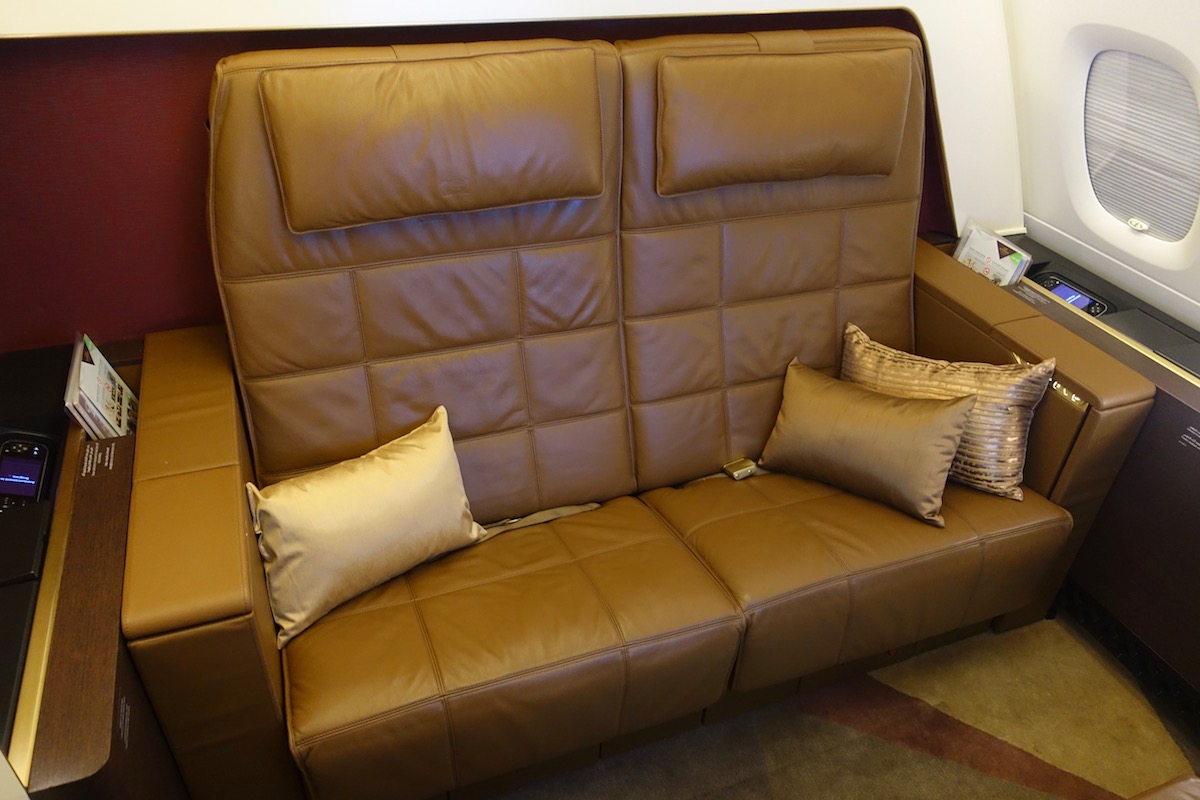 But of course the highlight of the room is the private bedroom, which is separated from the rest of the cabin by a door. My gosh, I can't even explain how giddy I was when I actually got in the bed. I was expecting it might feel a bit claustrophobic, though I didn't get that feeling at all. In reality the bed was incredibly soft and comfortable, the bedding was high quality, and the pillows were extremely plush. Best of all there's no light pollution of any sort when you're trying to sleep.
This bed is incredible. The one caution I'd add is that the Residence accommodates two people, though you better be ready to cuddle if you want to sleep with soemone else in the bed at the same time. It's marketed as a double bed, though I suspect in size it's somewhere between a twin and double bed.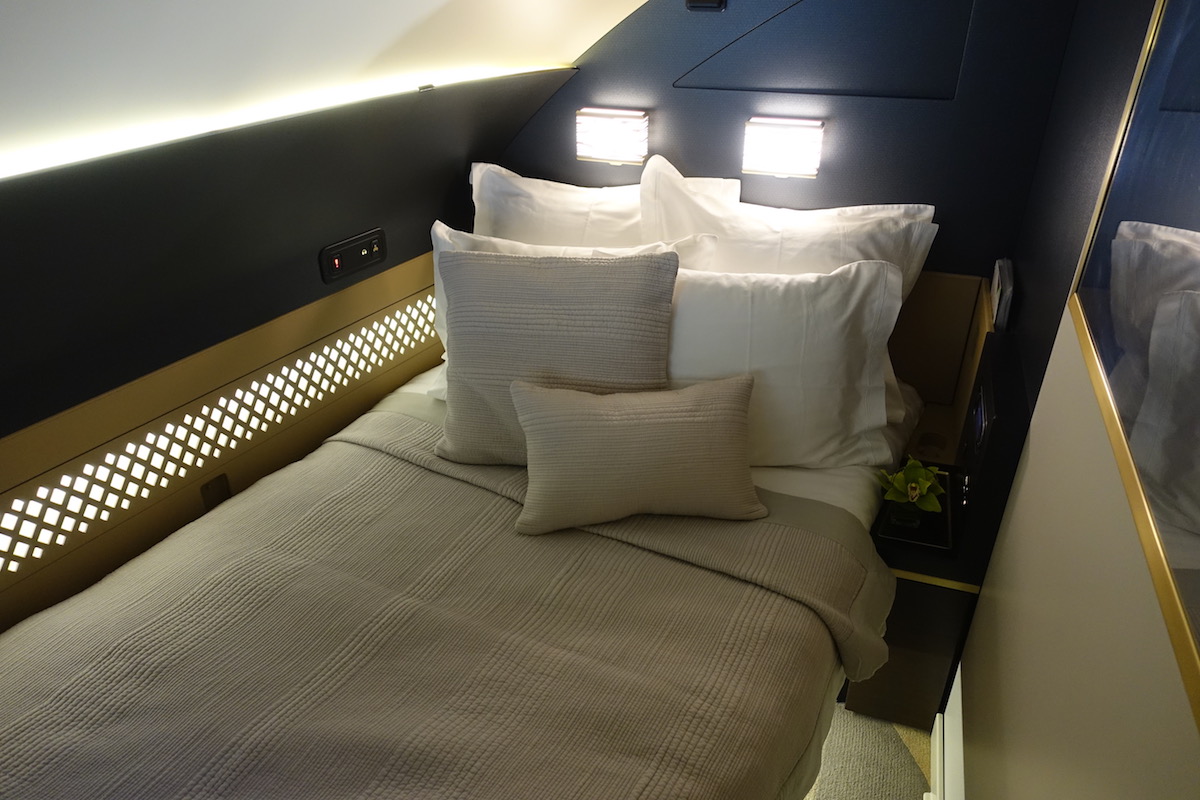 Then the Residence also has a private bathroom and shower. As someone who is usually grossed out by airplane bathrooms, there's nothing quite like having a private space. In first class you're usually limited to five minutes of water, though I was given 10 minutes of water (I suspect since I was traveling alone).
This is simply an incredible setup. Don't get me wrong, the First Class Apartment is amazing as well, but having a fully private space is something that can't be fully appreciated until you actually tried it. I was much more impressed by the hard product after flying in the Residence than I thought I'd be.
Even though I only slept for four hours, it was the best airplane sleep I've ever gotten. Just do be aware that the bed would be a tight fit for two people.
Now let's talk a bit about the service. One of the other unique aspects of the Residence is that you get a Savoy trained butler. Their only job is to look after you. Literally. Some first class products have personalized service, while the Residence is next level.
My butler was Johan, who was incredible. My biggest fear going into this trip was that I'd have a not-great butler. I'm a tough critic of service, though at the same time I'd feel horrible if I had a butler and said "s/he just wasn't that good." It's one thing when I say that generically about a crew, but I'd feel very bad saying that about a single person who was assigned to me.
Fortunately Johan was a gem. Some people are just passionate about their job, and their positive energy is contagious. Johan was one of those people. I loved the approach he took towards his job — he loved working the Residence, and thought his job was "easy" (in a good way, in the sense that he gets to have fun with it and truly create a great experience). Keep in mind that Etihad butlers double as food & beverage managers when the Residence isn't occupied, and in the meantime several readers have reported having Johan as a food & beverage manager, and also mentioned how great he was.
On the surface you'd think service in the Residence would be a bit awkward given the 1:1 ratio. The door to the Residence always remains closed, so every time the butler provides service, they both open and close the sliding door. Furthermore, there's a delicate balance between giving passengers their privacy but also providing personalized service.
Well, service in the Residence was both proactive and reactive. That's to say that the general service concept was that you can push your call button whenever, and Johan would appear within a moment. But at the same time, whenever there was service, it was phenomenal, and Johan was proactive about the service flow, like suggesting when he should prepare the bed, prepare the shower, etc.). Johan was polished, charming, and a true professional. His attention to detail was top notch.
Just about everything in the Residence is specially branded, and most of it has the triangular Residence logo on it. This is true of the towels, the pajamas, and even the to-go bag they give you. There's not an amenity kit in the Residence. As Johan explained it, "the Residence is supposed to be like a hotel, so we'll bring you what you want when you need it." Sure enough, they had just about everything.
The standard champagne in the Residence is a 2004 Billecart-Salmon Blanc de Blancs, which I enjoyed. It had a nutty aftertaste, and was a bit different than my usual favorites.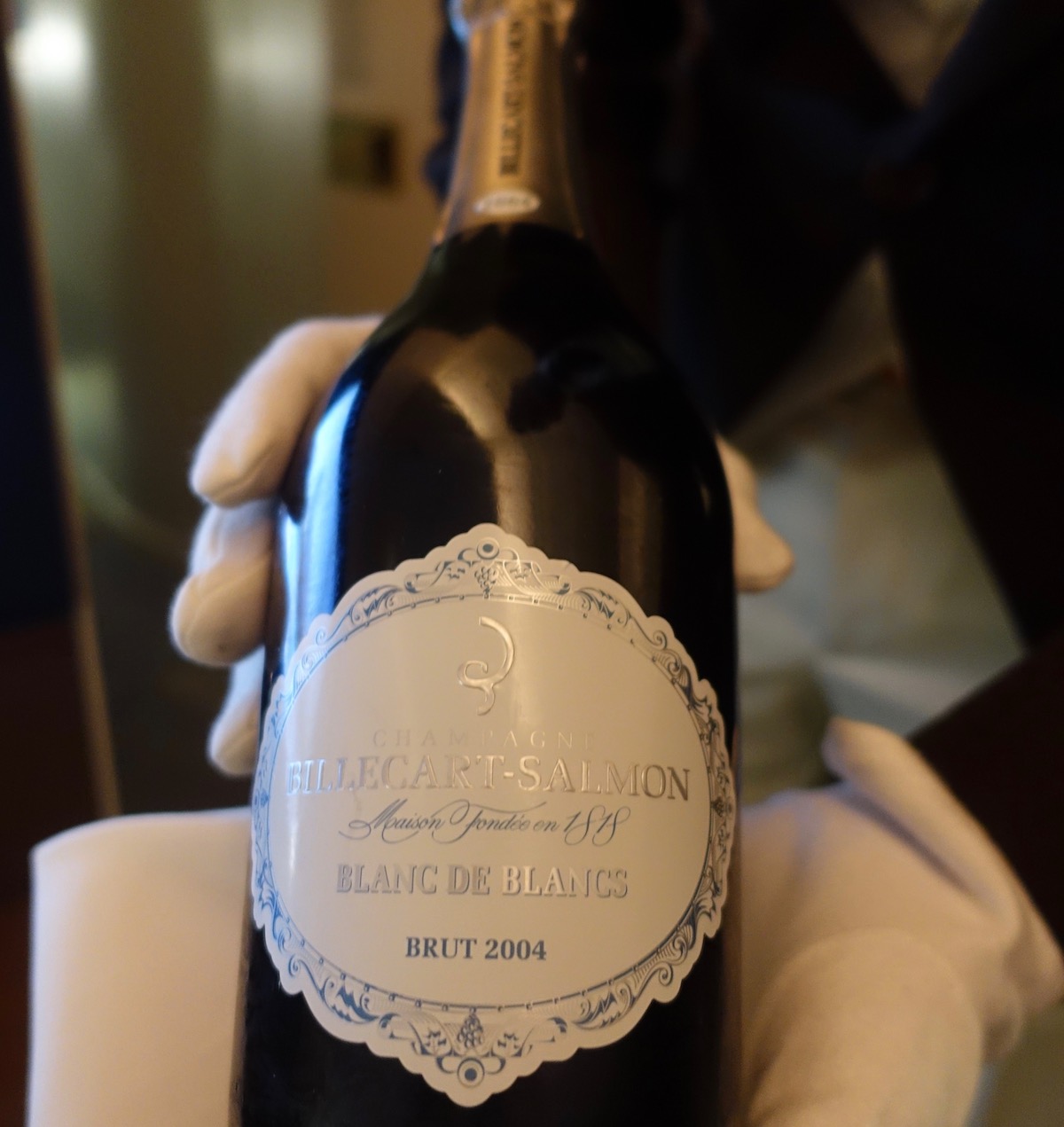 The meal service was also beautifully customized. The menu I was presented at the start of the flight was customized — it had my name printed on it, and my special requests were incorporated into the actual menu — amazing!
There's a lot of overlap between the Residence menu and the First Class Apartment menu, except in first class there's caviar, champagne, and you can also custom order things. In other words, the Residence menu can really be whatever you'd like it to be. Given the amount I ate on the ground, I didn't have that much on the plane.
After takeoff I had a course consisting of Abu Dhabi farmed caviar, which I enjoyed. The silverware, glasses, plates, etc., in the Residence, are stunning.
I then had a Canadian lobster appetizer.
After running around like a crazy man for a few hours and then eventually sleeping, I decided to have breakfast in bed. Yes, that's right, I had BREAKFAST IN BED. On a plane. Etihad has a special tray so that you can enjoy breakfast while watching TV in bed. So damn cool!
I'll of course have a much more detailed trip report soon, but to sum it up, I was very impressed:
The bed is exceptionally comfortable, by far the most comfortable on any plane, with high quality bedding and a consistently dark environment; however, for two people it may be a tight fit
Service was next level, and unlike what you'd get on any other airline, given that you have one person taking care of you; Johan was fantastic, and if flying in the Residence I'd highly recommend requesting him
My biggest takeaway, though, is that the standard Residence experience is just the starting point of what you can expect, and that you can request specific food and drink preferences, etc., so that it can truly be customized
I didn't think I'd be impressed by the Etihad Residence, but it exceeded all expectations. During the flight I had a conversation with Johan about this, about how I had been in the Residence before, but about how it's so much more impressive when you actually fly it. He said that's the reaction he usually gets.
What a special experience, and I really don't know how I'll go back to any other way of flying. 😉