Ethiopian Airlines is quietly introducing two new business class seats, meaning the airline will now have four different types of business class seats on its 787s and A350s. Hmmm…
Ethiopian Airlines' new 787-9 business class
Ethiopian Airlines is installing a new type of business class seat on its newly delivered Boeing 787 aircraft. Specifically, the airline is installing Collins Aerospace reverse herringbone business class seats, so every seat will be fully flat and have direct aisle access.
The latest Boeing 787-9 that Ethiopian Airlines received has a 1-2-1 layout in Business Class, also known as reverse herringbone. This new compared to the 2-2-2 configuration all of its widebodies have #ethiopianairlines #boeing #business #fleet #avgeek pic.twitter.com/o3WCMqChrM

— ETWatch (@ETWatch) October 24, 2020
This is a popular business class production used by many airlines, and represents a significant improvement for the Addis Ababa-based airline. For some context, prior to this Ethiopian Airlines' best 787 business class seat was the Collins Aerospace Diamond seat. I know some preferred this to a reverse herringbone seat, for the ability to easily sit next to a travel companion.
Up until this point Ethiopian Airlines has had flat beds on all of its A350s, 787-9s, and 777s, while about half of its 787-8s have had these seats.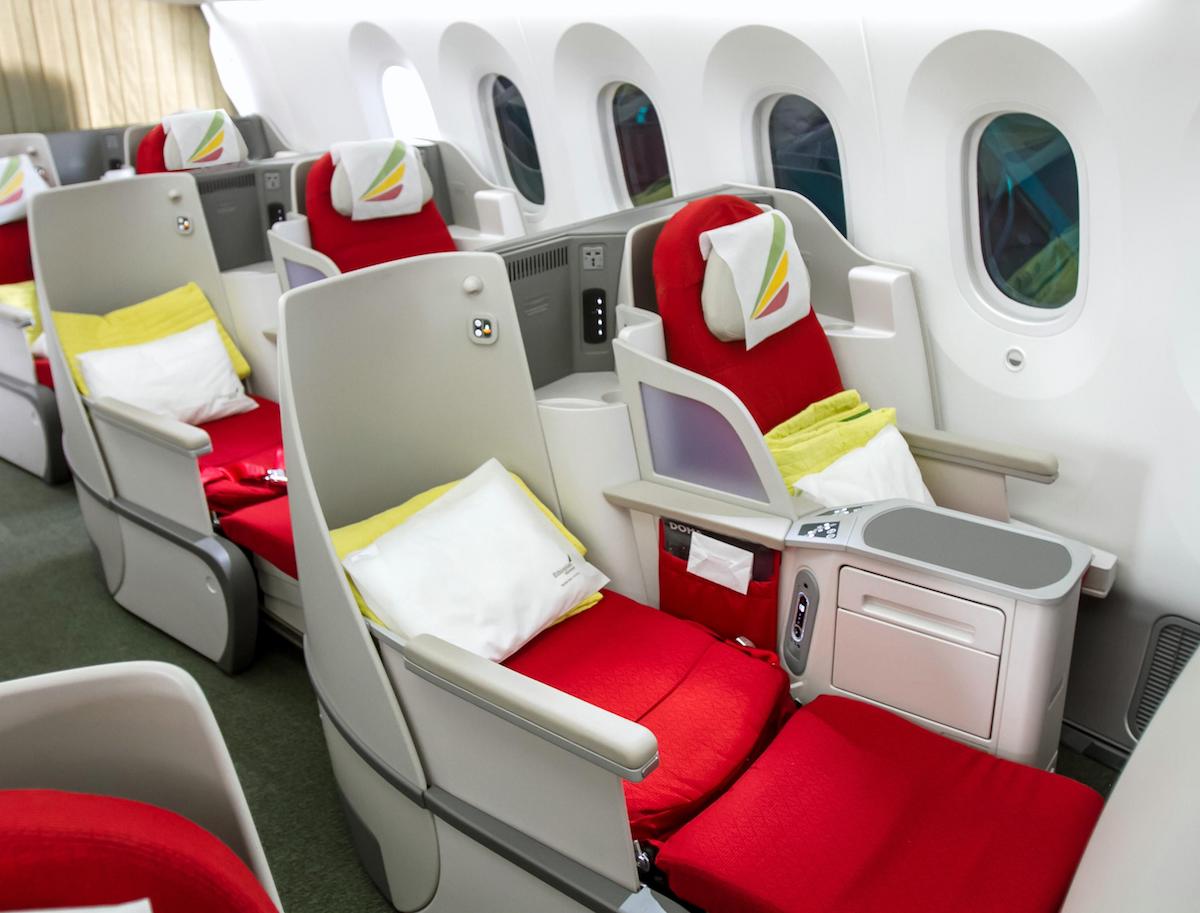 Ethiopian Airlines' previous best business class seat
Prior to 2015, Ethiopian Airlines' best business class seat was an angled seat, which is still what you'll find on roughly half of 787-8s.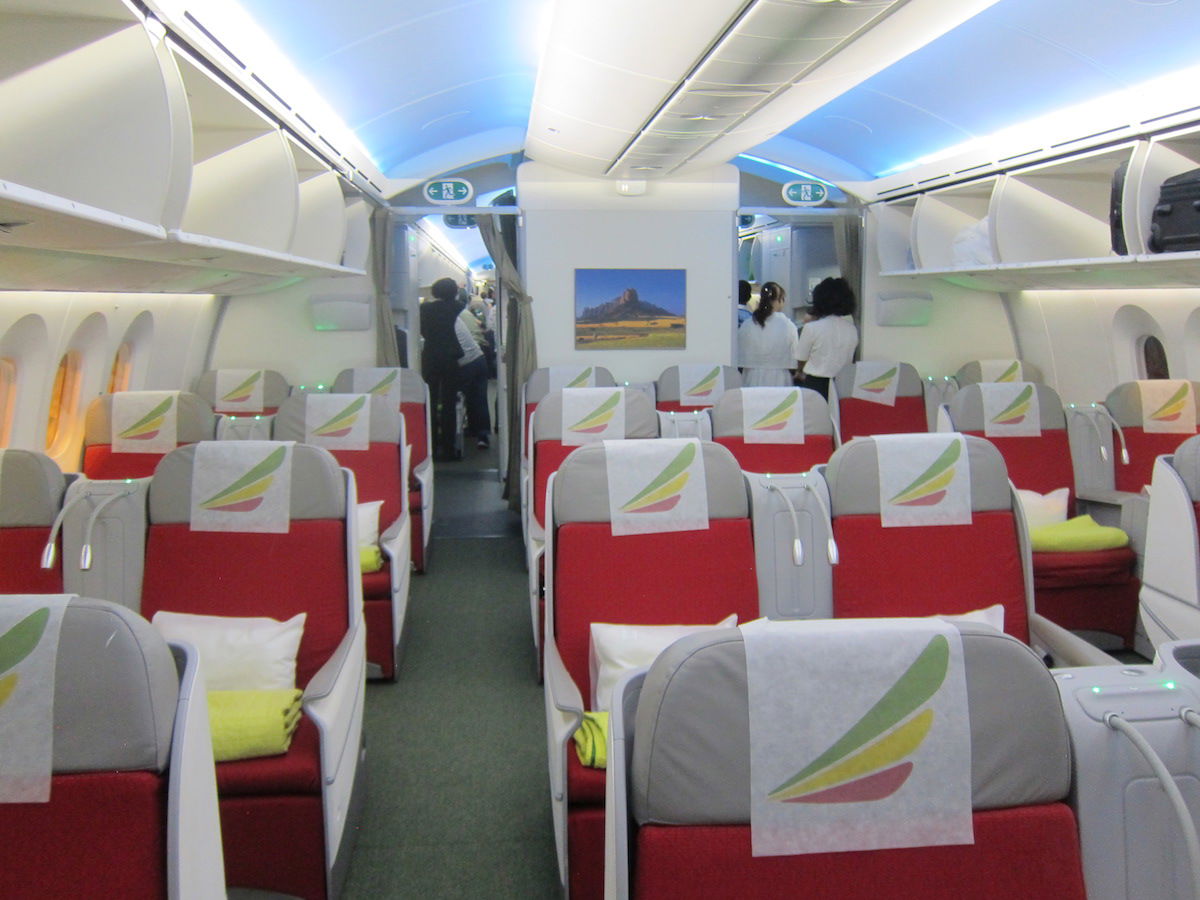 Ethiopian Airlines' original 787-8 business class cabin
Ethiopian Airlines' new A350-900 business class
This is where it gets downright strange, if you ask me. At this point Ethiopian Airlines' 787s feature three different types of business class seats. So you'd think that Ethiopian's A350s would get the same new business class seats as the new 787s, no?
Wrong! Instead Ethiopian Airlines' A350s will have Safran Optima business class seats, which are in a staggered configuration.
https://twitter.com/flyethiopianhga/status/1325364232049856512
These are similar to the business class seats you'll find on Air France's A350s, for example.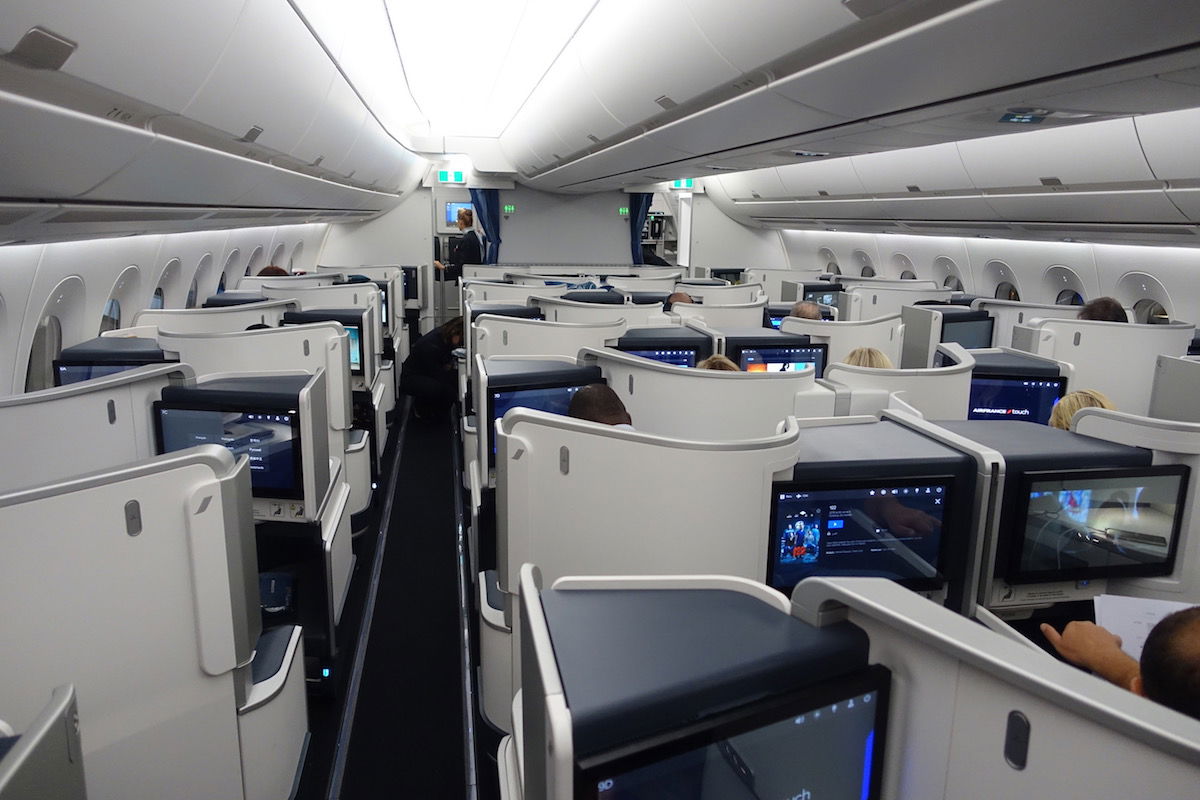 Safran Optima business class seats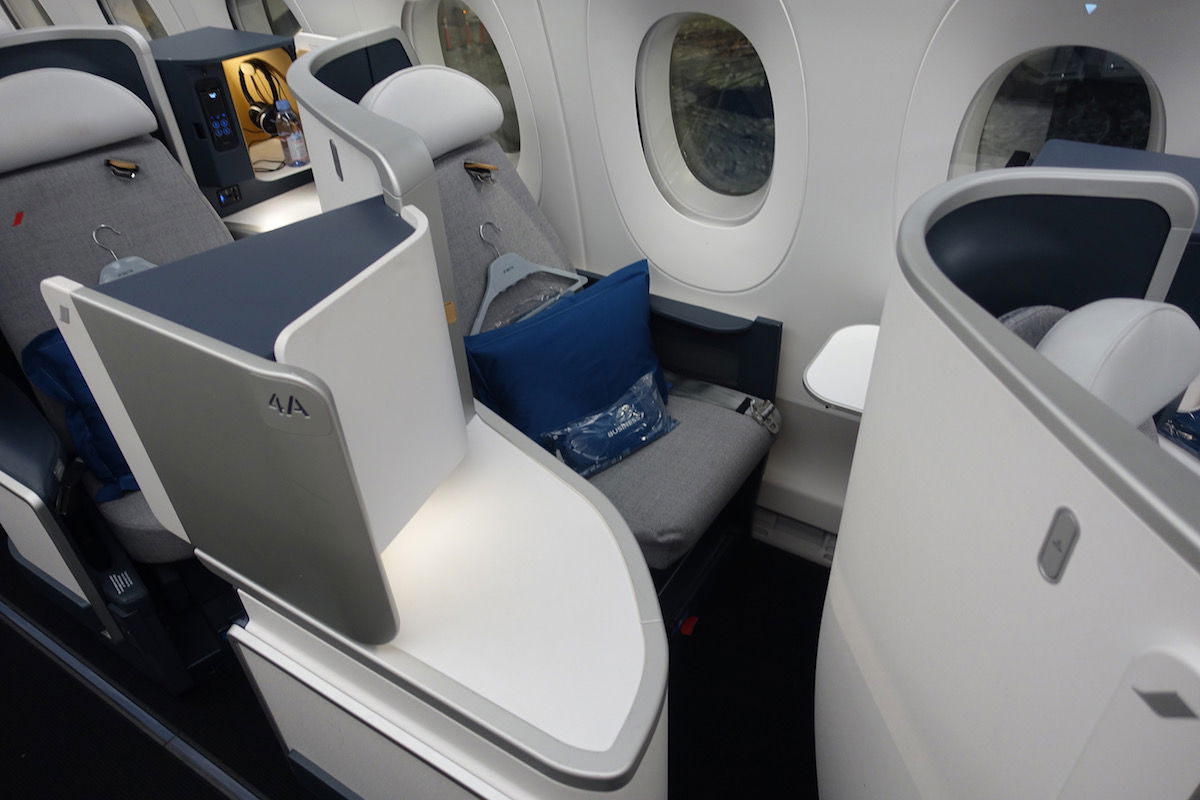 Safran Optima business class seats
How many Ethiopian Airlines planes will get new seats?
Ethiopian Airlines is installing new business class seats on newly delivered A350s and 787s:
Two 787-9s already have Collins Aerospace Super Diamond seats, with the registration codes ET-AXS and ET-AYC, and the airline has a further two 787-9s on order
Two A350-900s already have Safran Optima seats, with the registration codes EY-AYA and EY-AYB, and the airline has a further eight A350-900s on order
On top of that, Ethiopian Airlines has stripped the cabins on some planes to convert them into freighters temporarily, and it's my understanding that when they reenter passenger service, they'll get the new seats.
Beyond that we don't know much. As you can see, Ethiopian Airlines isn't making a big deal about these new seats and hasn't even promoted them publicly, so this seems to very much be a soft launch.
The pandemic has changed lots of things in the industry, so we'll have to wait and see if other planes are reconfigured, as airlines look to conserve cash. Personally I'd only expect to see these seats on newly delivered aircraft for the time being.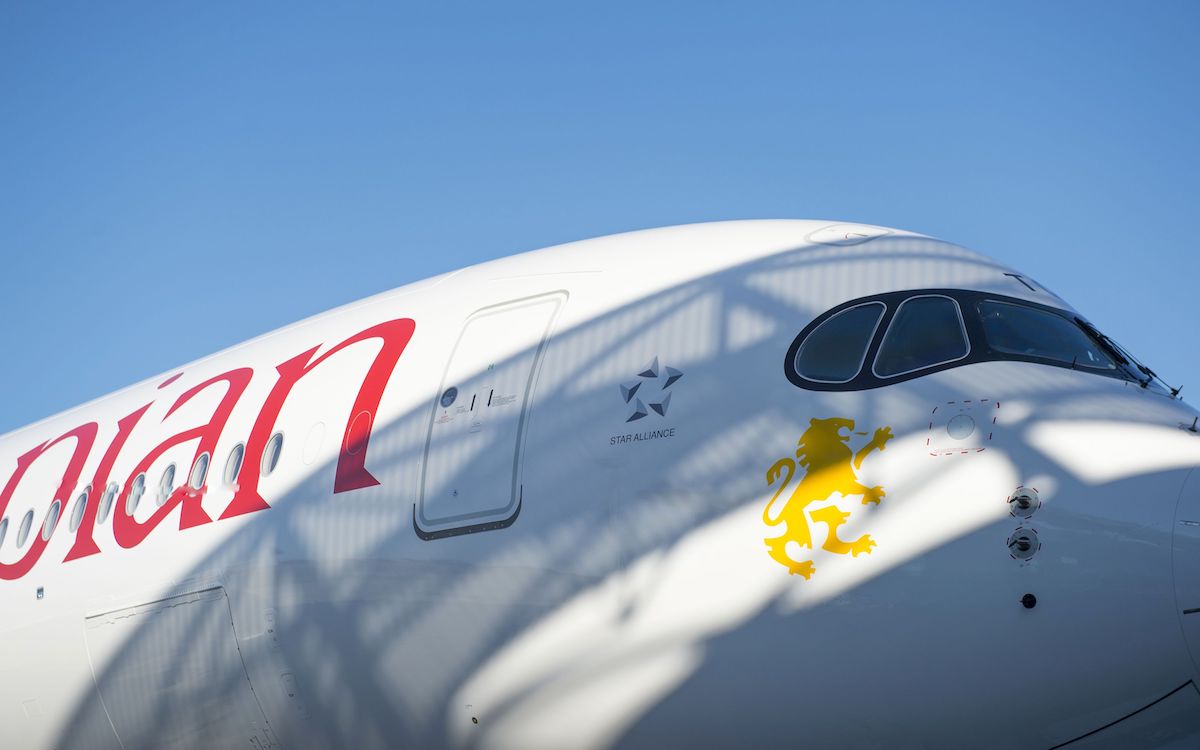 At least 10 Airbus A350s will feature these seats
Bottom line
Ethiopian Airlines has introduced not one, but two, new business class products. These seats are debuting on the carrier's newly delivered 787-9s and A350-900s. Four planes have new seats, and a further 10 aircraft are on order that should also offer them. Only time will tell the extent to which existing aircraft will be reconfigured.
This is an exciting development, though frankly I find it bizarre that the airline is introducing two new business class products when Ethiopian already has an incredible amount of product inconsistency.
What do you make of Ethiopian Airlines' new business class products?