Typhoon Saola caused quite the commotion in Hong Kong on Friday, and it's the worst storm that Hong Kong has seen in five years. Ahead of the storm, Hong Kong issued a typhoon signal number 10, which is the highest warning level, suggesting hurricane force winds. Along those lines, one Ethiopian Airlines flight has understandably gotten quite a bit of attention.
Ethiopian 787 flies to Hong Kong ahead of typhoon
On Friday, most operations at Hong Kong International Airport (HKG) were suspended in preparation for Typhoon Saola.
For example, Cathay Pacific canceled all arriving and departing flights between 2PM on Friday and 10AM on Saturday. The only exception was CX840 from Hong Kong to New York (JFK), which was scheduled to depart at 4:15PM, but ended up departing 75 minutes ahead of schedule, at 3PM.
Cathay Pacific wasn't alone, as virtually all other airlines canceled flights to and from the airport. If you look at the arrivals and departures for the airport on Friday, you'll see there were dozens and dozens of cancelations. There was one exception, though.
Ethiopian Airlines flight ET608 from Bangkok (BKK) to Hong Kong (HKG) landed in Hong Kong at 5:06PM. The previous flight to land at the airport was CX363, which arrived from Shanghai (PVG) at 1:40PM. So the plane landed nearly 3.5 hours after the previous passenger jet arrival, and there are were other arrivals for the rest of the evening.
For what it's worth, this Ethiopian Airlines flight was operated by a three year old Boeing 787-9 with the registration code ET-AXK. The plane took off from Bangkok at 2:46PM Hong Kong time, so that was over an hour after the previous plane even touched down in Hong Kong. The plane landed safely in Hong Kong after a 2hr20min flight, and didn't even perform a go around.
I don't want to suggest that Ethiopian Airlines was reckless for having a flight land in Hong Kong when all other airlines made the operational decision to cancel flights. At the time the plane landed, conditions weren't yet typhoon-like, but were rather more on par with a regular storm.
However, this seemed to me like a very strange operational decision. Admittedly all airlines have their own standards they use for making operational decisions, but why was Ethiopian Airlines seemingly in a league of its own in deciding to continue operations?
Well, there's an interesting update on that front…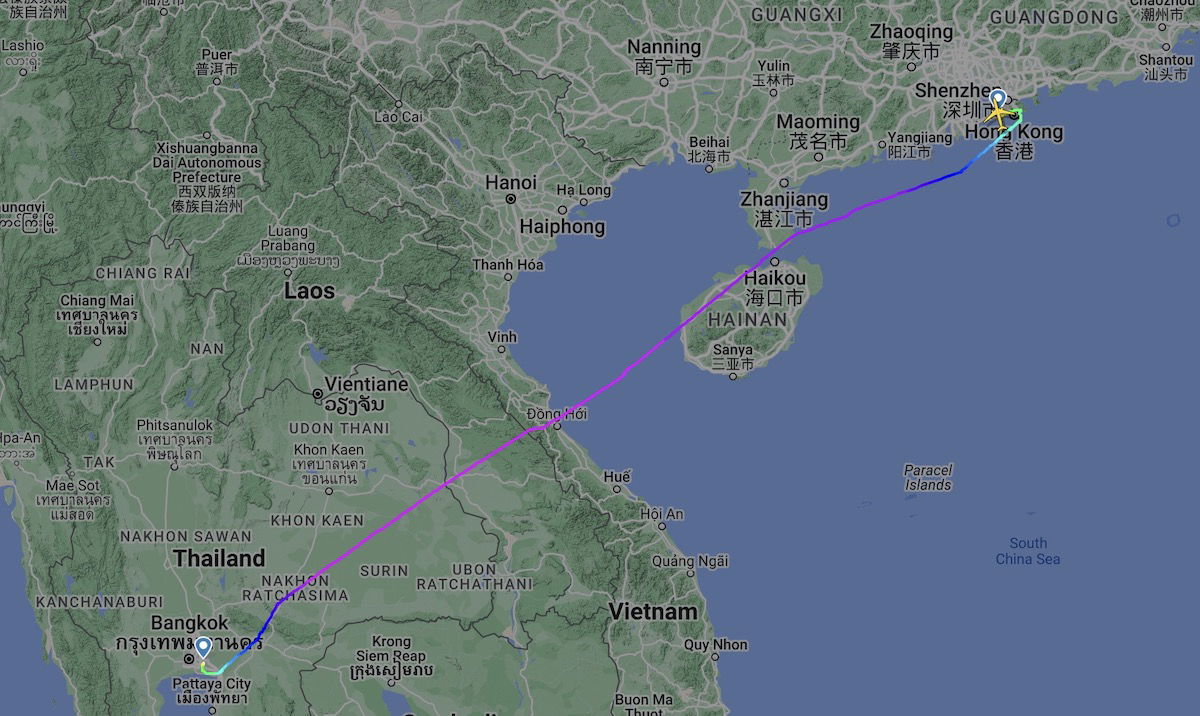 Ethiopian 787 tries to depart Hong Kong during typhoon
As I said, I don't judge Ethiopian Airlines' decision to fly into Hong Kong. What I do judge is what happened next…
After this particular flight landed in Hong Kong, Ethiopian Airlines ordinarily operates flight ET609 from Hong Kong back to Bangkok. The flight was scheduled to depart at 10:40PM, which was literally during the peak of the typhoon, when the government was advising people to stay home.
Despite that, Ethiopian maintained its schedule for the 10:40PM departure. The website hk01.com has the story of how passengers tried to contact the airline to rebook for the following day, but were told that rebookings weren't possible, since the flight was still scheduled to operate.
As a result, many travelers still headed to the airport and through security, where the flight continued to show as operating on-time (unlike literally every other flight). Well, finally at 10:08PM, 32 minutes ahead of schedule, passengers received emails indicating that the flight was canceled. This was announced at the gate at 10:15PM, 25 minutes ahead of the scheduled departure time.
Passengers were told that the flight had been rescheduled for the next day, and they'd have to take it then. They didn't provide the option of being accommodated on another flight, or rescheduling the flight for a different time.
It's both reckless and horrible customer service to have people schlep out to the airport in the peak of a typhoon, only to then cancel the flight after boarding was scheduled to start.
I had wondered what Ethiopian Airlines knew that other airlines didn't know when it flew into Hong Kong. I guess the answer is simply that the airline had no strategy, and just kept trying to operate until it was impossible.
You'd think the airline would have minimized operational disruptions and protected the safety of passengers by simply canceling the Bangkok to Hong Kong to Bangkok tag flight, and flying the plane back to Addis Ababa with those who were booked on that sector.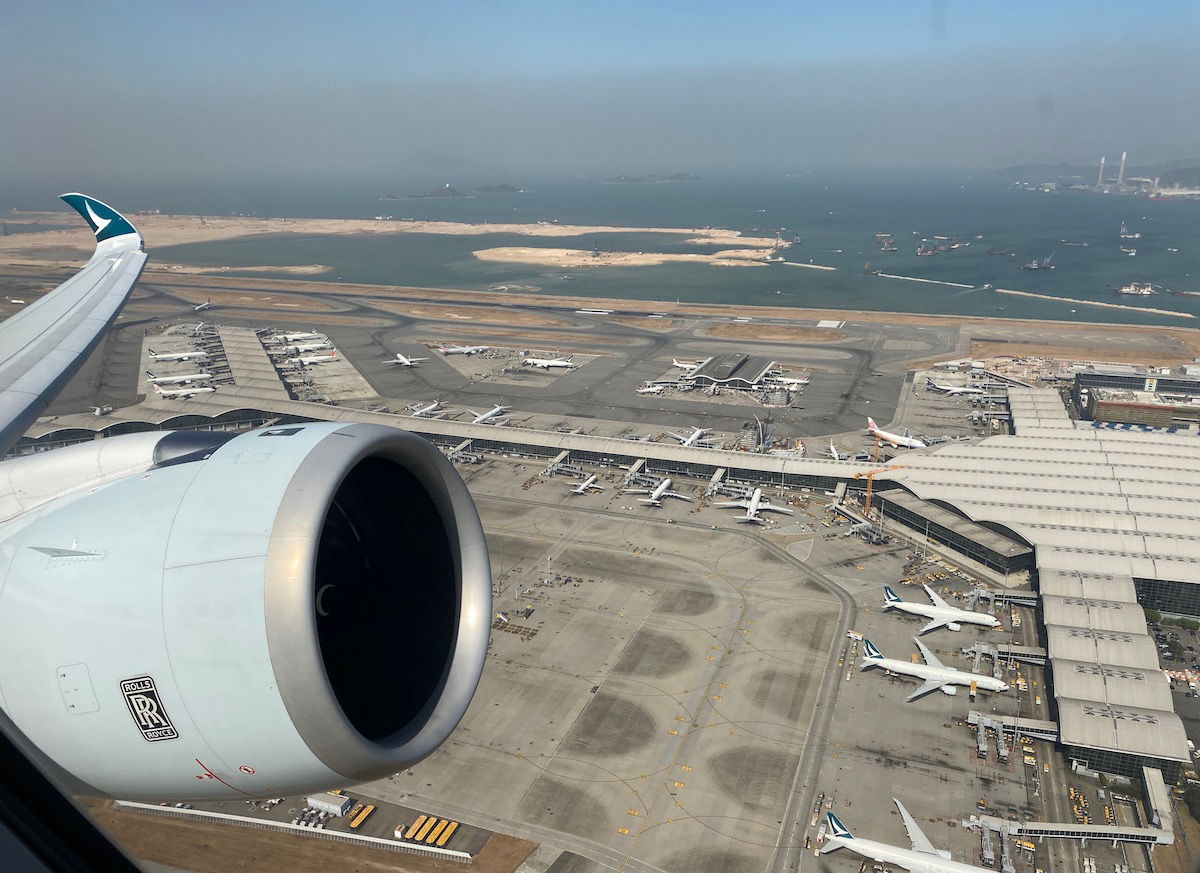 Bottom line
Ethiopian Airlines' decision to fly into Hong Kong ahead of Typhoon Saola was strange, but not reckless, since it was ahead of the peak of the storm. What's unacceptable, though, is that the airline kept its flight out of Hong Kong scheduled during the worst of the typhoon. The airline forced people to travel at the airport against government advisories, only to (of course) cancel the flight within an hour of departure.
The airline industry ordinarily operates under the philosophy of erring on the side of caution, though it's hard to think that this is what Ethiopian was doing here.
What do you make of this Ethiopian Airlines Boeing 787 Hong Kong flight?