Emirates has just revealed their half-year results for 2018-2019, and there are some interesting notes in there.
While the financial results differ for the overall Emirates Group, what I'm most interested in are the results of Emirates Airline directly:
Revenue is up 10%, to 13.3 billion USD
Profit declined 86%, to 62 million USD
30.1 million passengers carried, which is up 3%, but capacity has also increased by 3%
The airline carried 9% more passengers through their Dubai hub
On one hand those results are pretty bad, both in terms of the profit decrease, and also in terms of just how small their margins are. Their profit margin is equal to ~0.5% of their revenue.
On the other hand, the airline (and in particular the region) have had a very rough year, so the fact that they're making money at all is impressive. Emirates attributes the worse performance to higher fuel costs as well as currency devaluations in markets like India, Brazil, Angola, and Iran. Combined they say that these factors wiped around 1.25 billion USD from their profits. Ouch.
On the plus side, they're still doing better than Qatar Airways. The airline recently announced a loss of 69 million USD, and in reality that doesn't nearly reflect the extent of their losses (since so many aspects of aviation in Qatar are owned by the government, the airline isn't paying "fair" market prices for many things).
Here's what Emirates's Chairman and CEO, Sheikh Ahmed bin Saeed Al Maktoum, had to say about the results:
"We are proactively managing the myriad challenges faced by the airline and travel industry, including the relentless downward pressure on yields, and uncertain economic and political realities in our region and in other parts of the world. We are keeping a tight rein on controllable costs and will continue to drive efficiency improvement through the implementation of new technology and business processes."
While it's pretty obvious, I do find the acknowledgement of "relentless downward pressure on yields" to be interesting. That's not surprising at all, but the natural response to that for an airline would be to try and cut capacity.
At the moment Emirates has 253 A380s and 777s in their fleet, and they have a further 214 A380s and 777s on order. Given the situation, it sure seems to me like those planes will simply be increasingly used to replace existing planes, rather than to expand the fleet to 300+ (or even 400+). Or I do wonder if they'll end up deferring some planes, in light of this.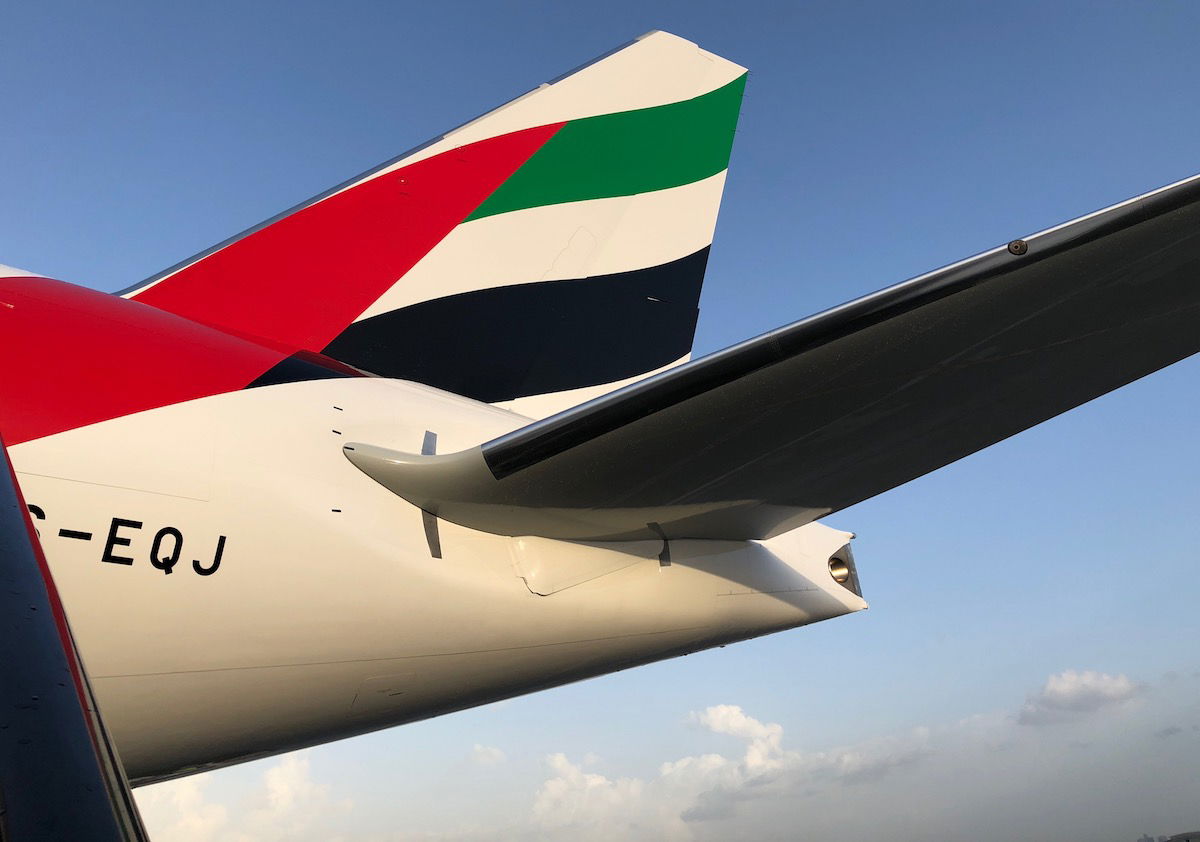 Also, when it comes to "keeping a reign on controllable costs," it's specifically mentioned that this will be done through "new technology and business processes." However, I can't help but wonder if they'll eventually significantly cut into the passenger experience. They're one of the few airlines that hasn't been making the passenger experience worse, and in the airline world it seems like that's usually the first thing to go.
Bottom line
Emirates' worsening results aren't surprising, given the increase in oil prices and the challenges they face with currency fluctuation in many of their major markets.
It's going to be very interesting to see how the "ME3" unfold over the coming months and years. Qatar Airways continues to face challenges with the blockade and is threatening to leave oneworld, Etihad is a basket case that seems like it will eventually be taken over by Emirates, and Emirates is being mostly reasonable, but still faces all the challenges you'd expect from an airline that is heavily reliant on what's going on in every corner of the globe.