If you're bored of hearing about Open Skies at this point, by all means skip this post. I'm an all around aviation and airline geek, and I realize not everyone is as obsessed as I am. Beyond flying and frequent flyer programs, I'm equally fascinated by the business side of the industry, and especially the "personalities" in the industry. I think it's also relevant to our hobby, since it gives us an idea of what executives in the industry are thinking, and what we should expect in the future.
I won't recap my whole thought process again, other than to say that US airlines have been making their Open Skies case in the most embarrassing way imaginable. Therefore the Middle Eastern carriers have been winning by default, even while keeping their mouths shut (or in the case of Qatar's CEO, Akbar Al Baker, keeping their mouths wide open). 😉
Emirates has been extremely quiet in the Open Skies battle, other than a 16 page journal they recently released, whereby they really school the US carriers.
One of the brightest guys in the airline industry is Tim Clark, Emirates' president. He's well spoken and brighter than a diamond.
He was recently interviewed by The National, and had some really interesting and insightful things to say. And he was able to do so without resulting to name-calling, unlike a certain other major Middle Eastern airline CEO.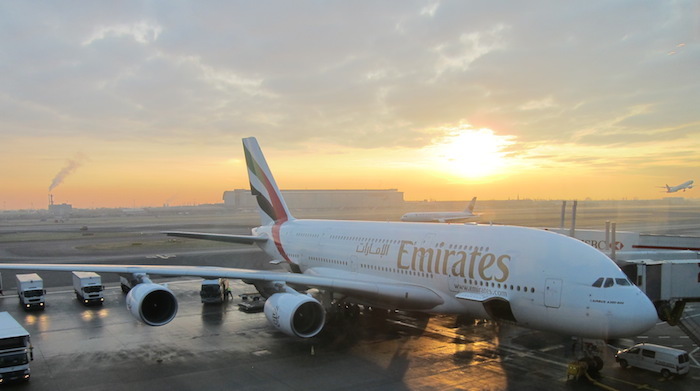 I figured I'd share just a few excerpts that I found especially interesting.
How does Tim Clark feel about the subsidy argument?
"We've received material evidence that the US airline industry was in receipt of billions of dollars of subsidy over many years, $155bn in the last century, according to an official report by US authorities. This was in addition to the Chapter 11 assistance. They said it was all OK because Chapter 11 made it legal, but that's a ridiculous argument. It's as if the government of AD published a retrospective law saying all state aid was legal, and that would have made it all OK.

"Since then, there have been several examples of US airlines in Chapter 11 bankruptcy, which obviously has an effect on their business and the rights of creditors, employees and pension obligations. Some of them were able to come out of Chapter 11 and to carry forward losses against tax, which makes their complaints about the no-tax regime in the UAE illuminating. What's the pot doing calling the kettle black? How about the people in glass houses throwing stones?"
How does Tim Clark feel about the expansion of fifth freedom routes, like their Milan to New York flight?
"I was in Copenhagen recently and they've spent €20m [Dh82.7m] on the airport to allow it to take A380s. As far as we're concerned, we're welcome in Europe. We were asked by the Italian government to take over the Malpensa [Milan] operation, that was how Milan to New York began. Milan was so badly served by the US carriers it made sense to put in a proper product at the right price. There are so many reasons Americans would want to travel to Milan – social, historical, business reasons, – yet the US carriers were almost ignoring Malpensa. Since we did it, the market has expanded overall for us, and for them.

"This is what happens when we enter a 'fifth freedom' market [where the carrier has the right to originate flights outside its home market]. Dubai is a hub of multiple city pair permutations.

"The attacks by the troika [of US airlines] have made us rethink the model. When we did Milan, 20 other cities asked us to do the same. This is what the US airlines want to stop."
And how does he feel about Richard Anderson (while expressing himself a bit more eloquently than Akbar Al Baker)?
"They want to take us down, to see us off the planet, certainly out of the US. We could only fly with Mr Anderson's permission – "we will tell you where to fly".

"Mr Anderson has suddenly become the secretary of state for aviation politics. Why is he being allowed to determine the geopolitical reality of the global aviation industry? He lost Malpensa and that really got to him.

"Why doesn't he approach us in the areas Delta doesn't serve? In the Middle East and North Africa, for example? How else can American tourists get to the Seychelles or Mauritius? How else can businessmen get from America to any place in Africa, where there is hardly any US airline presence."
Which other airline executives does Tim Clarke admire?
"Willie Walsh [CEO of International Airline Group] is one the new brand of airline manager, a 21st-century aviation thinker and a risk-taker.

"Just look at the British Airways deal with Iberia, which is so profitable and effective – a new force in European aviation. He has told the Americans he is committed to multilateral open skies agreements and he appreciates the value of aviation to national economies.

"Compare IAG with Air France/KLM or Lufthansa. France is too bureaucratic, Lufthansa has lots of different kinds of plane and very high costs. If Willie Walsh can make it work with IAG, why can't Lufthansa?

"We're joined at the hip in terms of our philosophy, with people like Walsh, Michael O'Leary [of Ryanair], Carolyn McCall [chief executive] of easyJet. These are people who believe in change and progress in aviation. There is a reshaping of aviation coming, driven by people like this, and by us."
Check out the entire article.
Bottom line
I've said it before and I'll say it again. Tim Clark is one of the most intelligent, well spoken, and classy guys in the airline industry. The US airlines — and in particular Richard Anderson — could learn a thing or two from him.
The thing to take away from this is that the US expansion for the Middle Eastern carriers will continue. This will largely come in the form of more fifth freedom routes, both because the demand is there, and also to (understandably) spite the US carriers.
Where do you stand on the Open Skies debate in light of everything we've heard from both sides?