One of the airline industry's biggest controversies so far this year has been the Open Skies battle going on between the "big three" US carriers (American, Delta, and United) and the "big three" Gulf carriers (Emirates, Etihad, and Qatar).
As I've explained, I think the US carriers are right for expressing their grievances, regardless of whether anything comes of it or not.
Unfortunately the way the US airlines have been trying to make their case has been nothing short of humiliating:
So we haven't actually heard much from the Middle Eastern carriers regarding this kerfuffle, mainly because they're smartly just letting the US carriers continue to dig their own graves in this debate.
Well, Emirates has broken that silence. The International And Government Affairs Journal Of Emirates has just been released, and it's 16 pages of brilliance. Not that I agree with everything it says, but I think they're making their points intelligently, unlike the US carriers.
Just look at the table of contents — what's not to love?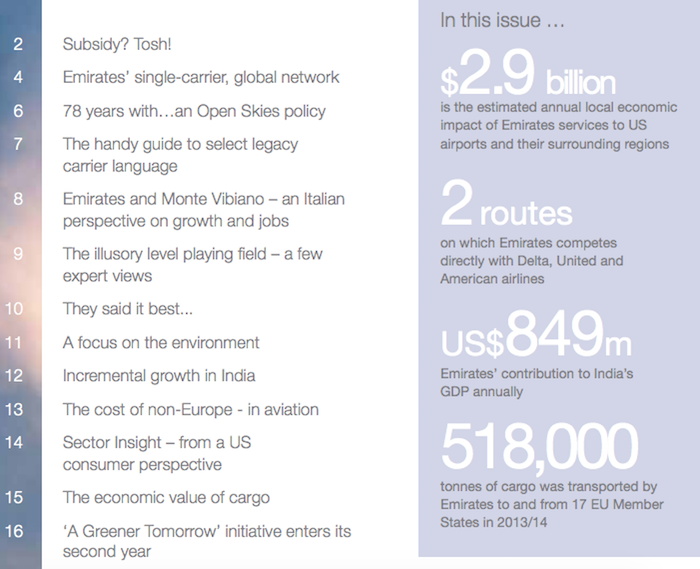 The best section has to be page 10, entitled "They said it best…"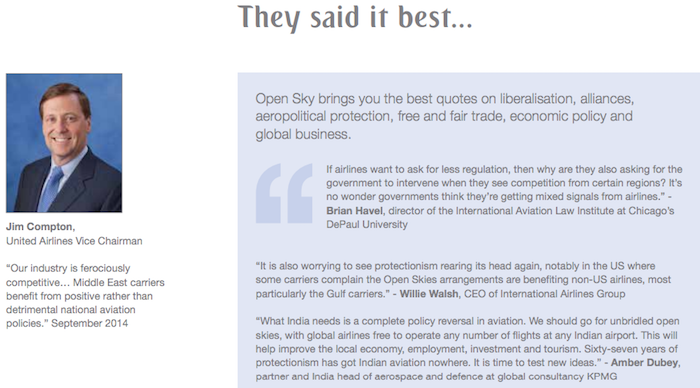 I mean, why even bother going on the offense when you can just quote executives at the US and European airlines instead?
"Delta's work groups have rejected nine proposals to unionize, making us the only major airline outside the Middle East that is largely non-unionized." – Richard Anderson, Delta Air Lines CEO

"The Gulf countries have recognised the value of aviation for an economy. I would also like to see Europe to understand this value too." – Carsten Spohr, Lufthansa CEO in an interview with the German newspaper Sueddeutsche Zeitung
Bottom line
If you have the time, I'd definitely recommend checking out Emirates' Open Skies rebuttal. It's 16 pages, but reads very quickly. Do I agree with everything in there? Nope. But I think they're doing a perfect job responding to the accusations of the US carriers in a precise, classy, and non-foot-in-mouth way.