Boy, my upcoming trip in Etihad's Residence is proving to be quite interesting, and I haven't even left for Abu Dhabi yet!
Over the past couple of days I've shared the issues I was having with confirming a complimentary hotel in Abu Dhabi, which is a standard feature for first and business class passengers on revenue tickets. Etihad even advertises how they offer two complimentary nights in a Khaleej Suite at the Emirates Palace for passengers in the Residence. I was looking forward to taking advantage of that for my stopover in Abu Dhabi.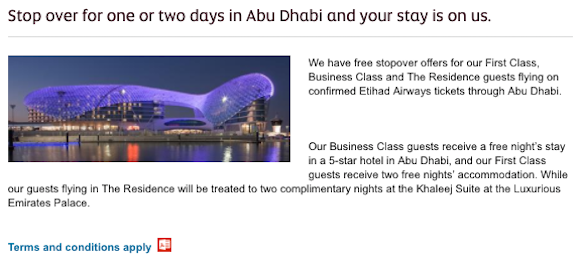 Unfortunately that proved tougher than I was expecting. After six days Etihad still hadn't confirmed my reservation, and that's despite a promise that hotels would be confirmed within 24-48 hours of the request being made. I had sent a follow-up email to both the department that handles this, and also Etihad's concierge for Residence passengers.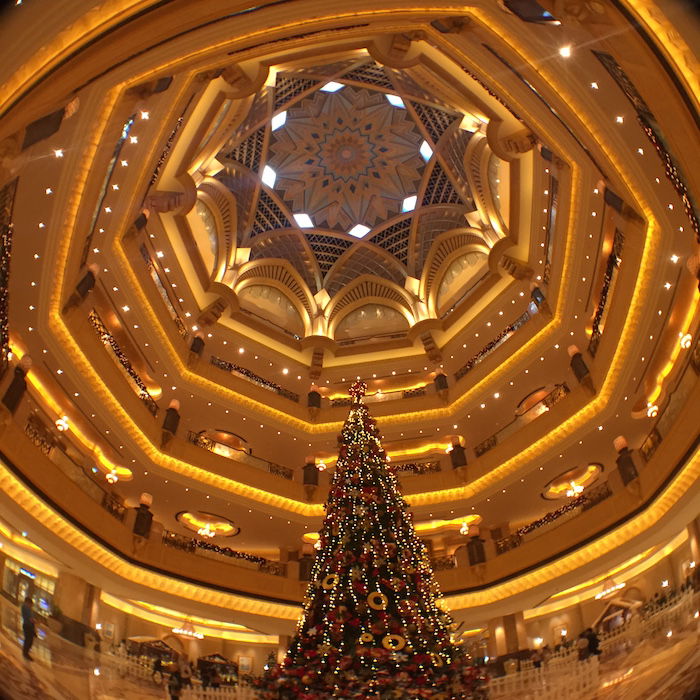 The Emirates Palace Abu Dhabi lobby
Even more disappointing, once they responded they informed me that the Emirates Palace is "not available," and offered me a standard room at a selection of other hotels. Keep in mind that a suite at the Emirates Palace is about 10x as expensive as any of the other options, and the hotel was still selling many Khaleej Suites. It sure seems like a bait and switch to me.
I sort of thought to myself "meh, whatever," and figured I'd take a standard room at Jumeirah at Etihad Tower. However, almost unanimously the comments from readers yesterday encouraged me to "fight" for the suite at the Emirates Palace, or at least a suite at a comparable hotel. It's not often reader comments are that unanimous, so I figured I had to listen to you guys. I sent over the following email:
Thanks for sending over the confirmation, but I was hoping you could clarify something. You said that the Emirates Palace is not available and on "stop sale" for the dates requested. The hotel is still selling at least four Khaleej Suites, which is the highest number of suites they'll show as available, so clearly it's not anywhere close to sold out.

This was a feature that was advertised by Etihad for passengers in The Residence, so it seems a bit disingenuous to suggest that this is not available, when clearly it is, and it's wide open. At a minimum a comparable suite in another hotel seems like a reasonable accommodation

Please advise if there's anything that can be done.
Well, about 20 hours later I got a response from the Residence concierge, saying the following:
Please be noted that your hotel booking in Emirates Palace is now confirmed and wish you a pleasant stay in Abu Dhabi . if you have any inquiry please do not hesitate to contact us at any time.
It worked! Sure enough, I'm confirmed in a Khaleej Suite at the Emirates Palace, including breakfast. Awesome! That room would retail for a total of ~3,000USD including tax for two nights.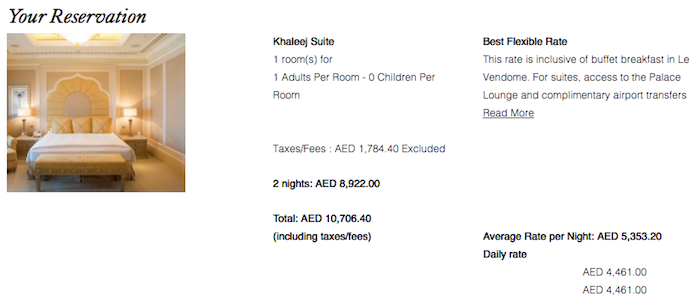 Now, was I getting special treatment here? From the moment I booked this some suggested I'd be getting special treatment. I suspect I wasn't getting special treatment when no one responded to my hotel inquiry for almost a week. I suspect I wasn't getting special treatment when they didn't confirm me in the type of hotel that was promised.
So I'm not sure if they did this as special treatment, or because a Residence passenger strongly pushed back. Regardless, so far I don't really feel like my experience has been out of the ordinary in a positive way. 😉
Thanks to those who urged me to push back. Getting a suite that would retail for ~$3,000 for my two night stay is awesome, and will add another fun element to this review!