In a few days Emirates will be unveiling their new 777 first class, which I have high hopes for. Just a couple of days ago Emirates revealed the first two routes to feature the new first class. Specifically, as of December 1, 2017, one daily frequency to both Brussels and Geneva will feature the new cabin.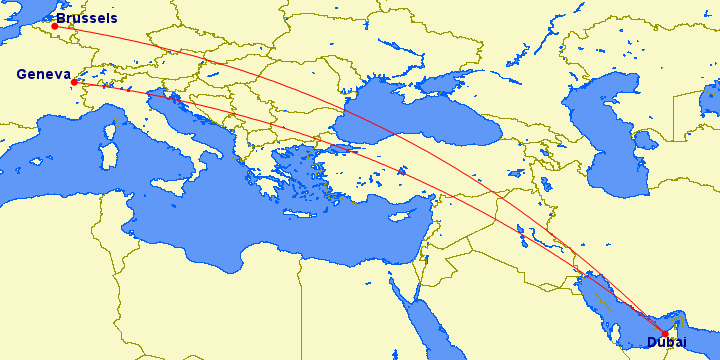 It's pretty impressive that Emirates' new first class will be in service only about two weeks after they unveil the product.
I'm sure I'm not the only one who is looking for ways to try Emirates' new first class, so in this post I wanted to share what I'm seeing.
Emirates is blocking first class awards on their new 777s
While I wouldn't necessarily assume this will be the case long term, as of now it looks like Emirates isn't making any first class award seats available on the two flights that feature their new first class. Emirates flies to both Brussels and Geneva twice daily, and while the other daily flights often has first class award seats, the frequencies featuring the new first class don't.

Over time this new first class will become the new normal for Emirates, so I wouldn't necessarily assume they'll maintain this level of restrictiveness long term. However, for now it appears to be the case.
Are there any good fares in Emirates' new first class?
The good news is that Emirates isn't charing a premium for their new first class, and for that matter, doesn't even seem to be preventing discounted first class tickets from being booked on these flights (I see plenty of availability in the "A" fare class). So on revenue tickets it seems to be business as usual.
With that in mind, my plan is to find the best possible paid first class tickets that would allow me to try Emirates' new first class. Historically departing from cities like Cairo, Colombo, Tunis, etc., will get you the lowest first class fares, so I've been looking at fares to both Brussels and Geneva in hopes of finding the best fare possible.
The cheapest roundtrip first class fare I was able to find to either Geneva or Brussels was ~$3,600 roundtrip.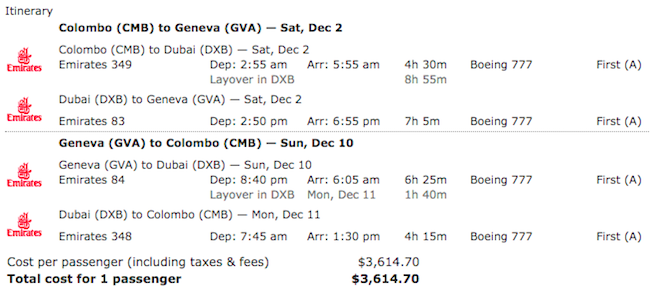 A one-way prices out at a bit more than half the cost of a roundtrip. Specifically, the cheapest one-way fare I see is ~$2,340.

I wouldn't consider either of those to be great fares, though as of now they're the cheapest I've been able to find, and I figured they were worth sharing in case anyone is similarly interested in trying Emirates' new first class. While I've searched dozens of cities, I imagine there have to be better fares out there.
Has anyone found a cheaper fare that gets a seat in Emirates' new first class?