There's a new Italian airline that's supposed to launch operations in a couple of months. No, not Italian Airways, which is from the founders of Air Italy (which ceased operations). And no, not the "new" Alitalia, which looks a whole lot like the old (bankrupt) Alitalia. Rather we're talking about EGO Airways.
What is Italy's EGO Airways?
EGO Airways is a new Italian airline that just put tickets on sale for travel as of March 2021. The airline will initially operate point-to-point routes within Italy.
That's an interesting name for an airline, and I'm not sure I really get it. EGO Airways' website doesn't do much to clarify things, because it explains it as follows (this is the English version of the website, and not me using Google Translate, or anything):
Have you ever wondered what's the story about your name? The name is that incredible and intangible gift following through each one of us throughout the journey of life. It is with us from the day we are given birth, in order to be remembered forever.

The name is a matter of fact the self-awareness of that part of us that is spirit, that distinguish us as unique individual, but brings us as well the joy to be potentially called by others and become part of a community.

It's the transposition of the I, of that identifying image of the self firstly hypothesize by Sigmund Freud: the EGO.
Well that clears things up… 😉
Anyway, let's talk about the airline:
EGO Airways fleet
EGO Airways will initially operate a fleet of two Embraer E190 aircraft, featuring 100 seats each. The Embraer E190 is a bit larger than your typical regional jet, but not quite as big as most mainline aircraft.
EGO Airways is acquiring used planes, which makes perfect sense, given the secondhand market. EGO Airways' first plane has the registration code I-EGOA. The plane was manufactured in 2008, and flew for Panama's COPA Airlines for over a decade.
One of the planes will initially be based at Forli Airport (FRL), while the other plane will initially be based at Catania Fontanarossa Airport (CTA).
EGO Airways onboard product & service
It would appear that EGO Airways' E190s will feature three different products, including:
PRIVATE Class (business class)
JUST GO LOUNGE Class (extra legroom economy class)
JUST GO Class (standard economy class)
Here's a chart showing the differences between the products: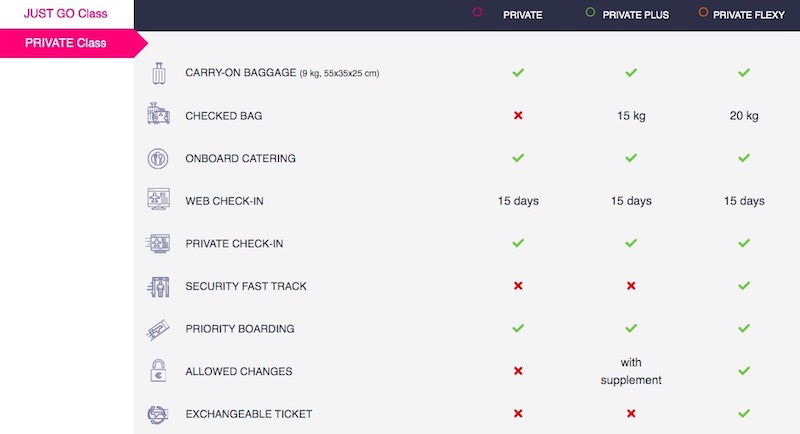 A couple of thoughts:
Calling an Embraer business class product "PRIVATE" sure is gutsy
Based on the planes having 100 seats, I wouldn't expect legroom to be particularly good in regular economy, since 100 seats is a standard layout for this plane
What should we expect from the onboard service? EGO Airways is promising:
"Extremely refined interiors"
"Fresh Italian products," including "vegan, protein, and super health meals for those who do not want to give up their lifestyle even when traveling"
"Taste experiences linked both to the territory of departure and to that of destination" (talk about really regionalized cuisine for a domestic airline!)
"An attentive service in all three classes"
EGO Airways routes
EGO Airways tickets are now on sale, and the airline will launch operations as of March, and then progressively ramp up its schedule.
As of March 28, 2021, EGO Airways will offer service to the airports of Forli, Florence, Catania, Parma, Bari, and Lamezia Terme. Then as of June 4, 2021, EGO Airways will add service to the airports of Cagliari, Bergamo, and Rome.
Here's a schedule showing the initial expected frequencies: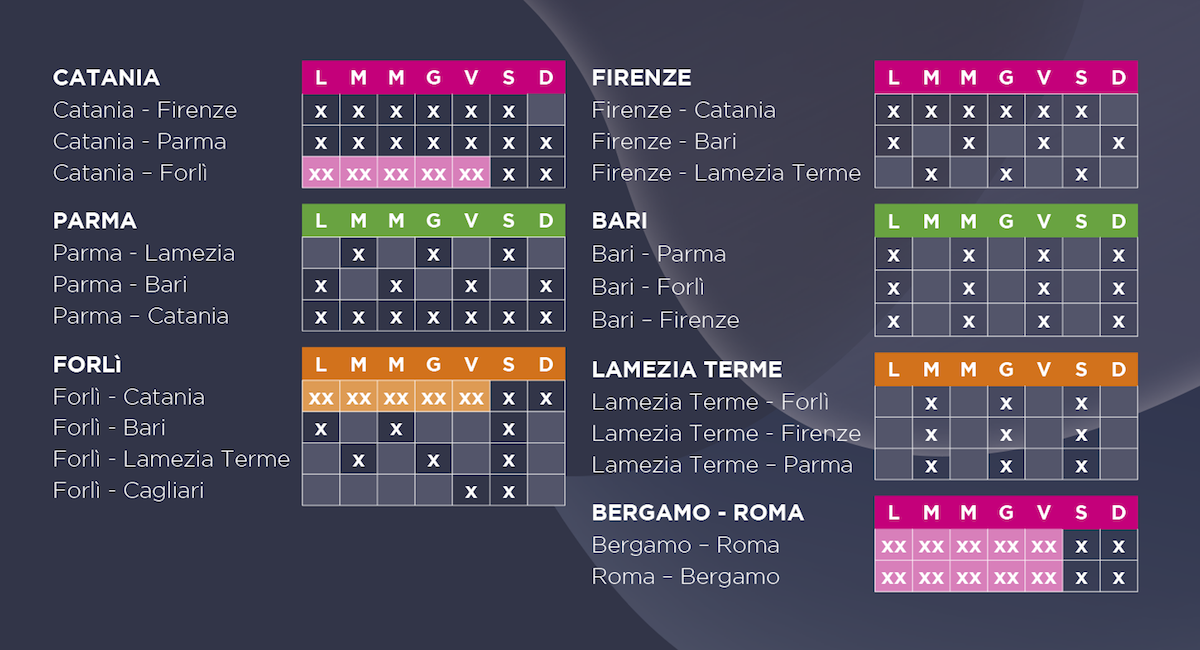 Interestingly EGO Airways will largely be serving routes that aren't served by other airlines, and in some cases the airline will even be trying to compete with train service, which counters the trend in much of Europe, given the focus on minimizing emissions.
EGO Airways fares
As is the case at most airlines, EGO Airways' fares are dynamic. The starting fares are quite reasonable, with economy starting at 50 EUR one-way, and business class starting at 100 EUR one-way.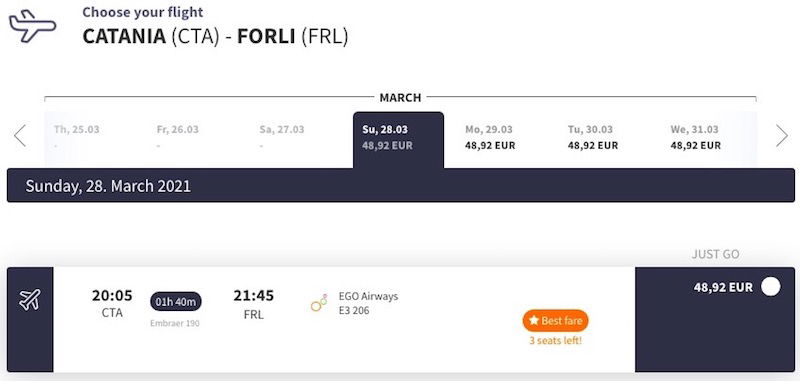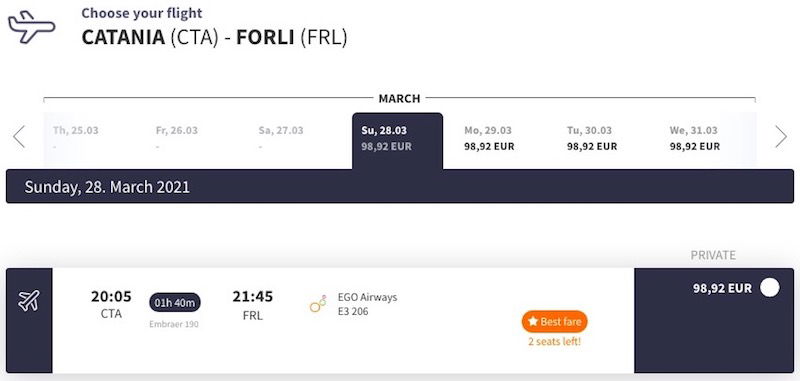 My take on EGO Airways
I have no clue whether EGO Airways will be profitable or not, especially given the timing of the airline launching operations. But I do feel strongly that this is a less bad business model than the other "reimagined" Italian airlines we're seeing.
EGO Airways will serve markets that largely don't otherwise have direct connections, and the airline is starting small, with just two planes. This seems to me like a more realistic airline startup than Italian Airways or the "new" Alitalia.
Bottom line
EGO Airways will be launching operations in March 2021. The Italian airline will operate point-to-point routes in Italy with Embraer E190 aircraft. The airline will even offer a premium cabin, though I'd manage my expectations, because I think the airline might be overpromising there.
While this is hardly the most exciting airline startup we've ever seen (it's no Baltia or Global Ghana Airlines), it does seem like it has a niche…
What do you make of EGO Airways?
(Tip of the hat to nikojas)