Update: Eastern Airlines canceled this route within days of putting tickets on sale.
Eastern Airlines, America's strangest real airline (I don't want it to be confused with America's strangest fake airlines, after all), has just announced a fascinating new route.
Eastern Airlines will fly to Europe!
Between May 28 and September 5, 2021, Eastern Airlines will launch a once weekly flight between Chicago and Sarajevo. The flight will operate eastbound on Fridays and westbound on Sundays, as follows:
2D972 Chicago to Sarajevo departing 7:05PM arriving 11:05AM (+1 day)
2D973 Sarajevo to Chicago departing 8:00AM arriving 12:00PM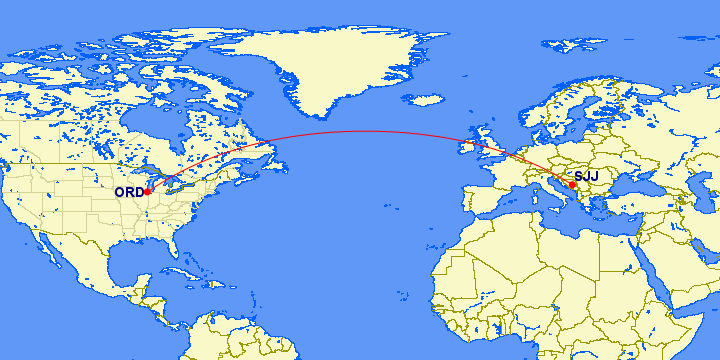 The nearly 5,000 mile flight is blocked at 9hr eastbound and 11hr westbound. It will be operated by a Boeing 767-200ER in a two class configuration. Eastern Airlines' most common 767-200 configuration features 238 seats, including 18 premium seats and 220 economy seats.
However, the airline acquired all of its planes secondhand, and it's my understanding that configurations aren't very consistent, so only time will tell what's actually offered.
There's a lot that makes this route cool:
This will be Eastern Airlines' first route out of Chicago
This will be Eastern Airlines' first transatlantic route
This will be the only nonstop flight between the US and Bosnia and Herzegovina
The plane will spend a night in Sarajevo, presumably so that the same crew can work the return flight
What I can't make sense of
Let me start by acknowledging that there's a huge Eastern European population in Chicago, including people with ties to Bosnia and Herzegovina. The city has the second most Bosnians in the US, after St. Louis. On the surface I can totally see how there's demand for this route.
What I can't wrap my head around is how Eastern Airlines fits into the equation here. For those of you not familiar with Eastern, it's without a doubt the most random airline in the US. The airline operates a fleet of over a dozen used 767s and 777s, and has a rather disjointed route network.
It flies routes like New York to Anchorage, Philadelphia to Mexico City, Los Angeles to Guayaquil, and Miami to Asuncion, as one does. Unfortunately the airline never launched its planned Alaska to China flight, which sure would have been fun.
What I can't make sense of is Eastern Airlines' strategy here:
Eastern Airlines doesn't operate any other flights to Chicago, so will the airline add a domestic flight to position the aircraft to Chicago, or how will the plane get there? Won't this be extremely inefficient in terms of crewing a once weekly flight with the amount of deadheading going on?
Eastern Airlines' pricing is delusional, as the airline is charging ~$2,000 for roundtrip economy tickets, while competitors with a connection are charging less than half as much; does the airline think people are willing to pay that much of a premium for a nonstop flight on an airline they've never heard of, or what?
While we've seen more of this during coronavirus, Eastern Airlines' strategy of launching flights with just weeks notice seems to exclude a large portion of the potential customer base, especially when you add in the fact that this is an airline most people haven't ever heard of, making marketing this flight even more challenging
Can someone explain the economics here? Did Eastern Airlines get some sort of a lucrative cargo contract for this once weekly flight, does the airline really think people will pay $2,000 to fly economy across the Atlantic over a "name-brand" competitor with a connection, and how exactly is this plane going to be positioned?
That being said…
You guys know that I love "random" and new airlines, and Eastern Airlines has interested me for so long. Bosnia and Herzegovina is also a country that I've been wanting to visit.
I'm so tempted to book this as a post-vaccination trip, because the country is open with a pre-travel testing requirement, and this seems like a pretty cool flying experience. Anyone have feedback on Sarajevo?
Bottom line
Eastern Airlines has historically been focused on flights to Latin America, but the airline is now expanding to Europe, with a once weekly seasonal Chicago to Sarajevo flight.
While I can theoretically see where the market is for that, I still don't understand how this route is supposed to work for Eastern, between the outrageous fares, and the fact that the airline doesn't currently have a presence in Chicago.
What do you make of Eastern Airlines' new transatlantic route?
(Tip of the hat to @IshrionA)