Many airlines offer some sort of a status match or challenge program, as a way of making it easier for frequent flyers to switch their business. It's logical enough, though we've certainly seen many airlines add hoops you have to jump through. They want to make sure people aren't just status matching for short term benefits, but rather because they really want to switch their business long term.
Delta SkyMiles has offered a status challenge program for years. You can only do a challenge for Silver, Gold, or Platinum status, based on the status you have with one of their competitors.
Historically the Delta SkyMiles status challenge program has just required you to earn a certain number of MQMs (Medallion Qualifying Miles) or MQSs (Medallion Qualifying Segments) over the course of 90 days, though they've just added something to that.
As of January 1, 2018, US based SkyMiles members will also need to spend a certain amount to complete a Delta status challenge. Since Delta has a spend requirement for earning status, it's not surprising to see them add this to a status challenge as well. The requirements for a Delta SkyMiles status challenge are now as follows (all activity is required over the course of 90 days):
Silver: 6,250 MQMs or 8 MQSs AND 750 MQDs or MQD waiver
Gold: 12,500 MQMs or 15 MQSs AND 1,500 MQDs or MQD waiver
Platinum: 18,7500 MQMs or 25 MQSs AND 2,250 MQDs or MQD waiver

The spend requirement is a quarter of what it would be for the entire year, which makes sense since this is over a 90 day period. You need to spend an average of 12 cents per earned MQM.
In terms of the MQD waiver, you can achieve this by making $25,000 or more in eligible purchases with your eligible Delta SkyMiles credit card between the beginning of the calendar year and the end of your status challenge period. In other words, the MQD waiver requirement is the same that it would otherwise be for a full year of status.
It's not surprising to see Delta add this. For example, American AAdvantage's status challenge also has a spend requirement as of last year. I completed a Delta Platinum status challenge late last year, so am now working on requalifying for Delta status this year.
Delta is also making one other minor change to their status challenge program. Specifically, Medallion members who receive complimentary status through their Million Miler benefits are now able to enroll in a status challenge. That makes perfect sense. In other words, if you're a lifetime SkyMiles Silver member from being a million miler, it's silly that they won't let you complete a Platinum status challenge when you have top tier with another airline, for example.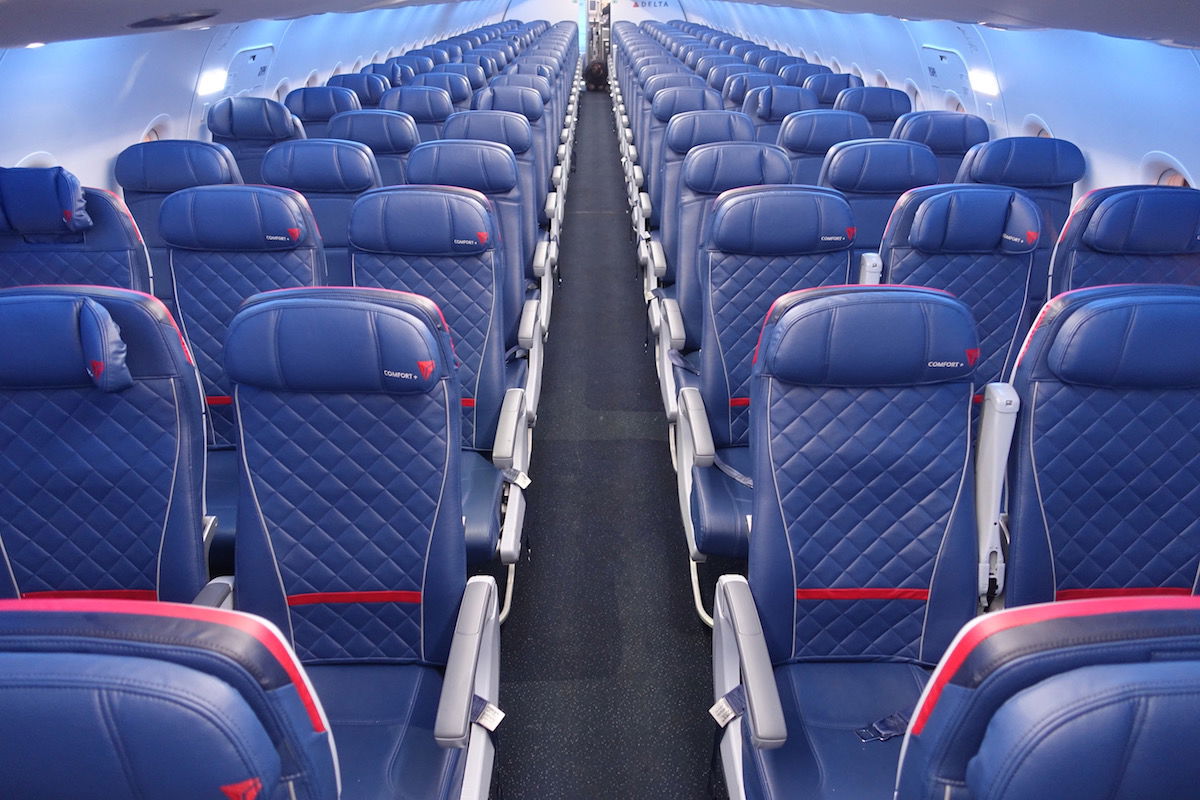 Delta's A319 economy cabin