Last December American announced that they're introducing a premium economy product, making them the first US carrier to offer a "true" premium economy cabin on longhaul flights. There had been rumors for a while that Delta would introduce one as well, and it looks like that is finally coming to fruition.
Funny enough Delta announced their premium economy product around the same time that American began offering premium economy on longhaul flights.
Details of Delta's new premium economy
Delta's new premium economy product will be called Delta Premium, and it will debut in late 2017.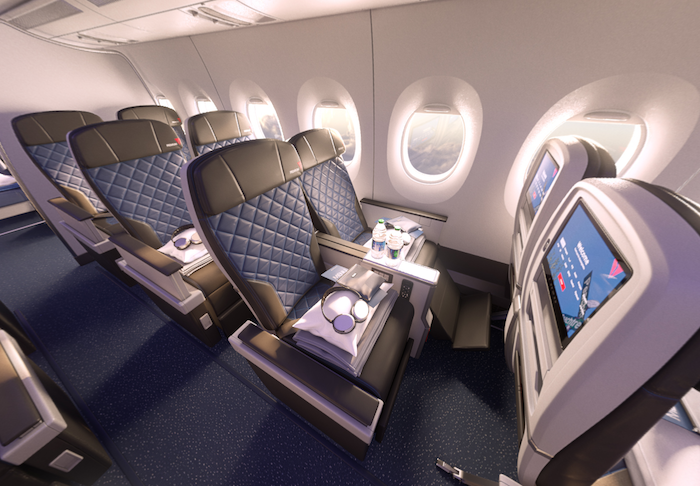 The new Delta Premium seat
Delta Premium will come with the following amenities:
More space with up to 38 inches of pitch, up to 19 inches of width and up to seven inches of recline. Delta Premium seats will also offer adjustable leg rests and head rests;
Westin Heavenly In-Flight Blanket with pillow and a TUMI amenity kit featuring Malin+Goetz Travel Essentials, allowing customers to settle in and arrive well-rested;
Pre-departure beverage service followed by fresh, seasonal menu selections presented with Alessi serviceware designed exclusively for Delta;
A 13.3-inch, high resolution in-flight entertainment screen that is among the largest in its class, allowing customers to stay entertained with Delta Studio's industry-leading library of complimentary movies, shows and games, and noise-cancelling headphones;
In-seat power ports for large and small devices and convenient storage to keep them within reach;
Sky Priority service, which includes faster check-in, accelerated security, priority boarding and expedited baggage service.
It's interesting to note that Delta's premium economy seats will feature actual leg rests, while American's seats just have foot rests (except the bulkheads, which do have leg rests). Some people love leg rests, while others hate them. Personally I'm not a huge fan of them when you only have 38″ of pitch, as I find they're a bit constraining.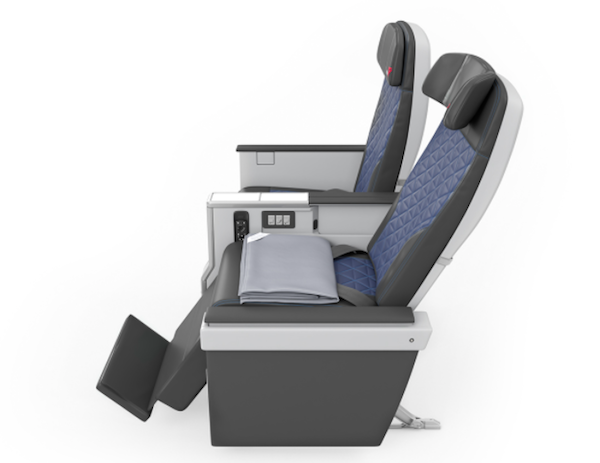 The new Delta Premium seat
Which planes will feature Delta Premium?
Delta Premium will debut on Delta's Airbus A350 aircraft, which will be entering service in fall 2017. The A350s will feature 32 Delta One Suites (which are fully enclosed and were announced a few months back), 48 Delta Premium seats, and 226 Main Cabin seats.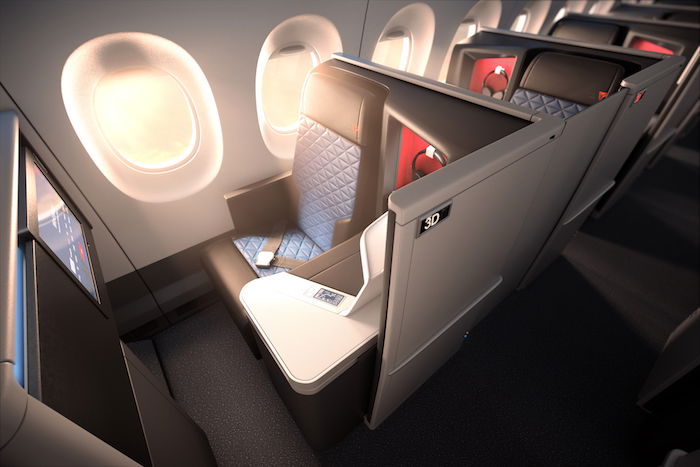 The new Delta One Suite
What's a bit odd is that Delta doesn't make reference to Comfort+ being installed on their A350s. This is Delta's extra legroom economy section. This suggests they won't offer it, which seems a bit backwards, since it's something they've been focused on selling. But perhaps that would come at the cost of too many seats, and they'd rather just have business, premium economy, and economy.
Delta will also roll out Delta One Suites and Delta Premium on their 777 fleet, starting in 2018.
Additional aircraft may also get the new product in the future, though that hasn't been confirmed.
Delta Premium & Upgrades
American announced premium economy late last year and is already operating the product to Madrid and Sao Paulo (though for now they're selling the seats as economy). It has now been nearly a year since the announcement, and they still haven't explicitly said how upgrades will work with premium economy.
In other words, as of now systemwide upgrades are valid for a one class upgrade, so does that mean they'll only be valid for economy to premium economy, or from premium economy to business? If so, that would be a massive devaluation.
While I assume that's how it will work on planes with premium economy, American hasn't formally announced it one way or another.
Well, interestingly Delta has been much more forthcoming. They just announced their new premium economy yesterday, and have already updated their upgrade terms. If you look at Delta's webpage for upgrade certificates, it says the following:
Diamond Medallion Members will be eligible to use Global Upgrade Certificates to upgrade to Delta Premium, a new class of service on Delta's long-haul international flights that will begin in 2017. On Delta Premium-equipped aircraft, Global Upgrade Certificates can still be used to upgrade to Delta One™. Regional Upgrade Certificates cannot be used to upgrade to Delta Premium.

Certificates are flexible — they can be used to upgrade directly from Main Cabin to either Delta Comfort+, First Class, Delta Premium or Delta One. Or they can be used to upgrade from Delta Comfort+ to either First Class, Delta Premium or Delta One. Or they can be used to upgrade from Delta Premium to Delta One.
So Delta is saying that you'll have the option of upgrading from economy to either premium economy or business class using your Global Upgrade Certificates. That's fantastic news, though I'm a bit suspicious. Delta is usually the leader in the race to the bottom when it comes to loyalty program "enhancements," though this would be a very nice policy.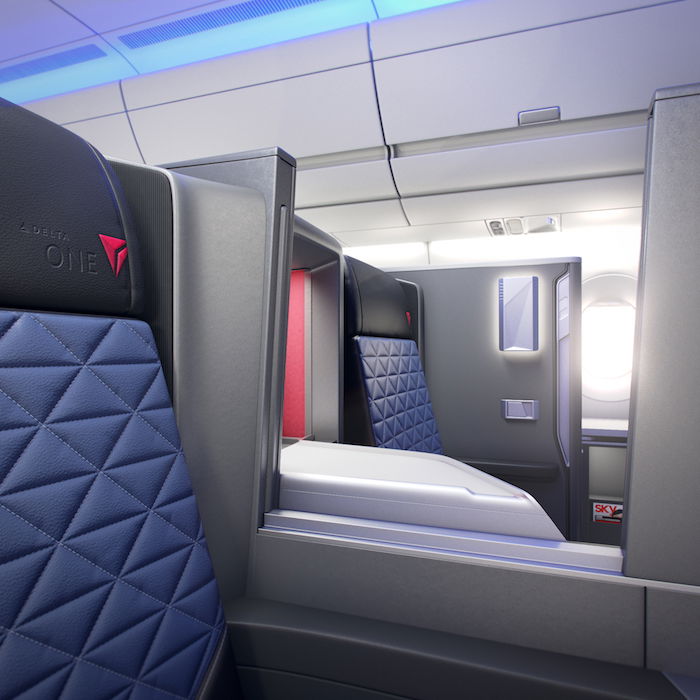 You'll be able to upgrade to the Delta One Suite even on flights with Delta Premium
I imagine American is getting ready to announce their upgrade policy for premium economy soon, as they're preparing to actually sell the cabin. I hope Delta's policy will rub off on American, and that they'll allow systemwide upgrades to be used from economy to either premium economy or business class. I had sort of given up hope that this would happen, but since American and United just seem to follow Delta's lead…
Delta Premium bottom line
It was only a matter of time before Delta announced their premium economy cabin, which has been rumored for a long while. Overall the cabin looks solid, not that there's all that much differentiation between premium economy cabins across most airlines.
What I'm most excited about (and perhaps also most suspicious about) is that Delta is saying that Global Upgrades will continue to be valid from economy to business class, even on planes with premium economy. Here's to hoping they're not being sneaky, and that American will have a similar policy.
What do you make of Delta Premium, and in particular their upgrade policy?