Late last year, American became the first US carrier to announce that they'd install a "true" premium economy cabin throughout much of their longhaul flight. This is a pretty common trend in the global airline industry. As the quality of business class keeps improving, and as the personal space in economy keeps decreasing, there's a market for a product that's somewhere in the middle.


American's new premium economy
In the case of American, this more or less coincides with them eliminating international first class on their 777-200 aircraft. With the exception of their 777-300ERs, their other new longhaul planes will feature business class, premium economy, and economy.
When premium economy was announced late last year, American said that premium economy would be rolled out starting in late 2016. Well, American now has a further update, per a press release that just went out.
American's first 787-9 routes (premium economy & new business class)
The first American plane to feature premium economy will be their newly delivered Boeing 787-9 aircraft. While American already has some 787-8 aircraft in their fleet, they'll be getting their first 787-9 shortly.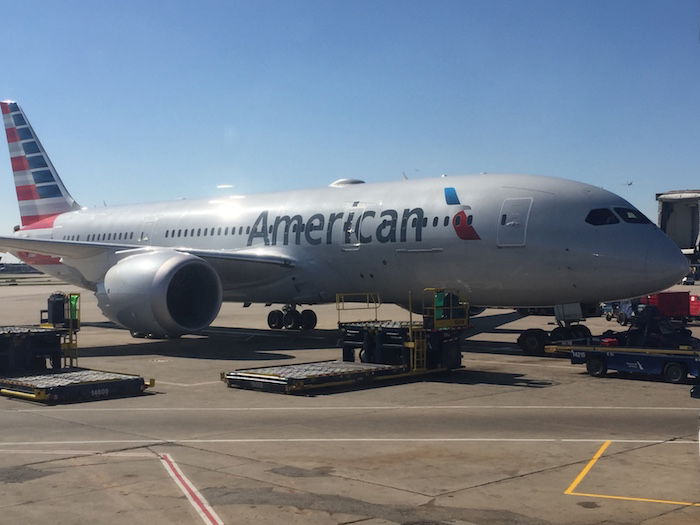 American's 787-8
Keep in mind the 787-9 will also be the first plane to feature American's newest business class product.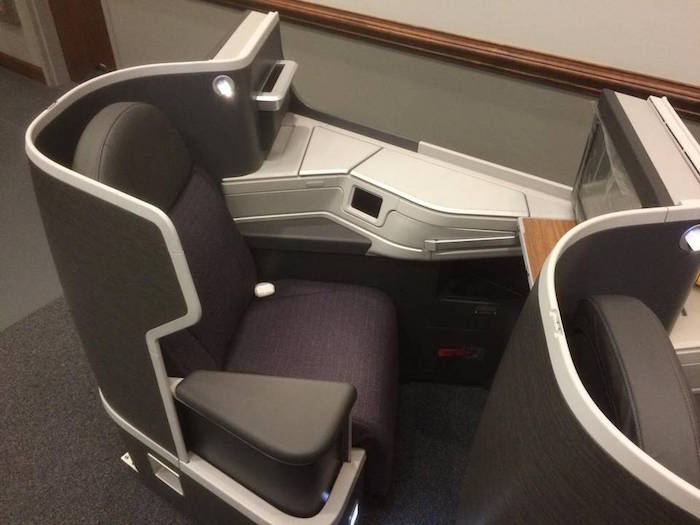 American's 787-9 business class
American will commence Boeing 787-9 flights between Dallas and Madrid as of November 4, 2016. The flight will operate with the following schedule:
Dallas to Madrid departing 5:45PM arriving 9:55AM (+1 day)
Madrid to Dallas departing 12:20PM arriving 4:40PM
Furthermore, American will also commence Boeing 787-9 flights between Dallas and Sao Paulo as of November 4, 2016. That flight will operate with the following schedule:
Dallas to Sao Paulo departing at 7:00PM arriving 7:05AM (+1 day)
Sao Paulo to Dallas departing 10:55PM arriving 5:15AM (+1 day)
Both of these flights will formally become bookable as 787-9 aircraft as of July 10, 2016 (of course you can always book them now, since the 787-9s are simply replacing the existing aircraft operating the route).
However, I'd note that American won't actually start selling premium economy seats until early 2017. Instead they'll be treated as Main Cabin Extra seats for the time being, meaning elite members can reserve them in advance at no extra cost, making that a great opportunity for the time being.
As I previously wrote about, American's 787-9 will feature the following seat count:
30 fully lie-flat, all-aisle access Business Class seats arranged in a 1-2-1 configuration
21 Premium Economy seats in a 2-3-2 configuration
27 Main Cabin Extra seats with up to 6 inches of additional leg room in a 3-3-3 configuration
207 Main Cabin seats arranged in a 3-3-3 configuration
American premium economy amenities
When American first announced premium economy, they didn't share much in the way of details. Well, now we officially have more information about premium economy:
Customers sitting in Premium Economy will enjoy a leather seat featuring 38 inches of pitch with extendable foot, leg and head rests, personal on-demand entertainment systems and larger touchscreen monitors. When flying international, customers will receive noise reducing headphones and amenity kits, and will enjoy enhanced meal service with complimentary wine, beer and spirits. Premium Economy customers will be able to check one bag free of charge.
We still don't know the exact details, like how "enhanced" the meal service will be, and what the amenity kits and noise canceling headphones will look like.
Overall it still seems like premium economy will be similar to domestic first class, except there will be legrests, and the seats might be a bit narrower.
What impact does this have on upgrades?
Objectively I think the addition of premium economy is great news, since there's definitely a market for it.
What I don't like about premium economy is the potential implications it has on upgrades.
Up until last year, American Executive Platinum members received eight systemwide upgrades. As of this year they receive just four systemwide upgrades. Let's keep in mind the terms associated with systemwide upgrades (bolding mine):
If you're traveling on most Business and Economy Class fares and an upgrade is available at the time of booking, you or anyone you choose will enjoy a confirmed upgrade to the next class of service.
In other words, if American maintains the status quo, systemwide upgrades will only be valid from economy to premium economy, or from premium economy to business class, since that would represent an upgrade to the next class of service.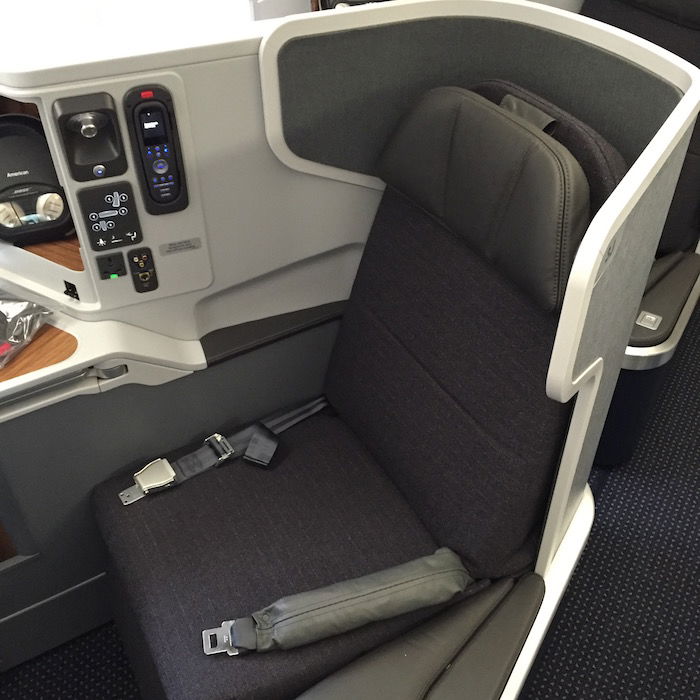 Bye bye economy to business class upgrades?
The thing is, we don't yet know for sure that this is how things will be executed. Heck, I don't even think American knows for sure how they'll handle it yet. I asked American about this, and they said that as of now systemwide upgrades are still valid from economy to business class, and that if there are any changes in the future they'll be communicated.
So even though American is launching premium economy in November, those seats won't actually go on sale until early next year.
Ultimately a soft introduction probably makes sense, as they work out the kinks and figure out the service standards. I assume they want enough planes with premium economy so they can actually scale it and market it, since it's tough to sell a product available on just a couple of planes.
Bottom line
We now officially know that premium economy will be introduced in November, though we still don't know what exactly the service will look like, and what this means for upgrades. We do know that in the interim premium economy is being treated as Main Cabin Extra, so this is a fantastic opportunity to snag a great seat at the Main Cabin Extra price.
We technically don't know pricing yet either, but given American's transatlantic joint venture with British Airways, I suspect pricing will be similar to British Airways' premium economy.
How are you feeling about American introducing premium economy at this point?