Delta is finally adding Comfort+ to its Airbus A350 fleet, though unfortunately it seems to be a zero-sum game.
Delta's A350s are lacking Comfort+
The Airbus A350 is Delta's flagship aircraft. The airline started taking delivery of these planes a few years ago, and currently has 15 of them in its fleet, with a further 20 on order (though at least some of those orders have been deferred).
For the most part these planes have a great onboard product. Delta's A350s have:
Delta One Suites in business class, which are Delta's latest business class seats with doors
Delta Premium Select seats in premium economy, which is Delta's recently introduced premium economy product
Economy seats are even relatively comfortable, thanks to the A350 having nine abreast seating, and the plane in general being quiet and comfortable
For frequent flyers, one point of frustration has been the lack of Comfort+ seats. These are Delta's extra legroom economy seats, which elite members can be upgraded to (meanwhile complimentary upgrades aren't available to premium economy).
However, unfortunately the A350 wasn't delivered with Comfort+, as Delta was clearly trying to find the right balance between comfort and maximizing revenue.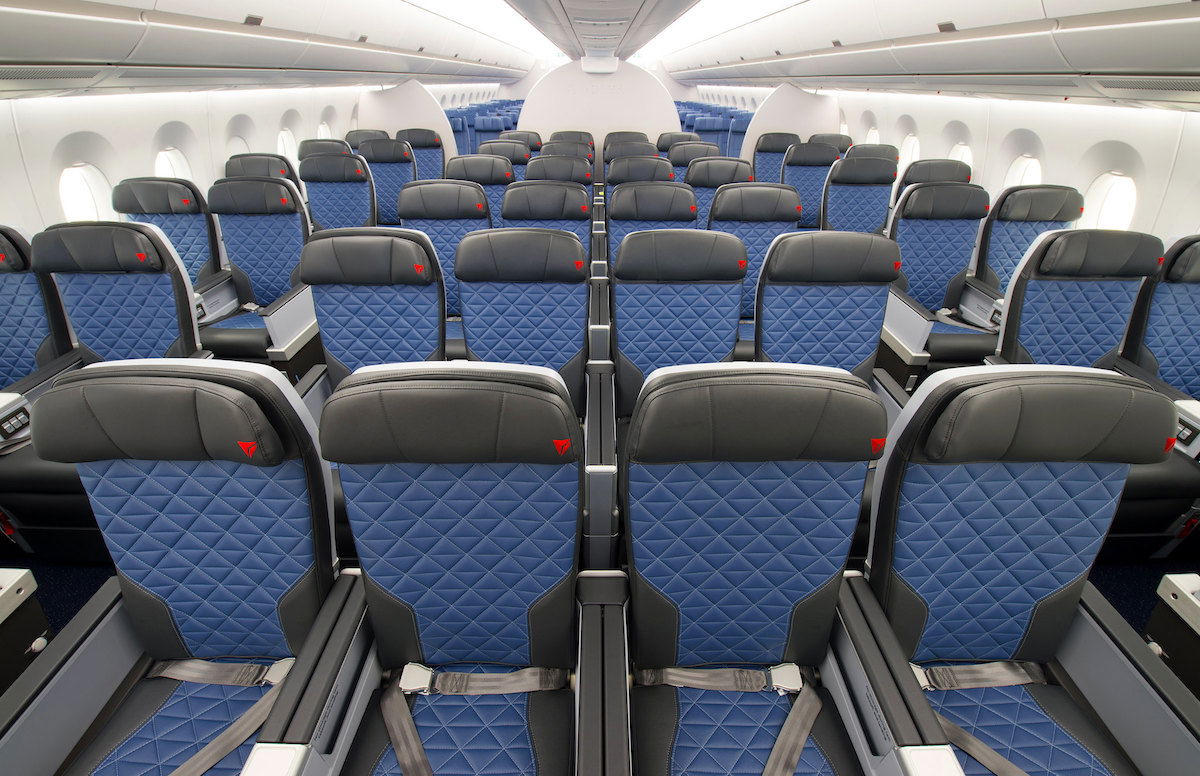 Delta's A350s feature 48 Premium Select seats
Delta is now adding Comfort+ to its A350s
Delta's recently delivered Airbus A350 features Comfort+, making it the first Delta A350 to feature these extra legroom economy seats. How has Delta's configuration changed with this adjustment?
Originally Delta's A350-900s featured a total of 306 seats, including:
32 business class seats
48 premium economy seats
226 economy seats
Delta's latest A350-900 features a total of 306 seats, including:
32 business class seats
48 premium economy seats
36 extra legroom economy seats
190 economy seats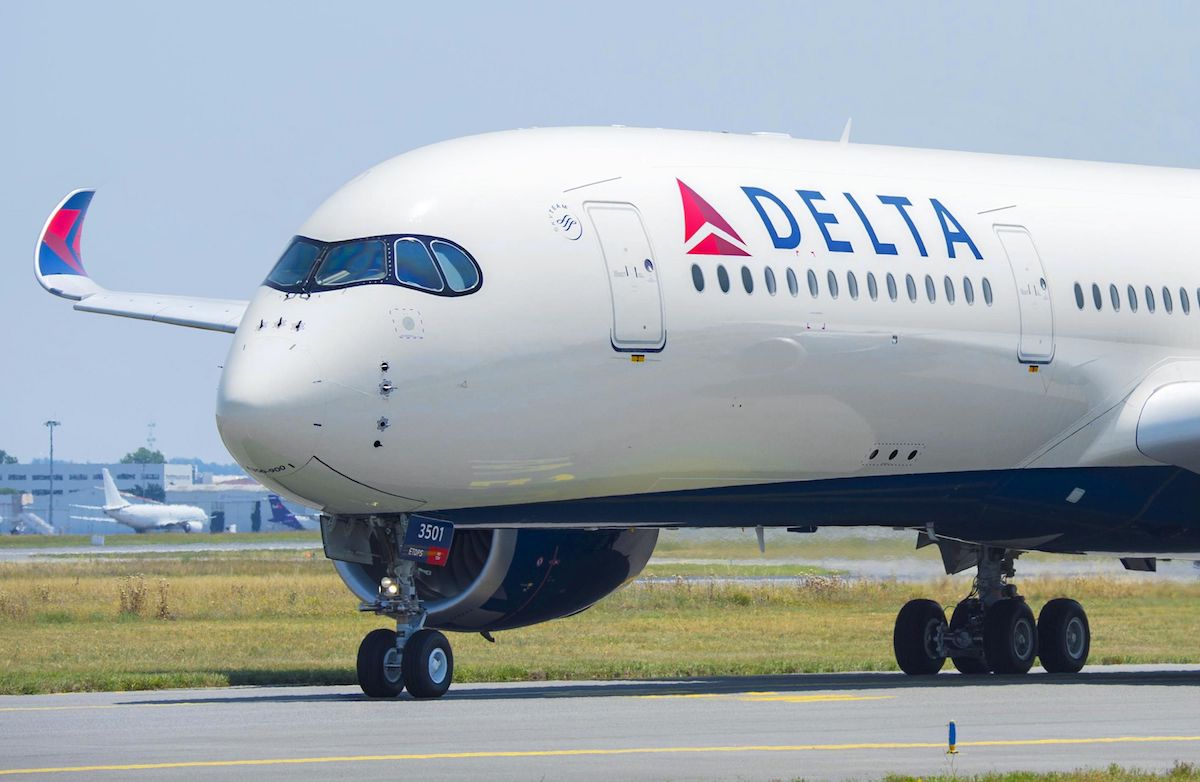 Delta is adding Comfort+ to its A350 fleet
Wait a second, how is that possible?
Delta adding Comfort+ seats to A350s is great for those willing to pay a little extra over economy for more comfort, and it's also great for elite members. But how is the airline able to install more spacious economy class seats without reducing the overall seat count on the aircraft?
Let's compare the before and after seatmaps. Specifically, let's look at the sections of the plane between the second and third set of doors, since this is where the Comfort+ cabin is, and you can't move the doors.
Here's the Delta A350 seatmap without Comfort+: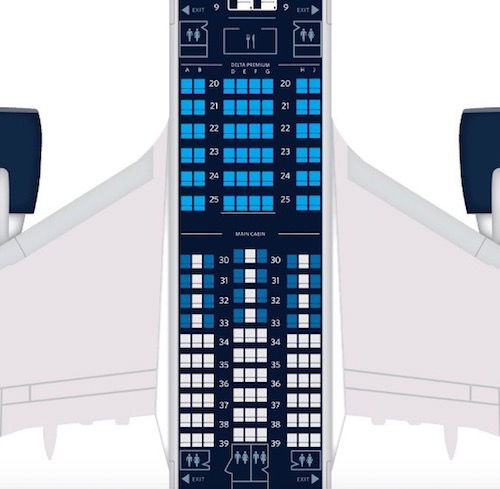 Here's the Delta seatmap with Comfort+: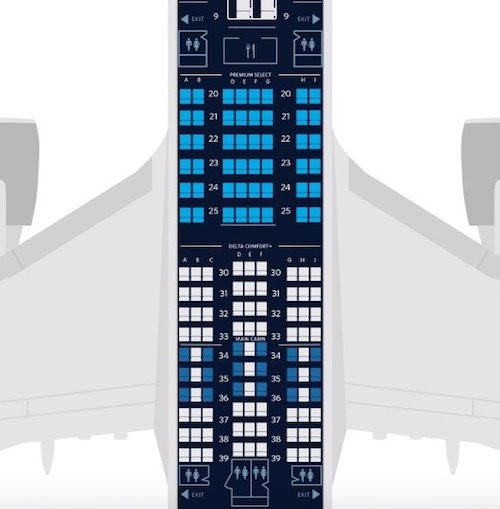 How is Delta able to add four rows of economy seats with extra legroom?
The footprint of Premium Select isn't changing, including the number of seats and the seat pitch
The economy section between doors two and three will continue to have a total of 90 seats, spread across 10 rows in a 3-3-3 configuration
Therefore the only conclusion is that Delta is redistributing seat pitch between those 10 rows — the first four rows are getting more legroom, while the last six rows are getting less legroom
Delta claims that:
In the old configuration, economy seats had 31-33″ of pitch
In the new configuration, Comfort+ seats have 34″ of pitch, while economy seats have 31-32″ of pitch
Since Delta never specifically stated which rows had how much legroom, my best guess would have to be that somewhere around 1.5-2″ of legroom are being taken away from the last six rows in the forward economy cabin, to add around 2-3″ of legroom to the first four rows in the forward economy cabin.
For those who don't have access to Comfort+, going forward you might actually want to be in the second economy cabin, since there may be more legroom there.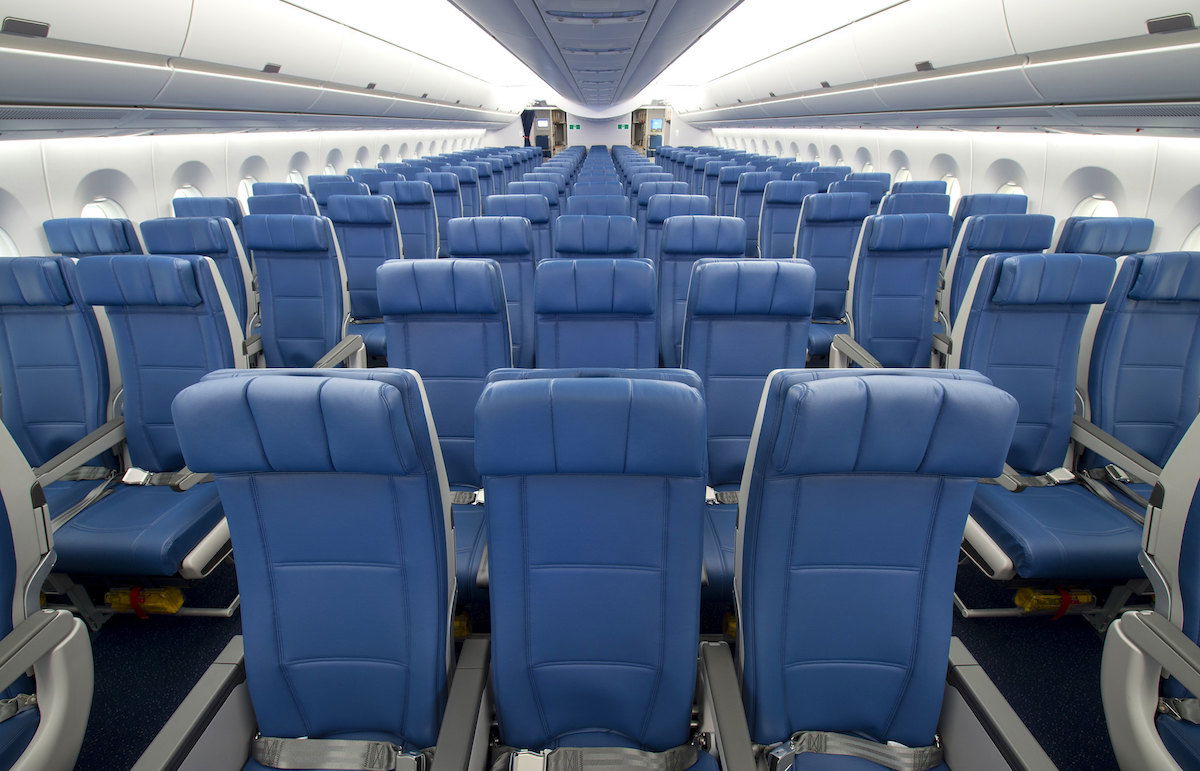 Delta is finally adding Comfort+ to its A350 cabins
Will Delta reconfigure existing A350s?
For the time being, Delta is just offering this configuration on newly delivered Airbus A350s. Delta does eventually plan on reconfiguring existing planes, though only time will tell if & when that happens. With the pandemic, airlines are understandably trying to limit their expenses.
Then again, this should be a pretty easy fix, since we're just talking about moving the same seats around. Personally I wouldn't be surprised to see this change made sooner rather than later for consistency's sake.
Bottom line
Delta is finally introducing its Comfort+ product on Airbus A350 aircraft. So far only newly delivered planes feature the extra legroom economy seats, while other planes should eventually be reconfigured.
This is good news for those who have access to Comfort+, though it's not good news for everyone. Delta is adding this cabin by removing legroom from other passengers in economy. Specifically, six rows will feature less legroom so that four rows can feature more legroom.
Ultimately I can't really blame Delta for this move, and as long as all seats still have 31″ of pitch, I don't think we can complain about Delta's creativity here. It did always seem a bit odd that Delta's flagship aircraft didn't feature Comfort+, which is available throughout the rest of the fleet.
What do you make about the way that Delta is adding Comfort+ to its A350s? Is this change good or bad news?