In September 2019 it was announced that Delta Air Lines would be buying a 20% stake in LATAM, and that the two airlines would be forming a joint venture.
In the process LATAM will be leaving oneworld, and will also stop partnering with American Airlines, which has historically been their big partner in the US.
The Delta & LATAM Miami challenge
LATAM has a huge presence in Miami, which is logical for a couple of reasons:
Miami is by far the biggest market in the US for most Latin American destinations
Miami is also an American Airlines hub, so LATAM had tons of connectivity in Miami with American's route network
LATAM seems to want to maintain their presence in Miami, or possibly even grow it, which has also caused many of us to assume that Delta will significantly be increasing their service to Miami. This is not only for Delta to provide the feed that LATAM needs, but also for Delta to enable better connections to Latin America for their own customers.
LATAM's destinations out of Miami include Belem, Buenos Aires, Fortaleza, Lima, Manaus, Punta Cana, Recife, Santiago, Salvador de Bahia, and Sao Paulo.
Well, we now have the details of that expansion.
Delta announces 13 new flights to Miami
While I'd hardly say this is the massive, comprehensive expansion from Delta that many of us in Miami were hoping for, I would say it's better than nothing. Delta has just announced that they're adding 13 new daily flights to Miami from key markets, clearly with the intent of increasing connectivity to LATAM.
Delta will be adding 13 flights to the following four destinations, all of which will be on sale as of January 18, 2020:
As of May 4, 2020, Delta will add 5x daily flights between Miami and Orlando, operated by Embraer 175s
As of May 4, 2020, Delta will add 5x daily flights between Miami and Tampa, operated by Embraer 175s
As of May 22, 2020, Delta will add 1x daily flights between Miami and Raleigh Durham, operated by Embraer 175s
As of July 28, 2020, Delta will add 1x daily flights between Miami and Salt Lake City, operated by 737-800s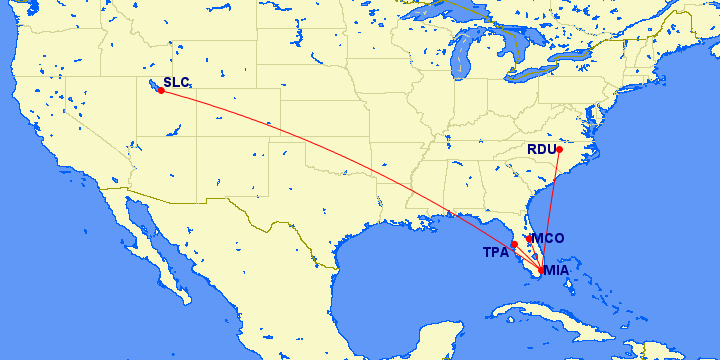 With this growth, Delta will offer 41 daily nonstop flights to Miami from 10 US airports, as it complements existing flights from Atlanta, Boston, Detroit, Minneapolis, and New York (JFK & LGA). On top of that, Delta flies from Miami to Havana.
Bottom line
I'm happy to see Delta growing in Miami, though I wouldn't exactly call this massive expansion.
As someone who frequently flies between Miami and Tampa, I'm thrilled to see Delta add that route, as it will hopefully bring down the ridiculous pricing that currently exists in the market.
I am a bit disappointed and surprised to see Delta not adding any flights to Miami from Los Angeles or Seattle. American is the only airline flying in either of those markets, and it sure would be nice to see a competitor on those routes.
What do you make of Delta's expansion in Miami?