Delta SkyMiles doesn't publish award charts for mileage redemptions. The price you see is the price you get. For the past few years, the general trend is that we've been seeing constant price increases for award tickets. As Delta tries to move SkyMiles more closely to a revenue based program, it's only logical that they'd increase redemption rates for premium cabin tickets.
Not only has Delta generally been raising award costs, but as of last year they've started charging more for award tickets on partner airlines than for awards on their own flights.
However, a couple of weeks ago that trend was reversed between two regions. Specifically, Delta lowered the cost of partner award tickets between the US and North Asia in both economy and business class. The cost is now 35,000 miles one-way in economy (5,000 fewer miles than before), and 85,000 miles in business class (10,000 fewer miles than before).
Initially I assumed this was an IT glitch, though Delta confirmed that this was intentional. Is SkyMiles finally finding that their devaluations are catching up with them?
It looks like the price decreases have now been extended to another region. Straight To The Points notes that Delta has lowered the cost of partner airline redemptions between the US and Europe. Redemptions now cost:
32,500 miles one-way in economy (2,500 fewer miles than before)
75,000 miles one-way in business class (10,000 fewer miles than before).
The one catch is that as of now it doesn't seem like they've lowered redemption rates on Virgin Atlantic when flying exclusively to/from London. You can get that lower rates if you're flying Virgin Atlantic to/from London and then connecting on a flight to elsewhere on the same award, though. It remains to be seen whether that's intentional, or if they're still in the process of updating their system.
Just to give a couple of examples, here's an Air France business class ticket from New York to Paris for 75,000 miles one-way: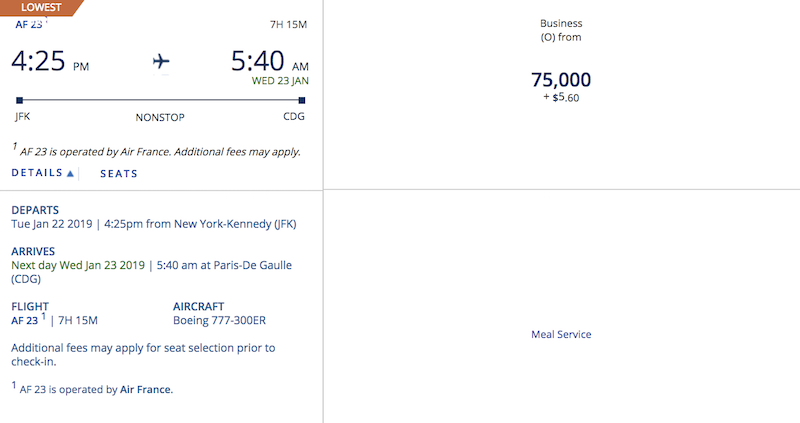 Here's a ticket from Washington to London to Amsterdam, with the first segment on Virgin Atlantic, and the second segment on KLM: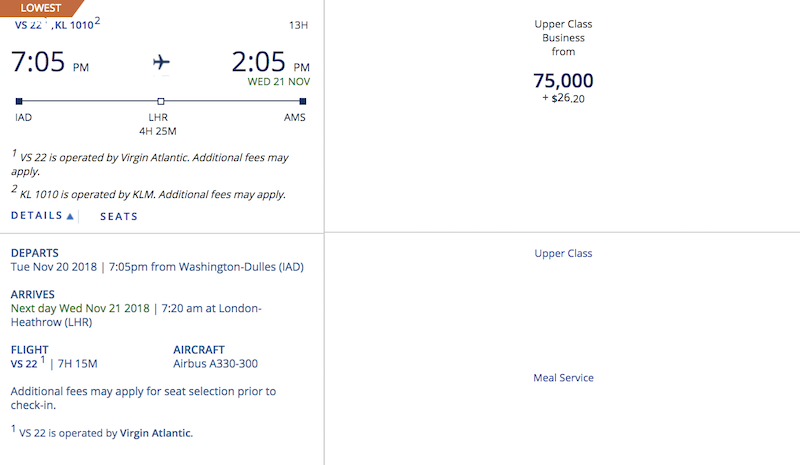 The one sad thing this has reminded me of is just how abysmal business class award availability is when redeeming SkyMiles for SkyTeam partners to & from Europe. Air France and KLM are incredibly stingy with award space, making it tough to actually find much partner award availability.
Still, I'm happy to see SkyMiles reversing their trend of partner award ticket price increases, and it's something that makes me feel more confident about the future. Here's to hoping that there are more SkyMiles partner award ticket price reductions on the horizon.
Are you surprised to see Delta lower award costs to/from Europe?