And now all airlines seem to be following one another. We've just seen announcements from JetBlue, Frontier, and American, regarding passengers having to wear face masks. Now Delta is joining the club as well.
Delta Air Lines will require face masks
As of May 4, 2020, Delta Air Lines will require all employees and customers to wear a face masks or appropriate face covering.
Face coverings will be required throughout the journey, including at check-in, in Delta SkyClubs, at boarding gates, in jet bridges, and onboard flights.
There are a couple of exceptions:
People unable to keep a face covering in place, including children, are exempt
Face coverings don't have to worn during meal services
Delta also notes that face masks are "strongly encouraged" in high-traffic areas at the airport that aren't Delta-specific, like security lines and restrooms.
This is a temporary requirement, and they'll be communicating this with customers through the same channels they have shared all other changes.
As Delta's Chief Customer Experience Officer describes this decision:
"Nothing is more important than the health and safety of our people and our customers. While we remain committed to our new standard of clean and to providing more space for our customers when they travel, we take seriously the CDC guidelines for adding this extra layer of protection. We believe this change will give customers and employees some additional comfort when traveling with us."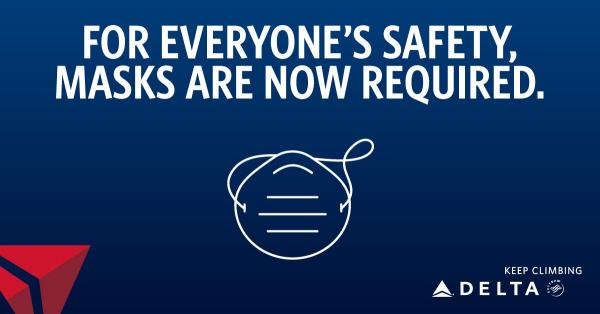 Delta will have masks for those who need them
While Delta encourages customers to bring their own face coverings when traveling, the airline will have supplies available to those who need them. Presumably they would be available starting at check-in, since a face covering is required throughout the Delta journey.
Bottom line
It seems like we're quickly getting to the point where most (and probably eventually all) US airlines will require passengers to wear face masks. I firmly believe that this is the right move for now, given the lack of social distancing that's possible on aircraft.
Hopefully this requirement doesn't last as long as the ban on liquids… 😉