Update: Yep, Delta has indeed banned the man who killed Bin Laden.
Robert J. O'Neill, the former US Navy SEAL who killed Osama Bin Laden in a 2011 raid, posted on Twitter today from his Delta Air Lines flight. He simply took a selfie while not wearing a mask, and posted it with the caption "I'm not a p*ssy." He posted this early this morning, and just now deleted it, about five hours after it was posted.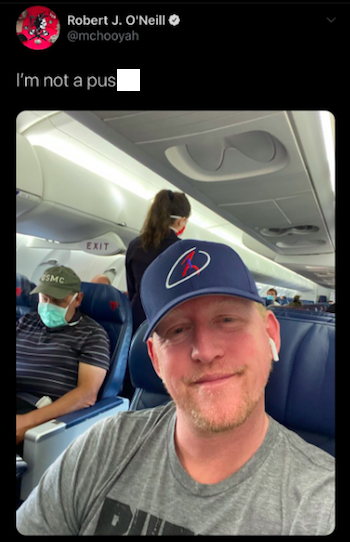 Delta has really stepped up enforcement of its mask policy in recent weeks, and the airline claims it has around 150 people on its no-fly list for refusing to wear masks. This shouldn't even be about whether or not one thinks masks are important, but rather Delta has a clearly published policy, and he's choosing to ignore it.
And seriously, is this what we're equating to "bravery" nowadays? He's "not a p*ssy" because he choose not to wear a mask on a plane? What's next, not wearing a seatbelt, because you're "not a p*ssy," or what?
It'll be interesting to see if Delta adds O'Neill to the no-fly list, given his clear disregard for the company's policy.
Thanks for your service, sir. But in this particular situation I'm going to have to agree with this doctor:
You're not a "pussy" because the vagina is one of the most resilient parts of the human body that can withstand childbirth. You're more of a selfish coward willing to jeopardize the lives of others, including the Marine veteran behind you proudly wearing a USMC hat and a mask.

— Eugene Gu, MD (@eugenegu) August 19, 2020
What do you guys think — will Delta ban him?