In the interest of full disclosure, OMAAT earns a referral bonus for anyone that's approved through some of the below links. These are the best publicly available offers that we have found for each card. Opinions expressed here are the author's alone, not those of the bank, credit card issuer, airlines or hotel chain, and have not been reviewed, approved or otherwise endorsed by any of these entities. Please check out my advertiser policy for further details about our partners, and thanks for your support!
While I used to hate Las Vegas, I've come to really like it. Las Vegas is all about what you make of it. I don't go to Las Vegas to get married, or to try and win lots of money, or to go to the clubs, or anything like that. Instead I enjoy Las Vegas for periods of less than 48 hours (anything more than that just makes me sad).
What do I love about Las Vegas? Great restaurants, amazing people watching, and gambling. I don't gamble to try and make (or lose) money, but rather to entertain myself. My goal is to come out even, though sometimes I end the weekend a bit down, and sometimes I end the weekend a bit up (this past weekend I came out about $500 ahead, sort of unintentionally). The important thing is that I know my limit, so I'm never going to try and irrationally "win back" my losses, because we know how that ends.
In this instance I needed to spend a Wednesday and Thursday night on the Strip. In general I've found the MGM partnership with Hyatt to be the best points option on the Strip, given that you can earn elite night and stay credits for those stays. Furthermore, you can even qualify for Hyatt's current promotion (which offers up to 2,500 bonus points per night) at the MGM properties in Las Vegas.
The other cool thing is that if you're staying at any MGM property, you can charge purchases at any MGM outlet to your room, and in turn earn Hyatt Gold Passport points. This is a great way to earn bonus points for tons of great restaurants, bars, etc.
My go to hotel in Las Vegas is generally The Delano. It's an all suite property, and is attached to Mandalay Bay. I like that it doesn't have its own casino, but is attached to Mandalay Bay, which does. The hotel also joined American Express Fine Hotels & Resorts as of this year. Fine Hotels & Resorts is available to those with The Platinum Card® from American Express and The Business Platinum® Card from American Express.
The rate through Fine Hotels & Resorts was $118 per night (plus the $33.60 per night resort fee) and for booking through them I'd receive the following perks:
Noon Check-in, When Available
Room Upgrade upon Arrival, When Available*
Daily Breakfast for Two People
Guaranteed 4pm Late Check-out
Complimentary Wi-Fi
Unique Property Amenity**

US$100 Property Credit To Be Used During Your Stay.
As an mLife member I could have booked directly through their website for a rate which was ~$20 per night cheaper, but I figured it was worth the mild premium for all those perks.
The Delano is located on the far end of Mandalay Bay, and has a separate lobby and entrance. The lobby is super sleek, with a long runway-style carpet, and drapes which hang from the walls.
There's a coffeeshop right near the valet entrance.
Then there's Franklin Bar in the center of the lobby, which I quite like. I'll take a lounge-style bar over a club any day, and this happens to be a very low key one, so I quite like that.
Reception is located at the far end of the lobby. When I checked in on Wednesday there was no queue, while on Friday when I checked out there was a super long queue. It blows my mind how Vegas hotels still manage to get staffing wrong. It's beyond me how on a Friday afternoon they wouldn't have every check-in position staffed, as if it's a surprise that a ton of people were checking in.
Fortunately the check-in experience was smooth on Wednesday, and the friendly associate went over the entitlements I'd receive through Fine Hotels & Resorts. I was smart enough not to try the $20 trick this time around. 😉 I also gave her both my mLife number and Hyatt Gold Passport number, so that I could earn Hyatt points for the stay.
While I didn't have the chance to check it out (I was really busy during this stay), the credit card machine indicated that there was a complimentary champagne toast for guests nightly from 5-7PM at Skyfall Lounge, located on the top of The Delano. While I'm sure it's not great champagne, the views up there are great, so I wish I had the chance to check it out.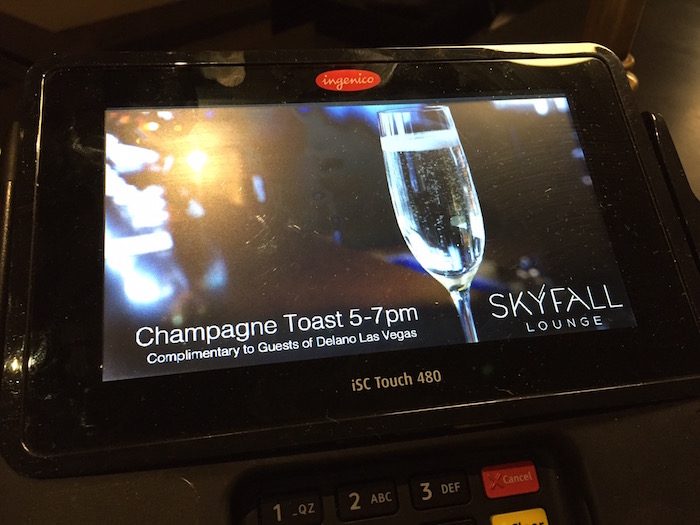 Delano Las Vegas free champagne toast
The associate handed me a page reconfirming the Fine Hotels & Resorts benefits:
And then here's where the $100 food & beverage credit could be used:

To clarify the Fine Hotels & Resorts benefits I listed at the top of the page:
The breakfast credit is $30 per person per day, so even though I was traveling alone, I reserved my room for two people so that I'd get a $60 credit; this is valid in the restaurant, coffeeshop, and via in-room dining, which is how I ordered my breakfast both mornings
The $100 property credit can be used at many venues at both The Delano and Mandalay Bay, which is awesome
As far as I'm concerned, The Delano has the most generous Fine Hotels & Resorts perks of any hotel on the Strip (most other hotels limit the $100 credit to spas, which I don't think is worth nearly the face value).
I took the elevator up to the 21st floor, where my room was located. There are two sets of elevators at the hotel — one set for all the floors up to the 23rd, and then one set for the ones above that.
I was assigned a standard suite with two queen beds (I'm not sure why I booked two beds, but they didn't have any king bed rooms when I checked in). All the suites here are more or less the same, and I think they're fantastic.
There's an entryway with a half bath on the right.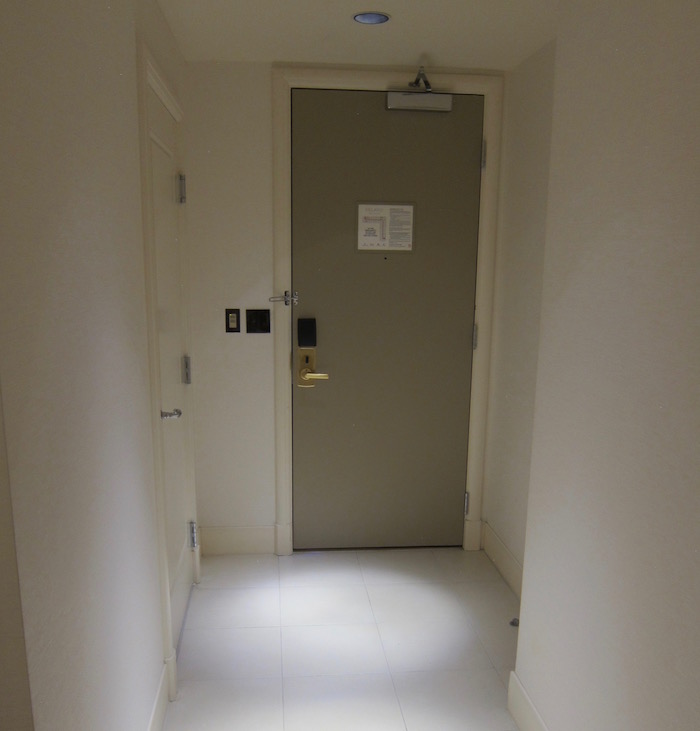 Delano Las Vegas suite entryway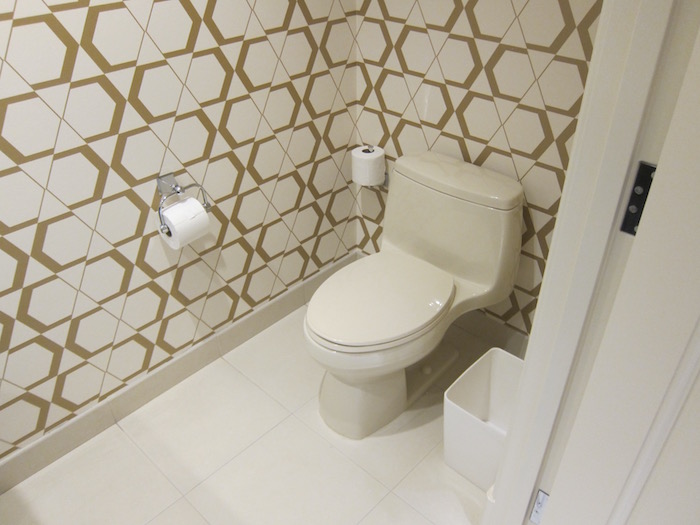 Delano Las Vegas suite half bath

Delano Las Vegas suite half bath
That leads into the living room, which features a couch and leather chair facing a flat screen TV, and a desk with an office chair.

Delano Las Vegas suite living room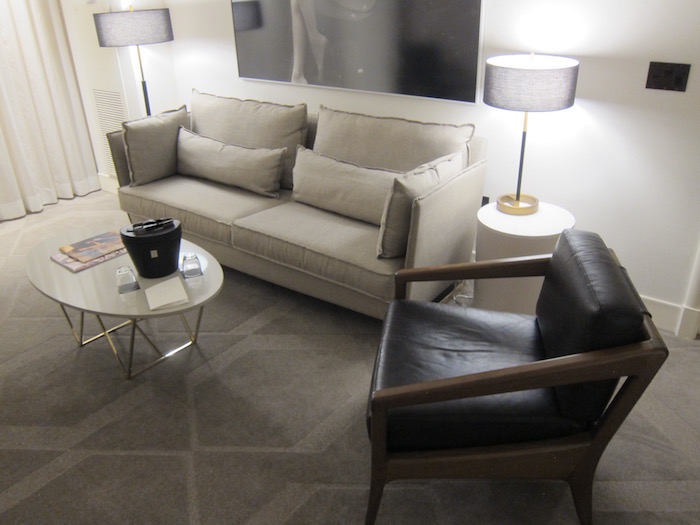 Delano Las Vegas suite living room

Delano Las Vegas suite living room

Delano Las Vegas suite living room
The minibar was located in the living room opposite the bathroom, and also had a sink, Keurig coffee machine, etc.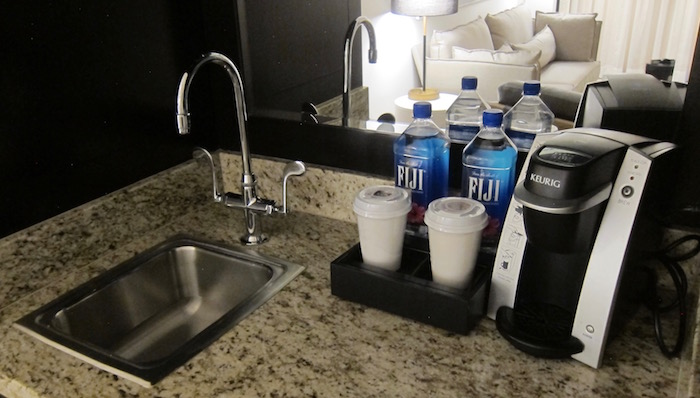 Delano Las Vegas suite coffee machine and sink

Delano Las Vegas suite minibar
There was a door separating the living room from the bedroom. I find the beds at The Delano to be super comfortable. The mattresses are plush, and I love how big the pillows are.

Delano Las Vegas suite bedroom
The beds face a flat screen TV and a small nook where you can sit, place luggage, etc.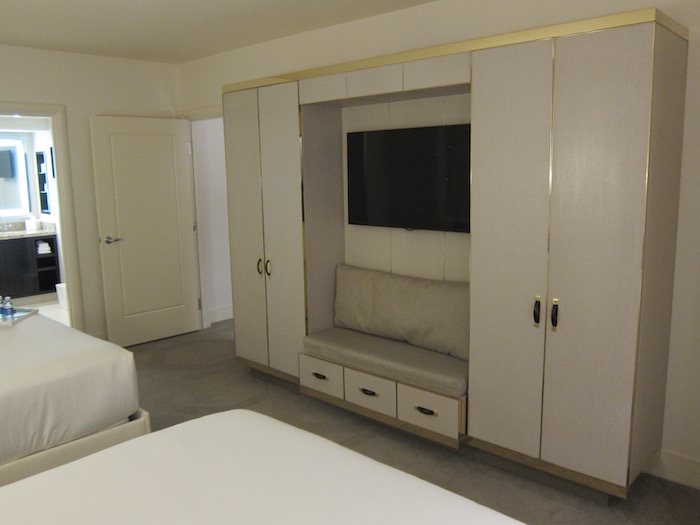 Delano Las Vegas suite bedroom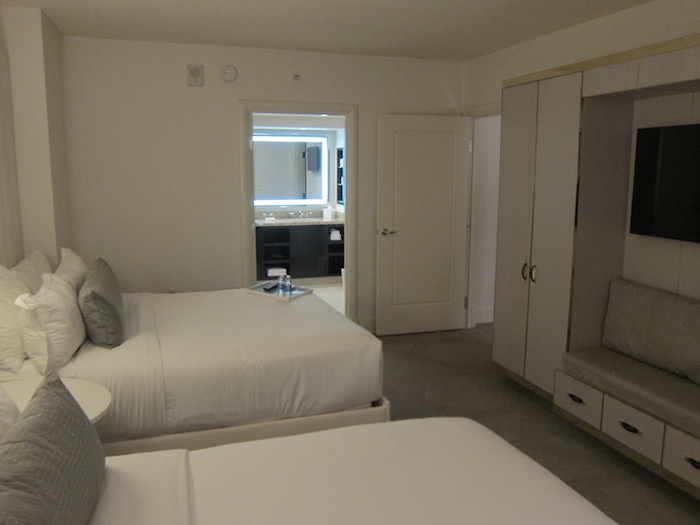 Delano Las Vegas suite bedroom
Waiting on one of the beds were a couple of bottles of complimentary water, as well as jelly beans.

Delano Las Vegas suite bottled water and jelly beans
The bathroom is also a good size, and features double sinks, a soaking tub, a walk-in shower, and a partitioned off toilet.

Delano Las Vegas suite bathroom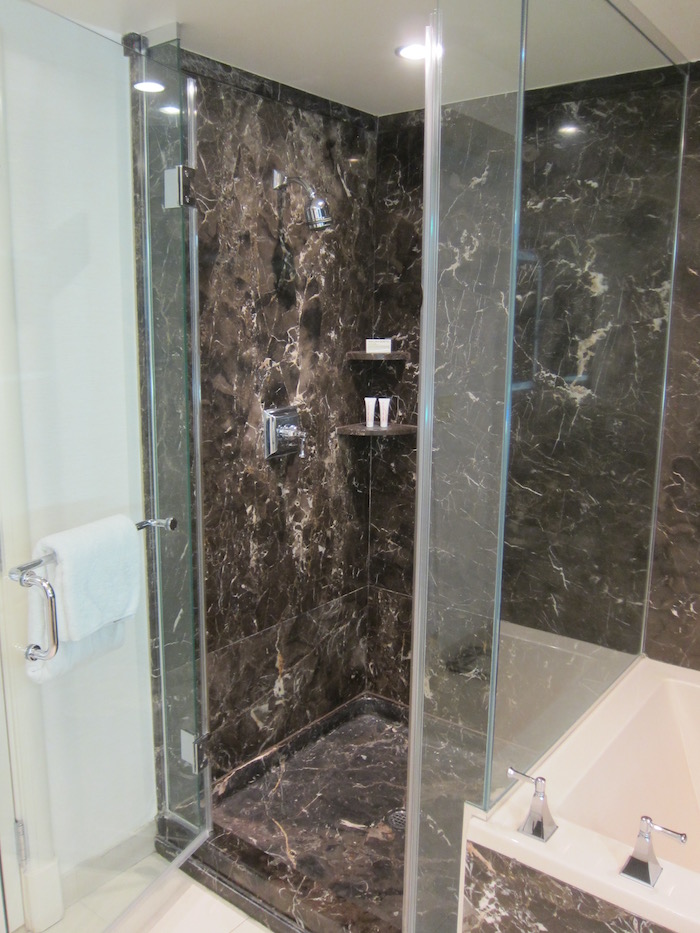 Delano Las Vegas suite walk-in shower
The Delano uses Malin+Goetz toiletries, which are quite nice. Not that it's surprising since we're talking about Las Vegas here, but I should note that the bathroom didn't have some of the other basic amenities some might expect, like toothpaste, cotton swabs, etc.
My room faced the rest of the strip, with the Luxor being the next hotel over. The windows in the hotel are tinted in a way which makes it hard to get good pictures.
As I explained above, I had breakfast via room service both mornings (I had an early commitment my first morning and was up way too late that night as well so room service was a no brainer the next morning as well).
The in-room dining menu read as follows:
The first morning I had a chicken and veggie egg white omelet, which was served with a side of wheat toast. I also ordered a large pot of coffee, which was among the best coffee I've had in a hotel.

Delano Las Vegas room service breakfast — egg white omelet

Delano Las Vegas room service breakfast — egg white omelet
I also ordered a side of the house-made granola, which was served with a delicious lemon yogurt.

Delano Las Vegas room service breakfast — house-made granola
The second morning I had the breakfast burrito with a side of toast.

Delano Las Vegas room service breakfast — breakfast burrito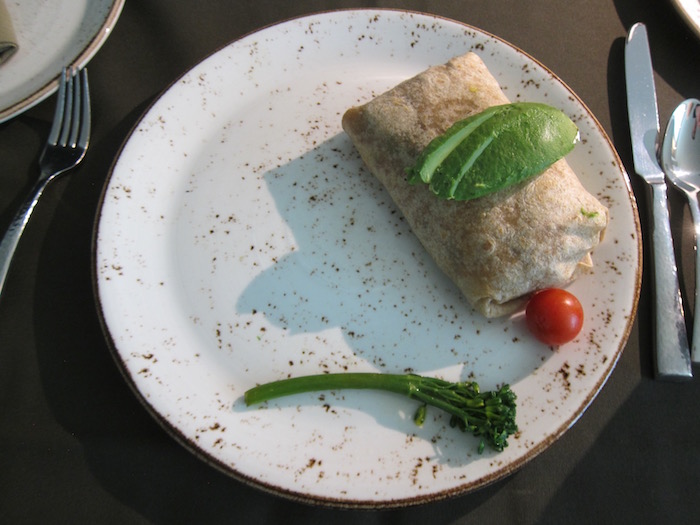 Delano Las Vegas room service breakfast — breakfast burrito
Room service isn't cheap by the time they add in the service charge, but both meals were covered with my breakfast credit, and both were excellent.
I also have to say that the service provided by room service was great, in an almost creepy way. The ladies who took my orders both morning were friendly and competent, while the two guys who delivered the meals were overly friendly. Both left my room by shaking my hand and saying it was a "pleasure to get to know [me]." I guess that's one way to try and solicit tips, even if it's not my favorite approach in general before I've had coffee.
The Delano is connected to Mandalay Bay by a short walkway, so you can be in the center of Mandalay Bay within five minutes of leaving your room.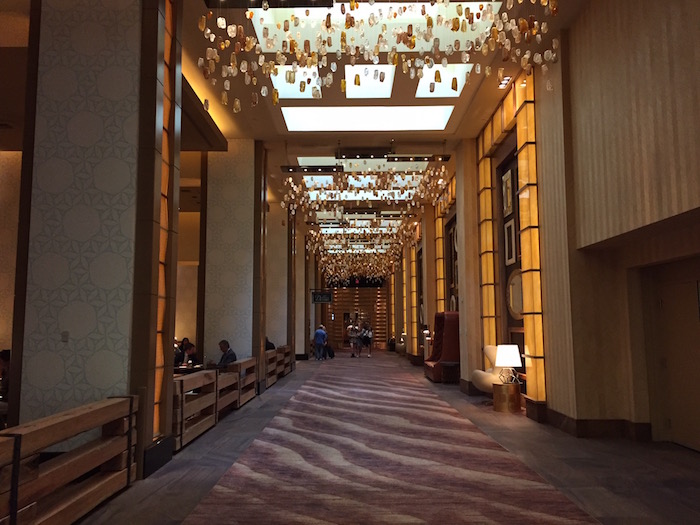 Delano Las Vegas walkway to Mandalay Bay
Della's Kitchen is located in the hallway connecting the two hotels, and it's The Delano's all day dining restaurant.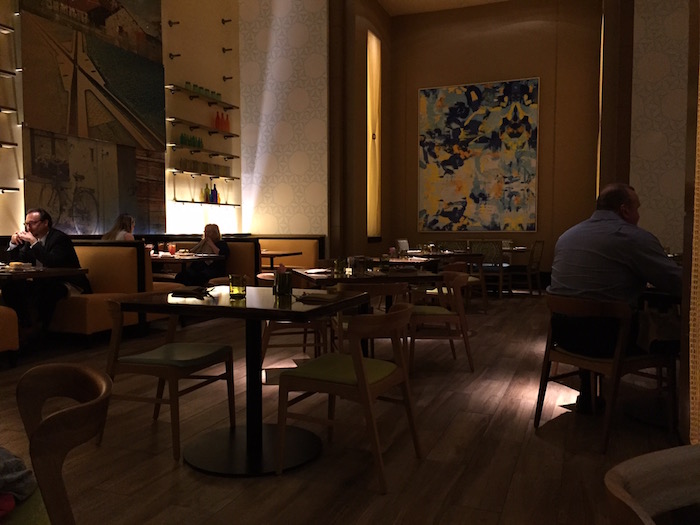 Delano Las Vegas Della's Kitchen Restaurant
Tiffany and I had lunch there one day to use up our property credit. She had the chicken, while I had a roast beef sandwich. Both were good, though also overpriced (which I've come to expect in Vegas).

Delano Las Vegas Della's Kitchen lunch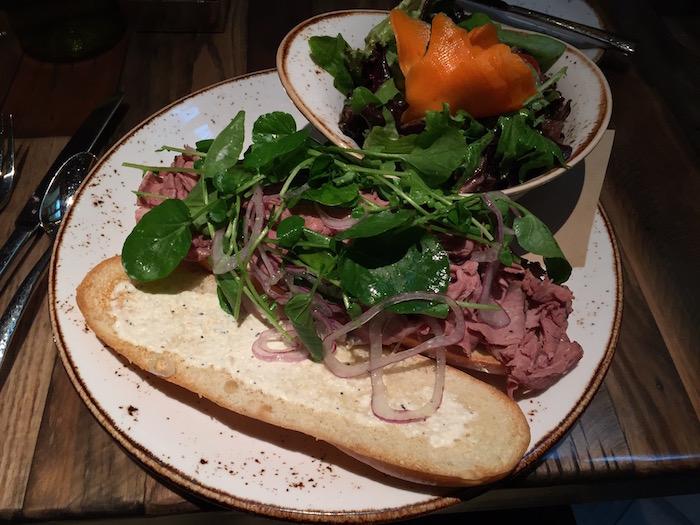 Delano Las Vegas Della's Kitchen lunch
I didn't have a chance to use the gym during this stay, but the hotel does have a nice gym, called The Bathhouse (I know…). The hotel also has its own pool, in addition to guests being able to use the facilities at Mandalay Bay. I don't think I've ever used a pool in Las Vegas, so I can't chime in on that.
Delano Las Vegas bottom line
I've stayed at The Delano four times now, and I find it's the property in Vegas which is the best fit for me:
It's an all suite hotel, and the suites are nicely renovated and nicely furnished
It's connected to a casino hotel, but doesn't have a casino itself, which I like
It's now part of Fine Hotels & Resorts, so you can get some incredible perks for stays at the hotel which really help drive down the cost
It's part of the mLife partnership between Hyatt and MGM, so you can earn elite stays and nights, and also qualify for Hyatt promotions
The rates are usually very reasonable, lower than a standard room at Aria, Vdara, etc.
Other than The Delano, I'm tempted to try the SLS Las Vegas, which is now a Starwood Tribute Portfolio hotel.
As far as non-points hotels go, I love the Mandarin Oriental Las Vegas. It's by far the classiest place in Las Vegas, though in this case I couldn't turn down the value of staying at an MGM property given Hyatt's promotion combined with the Fine Hotels & Resorts benefits.
What's your go to hotel in Las Vegas?