In early November I first wrote about the SLS Las Vegas joining Starwood as a Tribute Portfolio property by the end of the year. Tribute Portfolio is Starwood's collection of independent hotels, which I'm really excited about. This was huge news for Starwood, as it represented their single largest addition of hotel rooms in North America post-recession.

Interestingly the SLS Las Vegas was previously a Hilton Curio collection property, so it was a big loss for Hilton and a big gain for Starwood.
The transition has happened with the anticipated timeline, and as of this week the SLS Las Vegas is a Tribute Portfolio property. As a Starwood loyalist I'm especially excited about this addition because it's the first actually "decent" option in Las Vegas. Yes, they had a Westin, Four Points, and Element, but those weren't exactly properties you'd consider staying at if they didn't have the SPG affiliation. While the location of the SLS isn't ideal (at least for where I want to be on the Strip), it's still a great option to have.
Furthermore, while Starwood has a partnership with Caesars, it doesn't offer the full "SPG experience" in terms of elite benefits, qualifying for promotions, etc.
So it's exciting to have a Strip property which is fully integrated into SPG. With that in mind, I think it's also especially exciting that rates at this property are ridiculously low on weekdays, as you might expect. Weekday rates at the SLS Las Vegas start at just $33 per night, making it the cheapest Starwood property I've ever seen.

The catch is that there's a daily resort fee of $29, which includes airport shuttle service, in-room internet access, local and toll-free phone calls, and access to the pool and fitness center. So while that puts the rate over $60, it's still a fantastic option if you're looking for cheap Starwood stay credits.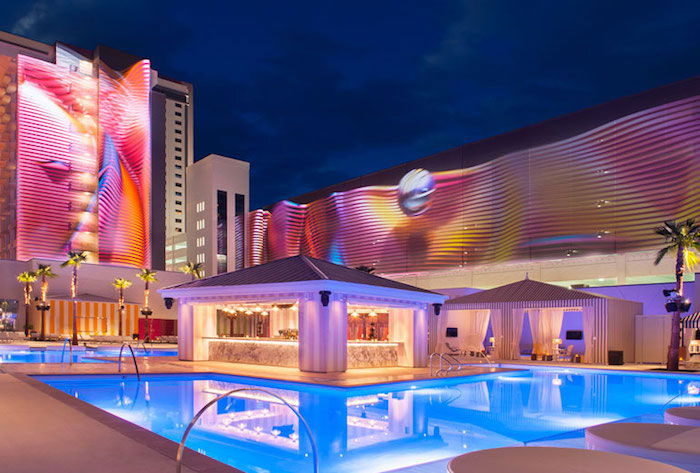 The SLS Las Vegas is an SPG Category 5 property, making a free night 12,000 Starpoints per night. Personally I think the hotel is in too high of a category. Weekend rates tend to be around $100-130, while the highest rate I could find for any date was $199. That seems a bit aggressive, especially given how heavily discounted Las Vegas hotels are beyond the published rates (meaning so many people are booking through discounted third party sites).

Bottom line
It's exciting to finally have a "real" Starwood option on the Vegas Strip. While Starwood does have a partnership with Caesars, it's not the same experience as staying at an actual Starwood property. I'm excited to check out the SLS Las Vegas the next time I'm in Vegas. I am a bit puzzled by it being a Category 5 property, though.
Do you plan on staying at the SLS Las Vegas now that it's fully integrated into Starwood?