I'm sure almost everyone has heard of the "$20 trick." It's most common in Las Vegas, but I'm sure happens elsewhere as well. There's even a website dedicated to it, which describes it as follows:
The twenty dollar bill trick is sweeping the travel industry and becoming extremely popular, especially in Las Vegas. When you check into a hotel you simply slip the front desk clerk a $20 bill with your credit card, while asking "Do you have any complimentary upgrades available?" The general rule of thumb is that the front desk clerk will check for upgrades and if they cannot find anything they will return the $20 tip, making it risk free!
Now before I explain how I'm a freaking idiot, let me start by saying two things:
I love understanding how systems work. For example, I'll intentionally fall for scams that aren't dangerous just to see how they're executed, because I find that interesting. Not that the $20 trick is a scam, but…
I tend to think there are two ways you can approach things in life. You can try to be smooth like most people would, or you can actually be honest and innocent about it ("we both know what's going on, so let's cut to the chase"). There's merit to both ways of doing things, and based on where you are it's interesting to observe how results differ.
I'm staying at the brand new Delano Las Vegas for two nights, which is an all suite hotel. Now perhaps this is the wrong hotel at which to try the "$20 trick," given that all rooms are suites to begin with. It's an absolutely gorgeous hotel, thanks to how "fresh" and spacious the rooms are.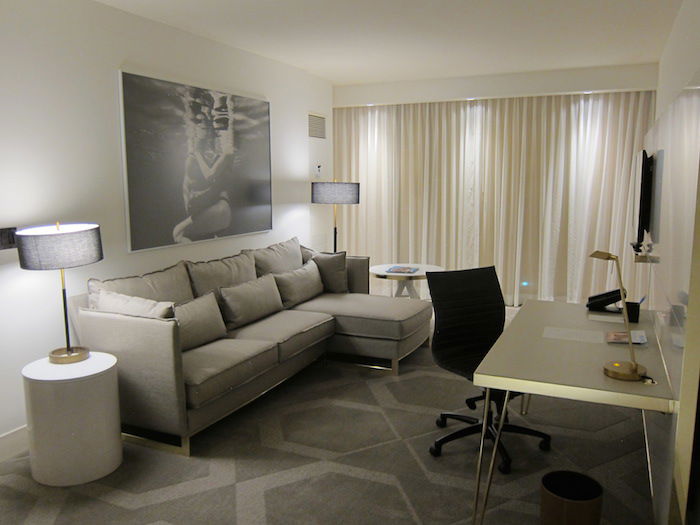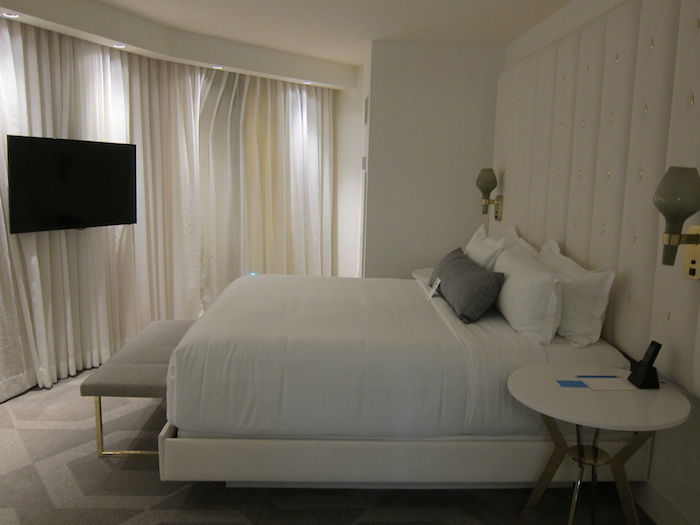 I checked in last night and wasn't going to try for an upgrade, but I had a very nice check-in agent. We had some banter back and forth.
I actually didn't think of trying for an upgrade until she asked me if I had a preferred room type or if I cared if I were on a high floor or low floor.
Then the conversation went something like this:
Me: "Do you have any paid upgrades available, by chance?"
Agent: "Of course, let me see what we have here. For $100 per night I can upgrade you to [I forgot the room type]."
Me: "Now you could give me my credit card back and I could try to be smooth and slip money under it and hand it back to you, but in all honesty do you prefer an official or unofficial paid upgrade?"
Agent: "It's totally up to you."
I don't carry a lot of cash around with me, so I had three $20s, for a total of $60. I think the "$20 trick" as such doesn't get you far anymore — it's 2014, and everyone tries it. Not that $60 gets you far either, but hopefully it gets you further. So I slipped her the $60. $30 per night for an upgrade isn't bad, to whatever it might be…
Me: "Okay, well just give me whatever you'd like."
Agent: "I probably shouldn't do this, but I'll give you this upgrade because I like you. You'll really like this room."
And it was indeed a gorgeous room with great views. And then I went online to look up the room types.
I had booked a Delano Suite King for $129…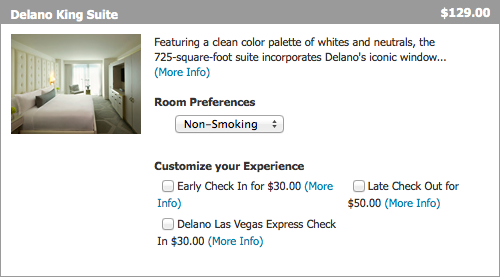 And I had paid $30 per day to upgrade to a room that goes for… $20 more per day.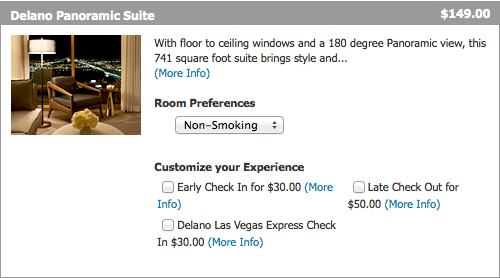 FML.
Bottom line
I thought the whole situation was hilarious and was laughing about it after the fact. Next time if I have a multiple night stay I might slip the agent $100 and try the "smooth" approach.
What has been your experience with tipping at check-in for better rooms? What would you have done differently?