I've spent much of the past three weeks in Las Vegas. As I've mentioned, I have a love/hate relationship with the city. It's the most ridiculous place on earth, but it's so amusing. I mean, I was walking around the Strip last night and saw two ladies in bikinis on a mobility scooter driving down the sidewalk with 64 ounce margaritas. Where else do you see that?!
Of course my time in Las Vegas has also come with my fair share of frustration. In particular: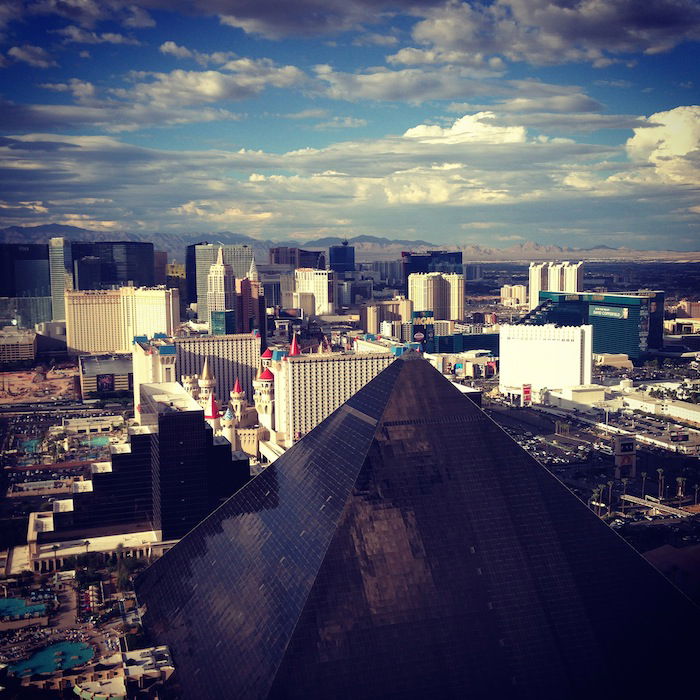 As most of you probably know, Hyatt Gold Passport and MGM M Life have a partnership in Las Vegas, which was the first and best of its kind.
Even though there's reciprocity between the two programs in theory, learning how to "maximize" Las Vegas is proving a challenge for me. Elite status with M Life works completely differently than it does with Hyatt Gold Passport. In Vegas you're generally as valuable as the dollar amount you spend, while with the major hotel loyalty programs you're generally as valuable as the number of nights you spend with the chain.
So while with Hyatt Gold Passport I get an upgrade based on availability, guaranteed late check-out, suite upgrades, lounge access, complimentary breakfast, etc., the benefits are completely different with M Life — I get to cut some lines, but don't get breakfast, late check-out, room upgrades, etc.
Anyway, while I have a lot more to share about Las Vegas, I figured I'd share the two biggest lessons I learned from M Life. I'm not saying these are the single most useful aspects of the partnership, though they're both things I've screwed up this past weekend.
Get best hotel rates at mlife.com
Since the M Life properties are Hyatt partner properties and Hyatt has a best rate guarantee, I naturally just go to hyatt.com to make my bookings in Las Vegas. It's just what's familiar to me, and I'm a creature of habit.
The prices do indeed match the ones available on mlife.com… unless you log into your M Life account. It doesn't matter whether you have status or not — as long as you're an M Life member you can get huge discounts on stays at their Vegas properties.
For example, I stayed at the Delano, and while the rate on hyatt.com and mlife.com was $129, once I logged into my M Life account on mlife.com the rate dropped to $91. A discount of almost 30% — that's huge!
And for the avoidance of doubt, you do still earn Hyatt Gold Passport points for stays booked at those rates.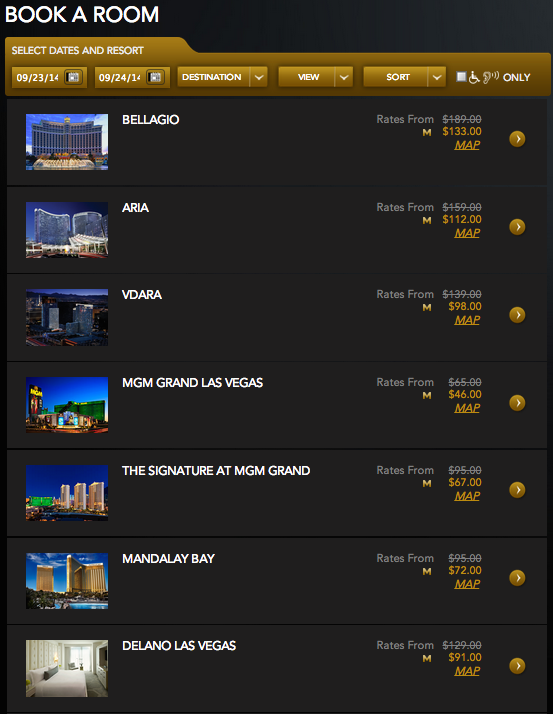 Charge EVERYTHING to your room
I'm so embarrassed that I screwed this up. Of course when I stay at a hotel I charge all my hotel spend to the room so that I can earn hotel points for it. However, it's sometimes easy to forget just how many hotels belong to MGM.
For example, on Saturday night a group of us had dinner at Javier's in Aria, and I picked up the tab. I charged it directly to my credit card rather than to my room at the Delano, though. It was a fairly big bill, and I gave up 6.5 Hyatt Gold Passport points per dollar by doing that. Grrrr! For whatever reason I didn't mentally associate that dinner with my hotel stay, since I took a taxi to get there.
So no matter which MGM hotel you're at, charge everything to your room.
And so no one else makes this mistake, the M Life properties in Las Vegas are:
| | |
| --- | --- |
| Aria | Bellagio |
| Delano Las Vegas | Excalibur |
| Luxor | Mandalay Bay |
| MGM Grand | The Mirage |
| New York New York | Nomad Las Vegas |
| Park MGM | Signature at MGM Grand |
| Vdara | |
MGM Properties in Las Vegas
Here's another cool thing you wouldn't expect — you can actually charge food & beverage purchases from the Mandarin Oriental to a room at an M Life property as well. The Mandarin Oriental has one of my favorite bars in Las Vegas (simply because the hotel feels so un-Vegasy), so it's great to be able to charge that to your room at an MGM property and earn additional points as well.
Bottom line
While I've done quite well in the miles & points world, figuring out Vegas is like tackling a completely different beast. I feel like I'm learning extreme couponing or how to get comps with gambling — it's the same general type of hobby, but the execution differs quite a bit.
Anyone else have any "big" M Life tips for Las Vegas?