Yesterday I wrote about the unique plane that the Vancouver Canucks chartered for their flight to China. While charters are standard for sports teams, what made this special is the type of plane they were chartering. Rather than chartering a commercial airliner, they flew the Crystal 777-200LR.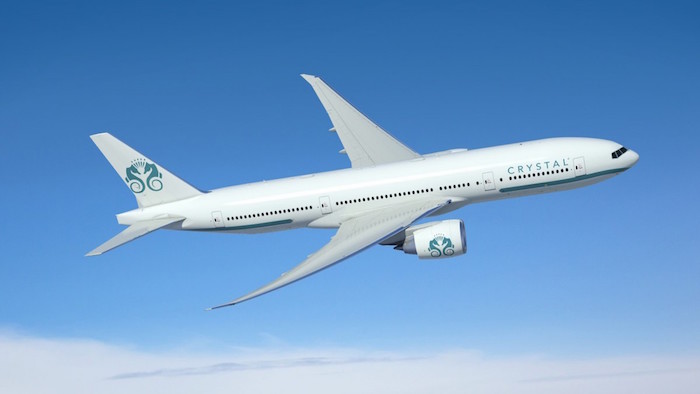 I first wrote about this plane a year ago (to the day, actually), which seems like a bold move for a company that was previously primarily focused on cruising. The 777 has just 88 seats, and has a really cool looking dining area.
When I first wrote about this a year ago I said the following:
This sure is an ambitious project. On one hand there's definitely a market for people who want an all inclusive luxury vacation without having to deal with the hassles of transfers, etc.

At the same time, this is a bit different than the Four Seasons jet, since it's not like Crystal has their own hotels that they're flying people to. Furthermore, the fact that they're using a 777 can be a bit limiting, since it won't be able to land at many airports due to its size.
Four Seasons has a 757 that they use in a similar manner, though there are two major differences:
The 757 can land at more airports
Four Seasons actually has hotels to fly people inbetween, while Crystal doesn't
So it has been interesting to see how this project has developed. On yesterday's post, reader usr22 shared a link to the brochure that outlines Crystal's first "air cruise." On one hand I'm surprised it isn't more expensive. On the other hand, I'm underwhelmed by what they're offering.
Crystal's first air cruise will be from October 1-8, 2017, and will travel from Hong Kong/Macau to Fiji and Tahiti. The cost will start at $18,000 per person, though the terms state that this itinerary and pricing is contingent upon at least 70 confirmed guests. I get they don't want to lose money on it, but at the same time, are they going to cancel the trip last minute, or otherwise raise the price if there aren't enough passengers?
Here's the itinerary:
The puzzling part about the whole Crystal thing is that they don't have their own hotels, so I reached out to ask what "Luxury Hotels" were included:
3 nights at the Marriott Fiji in a Lagoon View Room
1 night at the InterContinental Papeete in a Garden View or Lagoon Room
2 nights at the Conrad Bora Bora in a King Garden Villa or Overwater Villa
Those are perfectly fine hotels, though there are much better hotels in Fiji and Tahiti. It just seems a bit odd to offer a private 777-200LR (which is one of the most extravagant things imaginable), only to put you up at a Marriott.
As a point of comparison, Four Seasons charges $135,000 per person for a three week trip. So in terms of cost this is a much lower, but it also seems like the value proposition isn't as strong.
I'm still not sure what Crystal was thinking with the "air cruises" idea, as much as the thought of a "cruise on a 777" sounds like a dream come true to me. 😉
I guess they're going after a totally different market here. Based on everything I've read, it seems they're marketing heavily towards younger (super wealthy) Chinese travelers, so maybe the concept has more appeal in China.
What do you guys think?