Hello, still from a China Airlines flight between Los Angeles and Taipei, which I booked pretty last minute. It's almost time for breakfast, but before we land, I figured I'd share some more thoughts on the China Airlines product. A full trip report will follow, but I always like to reflect on the things I notice on the spot, as my feelings towards products can change over time.
Since these are spur of the moment thoughts, a lot of them are quite specific, because they're the things which stick out most to me. I've written in the past about the business class amenities which matter most to me, for a bit of context on what I pick up on,
It's especially interesting to compare my China Airlines flight to my flights on EVA Air in the past, given that both airlines are based in Taipei. While I've reviewed longhaul flights on EVA Air from Taipei to San Francisco and Taipei to Los Angeles, I'd note that they've improved their product even more since then.
With that in mind, here are some of the things which stick out to me about China Airlines' new 777-300ER business class product:
China Airlines' new 777-300ER cabins are gorgeous
I've been on this plane for nearly 14 hours now (we had a two hour ground delay in Los Angeles), and I really love the finishes China Airlines used. While there are lots of airlines with this general type of product, I think China Airlines' finishes might just be my favorite.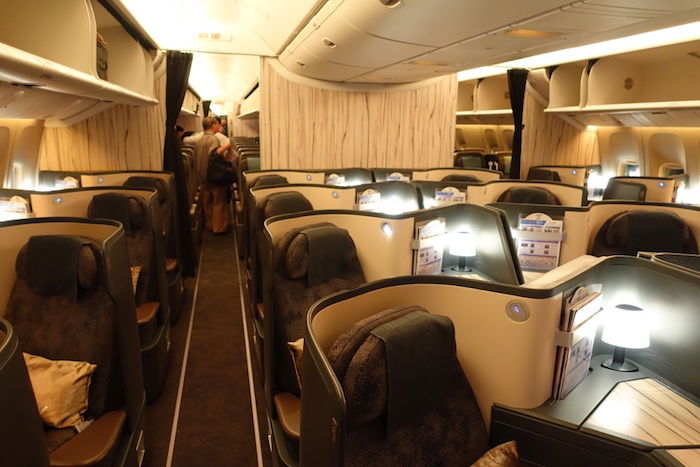 China Airlines business class cabin
The Wi-Fi is fantastic
China Airlines uses the same T-Mobile Wi-Fi interface which American, Etihad, and Lufthansa use on longhaul flights. The cost is just $21.95 for the entire flight with no data restrictions, and it has been consistently fast throughout the flight, faster than the Gogo I usually get on domestic flights within the US.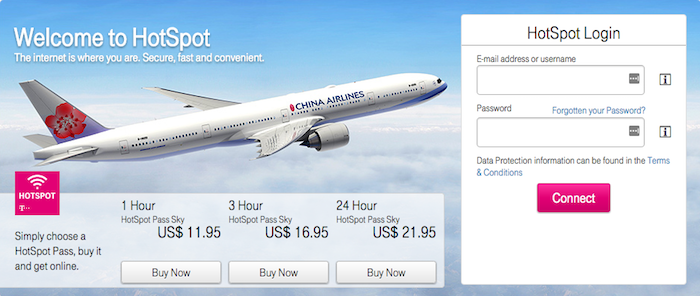 Taiwanese airlines master the champagne game
While lots of airlines serve great champagne in first class, it's rarer to see exceptional champagne in business class. China Airlines' primary competitor, EVA Air, has excelled in this regard for a long time. Over the past several years they've served Dom, Krug, and Veuve Clicquot La Grande Dame in business class, all of which are the best you'll find in business class on any airline.
As it turns out, China Airlines isn't too far behind. They serve Pol Roger 2004. I think EVA Air and China Airlines win when it comes to their business class champagne game.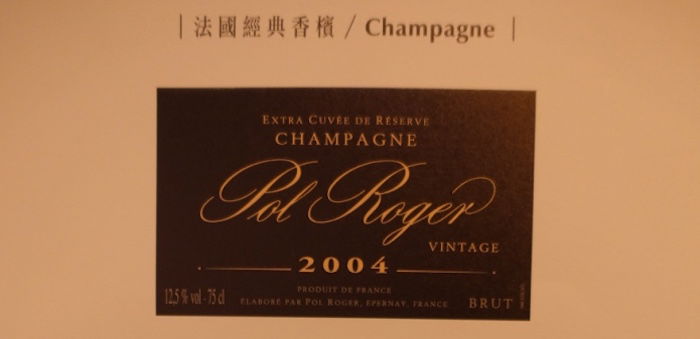 China Airlines business class wine list
China Airlines has a better hard product than EVA Air
I love the new China Airlines cabins, and think the seats as such are much more aesthetically appealing than those offered by EVA Air. Both airlines feature variants of the reverse herringbone seat, so exclusively in terms of hard product I prefer China Airlines.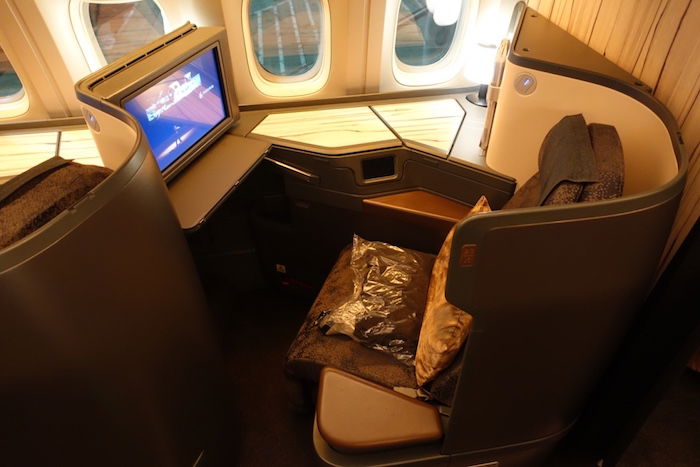 China Airlines business class seat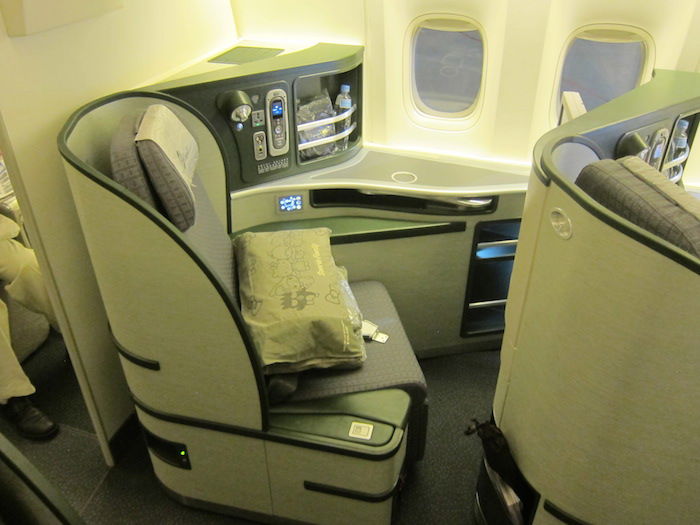 EVA Air business class seat
EVA Air has a better soft product than China Airlines
I think the food on China Airlines and EVA Air is roughly comparable, but it's the other aspects of the product which are better on EVA Air. EVA Air offers Rimowa amenity kits and pajamas, while China Airlines just offers a rather random amenity kit and no pajamas.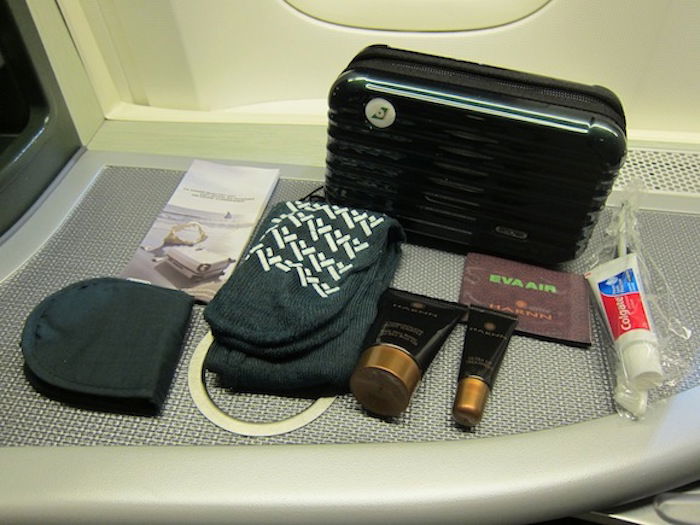 EVA Air amenity kit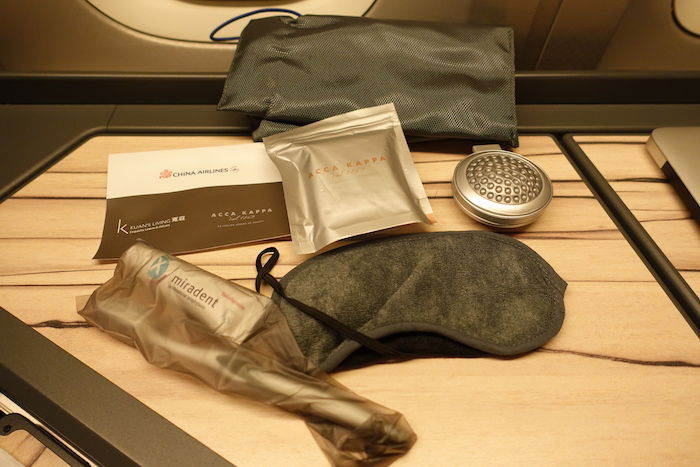 China Airlines amenity kit
My biggest menu pet peeve
I notice this on some airlines, and it drives me crazy, because it seems like something which could easily be fixed. Upon boarding I was presented with the menu and wine list. Five minutes later the flight attendant came back to take my order for supper and breakfast, and then collected the menu and wine list again.
The way I see it, the whole benefit of the menu and wine list is that I can reference it throughout the flight. That's especially true for a wine list, as you might want different wines with different courses. However, I was prepared for this since I had heard that's what China Airlines does, so I quickly snapped pictures of the menus. But I still find it annoying.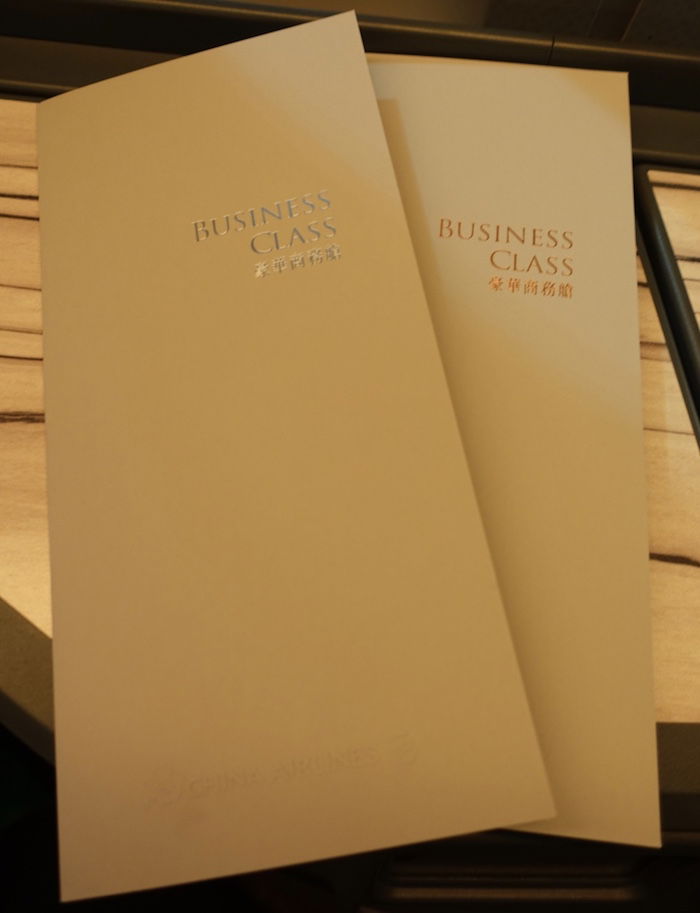 China Airlines business class menu
China Airlines' snack bar is cool
It's not necessarily the most practical or extensive onboard snack bar, but it's cool and interesting. They have a bunch of snacks in golden cups, ranging from dried mango to noodles. They're situated in such a way that they can be dispensed by grabbing one, and then the next one just automatically drops down. I've never seen a system like that on a plane before.
They also have a ton of gourmet packaged snacks. Rather than the Kit-Kats and chips you'll usually see on a plane, they have pineapple cake, incredible oolong tea white chocolate pastries, etc.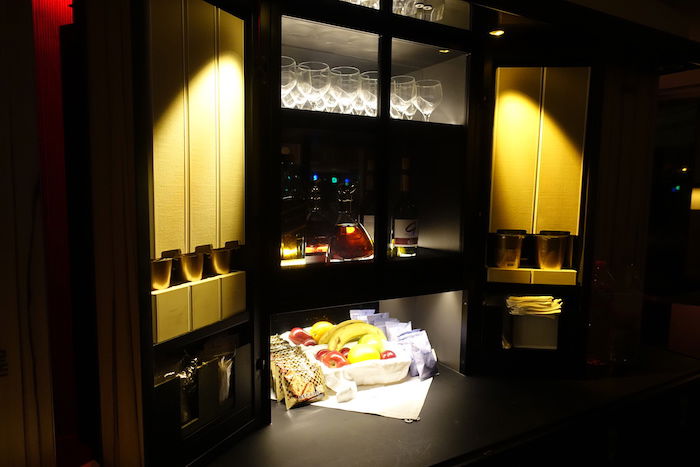 China Airlines business class snack bar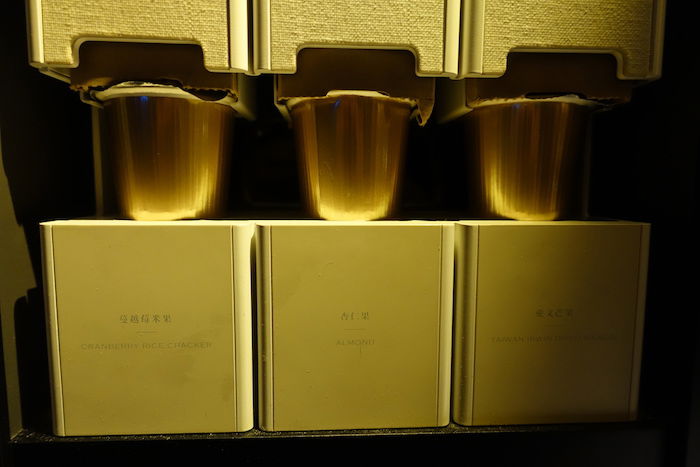 China Airlines business class snack bar
The service was so efficient
The crew wasn't the warmest or most precise I've ever had, though they were friendly and diligent. What really stood out to me was how efficient they were. All of the service was done by tray (rather than by cart), and the meals were served at lightning speeds. The first meal was done an hour after takeoff, which is awesome.
Don't get me wrong, I don't mind when the meal service is drawn out when an airline has incredible catering, like on Austrian or Turkish. But the reality is that on a vast majority of airlines, business class food is simply fine/edible, rather than an experience. When that's the case, my preference is to be served as quickly as possible, and the flight attendants mastered that.
This is a FANTASTIC use of Delta SkyMiles
I really think China Airlines transpacific business class might be the all around best option for redeeming Delta SkyMiles to Asia. There are no fuel surcharges when redeeming SkyMiles on China Airlines, award availability is readily available, and the airline has great connectivity to other destinations in Asia.
Bottom line
I'm very impressed by China Airlines. They have possibly the most gorgeous business class cabin I've ever seen, and they checked almost all the boxes. They have a great hard product, industry-leading Wi-Fi, cappuccinos, and responsive flight attendants. That's 95% of what makes a business class product great, in my book.
Stay tuned for the full trip report!
If you've flown China Airlines business class, what was your experience like?