Anyone who flies regularly knows that delays and cancelations happen, and there's often very little that we can do about it in advance – other than plot our flights very, very carefully. As a general rule, I try to avoid Chicago's O'Hare like the plague – I've even gone so far as to use it as a criteria for my airline loyalty. But when I have work in Chicago, this is hard to achieve. And unfortunately, on a recent business trip to the windy city, my low expectations were…met.
Now, I realize that a delay at O'Hare is about as news-worthy as the sun rising in the east or Delta devaluing their award redemptions (love you, Delta!) but this trip had a few extra…complications that made it interesting.
So I figured I would regale you with tales from O'Hare, as well as some of my favorite tips for avoiding (or at least surviving) these routine – and routinely frustrating – delays and cancelations.
And if you're not up for Storytime with Steph and are just here for the tips, that's cool, too – feel free to scroll right down to the "What to do if you're delayed" section. Otherwise, let's raise our seatbacks, stow our tray tables away, and buckle up for this turbulent ride.
Weather, Delays, & Cancellations (Oh My!)
Right from the start, the trip was fraught with disaster, beginning with a three-hour delay out of New York's La Guardia (LGA). We managed to arrive around 2 AM (thankfully, I had a later start the next morning and some very understanding colleagues).
The return trip was no better. I had been watching my weather app religiously, knowing that the slightest rain can often mean Armageddon at ORD, so when I went to check into my return flight, I was pleasantly surprised to see that United had proactively offered me the option to switch to an earlier flight at no cost. I jumped on the opportunity to take the earlier, 7 PM flight out.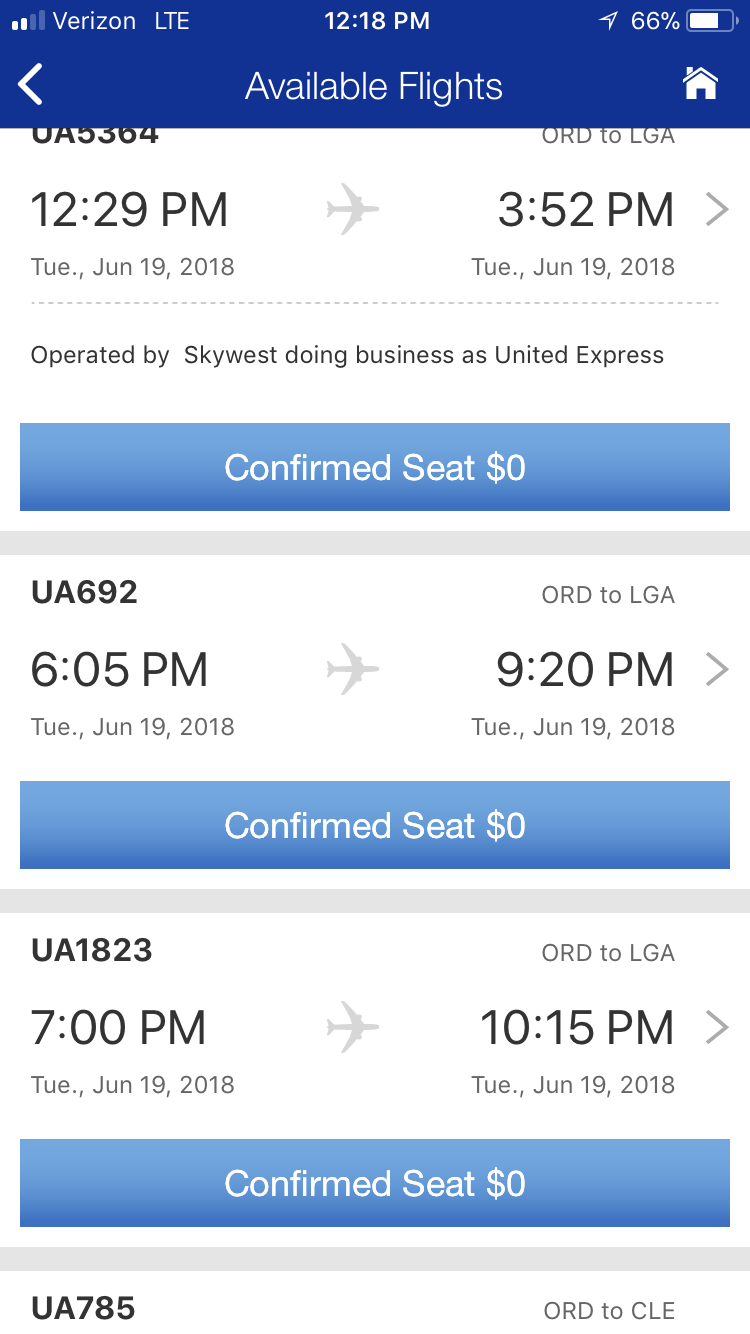 But sure enough, the email notification for my canceled flight came right around 3 PM. I immediately checked to see what was available, but it was already slim pickings. The best I could come up with for same-day departure was a 9:30 PM flight to Denver, followed by a redeye back to LGA.
In a middle seat.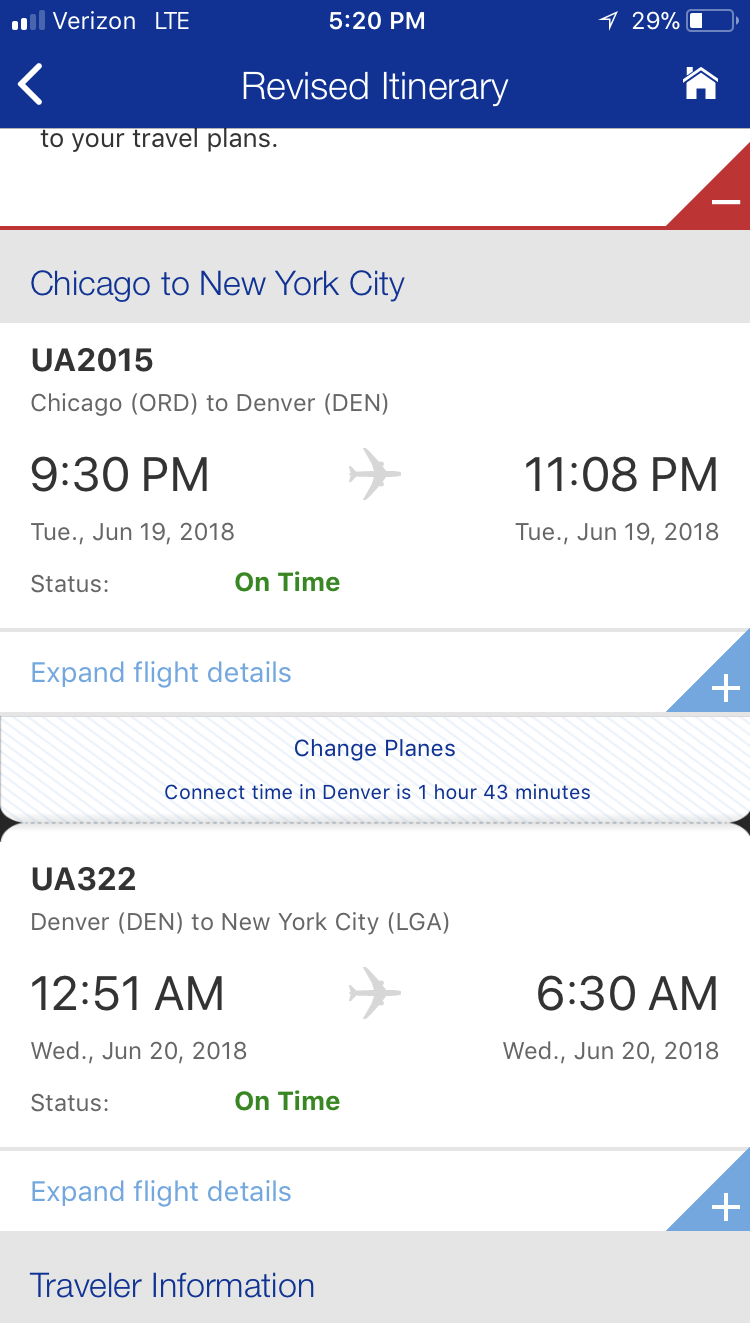 This sounded about as appealing as a root canal, but options the following day were limited to 8 PM flights or later, and I wanted to jump on the sure thing while it was there.
I also wanted to keep the costs down rather than staying another night – normally, I have some flexibility to expense these fiascos, but I knew that this client was already on a tight budget and I didn't want to push my luck.
So I grabbed a seat on the Denver flight, told myself that it was a mileage run (whatever it takes!), and figured I would reevaluate my other options once I was done with our program.
Trip Delay Insurance to the rescue
I tend to look for any opportunity that I can to use some of my credit cards' less-talked-about perks, and it dawned on me that my United MileagePlus Explorer card offers trip delay coverage. More specifically, the card offers up to $500 of trip delay insurance, provided that you paid for part of the trip with the card in question (check) the delay requires an overnight stay (check) or the delay is 12 hours or more (this ended up being a check, barely).
I did a quick Google search to make sure this was accurate, and changed to the best late-morning flight on the following day that I could find. I figured $500 would buy me enough for a night in Chicago, a meal or two, and some fodder for at least one or two blog posts.
In hindsight, I should have been spending that time searching for lodging.
Where have all the hotels gone?
While I was busy researching trip insurance policies cleaning up from our event, apparently the entire city of Chicago sold out of hotels for that night. To make matters worse, every hotel booking app that I've ever used started showing phantom availability, akin to what we sometime see on award bookings.
I probably clicked through 30 or 40 hotel listings that looked available but showed as "sold out" – and the few available motels near O'Hare were retailing for over $800 per night. I was ready to spend – but not quite that much.
I checked to see if I could get back on that original flight to Denver, but by then, it was long-gone. I was seriously contemplating taking a flight to SFO and then a redeye back to Newark, but decided to take one last look at hotels.
And then I found the answer to my prayers: The Bridgeview Inn.
Sure, it was 25 miles south of O'Hare, and yes, it had a 4.5 out of 10 on Kayak, but they had a room available, they accepted my credit card, and they retailed for the low low price of $67.19 per night.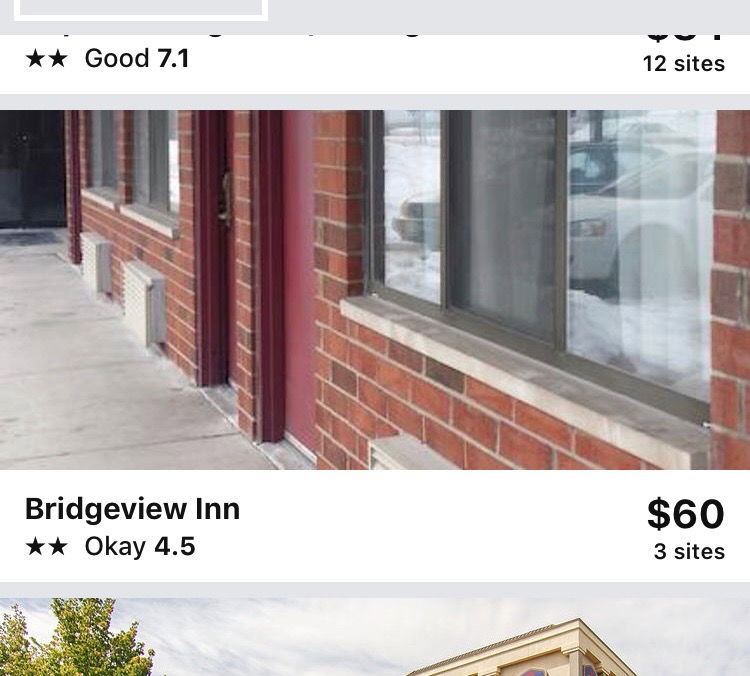 In hindsight, I might have been better off taking that SFO flight.
Getting Uber-lost
Don't worry – we'll get to the Bridgeview Inn experience in a minute. But first, I had to get there. I was pleased to see that there was an Uber less than two minutes from my restaurant, and while the driver's rating was a little lower than I'm used to, he was a pleasant conversationalist and got me on my way pretty efficiently.
We got south of the city and that's when things started to get weird – I noticed my time starting to increase. My route was starting to deviate off of the highway – I initially refrained from saying anything, because I thought maybe the driver knew something that I didn't.
Until he pulled up in front of a group of (pretty unsavory-looking) residences and asked me "Is this good?"
According to the app, we were still 11 minutes away from the hotel.
At that point, I was more interested in getting to the hotel in one piece than I was in the inner workings of Uber, so I offered to navigate him via Google Maps. He said something about the app timing out, and then followed my turn-by-turn directions the rest of the way to the hotel.
I found out later that a colleague of mine had had a similar experience with Uber earlier that day, so in the end, I really don't fault the driver – although I do wish he had asked before driving up to some random houses.
But who said travel was easy?
Welcome to the Hotel California
If anyone out there still thinks that business travel is glamorous, or that contributors to this blog get any kind of preferential treatment, then hi, nice to meet you, and I'm here to put those myths to bed once and for all.
In a sense, I can't fault the Bridgeview Inn too much – you certainly get what you pay for, and the guy who checked me in was really nice – like, surprisingly so.
But the positives end there.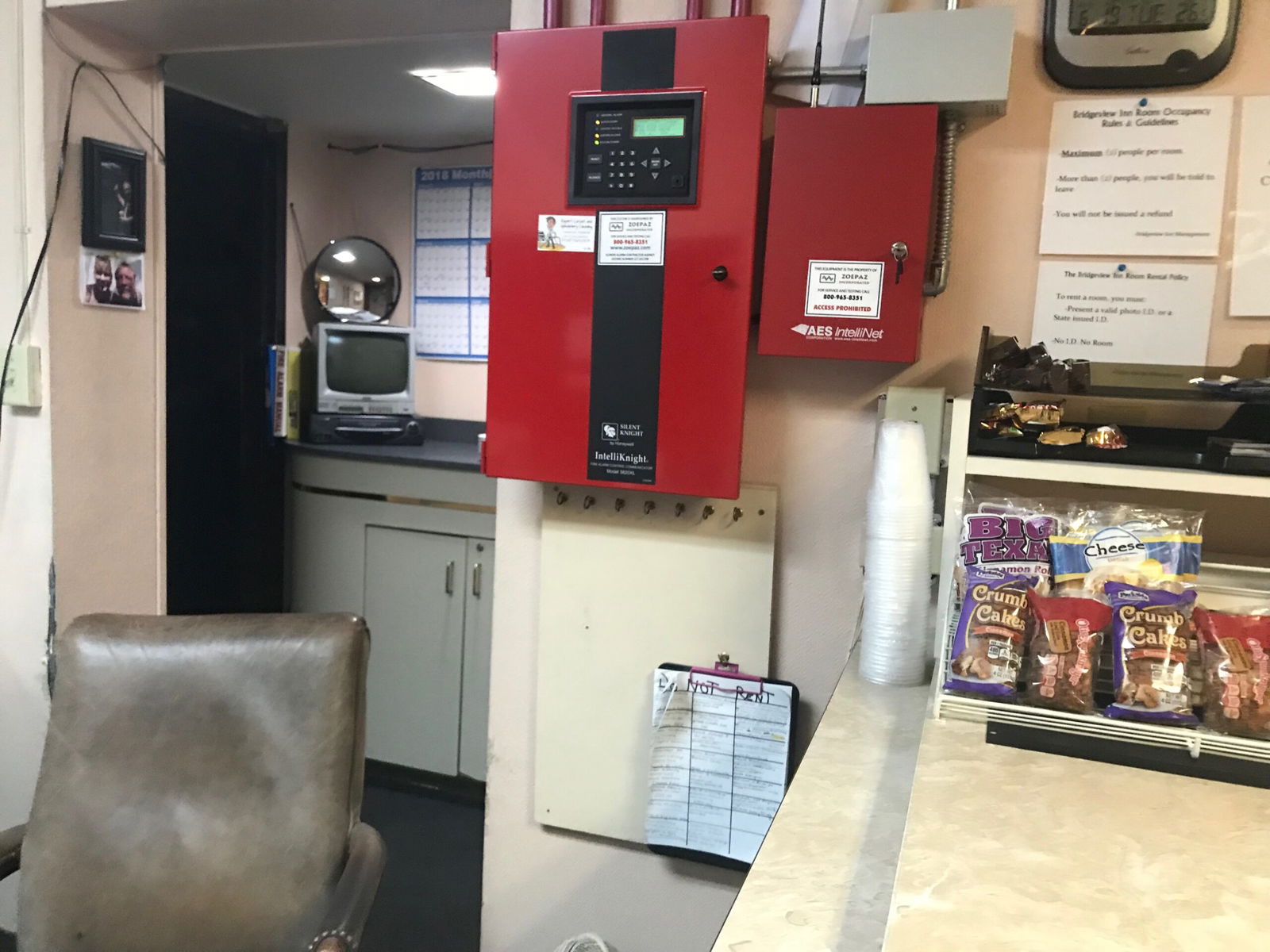 Upon check-in, I was given a room key, as well as the remote control to the TV in my room, with the warning that I would need to turn the tv on manually.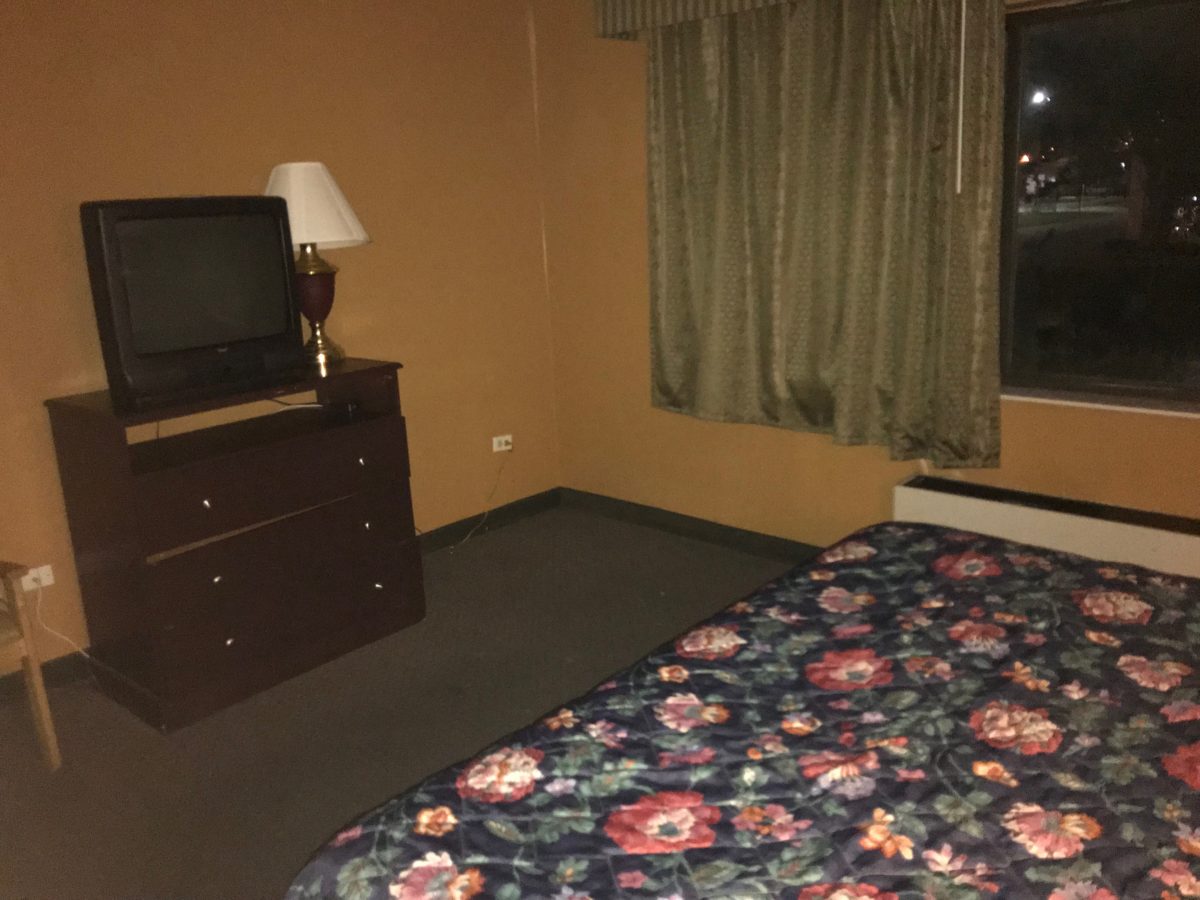 I told myself that the stains on the floor were marker…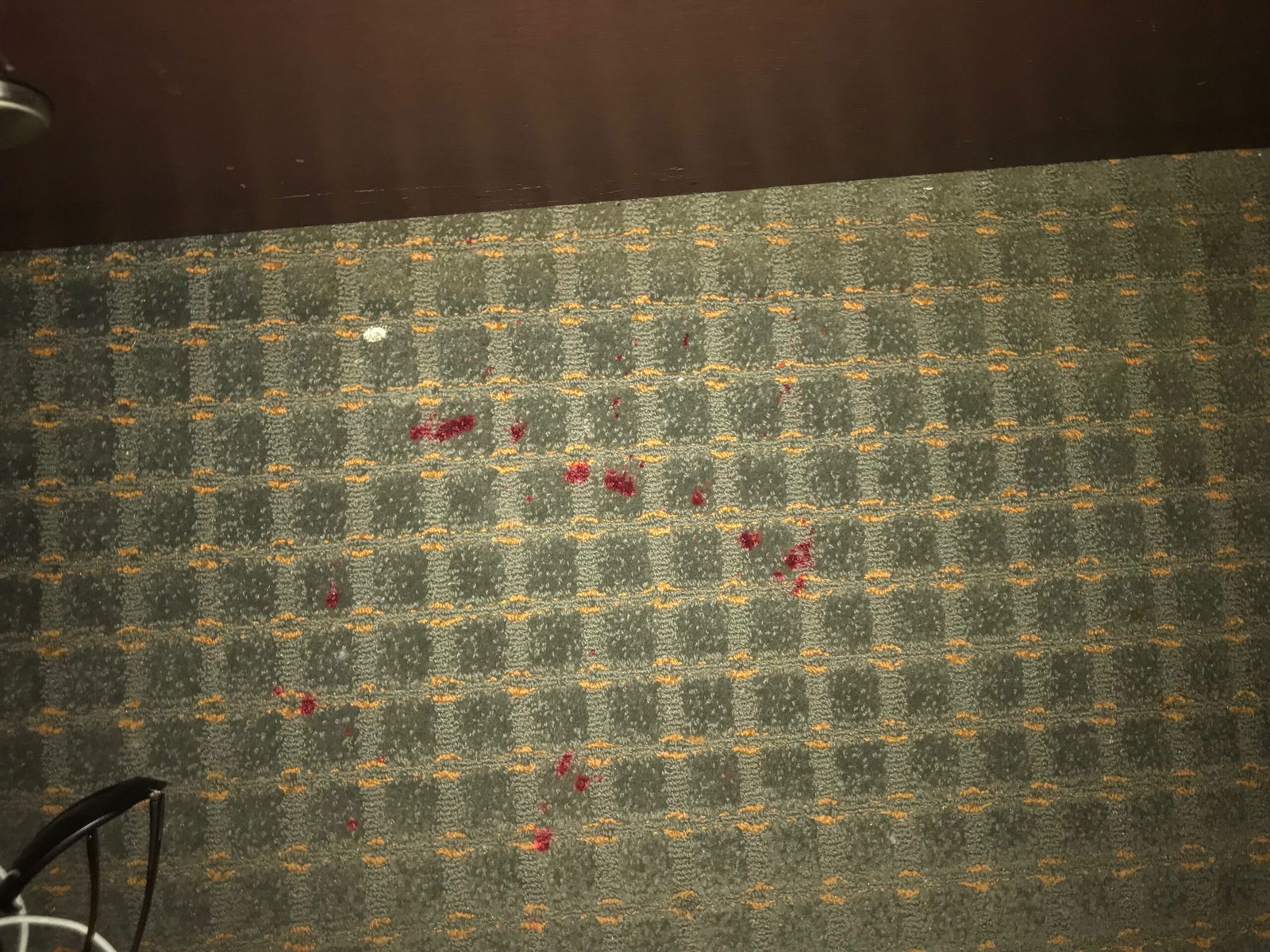 And took a moment to admire the local "art:"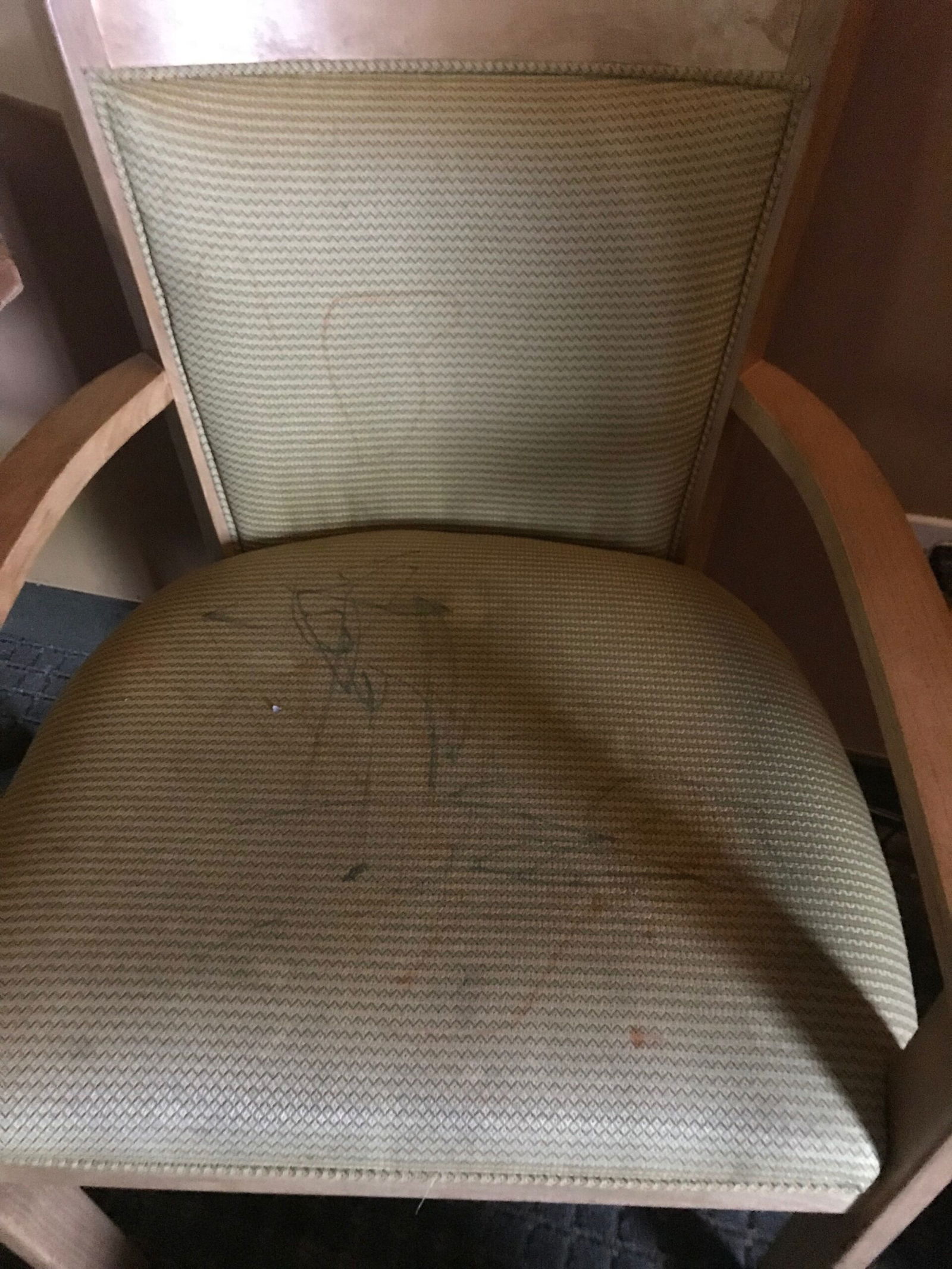 The whole thing felt a bit like an episode of Breaking Bad, Chicago-style.
Honestly, I was happy for a place to sleep for the night, but the biggest issue can't be depicted in photos. During my approximately four minutes total outside of the room, I had two separate people ask me for a cigarette, so it should come as no surprise that everything in the room (including me, by the end) reeked of ashtray.
I would have loved a long, thorough shower in the morning, but sadly, shampoo wasn't included with the price of my stay.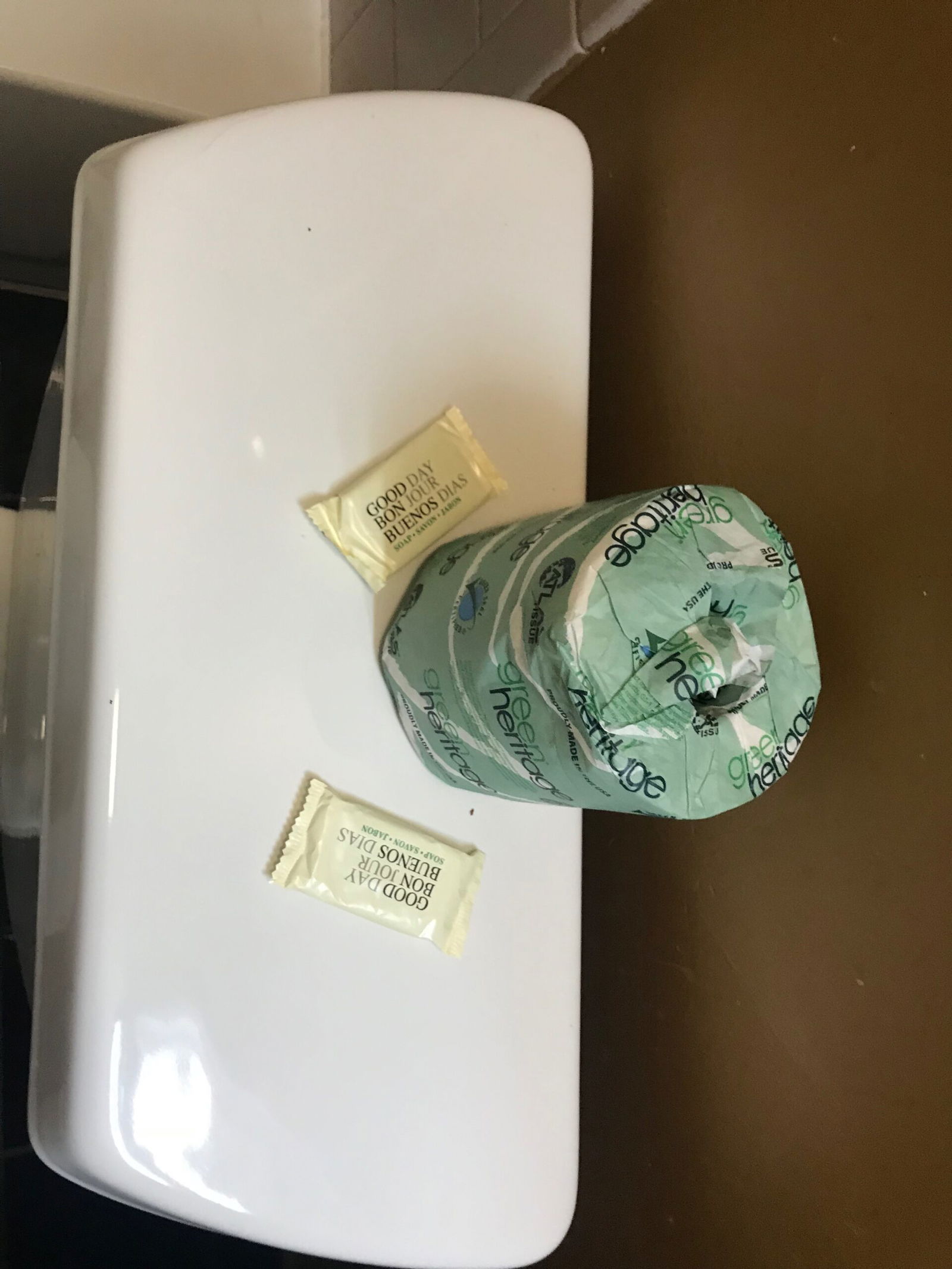 But when your hotel only costs $2 more than your Uber to the airport, I suppose all of this is to be expected.
A safe return home
Fortunately, some further finagling with the United app got me onto an earlier flight, and I made it to O'Hare with no drama in the morning (save for some Chicago traffic – yikes!) I did end up in the middle seat in the second-to-last row of the plane, but honestly, at that point I would've ridden in the cargo hold for that two-hour flight.
Given that my hair still reeked of smoke, maybe my neighbors would have liked that, too.
What to do if you're delayed
First off, for those of you who skipped ahead to this section, welcome back!
At this point, you're probably wondering what you can do when you know you're just not taking off that night. Some things, like weather (and lost Ubers, and bad hotel room graffiti), simply fall out of our control. But with the right strategy, technology, and credit cards, there are certainly plenty of things that we can do when we get that notification.
Get in front of the issue
It's not uncommon for airlines to proactively offer to waive change fees when weather or other issues strike en masse. What they don't tell you is that you may be eligible for a free flight change, even if they technically haven't offered it yet
I've done this with Delta many times, but I've had Gold or higher status with them for years, so that isn't necessarily an accurate metric. But over the past month, both United and American have allowed me to change a flight, free of charge, before any waivers were issued.
Last month, American Airlines let me negotiate a change to an earlier flight at the check-in counter, because there might be weather in the future.
And just this week, United allowed me to change my flight on the app before the waiver went out.
And I currently don't have status with either airline.
Now, I should probably note that both of those aforementioned flights were eventually canceled, but it sure is nice to know that the option is there, even for non-elite fliers.
When in doubt, if you think your original flight might be delayed or canceled, don't be afraid to ask to move.
Leverage your apps
I don't fly United that often and I'm not about to break up with Delta, but I'll give due credit here – their interface for rescheduling on the app was awesome. I changed my flight a grand total of five times throughout the evening, and each change took two minutes, tops.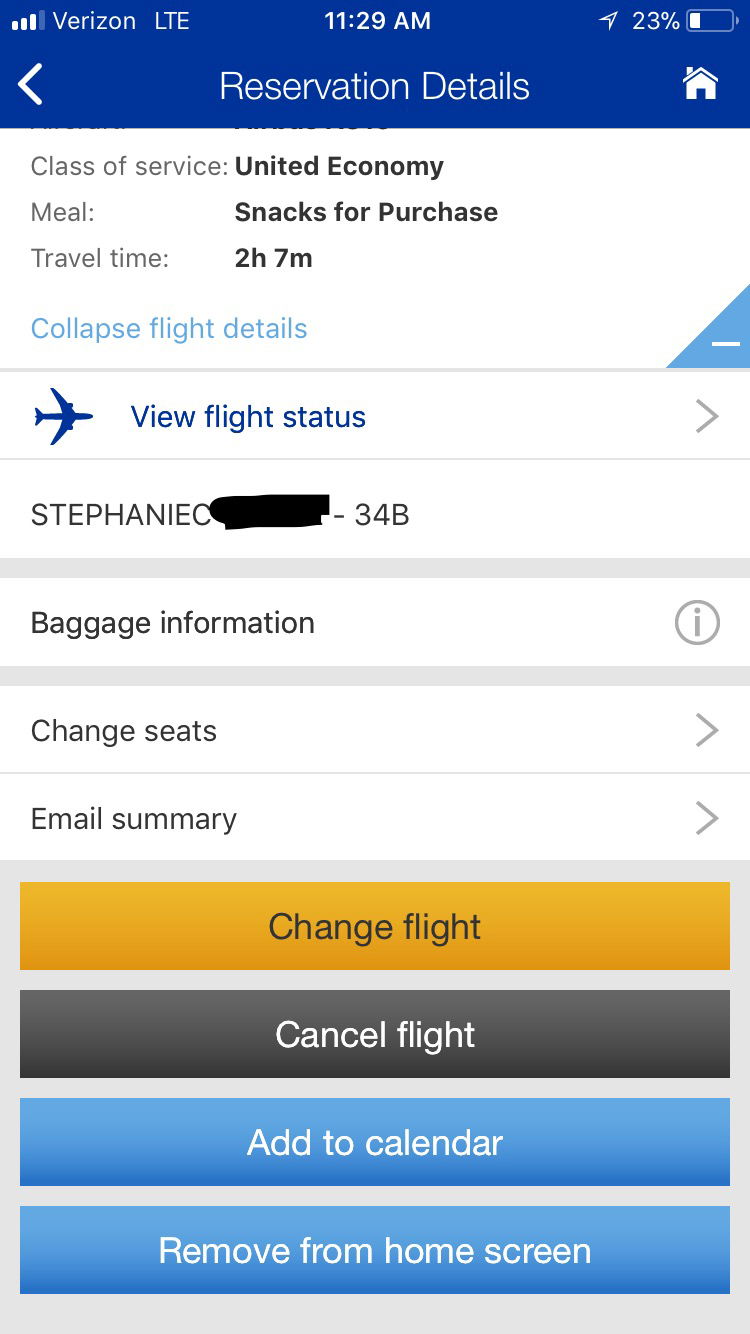 Most importantly, I didn't have to spend a single minute dialing an 800 number.
I haven't tried to change a flight on the latest version of the American app, mainly because I usually have to flat-out rebook on another airline, but historically, their app hasn't been all that easy to use, even for simple things like changing seats. Unfortunately (or maybe fortunately), I don't have enough experience changing flights with the non-legacy carriers, but I'm sure there is plenty of experience out there 🙂
I would say that by comparison, the Fly Delta app is almost as good for changing flights – but United's one-click multi-city search interface gives it the slight edge.
Speaking of airport choices…
Check out all of your airport options
Weather delays are usually pretty widespread, but sometimes, there are other factors at play. For example, La Guardia (sort of) has a midnight curfew, whereas Newark does not. I ultimately wound up on a flight back to LGA, but the Newark alternative did open up some other possibilities.
I could have also flown to my home airport (Hartford's BDL) and rented a car back to La Guardia (where my car was parked) if I had wanted to. That prospect sounded about as appealing as a redeye in a middle seat, but if I was in dire straits, that could have been another way to get creative and get home.
Don't forget about trip delay reimbursement
I'm probably in the small minority who intentionally carries airline co-branded credit cards, which are mainly there to ease the pain when I don't have status. But in this case, my United MileagePlus Explorer Card and the accompanying trip delay reimbursement may have saved the day.
I'm looking forward to reporting on the outcome of my claim once it gets resolved, and I plan do a deeper dive into the overall concept and the corresponding cards in an upcoming post, similar to my rental car insurance series.
But in the meantime, it's important to remember that some of our favorite cards also offer a whole slew of benefits that we hope to never have to use.
Prioritize hotel reservations
If there's one area here where I seriously misfired, it was with my hotel reservations. For all the overnight delays that I've encountered, even in places like Philly, Atlanta, and D.C., I've never been in a position where the entire city was sold out.
The biggest surprise to me was the sheer amount of phantom availability that displayed on some of my favorite booking sites, including Kayak, Priceline, Hotels.com, TripAdvisor, HotelsTonight, and both the Hyatt and Hilton websites.
The jury's still out as to whether my final hotel outcome was lucky, or at my own peril, but I was kicking myself all night for not jumping on something sooner.
Moral of the story? Just because something looks available doesn't necessarily mean that they actually have rooms.
And to that end…
Don't give up
Sia's "The Greatest" was my theme song for the evening as I constantly refreshed my flight search – and it eventually paid off. While hotels are unlikely to open up availability once they've sold out, airline seats often change faster than the price of bitcoin.
Case in point – when I started my search, the earliest flight available on the following day was a flight that got in at 10. I eventually found myself on an 11 AM flight with a two-hour layover in Cleveland, and by the end of the evening I was on an 8 AM flight scheduled to arrive at 11:07.
We even got in a few minutes early.
I think the big takeaway here is that once your flight has been flagged as eligible for rebooking, you pretty much have carte blanche to change it as many times as your heart desires – which means that other people are likely doing the same. So if things start to look bleak, just keep hitting refresh – and you may be handsomely rewarded.
Final thoughts
At the end of the day, I love a good story at the expense of almost any personal comfort, so it's all good on my end. And as much as I take issue with some of United's other service flaws, their app – and their timeliness in reporting the cancelations that day – really impressed me.
That said, hopefully it's not a feature that I have to use again anytime soon.
Were any of you stuck in Chicago with me this week? What are your go-to moves when you know that a flight will be delayed or canceled? Sound off below!