If you were flying anywhere up or down the East Coast during the last week of May (or anytime this winter, for that matter), there's a good chance that you had some adventures with weather.
Hopefully you were rebooked and aren't still stranded in an airport, but in the event that your flight was straight up canceled and you did not rebook, or if they delay was so lengthy as to make taking the flight impractical, the airline is legally required to refund you the cost of your ticket, as well as any taxes, fees, or extras.
Generally, if the flight is canceled and you opt not to rebook, the refund process *should* be fairly straightforward. However, there may be other reasons why you need to request a refund due to weather or other related delays. These may include:
Canceling a return ticket because your outbound ticket was canceled
Opting out of a flight where you know your connection is doomed
Choosing to travel via other means because of an extended delay
If you're caught in one of these scenarios, your refund request might be a bit more involved.
(And for all those of you reading from outside of the U.S. – sorry in advance, but for the sake of not having to go through airline laws country-by-country, this post is going to focus U.S.-based airlines only. So, thanks for stopping by and see you next time!)
Refunding tickets due to extended flight delays
I was scheduled to fly from New York's Westchester County Airport (HPN) to Washington-National (DCA) on May 31st. My 5:30 PM flight was delayed to 6:10 PM. And then it was delayed again. And again.
https://www.instagram.com/p/BjdPAn8jHAL/?taken-by=stephstravels312
I was presenting at 8:00 the next morning, so spending the night in White Plains wasn't an option. Eventually, around 8PM when my flight was "delayed indefinitely," I decided to cut my losses, rent a car and make the four and a half hour drive down (and Mom, if you're reading this, I was wide awake and had plenty of coffee!).
I notified the gate agent, who made a note on my account and assured me that I would be eligible for a refund, but advised that it would not happen automatically.
The flight did eventually take off, four and a half hours after the originally scheduled time, so while I was indeed eligible, I knew I would have to request the refund myself.
Requesting a refund on American Airlines
Unfortunately, this is a process that I've become all too familiar with this year. I use AA for many of my shorter flights up and down the East Coast.
Or at least, I try to use American Airlines.
Of the five American Eagle flights that I've been scheduled to take this year, four have either been canceled or delayed beyond the point of recognition. Agents are generally trained to tell you to call in to request a refund, but there is an easier way.
First, you'll want to log into your AAdvantage account and locate the "Receipts and refunds" section at the bottom of the page:

Then, you'll want to scroll down to the "Refund request or status check" option: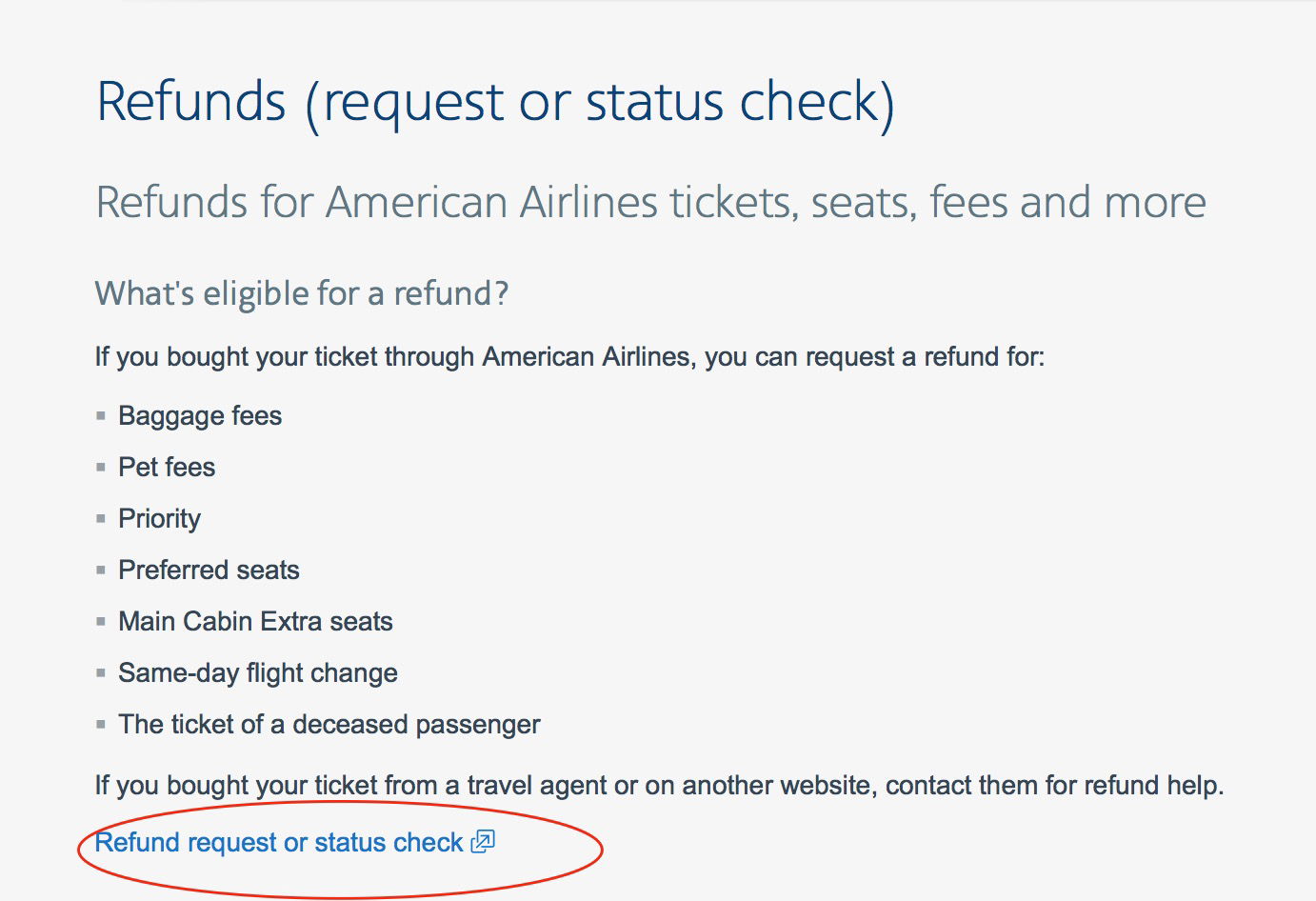 You'll want to make sure you have your ticket number in hand:

The rest is pretty self-explanatory: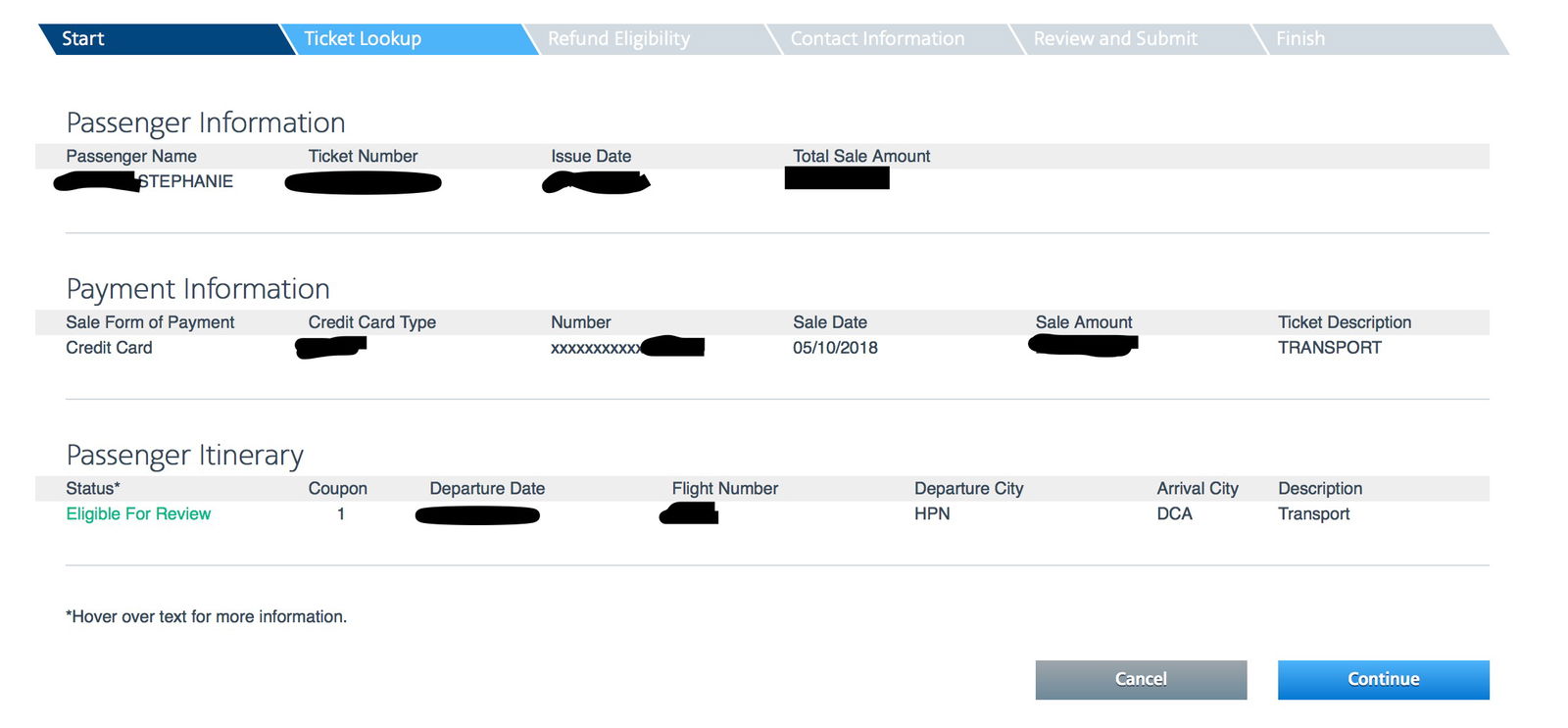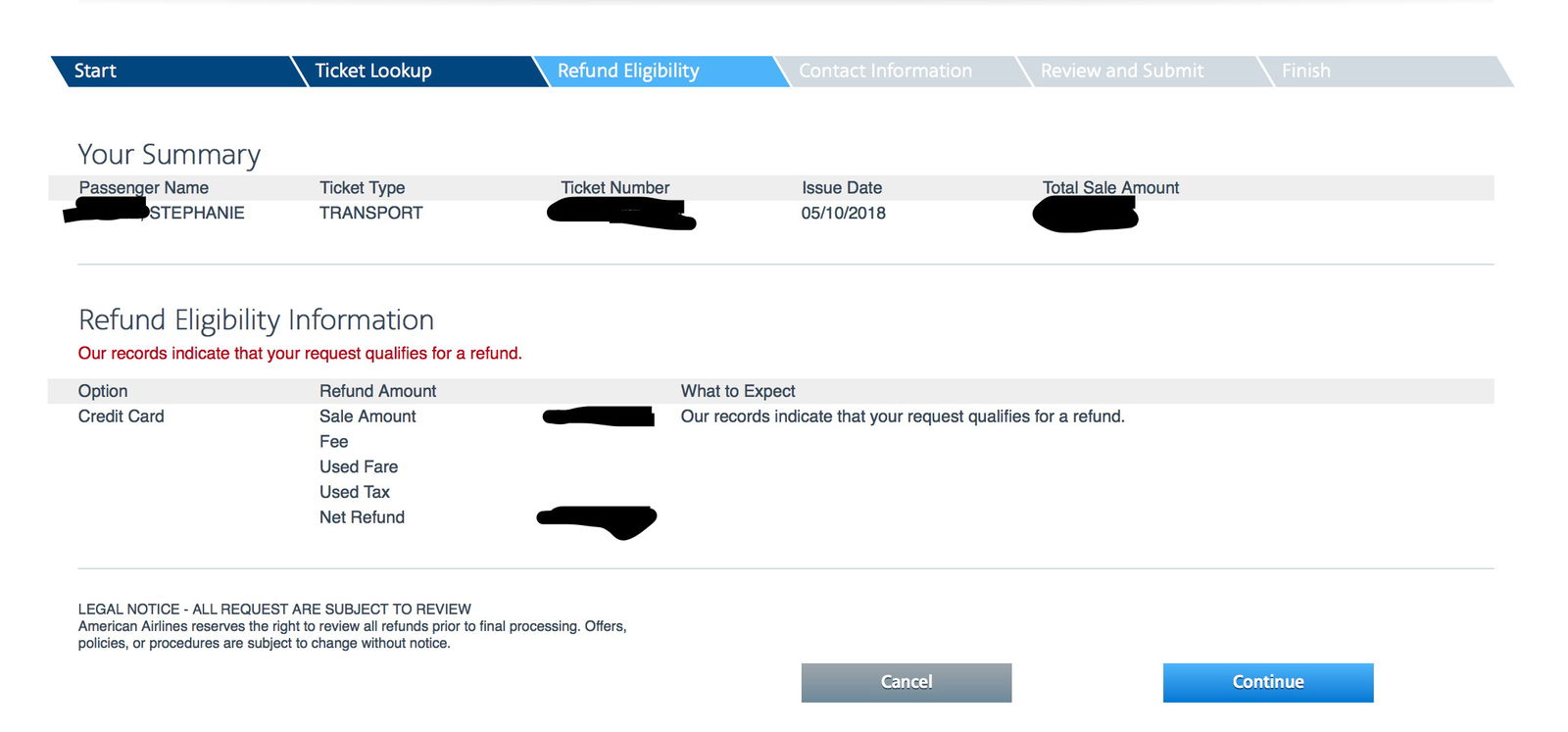 You'll need to fill out some basic information: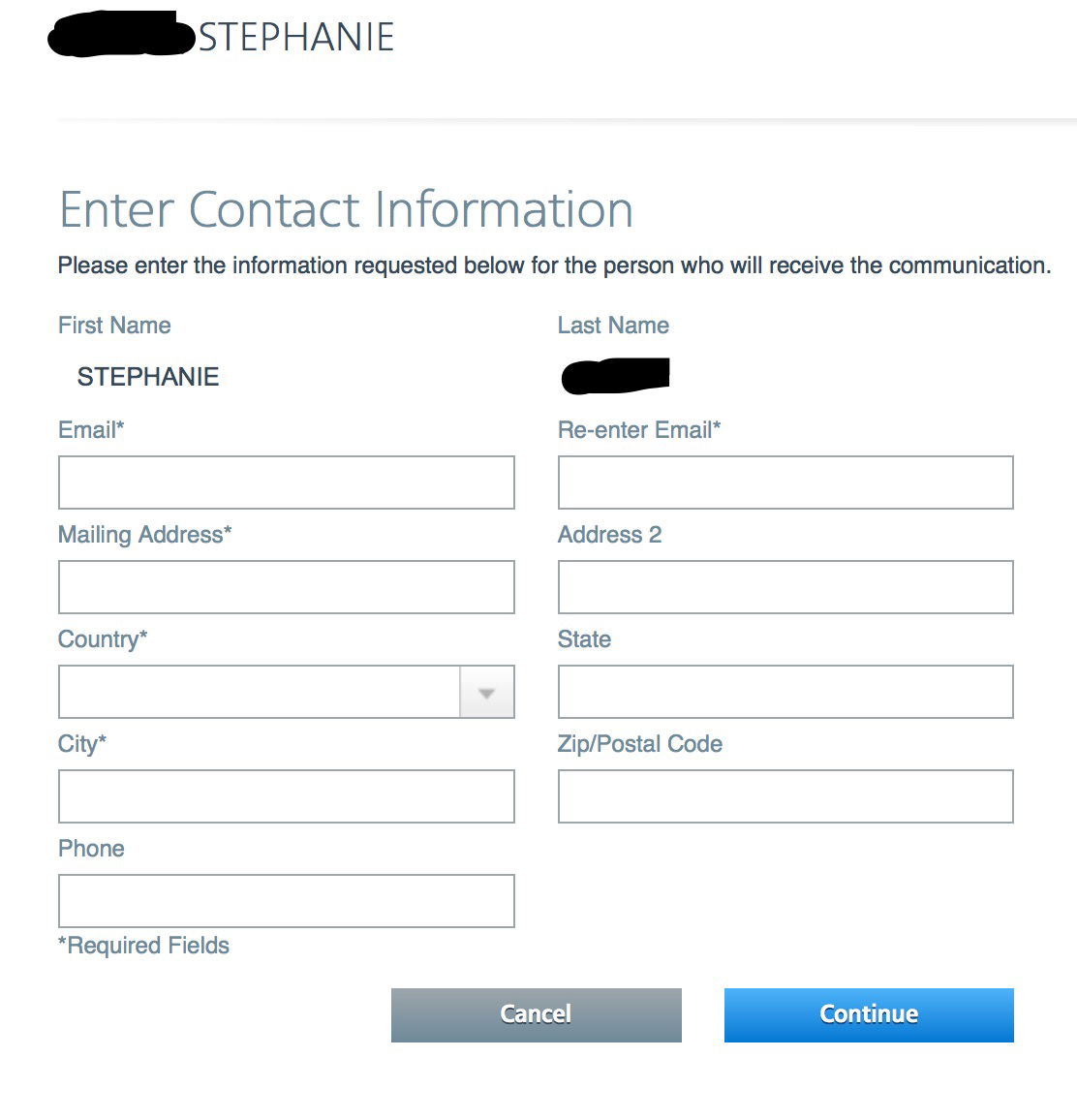 And finally you will be brought to this screen: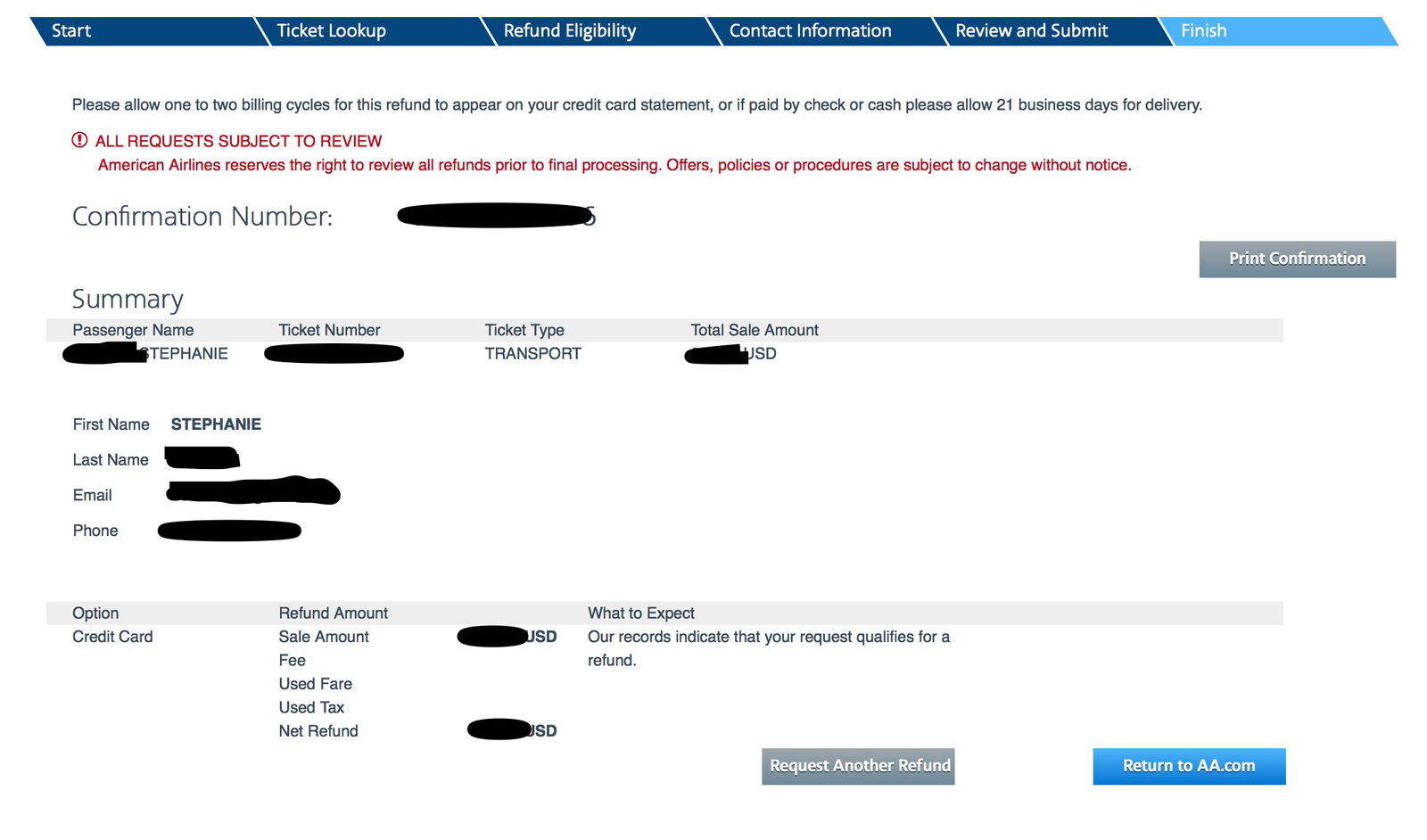 The "please allow one to two billing cycles" line may elicit a "WTF" moment, but I've found that in practice, the turnaround is actually much faster. Last time, the refund took just over a week to post.
Requesting refunds with other airlines
While I don't have nearly as much experience with this process in practice with the other airlines, Delta and United have very similar pages set up. You can request a refund with Delta here, and with United here.
Alaska Airlines suggests that the best way to request a refund is by calling or emailing.
Per their website, Southwest requires you to call or write them if you are requesting a refund for a flight that has already departed.
JetBlue simply advises that changes can be made on the website or by calling their 800 number, but they also offer guaranteed compensation for delays of various lengths.
Again, you may be issued a refund automatically, but in the event that you are not, these pages should be a good starting point.
Bottom line
No one likes delays, and having to jump through extra hoops just to be refunded the cost of a ticket adds insult to injury. Don't assume that the refund will happen automatically – but hopefully the above links can at least help get the ball rolling.
Did anyone else get hit with the last round of weather delays and cancellations? What did you do to get yourself to your destination?