After an awesome flight on ANA from Chicago to Tokyo Narita, I connected to the Thai Airways A380 evening departure from Tokyo Narita to Bangkok.
I've flown Thai Airways first class many times, and always make an effort to fly them when departing Bangkok, given that the highlight of the Thai Airways first class experience is their ground handling in Bangkok. As a first class passenger you're escorted all the way from check-in to the gate, get a semi-private living room in the lounge, and even get a complimentary hour-long massage in their spa.
But I hadn't actually flown Thai's A380, so I couldn't pass up the opportunity to mark another A380 off my list. While I'll have a full trip report soon, I figured I'd share my initial thoughts.
The cabin
Thai's first class is on the upper deck and consists of 12 seats spread across three rows. The colors and design are extremely soothing, in my opinion, though there's nothing that really stands out about the product. I've flown most other airlines' A380s in first class, and I think Singapore and Emirates beat Thai for privacy, Lufthansa beats Thai for exclusivity (only eight seats vs. twelve), and Malaysia beats Thai for exclusivity and a more spacious cabin (there are just eight seats and it's on the lower deck, which is a wider cabin). But don't get me wrong, it's still a really, really nice cabin.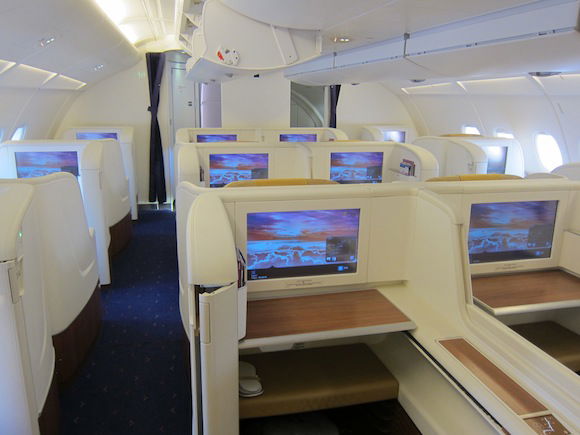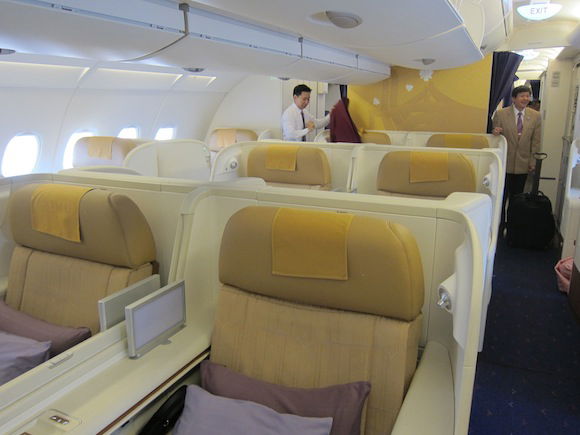 Amenities
In the forward part of the cabin Thai has a lounge to the right. It's quite a nice area, though the seats sure could use a bit more padding, in my opinion.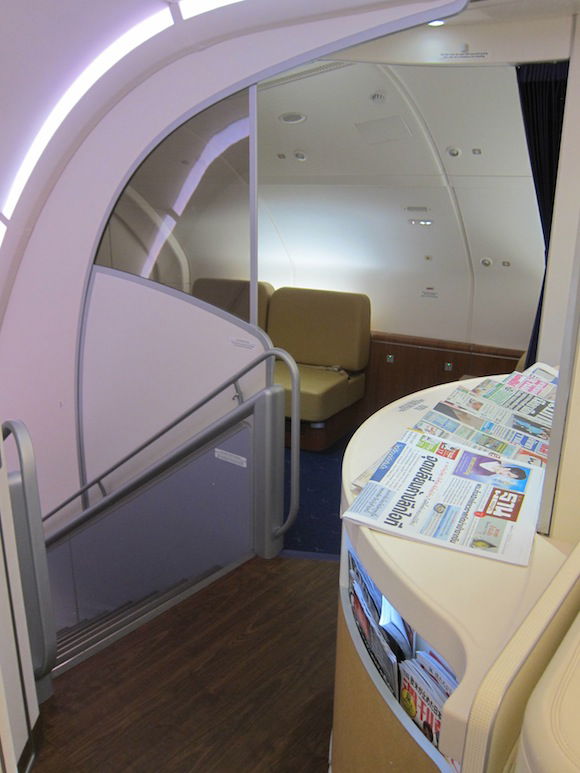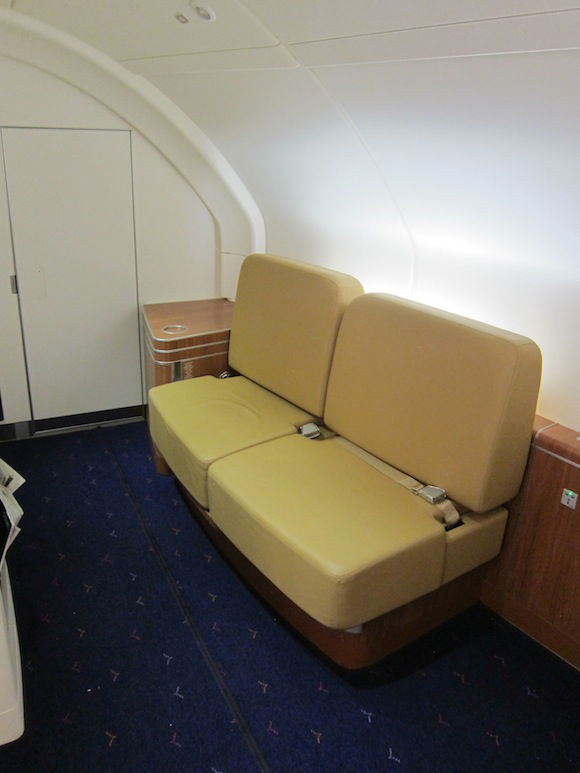 Then the bathroom to the left is huge, and even has a comfortable seat in it with a vanity mirror. The only downside is that there's only one of these lavs (as opposed to Emirates and Lufthansa, which each have two huge lavs), so sometimes you'll end up using the other lav behind the cabin, which is smaller though still very nice.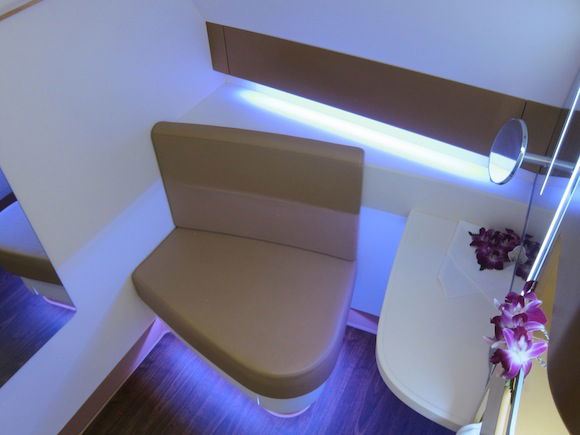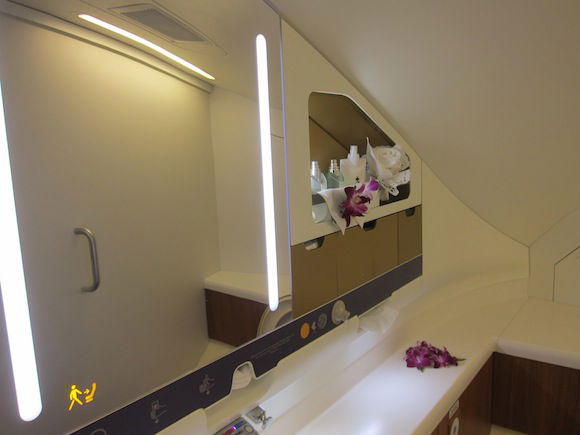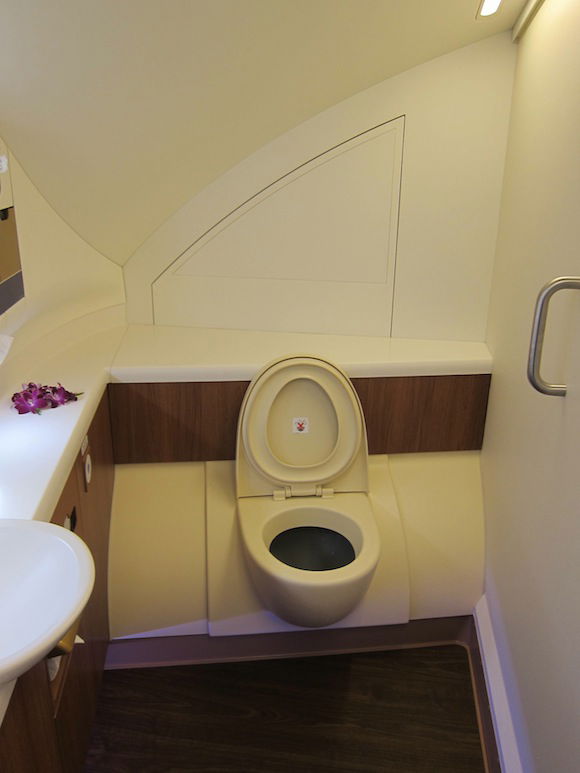 Amenity kit
Thai Airways has Rimowa kits. SWEET!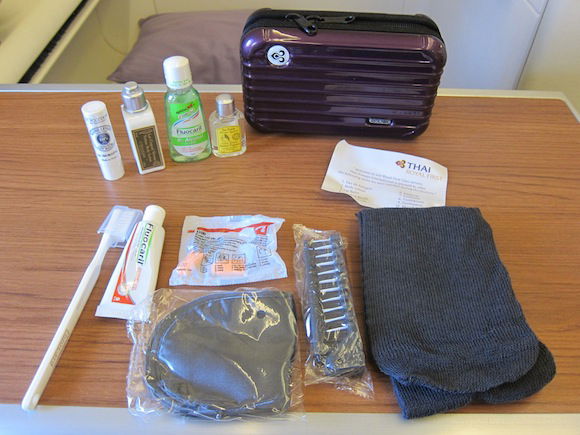 Service
I find service in first class on Thai to generally be friendly but not all that polished. They're not as refined as Singapore flight attendants, not as confident as Lufthansa flight attendants, and not as apologetic as ANA flight attendants. 😉
There's something about the service that "feels" business class. For example, pre-departure the flight attendant comes by with a tray with maybe eight glasses and inquires whether you'd want some Dom. That's as opposed to other airlines where they ask what you'd like, then bring the bottle and a single glass to your seat to pour. The same happened with the meal service, where the flight attendant came around with a "suggested" bottle of Rose.
Service is also somewhat like an assembly line in that the pace of the service seems to be tailored around the entire cabin as opposed to each individual passenger.
Don't get me wrong, service is still very good, but when it comes to comparing service in first class, it's the little touches that make the difference.
Food
This is probably my biggest complaint about Thai. Their food — in terms of quality, presentation, and variety — feels like what I'd expect in a decent business class product and not a great first class product. It's funny because I love the food in the Thai lounge in Bangkok, so would almost fly the A380 next time from Bangkok to Frankfurt or Paris on the redeye so I can have dinner in the lounge and go to sleep upon boarding.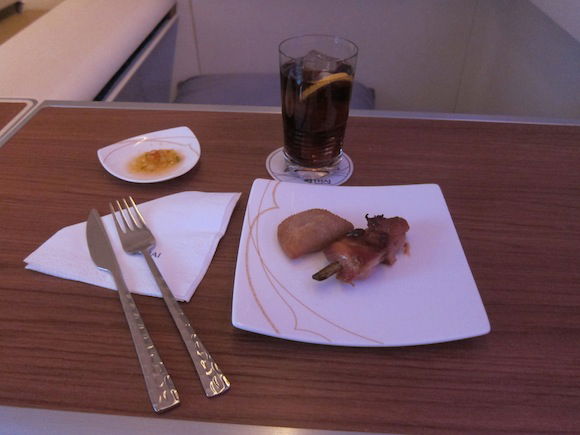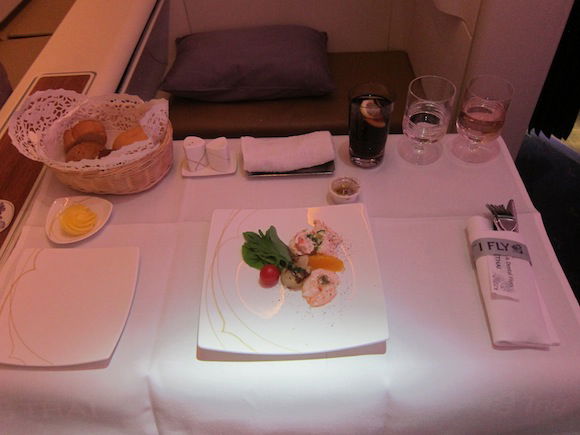 Pilot skills
Our pilot clearly had a bit to drink. Just kidding, of course. 😉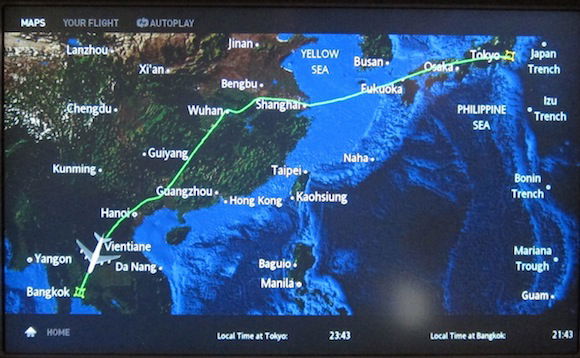 Overall
This is a product that's tough to beat for travel within Asia. Ultimately there are a bit over a handful of airlines that I consider to be truly "five star," and Thai falls just short of that list, but still offers an all around solid product.