It's approaching the end of the year, which means it's a good time to start looking at your elite mileage balances, deciding which status levels you want to go for, and how you want to earn them.
For as long as I can remember, American has offered an elite buy up offer, where you can buy up to a higher status level if you are within a certain range of achieving a tier. For full context, here are the details of the Elite Boost Offers in 2013, 2014, 2015, and 2016.
Well, American is back this year with another buy up offer. Here's what we know about it so far:
Buy up to AAdvantage status for 2018
If you log-in on this website with your AAdvantage number and password you should be able to see what kind of a status buy-up offer is available to you, if any. This allows you to buy up to the next status level for this coming year, which would be valid through early 2019. Here are the FAQs regarding the buy up offer.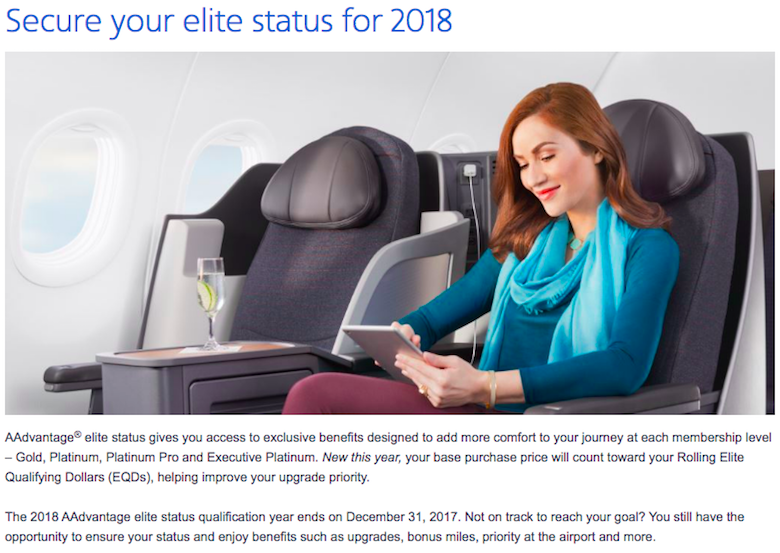 If you take advantage of one of these buy ups, your status should be updated within a few days. That's good news since you can start enjoying the benefits of the higher elite tier right away, though be careful that you don't buy up to status now when you might otherwise have last minute travel that gets you over the edge anyway.
So if you were to take advantage of this, I'd recommend waiting until after the year is over, so you really know where you stand on elite qualifying miles. However, I wouldn't wait too long. While the buy ups can be purchased through July 31, 2018, at that point over half of your elite year will be up.
Cost to buy up to AAdvantage status
The cost to buy up to status varies based on which elite tier you're going for, and also based on how many elite qualifying miles away you are from achieving status. At least that has been the case historically. The interesting added element this year is that 2017 is the first year where American has a revenue requirement for earning status, so I imagine that also factors into the offer you get. Anything you spend on a buy-up to the next status level will also be added to your EQD total.
Prior to last year American published the exact costs required to buy-up to status, though they're not sharing that info this year. For a bit of context, here are the buy up offer costs from a couple of years ago (again, these are not the costs for this year, as those aren't published, and we don't know what role the elite qualifying dollar requirement plays in these buy-up offers):



(The above screenshots are from a couple of years ago, when American raised the elite qualifying segments required for Executive Platinum from 100 to 120; that's why the segments in the above screenshot aren't correct)
My Platinum Pro buy-up offer
I've been flying American less this year than before, and as of now I've only requalified for Platinum status. While I'll make Executive Platinum status this year with what I have booked, I'm not there yet. Here's what my current progress towards elite qualification looks like: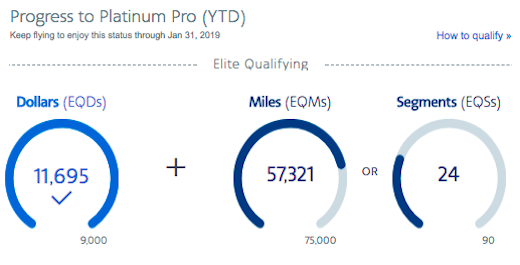 My buy-up offer is for Platinum Pro in exchange for $1,765. Hah…

Should you buy up to status?
This is something everyone has to decide for themselves, as there's no universal advice. One thing is for sure — the trend is that elite status is becoming less valuable by the year. For example, several weeks ago I posted about 14 ways in which Executive Platinum status is less valuable than before, and that trend is continuing.
Bottom line
It's once again possible to pay to buy up to the next status level, though prices vary. With prices to buy up to status not published, and with the added wrinkle of there being a revenue requirement for status, it would be interesting to get some data points of what kind of offers people are getting.
I'd only use this feature as a last resort, as the cost per elite qualifying mile here is typically insane. You're much better off taking an extra flight if you have the time. And if you don't have the time, it might not be worth buying up to status, given that it's less valuable than in the past before.
Were you offered a buy up offer? If so, how many EQMs/EQDs are you from qualifying, and how much did they ask for?
Hopefully we can get some data points.