This past June I wrote about how a settlement has been reached with British Airways regarding a class action lawsuit over fuel surcharges.
This settlement included all US Executive Club members who redeemed Avios for award tickets between November 9, 2006, and April 17, 2013, and who paid British Airways imposed fuel surcharges.
The lawsuit alleged that there was no correlation between British Airways fuel surcharges on award tickets and the cost of fuel, and that this breached the Executive Club terms (they were updated in 2013, which is why this settlement is only for redemptions between 2006 and 2013).
Those who were part of this settlement had the choice of either receiving Avios or cash. If you preferred Avios, you received Avios based on how many redemptions you made, as follows:
12,500 Avios if you made one redemption
20,000 Avios if you made between two and five redemptions
35,000 Avios if you made six or more redemptions
The alternative was that members could receive a payment of 16.9% of the total fuel surcharges they paid for all award tickets they purchased during the period, with a minimum of $5.
In my case the option was between $837.08 or 35,000 Avios, and I don't value Avios at ~2.4 cents each.
In mid-December I wrote about how those who selected Avios for their settlement saw the Avios posting to their accounts. However, at the time there was no sign of checks arriving as part of the settlement yet.
So there's some good news on that front, as I just received my check in the mail as part of this settlement.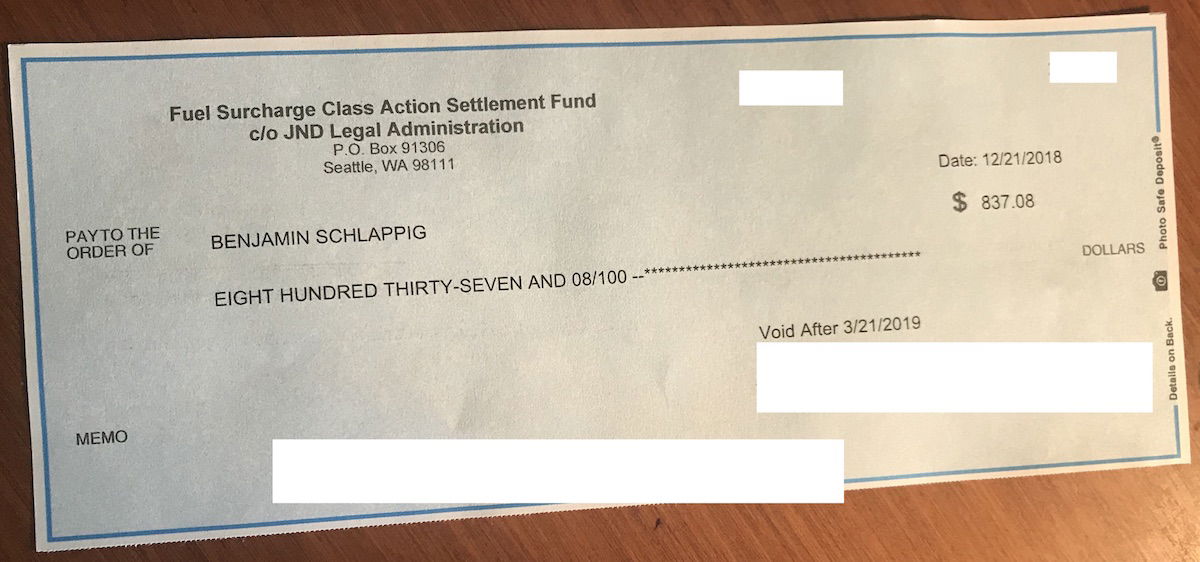 This is my first time participating in any sort of class action (as far as I can remember), so I have to say that was just about the easiest $837 I've ever made.
If you're like me and have been waiting on a check as part of this settlement, make sure you check the mail over the coming days, as hopefully it will arrive soon.
For those who selected a check as part of this settlement, has it arrived?