This is an update to a previous post. As you can see below, in June I wrote about a British Airways class action settlement involving how British Airways was marketing carrier imposed surcharges as "fuel" surcharges."
For those of you who are entitled to Avios as part of this, Avios are now posting to eligible accounts. Over six months is longer than I was expecting it to take, but at least it's finally happening.
Personally I chose cash, as the choice was between $837.08 or 35,000 Avios, and I don't value Avios at ~2.4 cents each. I assume this means that a check is also likely coming soon.
Have your bonus Avios posted as part of this settlement?
---
Yesterday I wrote about how a settlement has been reached with British Airways regarding a class action lawsuit over fuel surcharges.
This settlement includes all US Executive Club members who redeemed Avios for award tickets between November 9, 2006, and April 17, 2013, and who paid British Airways imposed fuel surcharges. If that describes you, and if the judge signs off on it, you'll receive either Avios or cash.
Note that if you redeemed other points currencies for travel on British Airways during that period and paid surcharges, you wouldn't be eligible for this. That's because this lawsuit is in regards to the Executive Club program terms, and how they referred to these fees as "fuel surcharges" rather than "carrier imposed surcharges," even though their existence had no correlation to the cost of fuel.
You can choose Avios or cash in this settlement
If you're eligible for this settlement and do nothing, then you should automatically have the following number of Avios deposited in your Executive Club account within 30 days of when the case is signed off on (which is expected to be July 27):
12,500 Avios if you made one redemption
20,000 Avios if you made between two and five redemptions
35,000 Avios if you made six or more redemptions
Alternatively, members can elect to receive a payment of 16.9% of the total fuel surcharges they paid for all award tickets they purchased during the period, with a minimum of $5. In order to select this option you'll have to file a claim by July 29, 2018. When I wrote the post yesterday the option to file a claim (or to see what you were entitled to) wasn't live yet, though it is now.
Check your British Airways fuel surcharge settlement options
To see how many Avios or how much cash you're entitled to, you'll want to visit this page. There you'll be asked to enter a "Unique ID."

As it turns out, there was an email sent out to eligible members within the past couple of days about this, and I completely missed it, since it went into my spam folder. So check your spam folder. The email was sent from [email protected], and the subject line was "Dover v. British Airways Fuel Surcharge Class Action Notice."
I entered my information, and to be honest I wasn't sure I made any eligible transactions during that period. At least off the top of my head I couldn't remember any eligible bookings I made during that period. Boy was I wrong (and now that I look through my old emails, I see the redemptions from then).
After entering my Unique ID I was presented with the option of 35,000 Avios or $837.08. That means I paid almost $5,000 in fuel surcharges during that period, which is a surprise to me. My guess is that this included redemptions on partner airlines as well, as long as you booked through the Executive Club.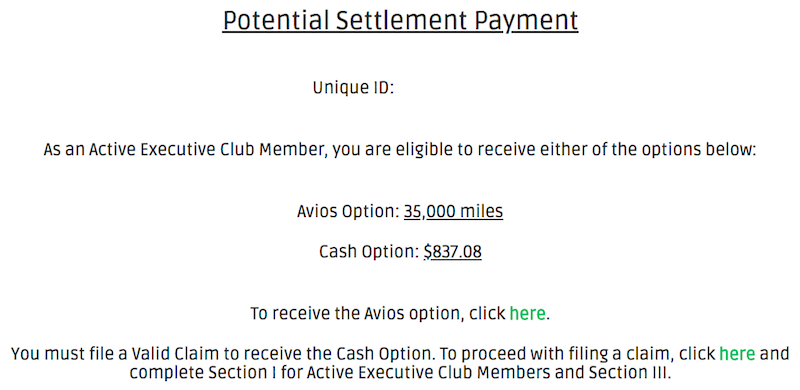 As I explained yesterday, if you want the Avios as part of the settlement, you don't have to do anything. You'll automatically have the Avios deposited in your Executive Club account. However, I wouldn't pay 2.4 cents per Avios, so in this case cash is the much better option.
If you do want cash in this settlement then you'll have to specifically request it by filling out the form by July 29, 2018. The process of doing that is easy, though. You just have to enter some basic personal information.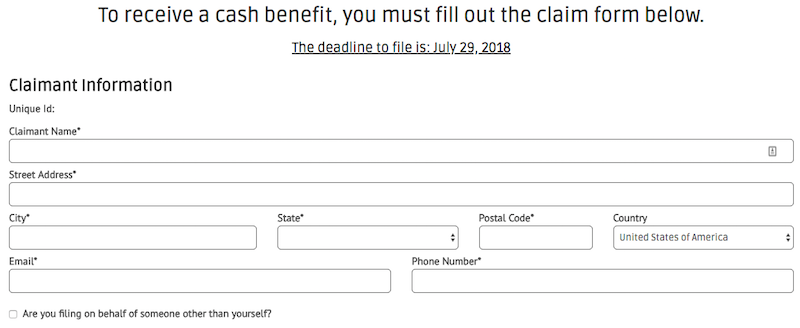 Then you have to agree that all of the statements listed describe you, and then you have to sign.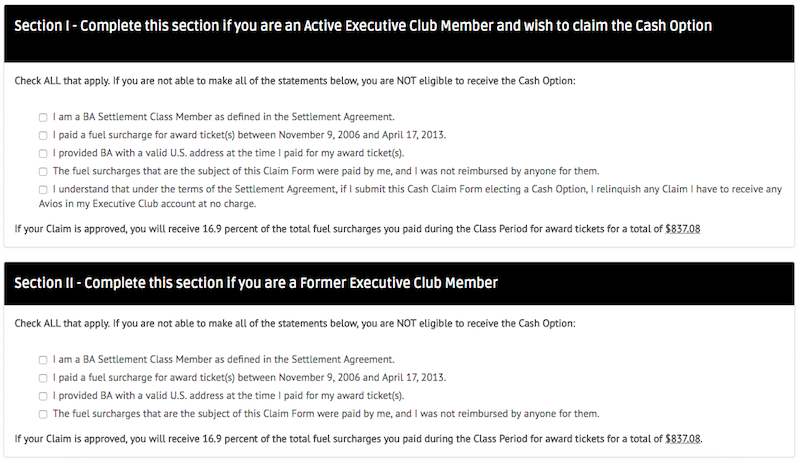 For those who also made redemptions during the eligible period, are you selecting the cash or points option?