Yesterday I wrote about how an Etihad Airways executive set a new record for the fastest round the word journey. He completed the journey in just 52hr34min, which shaved over three hours off the previous world record. The new record holder flew from Shanghai to Auckland to Buenos Aires to Amsterdam to Shanghai.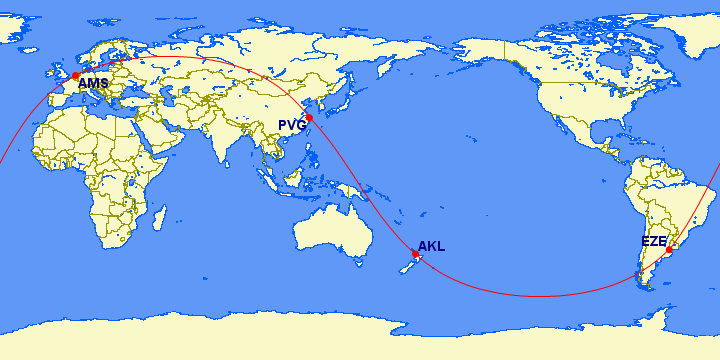 I had been looking at ways to break that record, though the way in which a round the world trip is defined for these purposes is a bit annoying. Specifically, he set the world record based on flying to approximate antipodal points. Here's how this requirement is defined:
A circumnavigation crossing the equator must be made. It is not necessary to visit the exact antipodal points, but airports nearest them. For this record an allowance of 5° is permitted, so if the co-ordinates north and south are the same, the east plus that west equals 180°, then that north might be, for example, 45° and that south anything between 40° and 50°. Alternatively that north might be 51° and that south 53°, in which case that west plus that east can equal between 177° and 183°. Being in a plane which lands at the airport but not having to changes would not be acceptable.
I feel like the issue with this is that it really limits creativity. Essentially the antipodal requirement means you have to pass through two airports that are on (almost) exactly opposite ends of the earth. While I appreciate the idea behind that, the issue is that many major airports don't have a practical antipodal point. This is why the previous two record holders flew through Auckland and Buenos Aires, since there aren't many practical alternatives with frequent service from multiple continents.
The cool thing is that this isn't the only world record for the fastest round the world trip. There's another record that I consider to be more interesting. Specifically, there's a Guinness World Record for the fastest round the world trip on commercial flights, while visiting six continents.
The record was most recently set on July 8, 2004, in 66 hours in 31 minutes. Michael Quandt flew from Singapore to Sydney to Los Angeles to Houston to Caracas to London to Cairo to Kuala Lumpur to Singapore.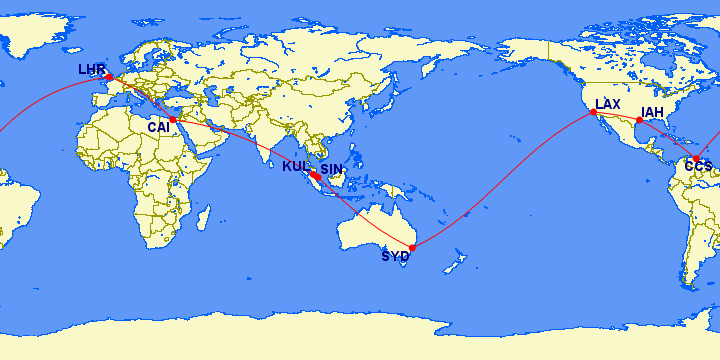 That's a total of about 27,000 flown miles, and he had a total of eight flights. It should be possible to get this routing down to six flights, and thereby make the journey quite a bit shorter. If nothing else, there's now a nonstop flight from Sydney to Houston, and I also feel like it could be easy to avoid either Kuala Lumpur or Singapore to save time.
So this is my new goal. On one hand it's more challenging than the other one (since it requires more flying and more segments), but at the same time it's also more straightforward and less arbitrary, since you don't have to focus so much on antipodal points.
Without looking at schedules, the first routes that come to mind would be something like this (both of these routes are marginally shorter distance than the previous record, and also cut out two connections, which should save time):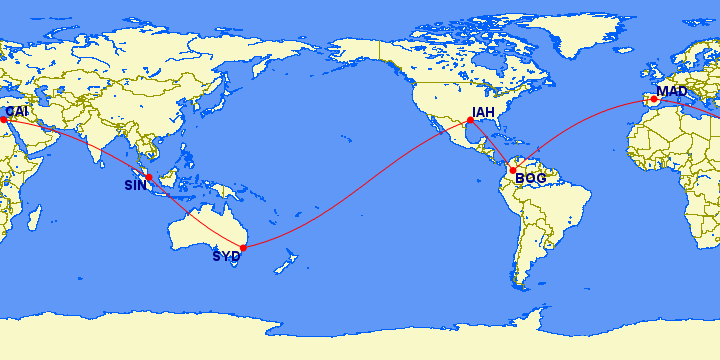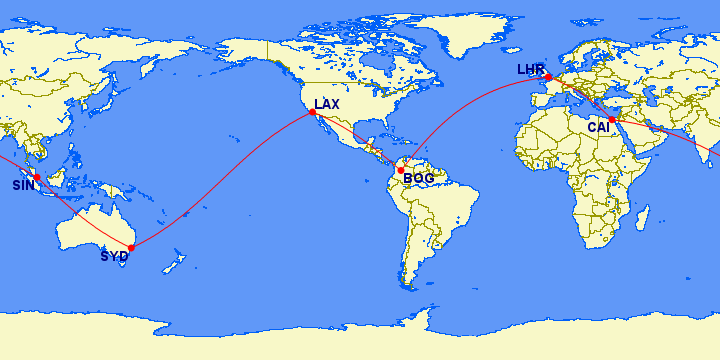 The biggest issue I'm having is with South America. Bogota seems like the most logical connecting point in terms of having frequent service from both North America and Europe, without being too deep in the continent. The problem is that I can't find any efficient connections that allow both a flight from the US that's connecting from an Australia flight, and a connection to Europe, within a short timeframe. But I also can't think of any other connecting points that would be efficient.
This is a record that hasn't been broken in 14 years, so I feel like it's time to do so, especially with the new ultra longhaul flights we have. However, those only get you so far when schedules don't otherwise line up…