A few days ago I wrote about how an Etihad executive, Andrew Fisher, was trying to set a new record for the fastest round the world trip. There are different ways that round the world flying records are calculated. This particular challenge was based on an attempt to reach approximate antipodal points, meaning the requirements were as follows:
A circumnavigation crossing the equator must be made. It is not necessary to visit the exact antipodal points, but airports nearest them. For this record an allowance of 5° is permitted, so if the co-ordinates north and south are the same, the east plus that west equals 180°, then that north might be, for example, 45° and that south anything between 40° and 50°. Alternatively that north might be 51° and that south 53°, in which case that west plus that east can equal between 177° and 183°. Being in a plane which lands at the airport but not having to changes would not be acceptable.
Andrew selected Shanghai to Auckland to Buenos Aires to Amsterdam to Shanghai as his routing, which covers a distance of 24,885 miles.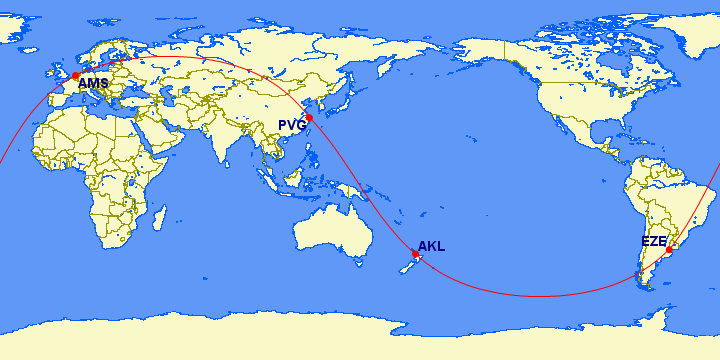 He was hoping to beat the previous 55hr47min record by about three hours using the above routing. The previous record was for a routing from Shanghai to Auckland to Buenos Aires to Paris to Moscow to Shanghai.
So, how did Andrew do? Based on looking at his Twitter, it looks like he accomplished his goal! He flew around the world in 52hr34min, meaning he beat the previous world record by over three hours.
52 hours 34 mins 🙂 new world record

— Andrew Fisher (@AndrewFisherNZ) January 22, 2018
— Andrew Fisher (@AndrewFisherNZ) January 23, 2018
Congratulations to Andrew! As I said in the previous post, now I'm determined to give this a try as well. Obviously Andrew is a bright guy. After all, he's Etihad's VP of Fleet Planning, so I think he knows a thing or two about efficient routings.
However, it's not like his routing was actually that unique. He used the same the first two flights as the previous world record holder, flying from Shanghai to Auckland to Buenos Aires. He then swapped the Buenos Aires to Paris to Moscow to Shanghai flights for simpler Buenos Aires to Amsterdam to Shanghai flights.
I've been spending some time looking at different possibilities, both including the same first two segments, and also using different segments altogether. I keep getting really close to matching the time, but then something just doesn't work out.
With the new ultra longhaul routes we're seeing — Doha to Auckland, New York to Nairobi, London to Perth, etc. — you'd think there would be a way to incorporate these flights to beat the record. Due to the antipodal requirement I don't think you could get the routing down to three segments, though I feel like there have to be some other efficient combinations that can make this happen in four segments.
Anyway, congrats to Andrew, but watch out, I'm not going to let you keep this record for long. 😉