First of all, let me say that I'm sorry to those of you who don't find this interesting. Please skip this post. I understand sometimes this blog can get obsessive about certain topics, and that's just my nature. I love the nitty-gritty of routing rules, connections, etc. That's probably why I find this topic so interesting. I know some people are just as fascinated by this, while others can't stand it. Thank goodness people can just click away if they want to.
The past few days I've talked quite a bit about the round the world flying records that exist. Earlier this week an Etihad executive set a world record for the fastest round the world journey, defined based on traveling to antipodal airports (meaning airports on exactly the opposite ends of the earth).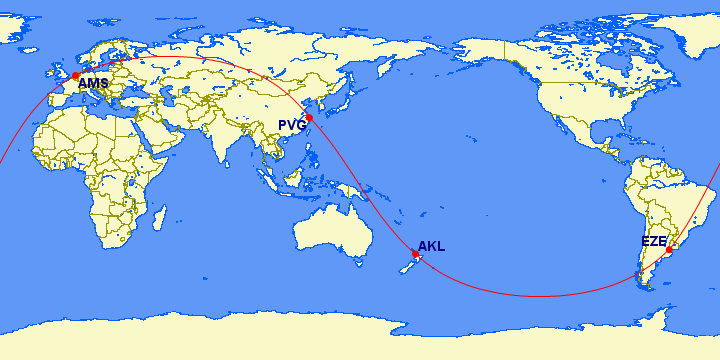 Personally I think the much more interesting world record to set is to fly to six continents as quickly as possible, since it's not quite as arbitrary of a goal (the antipodal method is heavily limited based on major airports being on opposite ends of the earth, which narrows you down to only a limited number of possibilities).
As I explained, according to Guinness World Record, the last person to set this record did so in 2004, when they flew from Singapore to Sydney to Los Angeles to Houston to Caracas to London to Cairo to Kuala Lumpur to Singapore in 66hr31min.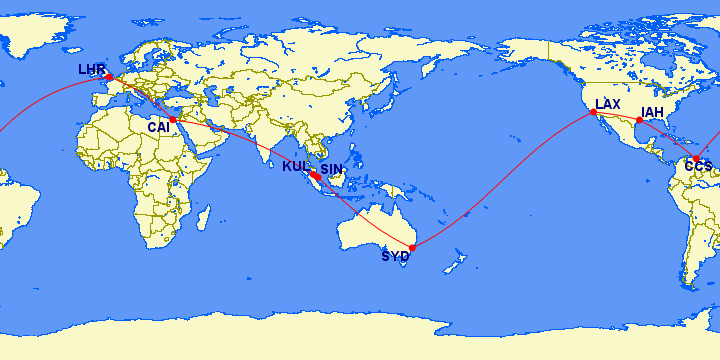 Interestingly, according to recordholders.org (I'm not sure how this compares to Guinness Records), the latest record was set in September 2016, as two people flew from Bangkok to Sydney to Los Angeles to Bogota to Madrid to Cairo to Bangkok in 63hr46min, breaking the previous record by nearly three hours. I'm not sure if that's not Guinness World Record eligible, or what.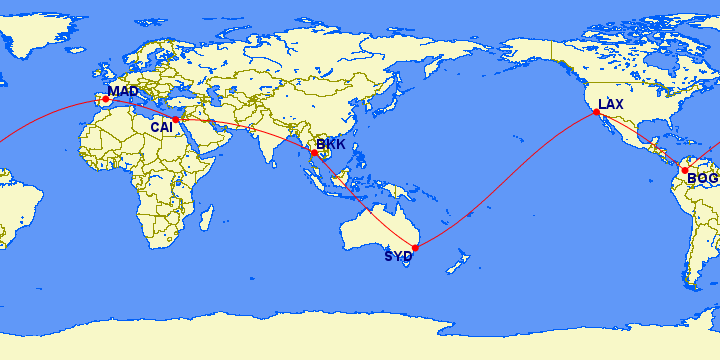 Well, I have some absolutely genius readers. A lot of you proposed some great routings so far, though a huge shout out to @ladakn99, who came up with a routing that takes 57hr40min. Incredibly, that shaves over six hours and over 1,000 miles off the current record, and it's a really innovative routing. Specifically, we're talking about Sydney to Santiago to Panama City to Madrid to Algiers to Dubai to Sydney. ABSOLUTELY BRILLIANT!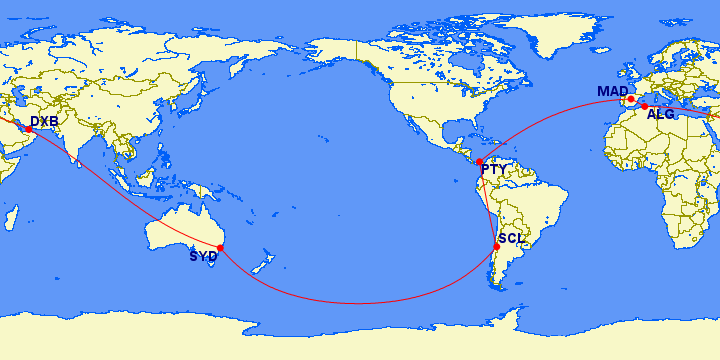 Here are the flights:
QF0027 Sydney to Santiago departing 12:50PM arriving 11:10AM
CM0118 Santiago to Panama City departing 12:04PM arriving 4:52PM
IB6346 Panama City to Madrid departing 6:35PM arriving 10:30AM (+1 day)
IB3308 Madrid to Algiers departing 11:55AM arriving 1:25PM
EK0758 Algiers to Dubai departing 3:10PM arriving 12:40AM (+1 day)
EK0414 Dubai to Sydney departing 1:55AM arriving 10:30PM
All of those connections are legal, with the exception of the one in Santiago, which is six minutes under the limit. The minimum connection time is an hour, and this routing gives you 54 minutes. Of course to set the record you probably need to take some risks, and it's not like even a "legal" connection necessarily means that you'd make it. With five connections this short, what could possibly go wrong? 😉
If I did this I'd want to book the flights as award tickets as much as possible, and in particular, as award tickets that can be canceled up until departure, in the event that I misconnect.
Is that an amazing routing, or what?