In March Qatar Airways revealed their new business class product, which they're calling Qsuites. The product looks stunning, as each seat is a fully enclosed suite with direct aisle access. The way I see it, Qatar Airways already has the world's best business class product, and that's only improved further with this new seat.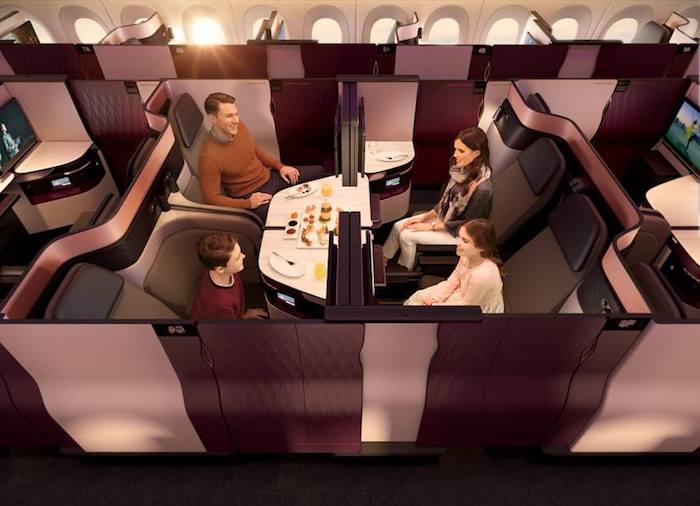 Generally I do everything in my power to try new airline products as soon as they're introduced. Qatar Airways began flying the Qsuites between Doha and London as of this past Saturday, June 24. They did this without much fanfare, which is to say that they never formally announced it as the inaugural flight, there were no festivities, etc.
Unfortunately I've had a non-refundable trip booked for that date for several months now, so I knew I wouldn't be able to take the inaugural. I didn't mind that too much, since I was hoping to fly it shortly after it was introduced, so I can get the real experience (I also wasn't actually convinced the inaugural would happen).
So last week I had mapped out the perfect itinerary. At the moment there's no Qsuites award availability between Doha and London (while space is wide open on other flights, that's not the case on QR7/8, which have the new seats).
My plan was to book a paid business class ticket from Tunis to London via Doha, which seems to be the best deal at the moment for flying the Qsuites, at slightly under $1,600 one-way (you can fly roundtrip for less than double the cost of a one-way).

I was going to do it for this coming weekend, and then found an Aer Lingus flight from Dublin to Boston with business class award availability a day later, which seemed like a good thing to combine it with, as that would get me back to the US.
Since one ticket was a near full fare ticket with a lot of availability, and the other was an award flight with just one business class award seat remaining, I decided to book the Aer Lingus flight first, by phoning up British Airways Executive Club. Making the reservation went smoothly, and after a few hours I phoned up Aer Lingus to get a seat assignment (since the Aer Lingus record locator didn't seem to be working online), and they informed me I wasn't booked on the flight.
Hmmm, I'm usually pretty good at this stuff, so I went to ba.com and saw I was apparently confirmed on the flight, but my ticket hadn't yet been issued. So I called British Airways back, and they informed me that what they had booked me a "phantom" seat, and I didn't actually have anything confirmed (which is even stranger since there was one "U" class" seat when I booked, and that disappeared as soon as I booked). Perhaps I should write a separate post about that situation, but the moral of the story is that there was nothing they were able to do.
As a result I figured I'd wait a day or two and then revisit, and I also held off on booking the Qsuites flight, since I figured the availability would still be there.
Well, this morning I was going to book my ticket from Tunis to London via Doha (and later figure out how to return to the US). Shortly before confirming my ticket I saw the following seatmap for the Doha to London flight on both Saturday and Sunday: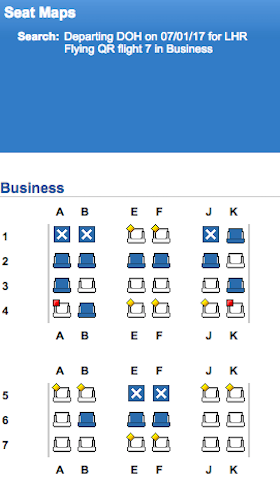 Wait a second, that's not the Qsuites seatmap, which looks like this: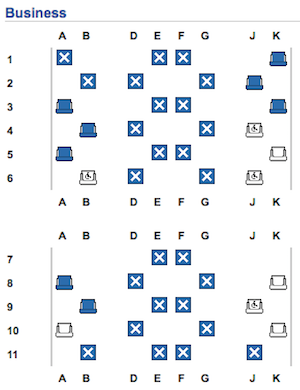 Grrrr, it looks like the Qsuites product isn't even reliably on the Doha to London route yet! So I guess my issue with the Aer Lingus ticket was a blessing in disguise, or else I'd be booked on a six segment itinerary to the US, only to fly Qatar's old product.
Now I'm a bit conflicted about what to do. Do I book the Doha to London flight for early next week? There's no guarantee they won't extend the days on which they take the plane off the route.
Qatar Airways is notoriously unreliable to begin with, let alone when they don't even promise a certain plane on a certain date.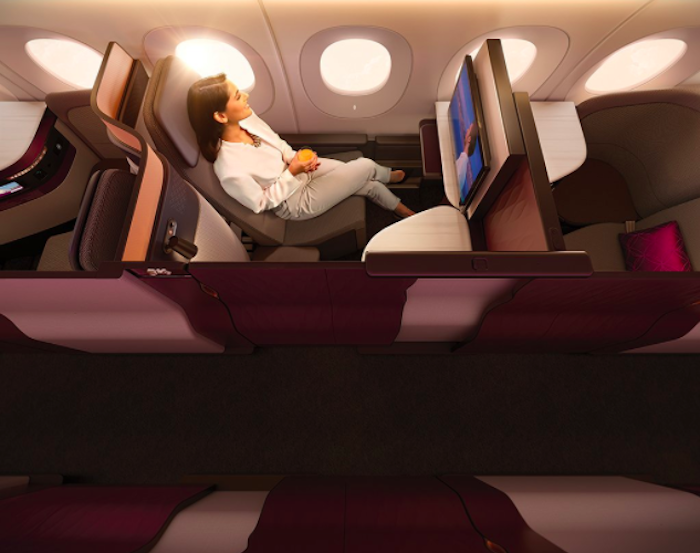 What would you do — sit in a hotel room in Tunis until 24 hours out when a seatmap still shows the Qsuites, wait until Qatar Airways has a few more planes with the new product in service, or just hope that flights starting next Monday have the new product again?
I really want to experience this product, but I also want to be (somewhat) practical…