Citi is an advertising partner of OMAAT.
As we learned about earlier in the month, the Citi Prestige Card got some new benefits as of yesterday. My single favorite benefit of this card is that it offers a fourth night free on hotel bookings, and Citi has made two changes to this benefit:
The fourth night free benefit is now bookable online, and you'll be refunded the cost of the fourth night at the time of check-out
You're now able to redeem ThankYou points towards a fourth night free booking at the rate of one cent per point
Well, this new functionality is now live, so let's take a look at how it works.
How to make a Citi fourth night free booking online
To make a Citi Prestige fourth night free booking online, visit the Citi ThankYou travel center, and log into your Citi Prestige account. Then click on the "Hotels" section, and enter your destination and desired check-in and check-out date. For the purposes of this example I'll look at a hotel in Tampa for September 12-16.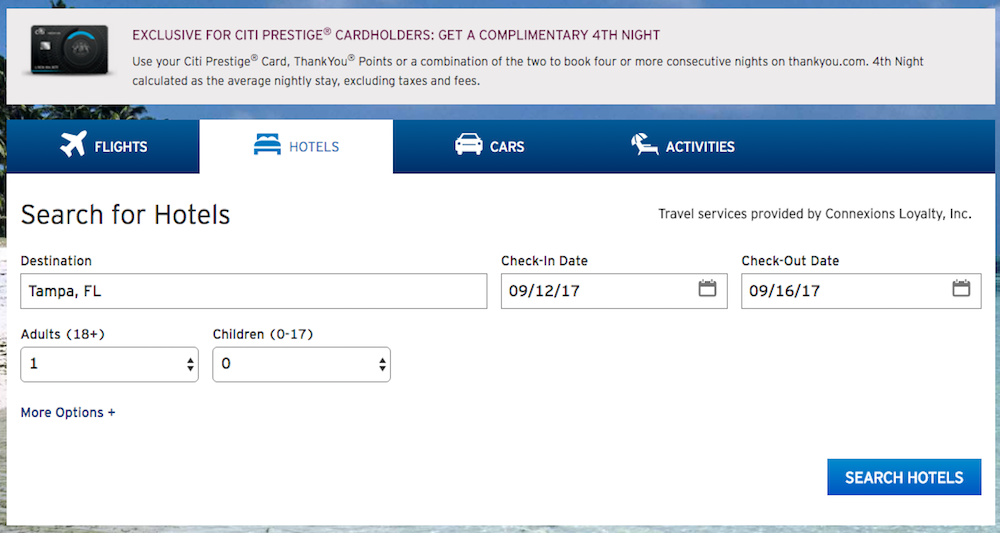 On the next page you should see a lot of hotel options. The fourth night free benefit can be used at virtually any hotel, so in Tampa there are 325+ options. You can filter your options either by hotel name, star rating, etc.
Let's look at the Le Meridien Tampa as an example. As you'll see, when you search you'll automatically see that it says "Complimentary 4th Night Eligible."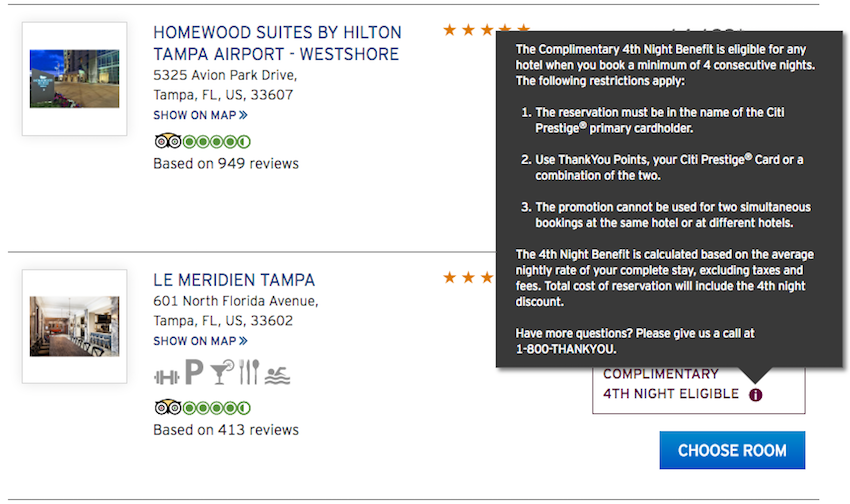 You should see both refundable and non-refundable rates for all kinds of room options. The catch is that you won't see any member only rates, AAA rates, etc. Let's take a look at the cheapest non-refundable rate, which is a king accessible room. The regular rate would be $224.47 per night. However, you'll see that with the fourth night free the total would be $696.72 (that represents three nights at the rate of $224.47 per night, plus the taxes on the fourth night).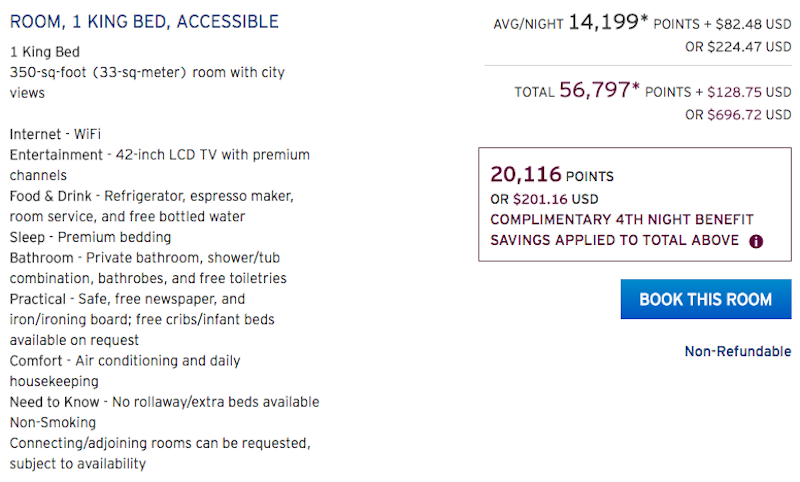 Then on the next page you'll have the option of paying at least partly with points. You can use however many points you'd like, at the rate of one cent per point. So rather than paying $696.72, I could pay $596.72 plus 10,000 ThankYou points. Personally this absolutely isn't something I'd do — ThankYou points are worth more than a penny each, so don't use them this way, in my opinion.

Just to compare this to Starwood's site, this is roughly the same as the rate they're charging for those nights, as the total comes out to ~$225.88 per night. So it's actually ever so marginally less expensive through Citi.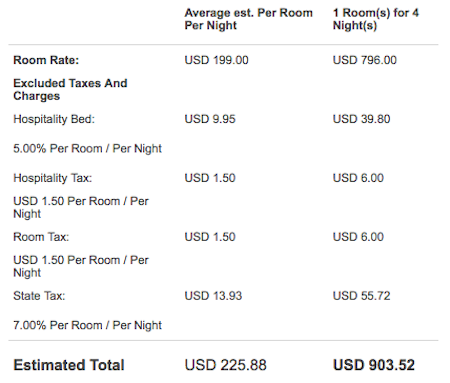 Will you earn points for your online fourth night free booking?
Citi claims that you'll earn points and elite benefits for fourth night free bookings, regardless of whether they're made by phone or online. While I can confirm that phone bookings have always received these perks, I'm surprised to hear it will work online as well. So while that's their official stance, I'd like to see some data points before I can be 100% sure.
Why I don't see myself making Citi Prestige fourth night free bookings online
I appreciate that Citi has added the functionality to make these bookings online, but I don't see myself using this feature much. If you're looking for a pre-paid rate, hotels almost always publish cheaper "member only" rates directly, and those can still be booked by phone with the Citi Prestige concierge. Similarly, if you're looking at a flexible rate, there are often AAA or other rates available that are a better deal than just the standard flexible rate.
So I'll absolutely continue to get a lot of value out of the fourth night free benefit, but not in the form of online bookings, or by redeeming points for a penny each towards the cost of a booking.
Bottom line
The good news is that the process of making a fourth night free booking online is super easy, and you'll apparently even earn points and elite credits on these stays. The bad news is that you're often losing some value by doing so, since you're limited in the rates you can book online. As long as Citi doesn't change the fourth night free benefit available by phone, I'm a happy camper.