For quite some time now, we've known that Citi would be transitioning to a new travel portal. Citi's old travel portal was extremely limited, and didn't accept reservations for hotel stays in the future. Well, that has finally changed, as the new portal has been launched over the weekend.
New Citi ThankYou travel portal finally live
The new Citi travel portal has just launched, and it's named Citi Travel with Booking.com. As you'd guess based on the name, the portal is run in partnership with Booking.com. You can access the new portal at this link, by logging into your Citi account.

The user experience for the new Citi travel portal is mighty similar to the Booking.com experience. You can use the portal to book hotels, flights, rental cars, and even attractions (which is a new addition).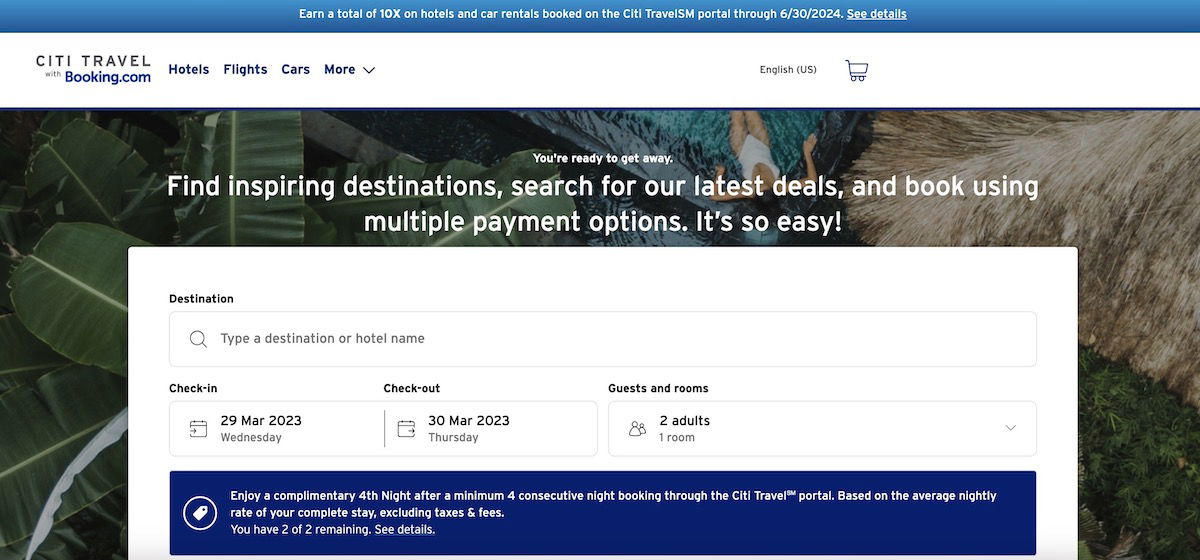 Personally I'm not a huge fan of travel portals in general (I prefer booking flights or hotels direct, unless there's a strong incentive not to do so). So I haven't spent a huge amount of time playing around with this portal yet, but my initial impression is pretty favorable, as this seems to be functional and easy to use.
Most importantly, the portal works and accepts reservations for stays far in the future, which wasn't the case with the old portal.
Benefits of the new Citi travel portal
Aside from the new Citi travel portal actually working, why should you care about this? This is going to be most interesting for those with Citi credit cards who are in the Citi ThankYou ecosystem. Among other things, here are some of the key features of the Citi travel portal:
You can redeem Citi ThankYou points for one cent each toward purchases through the portal, including for hotels, flights, rental cars, and attractions; this can be done for all or part of a travel purchase, with no minimums
Some Citi cards offer benefits when booking through the Citi travel portal, and those still apply with the new portal — the Citi Premier Card offers a $100 annual hotel credit for stays of $500+, while the Citi Prestige Card offers a fourth night free on select hotel stays
For a limited time (through June 30, 2024), select Citi cards are offering up to 10x ThankYou points for hotels, rental cars, and attractions booked through the Citi ThanYou travel portal; flights are excluded for these purposes

Bottom line
Citi has finally launched its new travel portal, which is exciting, as it's something many have been waiting for. This should make it significantly easier to book travel through Citi, whether you want to take advantage of the fourth night free or $100 hotel benefit, or want to redeem Citi ThankYou points for one cent each toward a travel purchase.
Personally I still don't find booking travel through this portal to be as compelling as booking through the Capital One travel portal or Chase travel portal. That also largely comes down to the lack of travel protection offered by Citi credit cards, which is an important feature that many travelers value.
What do you make of the new Citi travel portal?