One of the things that I love about living in Miami is the unique airlines that fly out of this airport. Take me to JFK or LAX, and I can identify every single airline in my sleep.
But MIA is in a league of its own when it comes to unique airlines. "Wait, didn't that airline go bankrupt?" "Wait, what's that all white plane?" "Wait, is that a plane operating a flight on a behalf of another airline, on behalf of a charter company?" "Hasn't that plane been parked there for months?"
While a lot of airlines here fascinate me, there are a few flights I'm most interested in taking. One of those is the Air France island hopper going all the way down to Cayenne, French Guiana, via Port au Prince, Haiti, Pointe-a-Pitre, Guadeloupe, and Fort de France, Martinique..
Another one of those is Avior Airlines' flight to Barcelona, Venezuela, but this probably isn't the ideal time to take that flight.
The other flight that most intrigues me is Boliviana De Aviación's flight between Miami and Santa Cruz de la Sierra, Bolivia. I've written about this airline in the past in passing, but given that I live in Miami, I think it's time.
BoA operates this 3,200 mile flight a few times per week using a Boeing 767-300.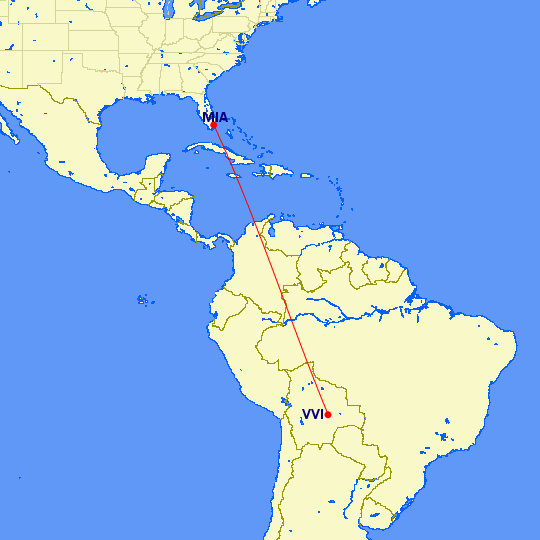 Oddly they operate a redeye schedule in both directions. I understand some airlines rely heavily on connecting traffic, but BoA's route network isn't that big, so I'm surprised they have the plane sit on the ground in Miami for 17 hours with each rotation.

American Airlines also operates the route, and seems to have a more sensible schedule.

The flight is priced at ~$1,200 one-way in business class, which seems a bit steep when you consider they charge the same for a flight from Santa Cruz to Madrid, which is nearly twice as long.

Or you can fly from Miami to Santa Cruz to Buenos Aires for around the same fare. Why wouldn't I want to enjoy a second flight with them?!

Anyway, this is where the "mystery" comes into all of it. I'm a massive airline product geek, and am always curious what a carrier's onboard product is like.
BoA has four 767-300s, and these planes have quite a history. For example, one of their 767s has flown for Royal Brunei, Air Mauritius, Air Algerie, Vietnam Airlines, Skymark, Varig, GOL, and Norwind. Talk about some history!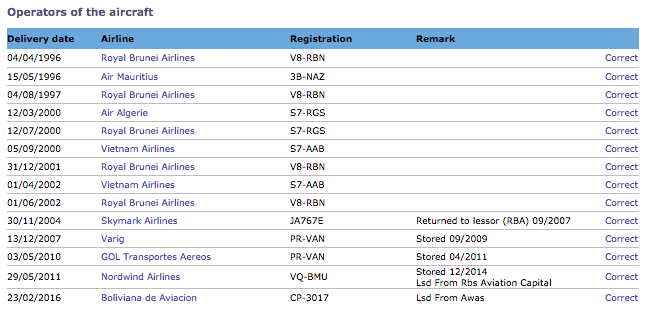 While there are a lot of airlines where there aren't many trip reports out there, I don't think I've ever seen a product as mysterious as BoA's. I can't find a single picture on the internet of their 767 business class product. Not even an amateur one posted to Instagram. Now, it's possible I'm missing something, but I've spent a lot of time searching.
I asked a friend who is also a product geek if he had ever seen one, and he decided to message the airline on Facebook. First of all, kudos to BoA's Facebook team for responding within minutes on a Sunday morning — wow!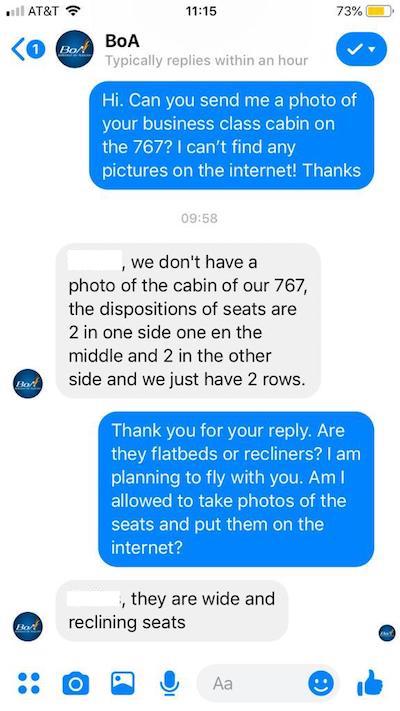 So their business class has just 10 seats, spread across two rows in a 2-1-2 configuration, and the seats are "wide and reclining." It sounds like they're not fully flat, so I'm not sure if they're like MIAT Mongolian, and are angled…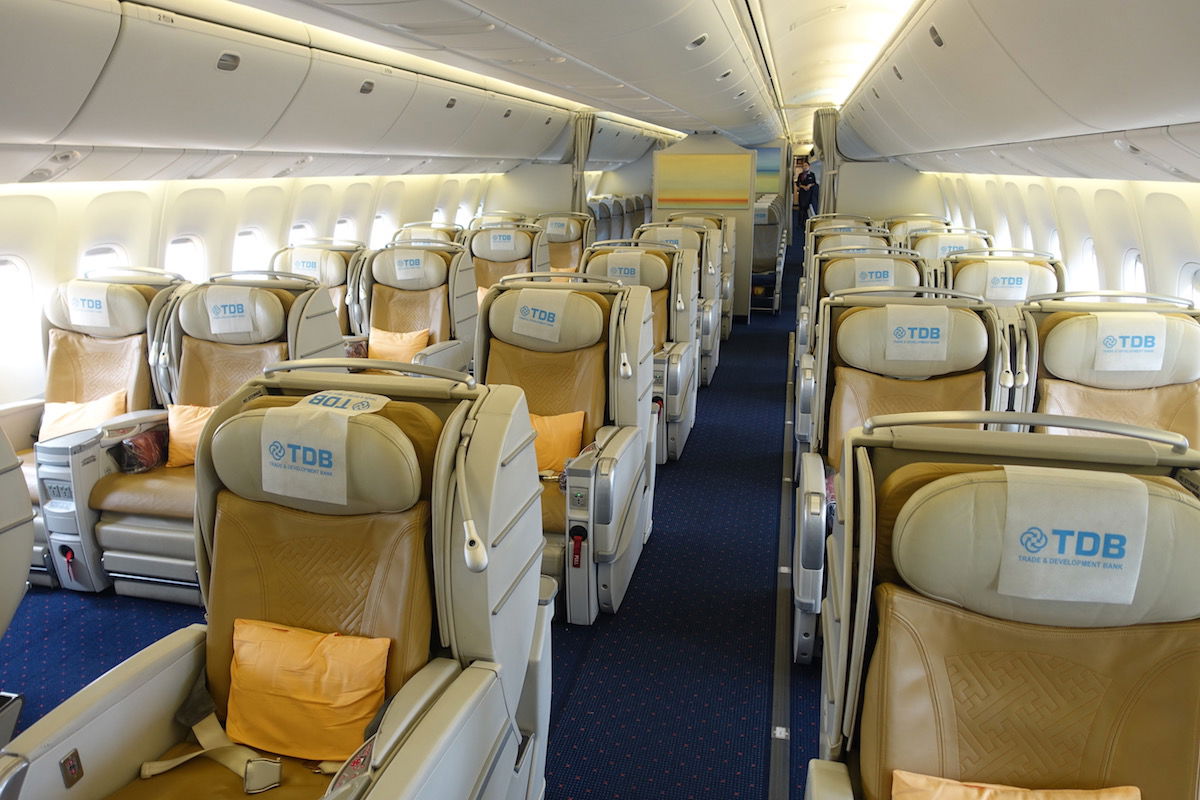 Or if we're talking something more like Ukraine's 767s, though they have seats in a 2-2-2 configuration.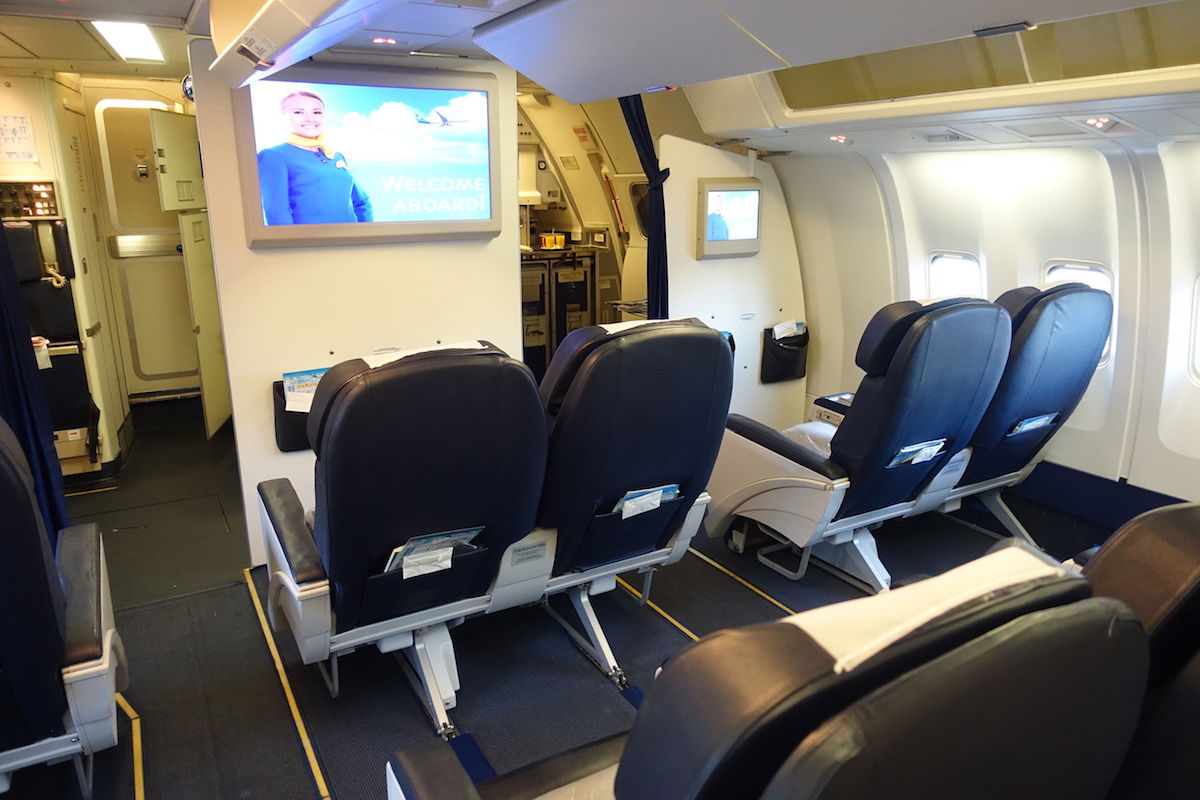 I'm very tempted to book this flight and review it, and then redeem 30,000 AAdvantage miles to redeem American's 757 fully flat business class in the other direction. Or maybe I'll fly it all the way down to Buenos Aires, and fly Aerolineas Argentinas on the way back.
Has anyone been to Santa Cruz? Is it worth visiting/moderately safe if you're careful, or best avoided? Interestingly there's a massive Marriott there…
Has anyone flown BoA, or know anything about their business class product? Am I the only one who is fascinated here?